If you think Beverly Hills has lost it's elegance and classic history step into the lobby of the Waldorf Astoria and dream again. This remarkable hotel has brought new meaning to "life at the top." It is A-listed beyond a doubt. The line-up of black limos, Mercedes and Bentleys are not just for browsers.
The Waldorf has become a home away from home for many local residents, even if its a short drive from door to door.
Our pet-friendly suite on the 10th floor was purely a Bow Wow Experience! Trust me, our dog Journey has seen some pretty fancy suites but this one tops them all.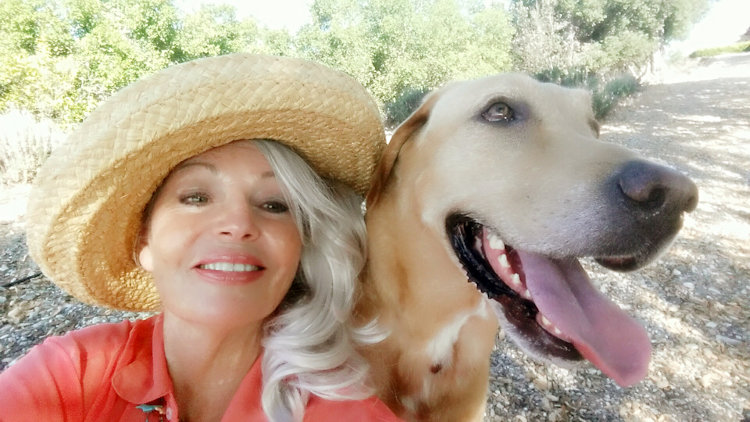 With a cornucopia of ultra-luxe human treats, the perk for us is traveling with our most beloved companion, who, is not exactly a pocket-pooch when he swaggers into a lobby attracting all the attention and looking way better than the guy on GQ.
It was love at first sight. Every member of the WA staff took time away from their busy schedules to meet and greet Journey. And trust me! He has perfected his ability to discern whether a hotel gets 4 paws or less. His method of modus operandi is based clearly on instinct for his favorite things; treats, attention, food, a comfy custom designed bed, terrace views, easy access to parks with dog-friendly walking paths. The Waldorf, in Journey's opinion, has it all.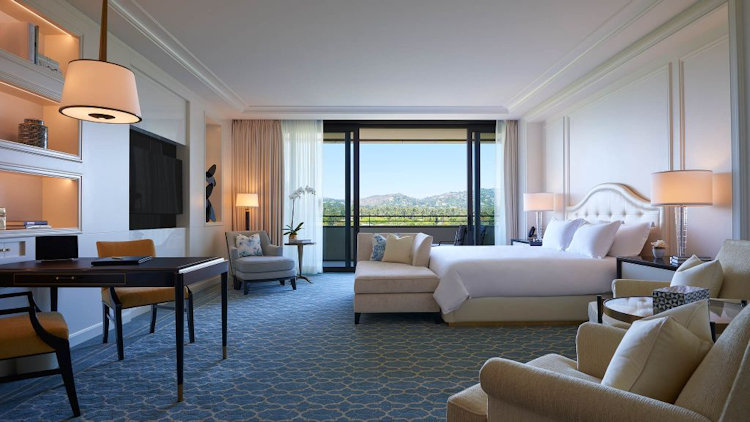 The architecture is outstanding. It sits adjacent to the historic Beverly Hilton but boasts of 170 magnificently appointed rooms and suites with "to die for" views from private balconies which at night bring a jewel-encased view of the famous cityscape. Without a doubt, our room nearing the top of this 12 story structure, was overwhelmingly stunning. The interiors consist of soft pastel palate of colors, white and beige, juxtaposed the soulful warmth of the wood cabinetry. I loved the masterfully designed walk-in, his and her closet. The designers were smart in creating a separation of space giving each person a sense of privacy. The room was immaculate. The bedding, oh! so luxurious. The bath, designed for your own private, in-room spa experience has many La Prarie Spa amenities plus an exquisite floral arrangements by my favorite LA-based designer, The Empty Vase. But wait! It's only an elevator ride down to discover one of the most beautiful spas in the world. And the first and only La Prarie in Los Angeles.
The La Prarie Spa at the Waldorf is known for its beautification techniques and treatments. The menu encompasses so many choices. Each one designed to help you restore your need for more balance and harmony. Relax, indulge, unwind. You won't want to get off the massage table when your session ends. And you don't have to. Simply move, to the relaxation area, and languish in an assortment of mini-pastries and freshly brewed tea.
Pamper yourself to an extravagant day of luxuriating pleasure. Explore the menu to find exactly the right treatment for restoration and rejuvenation. Some of the treatments can be quite pricey but I was happy with my 60 minute minute deep tissue massage.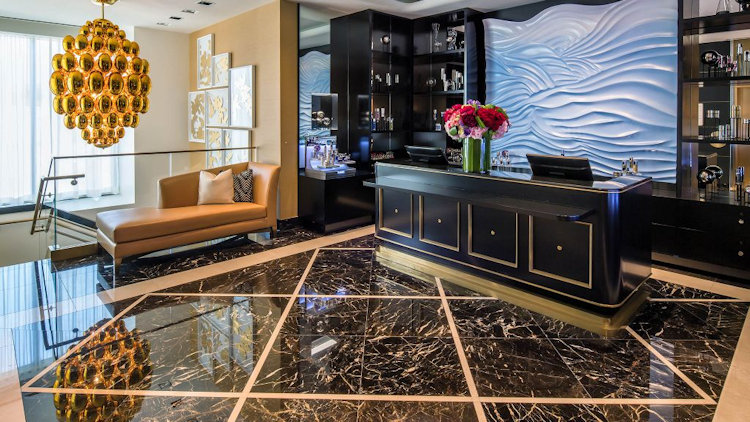 Speaking of food, the best part of your stay will unfold in the evening. Lights dim, candles glow and so will you from your La Prairie treatment.
Dinner is served in the fabulous Jean Georges Restaurant designed by legendary Pierre Yves Rochon. Your appetite has increased 10-fold. And that's a good thing.
As a culinary critic I pay particular attention to details. Beyond the freshness of the organic greens in the salads or the melt-in-your-mouth samples of fresh wild-caught fish surrounded in a burnt brown butter served crackling hot, I love to share my dining experience especially because the gastronomy of Chef Jean-Georges' is world renowned. There is a limit to abundance, like this decadent first course on his menu. A Warm Organic Egg Mimosa Golden Oscetra Caviar and Chives. Followed by a delicious even sumptuous raw delectable. Santa Barbara Sea Urchin Black Bread Crostini, Salted Butter Serrano and Yuzu. Mouth watering delights come in small portions always like the Seared Black Cod Broccoli di Ciccio, Spicy Herbal Broth. For the carnivores this is the best. Wagyu Beef Tenderloin 11 Flavor Condiment, Wild Sprouts, Crunchy Salad.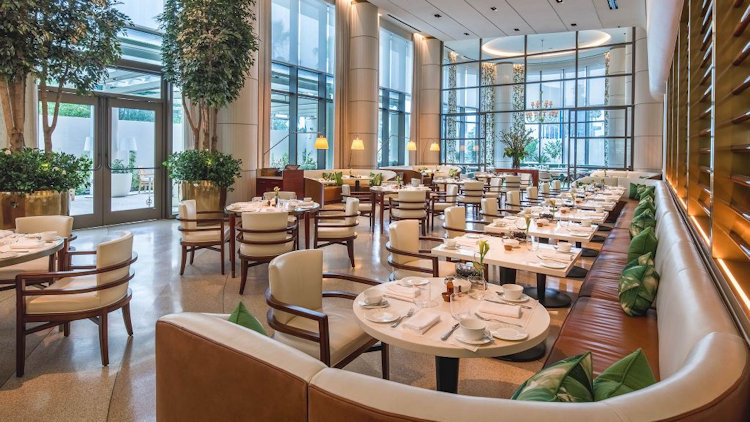 Each dish we discovered is served on the finest modernist porcelain. Like a painting, the colors explode. The aromas, the tastes, the atmosphere and the service is so exceptional.
You're welcomed into a room which is enhanced with magnificent decor. An array of spacious light with tremendous volume, the restaurant is reminiscent of some of the finest in Paris. The soft sounds of airy conversations amidst the ever present movement of the sommelier's, all specialists in the bouquet of flavors and tastes of world famous wines, champagnes, cordials and then their is the first course. Ossetra Caviar. And a very ample portion.
"What more do you desire," the waiter asks. I was quick to respond, "a T Bone steak for my dog."
Always thinking of Journey, on the 10th floor, resting in his plush Waldorf bed, overlooking the bejeweled city from his terrace view, slurping Waldorf bottled water while wondering in his canine way, where could they be and where are my treats!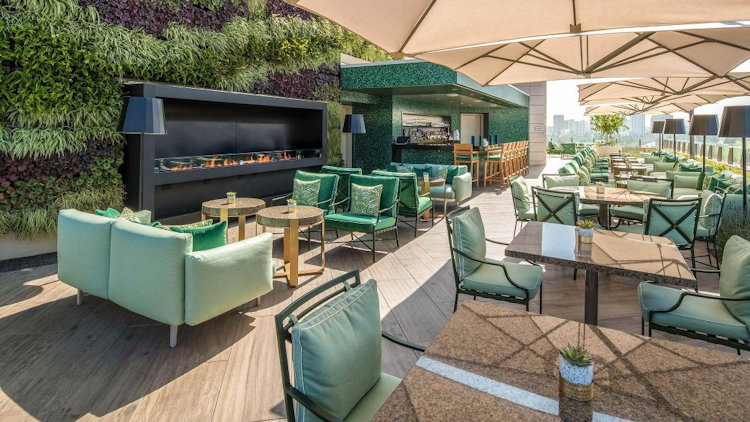 Next stop, the roof top garden terrace. Oh my! This is the crown jewel of the hotel. Better. The Eiffel Tower of BH. Make a reservation here.
Kick off those spiked, high-heeled, chic beyond measure with toe throbbing pain, Louboutin shoes and enjoy a more casual outdoor dining experience.The Jean Georges' rooftop scene is young and ever so pet-friendly. And yes, there are some perfect signs of life in an urban garden, on top of the world. Take a breath! Stroll. Smell the lemon trees, French Lavender, and star jasmine. If you're like us, you won't want to leave the Waldorf Astoria. Like Raymond, we discovered Everybody Loves Journey.
And even Ray wouldn't leave his best friend behind.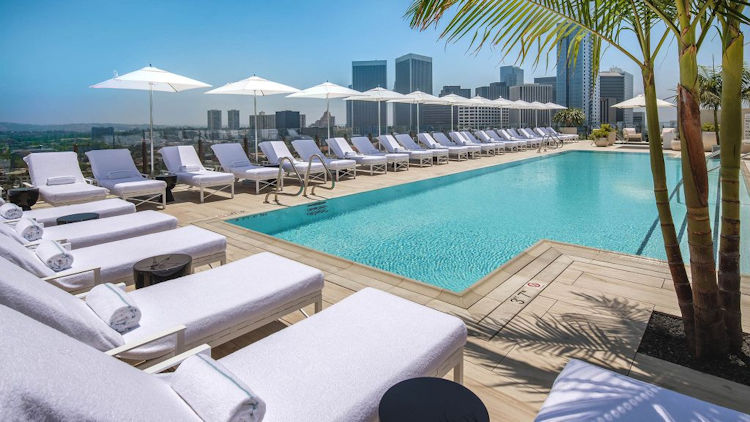 Waldorf Astoria Beverly Hills, 9850 Wilshire Blvd, Beverly Hills, CA, 90210. https://www.waldorfastoriabeverlyhills.com.
More information: https://luxecoliving.com/