Why wait for someone else to plan the perfect Mother's Day? Charter a yacht and pamper yourself while spending quality time with your family.
Book your Mother's Day retreat now.
Here's a sneak peek at what your special day could look like.
Mother's Day Yacht Charter
7:30am: You can't help but awaken to your normal body clock. It's just after sunrise and you can feel the sunlight poking through the blinds in your suite. You tiptoe out to greet the day.
You sneak up to the bow and breathe in deep mouthfuls of the salty sea air. You glance around and see nothing but sunshine and glistening turquoise water for miles. You can't help but smile at the beauty that surrounds you. The peace and quiet, the complete blank slate that lies ahead – no rules; no schedules; just your family and the sea.
8:30am: Everyone gathers on the aft deck excited to plan the day ahead. The captain has come down to have a chat and discuss some options. "We can tender over to the deserted island a few nautical miles away; we can go snorkeling along the reef off to the starboard side; you name the toy and we've got it – jetskis, paddle boards, water skiing, all can be done." He smiles and leaves you to make your choices over breakfast.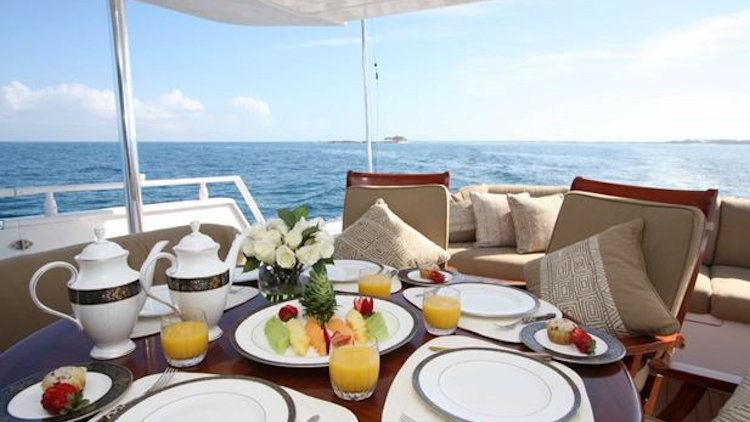 10:00am: Stomachs full and sunscreen applied, everyone is excited to jump into the inviting water. A few of the braver ones take to the second and third decks to jump overboard. Your spouse dives in, followed by your eldest who screams with joy when hitting the water. It's your turn and you can't wait to feel the salt water on your skin. A hop, skip and a jump and you're all floating and playing in the water.
Bliss.
11:30am: Back on board you head to dry off in the sun loungers on the deck. A cool breeze runs through your hair and you let out a contented sigh. If only everyday could start like this!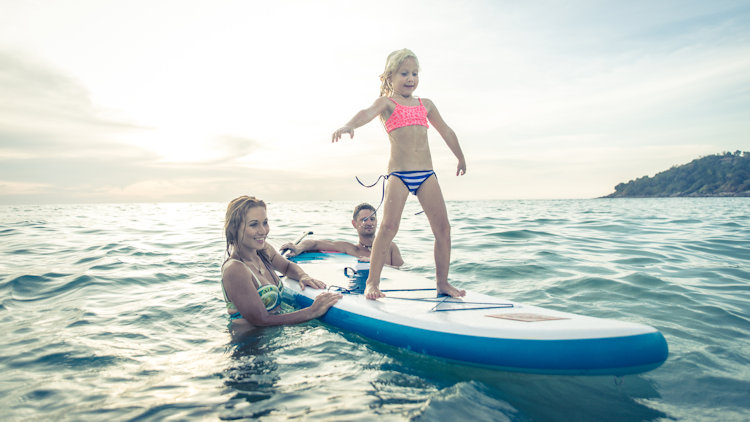 1:00pm: You all climb into the tender to make your way to the island. Unbroken white sand gets closer and invites you to take a walk and look around. You watch the kids run up ahead splashing and playing in the water. You walk hand in hand with your spouse. You pick a few fresh mangoes off the trees and make your way back to the tender. A simple nod to the deckhand and he's making his way over.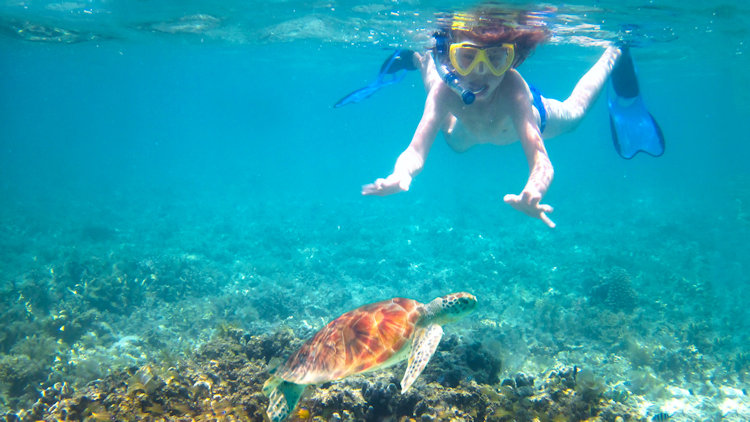 3:00pm: Back on board and following a brief sleep in the sunshine, it's time to get back in the water. There's a great little reef calling everyone's name. You are given a selection of masks, snorkels and fins to go exploring. You get pictures of the kids underwater next to bright yellow fish, deep pink coral and even a passing sea turtle. No one else is exploring the same place as you – no queues, no over crowded tourist traps – just you, your family and the world is your oyster.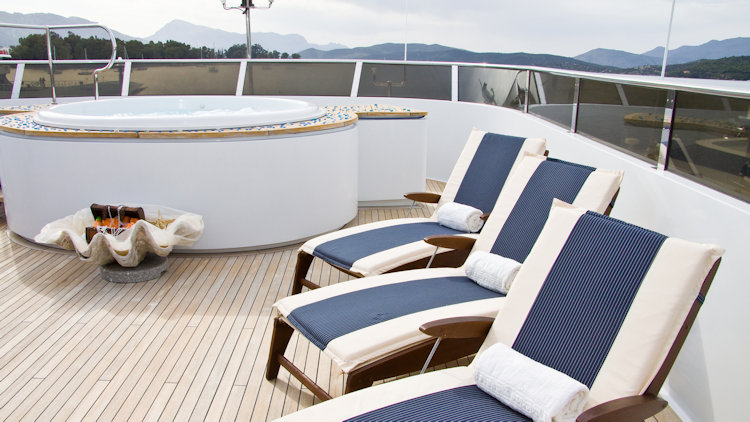 5:00pm: Time to soothe those muscles before dinner – relaxing is such hard work! You sink into the jacuzzi. The kids are well looked after with the crew – given a tour of the yacht, pretending to be pirates and learning all of the yacht terms, before retiring to the lounge to play video games before dinner.
6:30pm: You're brought ashore for dinner at a local restaurant. The kids, sunkissed and chatting happily about their day, begin to dig in. The chef shares a bit about the locally sourced fish and villages they collect the vegetables from. You're a million miles away from home, the sinking sun casting a lovely pink and orange glow over the horizon.
On a luxury yacht charter you may create any itinerary you want. The only goal is to enjoy this slice of heaven as long as you can.