With Japan on the top of many travelers' bucket lists once travel restrictions are lifted, the country is expecting a tourism boom like no other, leading to the creation of many new hotels and resorts, particularly located outside of Tokyo and Kyoto. Along with new properties to open in 2021, many hotels that have opened in 2020 with unique experiences and offerings are eager to welcome international guests. Below is a sampling of some of the most unique hotels in Japan:
wanoi KAKUNODATE - Akita Prefecture
Opened March 13, 2020
Renovated from a historical storehouse, wanoi KAKUNODATE offers travelers a step back in time. The town of Kakunodate was known as "Little Kyoto" for samurai residences and each of the three rooms at wanoi KAKUNODATE highlights this incredible history. The Nishinomiyake Bushigura room was inspired by the ancestor of the Nishinomiya family who was a highly regarded samurai at the time and the room echoes his story through its design, including tactile tools once used by samurai. The Nishinomiyake Gakkogura room was originally a storehouse that stored pickles and guests can experience that history by taking a bath in a repurposed pickle barrel bathtub. The Tanmonogura room is located right next to the samurai residence street and is the oldest of the three storehouses, originally built in the late Edo period.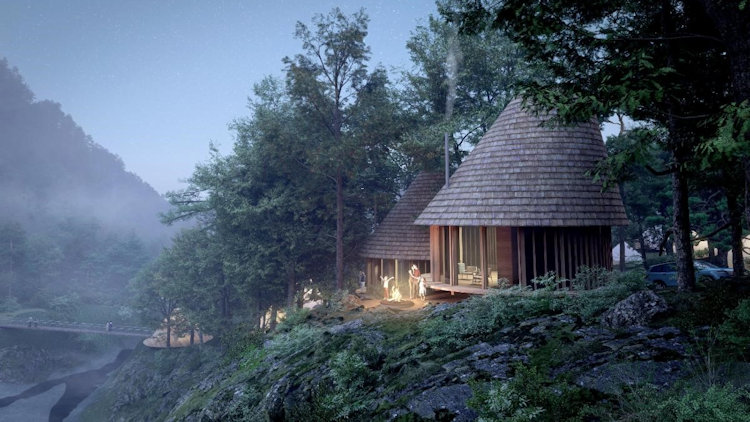 Nordisk Hygge Circles in Mie Prefecture (© Third Nature, Structured Environment, Henrik Innovation)
Nordisk Hygge Circles - Mie Prefecture
Opening Spring 2021
Located in Japan's Mie Prefecture amidst towering trees and roaring waterfalls, the Nordisk Hygge Circles is a new luxury campground intended to be a healing space for guests while providing a sustainable camping experience. Designed by Japanese-Danish architecture team Third Nature, who won a regenerative tourism competition launched by Danish outdoor gear company Nordisk. The campsite will consist of three main areas: a rest area with reservable circular cabins and glamping tents, a "learning field" for nature-inspired excursions and workshops, and an area where guests can pitch their own tents.
Nipponia Shirataka Former House of Okuyama - Yamagata Prefecture - Opening April 2021
Renovated from a house that was previously owned by a distinguished Japanese family who were in the silk production business, this "kimono retreat hotel" offers guests an escape in the rural town of Shirataka while experiencing Japan's kimono culture. The hotel will span 8,000 square meters with five different buildings and eight guest rooms. Owned by Tomihiro, a 400-year-old kimono fabrics store, the retreat allows guests to partake in traditional craft and local lifestyle activities.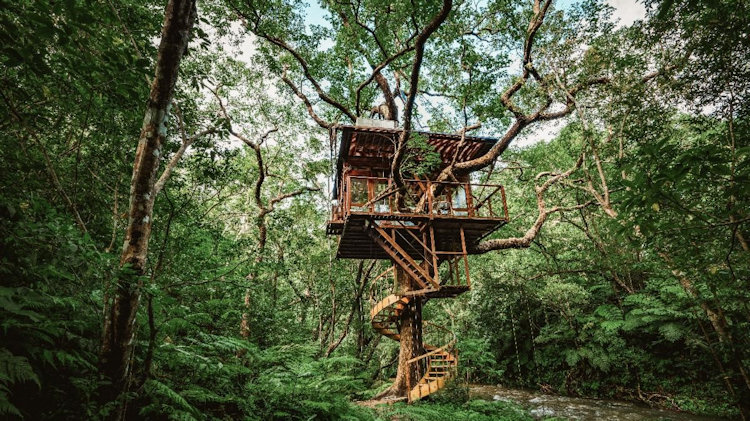 Treeful Treehouse EcoResort in Okinawa (© Treeful Treehouse EcoResort)
Treeful Treehouse EcoResort
Okinawa Prefecture - Opening Spring 2021
Located in Nago city, in the north of Okinawa island, the Treeful Treehouse EcoResort lives by the ethos of 'sustainable luxury.' Using minimal electricity produced solely by solar power, the resort features a number of sleek and design-forward treehouses seamlessly integrated with nature. One is completely suspended, with 360-degrees views and contemporary interior design, built on the side of Genka River, considered one of the clearest waters in Japan. A passionate environmental project, the resort has engaged with Okinawa locals on various initiatives, including removing man-made concrete to restore the natural landscape and re-building a watermill, in an effort to "improve their area environmentally, culturally, and economically."
Fauchon Hotel Kyoto - Opening March 16, 2021
A meeting of two worlds, the Fauchon Hotel Kyoto from the famous French gourmet food company Fauchon will be its first hotel outside of Paris. The hotel will open in the center of Kyoto with 59 guest rooms and suites. Along with its iconic Pâtisserie & Boutique Fauchon, Fauchon Hotel Kyoto will be home to a variety of restaurants and bars, including Salon de Thé Fauchon and Le Grand Café Fauchon. The hotel will also be home to Le Spa Fauchon which will offer a wide range of body and face treatments.
For updates on travel restrictions to Japan, please visit https://www.japan.travel/en/coronavirus/.
Top photo credit: Treeful Treehouse EcoResort in Okinawa (© Treeful Treehouse EcoResort)