No longer just a backpacker's haven, Asia has become an idyllic paradise for those in search of pristine coastlines, sunlight-twinkled waters and breathtaking vistas. Oh – and an Instagram favorite! Check out this hand-picked collection of trendiest Asia luxury villas which Insta-influencers are queuing up to hang out at. From spectacular infinity pool villas in Thailand to private island pads in the Maldives, you'll be digging out your passport in no time...
Villa Belle - Koh Samui, Thailand (pictured above)
Not a bad place for a quick swim! Koh Samui is a firm favorite among even the most hard-to-please luxury seekers. Mixing contemporary class with hints of traditional oriental interior, the exquisite panoramic views from Villa Belle's infinity pool are as good as it gets. It has recently been visited by @onlyfortravel, Italian influencers who explore Asia's finest luxury spots. They've also filmed an up-close-and-personal video tour which had us wishing we were already there...Instagram post from the villa: https://www.instagram.com/p/Bjpho5MAT-A/?taken-by=onlyfortravel
Mithi Resort and Spa – Bohol, Philippines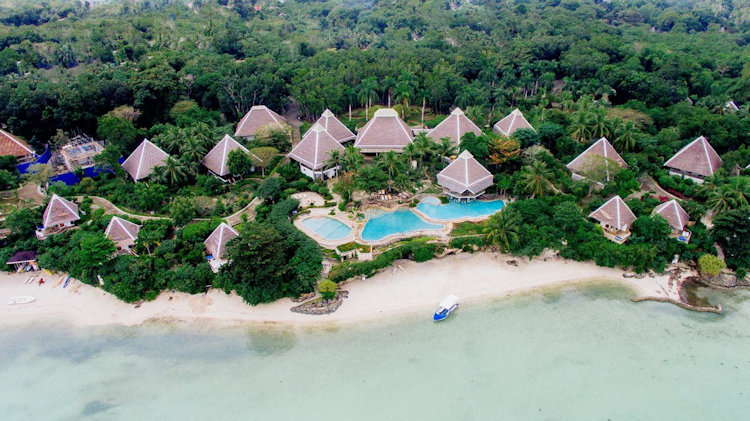 For those in search of a tropical paradise, the sun-kissed sands of the Philippines are the place to be right now. We've had a quick (and jealous!) swipe through @warrencamitan's gorgeous photos of The Mithi Resort and Spa in Bohol. It's crazy! Think world-class amenities, unparalleled tropical views and everything you need for a stunning yet serene getaway. Who could turn down an all-inclusive pampering in one of the most beautiful places in Asia?
Sky Dream Villa – Koh Samui, Thailand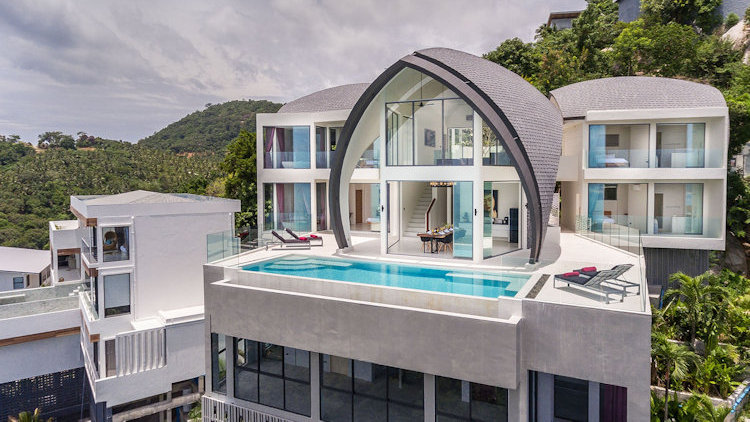 This is truly as luxurious as it gets...Photo credit: https://www.instagram.com/p/BmdSCADlSff/?taken-by=warrencamitan
Okay – so this one is insane! Another favorite from Koh Samui, the Sky Dream Villa boasts a stunning location – it's the best place to absorb utterly breathtaking ocean views from some of the sleekest architecture in Asia. Just check out this ridiculous Insta-hit from @onlyfortravel - we didn't even know places like this existed! If swimming on top of the world sounds like your idea of fun, this villa near Chaweng Beach should feature in your getaway plans!
Instagram post of the villa - https://www.instagram.com/p/BjFDU3gA-75/?taken-by=onlyfortravel
Six Senses Con Dao, Vietnam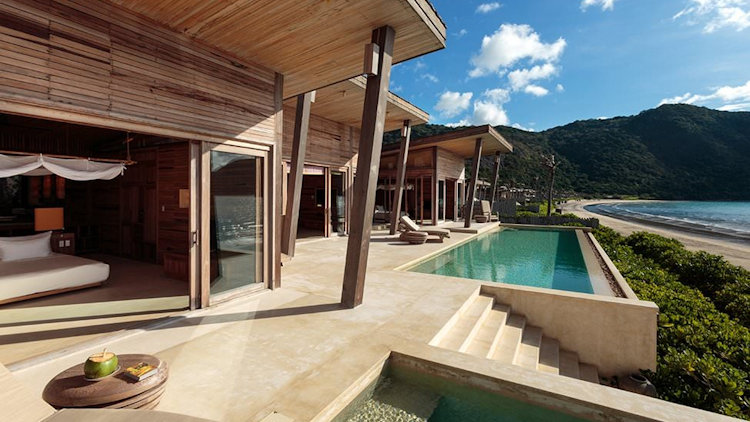 Surrounded by lush tropical mangrove trees and featuring their own breathtaking ocean vistas, the villas at Six Senses are reason enough to visit the island of Con Son. No wonder they're pretty high on Insta-influencer @unrealholiday's list of favorite resorts – what a view! Guaranteed to be a favorite even among the sleekest ultimate getaway destinations, these vacation pads are chic yet unpretentious – perfect for a secluded getaway. We're pretty jealous of the fine dining, unforgettable experiences and luxurious pampering that comes with them.
Villa Shambala – Seminyak, Bali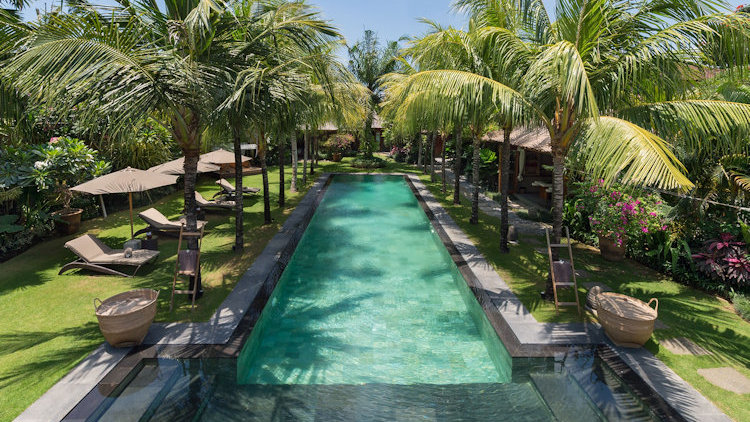 Now that's what you call an island paradise!
Okay – so this one blows our mind! Hidden in the 'Golden Triangle' at the heart of Seminyak, Villa Shambala enjoys one of the most sought-after holiday villas in Bali – can you imagine holidaying with your mates in this five-bedroom paradise?! This stylish oasis blends distinctive joglo style with spacious manicured lawns, immense swimming pools and opulent al fresco living areas – you'd probably never leave!
Kandolhu – Maldives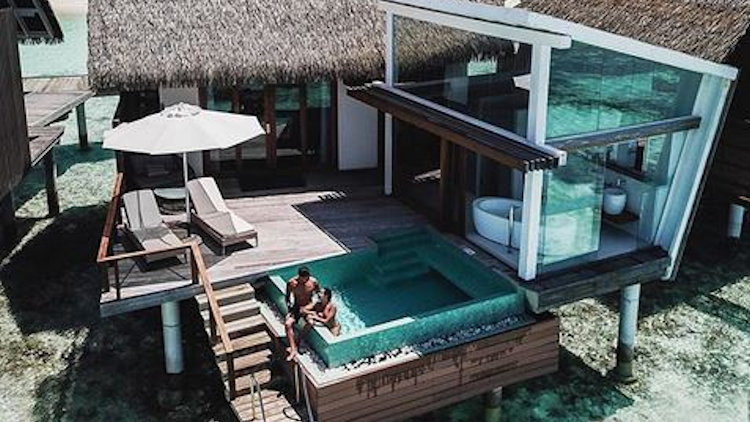 Photo credit: https://www.instagram.com/p/Bm0vcMslA68/?taken-by=jeremyaustiin
If the sound of dreamy turquoise waves lapping against your sunset-facing pool villa appeals to you then prepare to be jealous – this is probably one of the craziest places to stay in the whole world! The Ocean Pool Villas at Kandolhu in the Maldives look like something out of a lavish fairy tale. Take a peek at famous travel influencer @jeremyaustiin's snaps of them! If only we could wake up in oversized bedrooms and enjoy infinite views of the expansive Indian Ocean... You're unlikely to find luxury like this anywhere else in Asia.
Lalaland – Canggu, Bali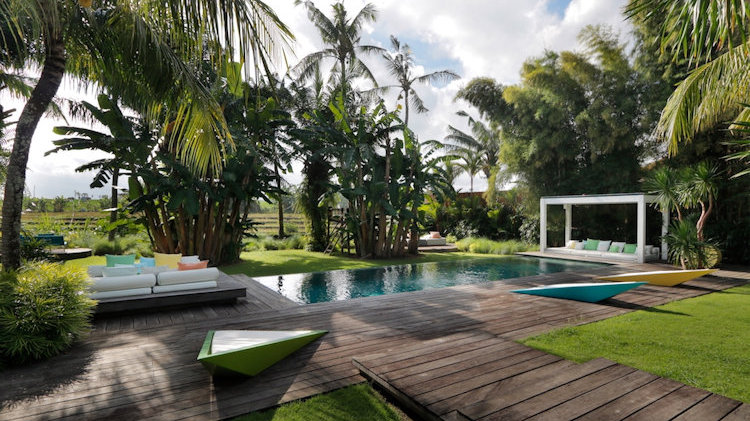 What did we tell you? Crazy-luxurious!
What list of insane Asian holiday villas would be complete without a visit to the Island of the Gods? An absorbing mix of traditional Balinese interiors and gorgeous contemporary luxury, Lalaland is a serene getaway in the chilled out town of Canggu in Bali. This unbelievable villa complex features an eclectic collection of ornaments and artwork from all over the world, giving it an intimate yet spectacular feel – which is probably why it was visited by famous YouTube travelers The Endless Adventure. Check out their video tour here!
ISHQ – Galle, Sri Lanka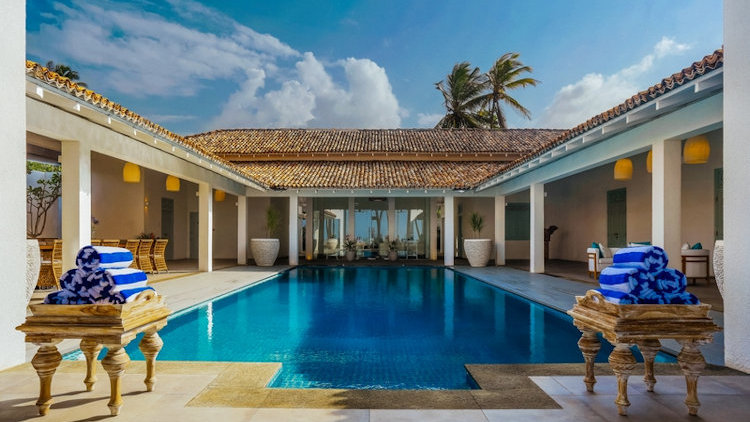 ISHQ sets the bar for unforgettable holiday destinations.
Sri Lanka is one of the hottest destinations in Asia right now – and the stunning four-suite ISHQ Villa is one of the craziest places to stay on the whole island! Perched tantalizingly close to the ocean, this architectural marvel is only for those who need to feel the sun-kissed sand between their toes from the moment they wake up. It's literally seconds away from the ocean! One of our favorite luxury villas in Sri Lanka - we can only dream…