The 13-story, 171-guestroom Trump Rio will be TRUMP HOTEL COLLECTION's first property in South America and the only luxury hotel in the neighborhood when it opens in 2016.
"With the Barra da Tijuca hosting most of the venues of the 2016 Summer Olympics as well as Jardim Oceanico's perfect mix of modernity and nature, the area is poised to emerge as the heart of Rio de Janeiro," said Donald Trump Jr., executive vice president of development and acquisitions of The Trump Organization. "This is an exciting time to develop our first project in South America and the perfect location to do so."
Rio de Janeiro-based owner LSH Barra S.A. brings vital local expertise to the project, along with development consultant Polaris Brazil that has worked on a variety of innovative hospitality ventures including the Rio Convention Center. "We are thrilled to work with TRUMP HOTEL COLLECTION on the first South American addition to its prestigious collection of world-class hotels," said Paulo Figueiredo Filho, CEO of LSH Barra S.A.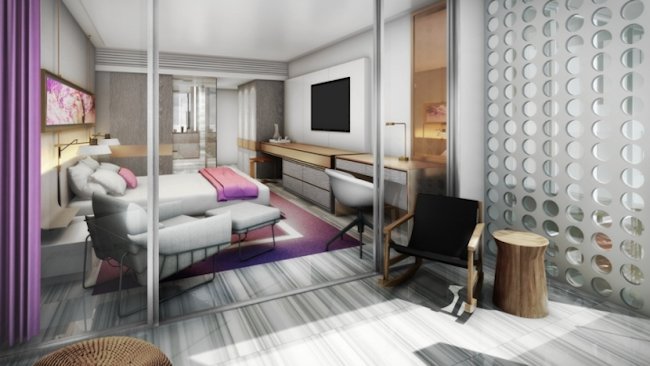 Photo Credit: Rockwell Group/ MHB Studios
TRUMP HOTEL COLLECTION and LSH Barra S.A. have partnered with the world's premier design firms to create Trump Rio, including a cutting-edge architectural concept by WATG, interiors by Rockwell Group, and landscape architecture by Witkin-Hults Design Group.
For its interior design, Rockwell Group will infuse a vibrant and contemporary esthetic into the hotel's public spaces and guestrooms, such as an amorphous sculptural front desk inspired by Rio's mountainous landscape, beautifully crafted travertine walls with brass inlays in the lobby and event spaces, and guestroom furnishings that are modern yet organic. "Our design concept for Trump Rio combines Modernism with the energy and creativity of this burgeoning city," said David Rockwell, founder and President of Rockwell Group.
Expansive guestrooms will boast breathtaking ocean or mountain views, each featuring grey marble floors that seamlessly adjoin private outdoor balconies and terraces. Eleven spacious suites, ranging from 1,200 to 1,800 square feet, will feature private plunge pools on expansive private patios, from which ocean views can be soaked in. The capacious Presidential Suite will offer 2,992 square feet of luxury living like no other in Rio.
Trump Rio will offer nearly 10,000 square feet of meeting and event space. Luxury amenities will include a 4,000 square-foot pool deck – with private VIP cabanas overlooking an infinity pool with panoramic beachfront views – a 4,000 square-foot nightclub, 2,200 square-foot spa, and a 2,000-square-foot fitness center. As with all TRUMP HOTEL COLLECTION properties, guests will have access to an exclusive range of services and signature programs, including Trump Attaché™, an unparalleled brand of personalized service, TRUMP CARD®, a privileges program with unrivaled member benefits and comprehensive fitness and nutrition amenities within Trump® Wellness.
"TRUMP HOTEL COLLECTION has formulated an aggressive international development strategy to acquire 30 properties within the collection by 2020," said Jim Petrus, chief operating officer, TRUMP HOTEL COLLECTION. "Trump Rio embodies this vision perfectly, as the first luxury hotel to emerge in a burgeoning area of a growing market such as South America."
TRUMP HOTEL COLLECTION opened its first Latin American property, Trump Ocean Club International Hotel & Tower Panama, in 2011, and developments are currently underway in Vancouver and Washington, D.C.