Grace Bay Resorts developer Mark Durliat introduces his vision for elevated island living in Turks and Caicos with Rock House, the first residential resort tucked into the rugged, untouched limestone cliffs of Providenciales' north shore. This project follows on the heels of several successful resort and residential developments by Durliat, who is respected for his ability to develop and manage elegant and modern luxury resorts such as the award-winning Grace Bay Club, the company's flagship property.
Emulating the idyllic seaside towns found in the South of France, Capri and elsewhere on the Mediterranean coast, Rock House will feature 41 studio suites, one- and two-bedroom cottages ranging from 631 to 1,907 square feet and priced from $600,000 to $1.625 million. Four additional four- and fivebedroom single-family estates at the hillside resort will be offered for sale in the second phase.
Stone-Clad Cottages Built Into Limestone Cliffs
Coast Architects, one of the leading design firms in Turks and Caicos, together with master planner Epikos Design and celebrated New York-based interior designer Shawn Henderson are creating an authentic, Capri-inspired community of contemporary, stone-clad cottages cascading down the sloping coastal rock. Built by hand by local artisans with materials sourced from the landscape's limestone cliffs, stone façades will wrap around each residence both outdoors and indoors. Much of the present natural landscape of Rock House will be retained, including the site's centuries old, slow-growing Joewood trees, native orchids and ancient lignum vitae, also called the "tree of life" for its medicinal use.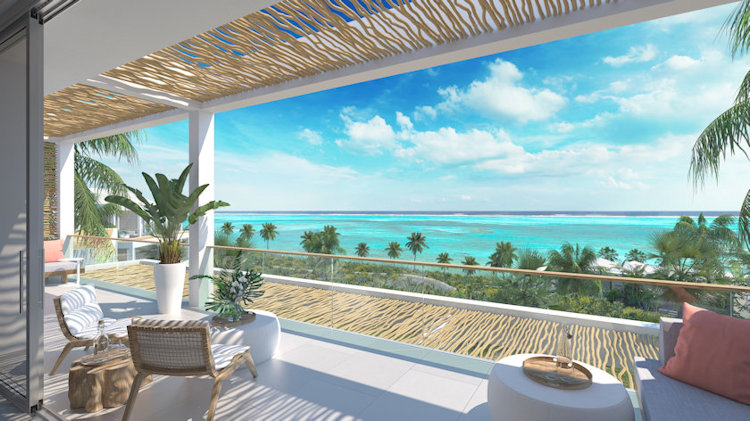 Indoor/Outdoor Living
The free-standing one- and two-bedroom cottages will include private pools and outdoor terraces, bathrooms with outdoor private shower gardens, 13-foot vaulted ceilings and floor-to-ceiling glass windows and doors to maximize the seductive views of the island's renowned turquoise waters. Studio suites, all with private terraces, will overlook the 100-foot infinity pool, a focal point of the property. Steps down a 25-foot ancient limestone cliff will lead from the pool to Rock House's secluded beach and jetty.
Interiors Draw Inspiration from Amalfi Coast
Envisioned by Architectural Digest's AD100 interior designer Shawn Henderson, each residence's interiors will feature an eclectic mix of contemporary and traditional design with Scandinavian and custom-made furnishings, porcelain and terrazzo flooring, oversized soaking tubs and Waterworks fixtures in their kitchens and bathrooms.
Scenic Amenities
Set upon a soaring hilltop, Rock House's signature restaurant will blend into the site's natural beauty and remoteness while offering dazzling 180-degree views of the archipelago's barrier reef and Atlantic Ocean. A relaxing spa and energizing fitness center, tennis courts and winding jogging trails will enhance the sense of well-being at Rock House.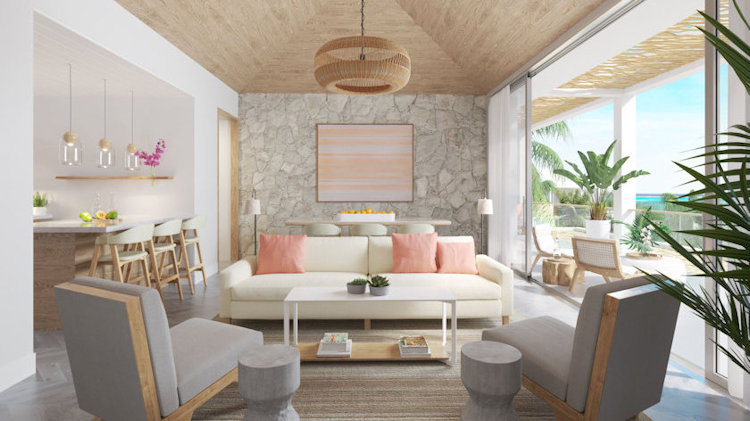 Turks and Caicos' Record Real Estate Market
"Rock House provides a highly unique opportunity to purchase a truly five-star property at a surprisingly moderate price point, in perhaps the most spectacular, elevated location of the main island of Providenciales. The fact that well-respected developer and operator Grace Bay Resorts is building this project provides great confidence and security for our buyers," said Joe Zahm of Turks and Caicos Sotheby's International Realty, which is handling real estate sales for Rock House. "This property elegantly fulfills a gap in a villa market that is dominated by larger villas over $3.5 million. Our network of buyers is thirsty for a product like Rock House either as a primary vacation residence in TCI, or as a piedà-terre away from the more populated areas of the island." The first phase of Rock House is slated to be finished in 2020, with a second phase of homes to follow. Once completed, buyers will enjoy inclusion in the resorts' exclusive rental program, managed by Grace Bay Resorts. "Buyers will benefit from Turks and Caicos' popular and affluent tourism market," noted Zahm.