Everyone loves non-stop flights. Nobody likes layovers. Changing planes to make a connection is inconvenient. But making a stop can become an advantage with advance planning. On our last trip to Europe, we turned a layover into an adventure.
My wife, Michelle, and I had spent a fun week in Paris. Now we had landed in Amsterdam's Schiphol Airport to catch our flight back to Los Angeles.
But instead of rushing to the connecting flight, we headed for the airport exit. When we were researching flights from Paris to Los Angeles through Amsterdam, we discovered an option that changed the way we travel.
Enjoying Amsterdam Before Flying Home
Instead of booking the connecting and return flights on the same day, we added time between the two, which turned the layover into a stopover.
Before Paris, we had spent a week and a half immersed in the Dutch experience in Leiden and The Hague. We visited museums, walked along canals, ate in wonderful restaurants, learned about the history of tulips, wandered through an ancient botanical garden and spent leisurely afternoons exploring both cities on foot and on bicycles.
It had been years since Michelle had visited Amsterdam. I had been several times recently and I wanted to share the city with her. Which is why the stopover before flying back to Los Angeles was so perfect.
To make the stopover even easier, we arranged to stay at a hotel at Schiphol. Airport hotels have been around for years, but they're often low budget and utilitarian. That has changed.
The upscale Hilton Amsterdam Airport Schiphol was near the entrance to the main terminal. Ten minutes after we left baggage claim we were checking in.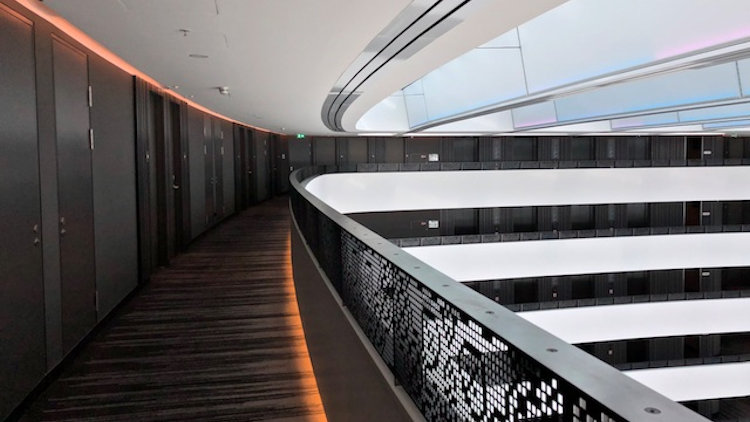 The hotel is a visual treat. Everyone who enters does the same thing when they walk inside the interior courtyard. They look up. The towering atrium is a wonder of modern architecture. Reaching into the sky almost one hundred and forty feet, light floods the courtyard through a rooftop skylight. Even on the grayest of Dutch days, the lobby is bright and sunny.
When we settled into our comfortable room, we noticed another feature of the Hilton. Outside, we saw planes on the runways, but inside our room, we heard not a whisper of their noisy take offs and landings.
We were tempted to stay in the room, have a bubble bath in the deep tub or lie down on the king sized bed and enjoy a lazy day watching the planes float by the picture window.
But we had Amsterdam on our mind.
We headed back into Schiphol to take the train to Amsterdam Centraal, the city's main train and tram station. During the fifteen-minute ride we reviewed our itinerary. We had a lot of ground to cover in our added days.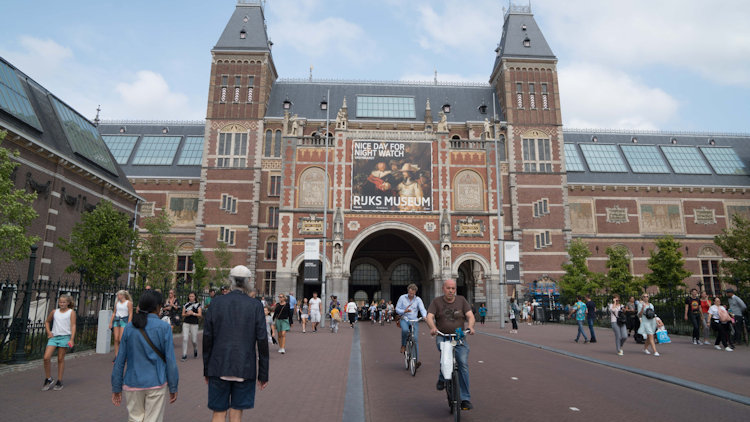 My visits to Amsterdam always begin at the Museumplein, the grassy expanse with the city's most famous museums. We toured the Rijksmuseum to visit the gallery housing Rembrandt's works. We marveled at the exquisite artistry that captured the personalities of The Night Watch.
We walked across the park to explore the Van Gogh Museum, enjoying an up-close look at his amazing sunflowers. Next door we spent more time than we expected in the Stedelijk, the modern art museum. The mix of sculptures and paintings in the Stedelijk are so well-curated, there are always surprises.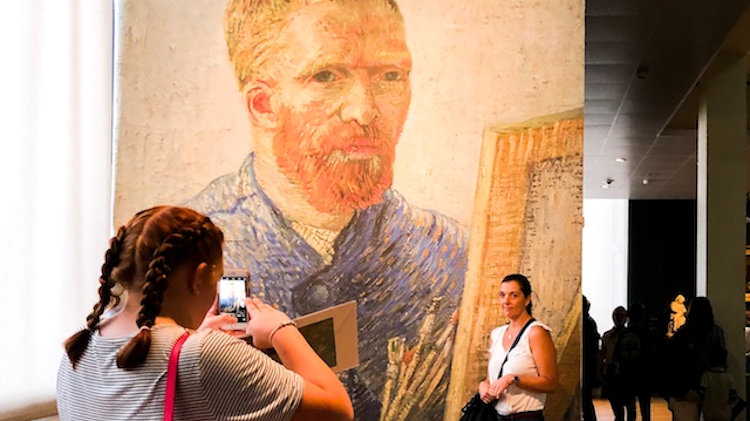 We experienced the insightful and beautiful work by the Studio Drift collective. Their show (now closed), titled Coded Nature, used kinetic sculptures to mesmerize anyone who walked into the rooms. In one large space, air-borne jelly fish-shaped sculptures moved up and down from the ceiling, hypnotizing people who were laying on the floor. In another space, polished metal tubes undulated in unexpected ways while in the adjoining room a construction of light tubes floated in the air. In the largest gallery, a massive concrete-textured block hovered overhead, defying gravity as it slowly moved from one end of the room to the other. Dozens of people walked underneath the monolith wondering how such a heavy object could float.
We stopped at the Moco Museum to see Banksy Laugh now (Unauthorized). The prankster's genius was on full display in the small rooms of the converted mansion. We walked around the corner to Simon Meijssen, a wonderful bakery serving delicious pastries and baked goods as well as made-to-order sandwiches.
We had tea and coffee at Vondelpark #3, a café in a Victorian building at the entrance to populE Vondelpark. The outdoor patio is a good spot to sit and watch the passing scene of couples walking their dogs, joggers and bicyclists enjoying the day.
Over several days, we explored the city. A local friend had recommended a restaurant in the city center so we jumped on a tram. Only a few steps from busy, tourist-popular Dam Square, we had a snack at Gartine, a cozy café with a dozen small tables in a tiny space with a high ceiling. We feasted on local field greens, Dutch cheeses and freshly baked breads with nuts, seeds and dried fruits.
Walking north from Dam Square on Nieuwendijk, we window shopped and followed the street as its name changed to Haarlemmerstratt and then Haarlemmerdijk. We stopped in Bourgondisch Lifestyle, a boutique emporium of fine food with wonderful displays of fresh Dutch and French cheeses, charcuterie and wine.
A few blocks away I showed Michelle the shop where I first discovered the Dutch spirit called genever, a precursor to English gin. Run by two brothers-in-law, 2008 Wijin & Dranken (2008 Wine and Spirits) has an excellent selection. Difficult to find in the U.S., I bought two bottles of Jonge Genever by Zuidam to bring home.
Enjoying the sunny day, we rented bicycles and pedaled to De Belhamel, a small restaurant with outdoor seating on the Brouwersgracht canal.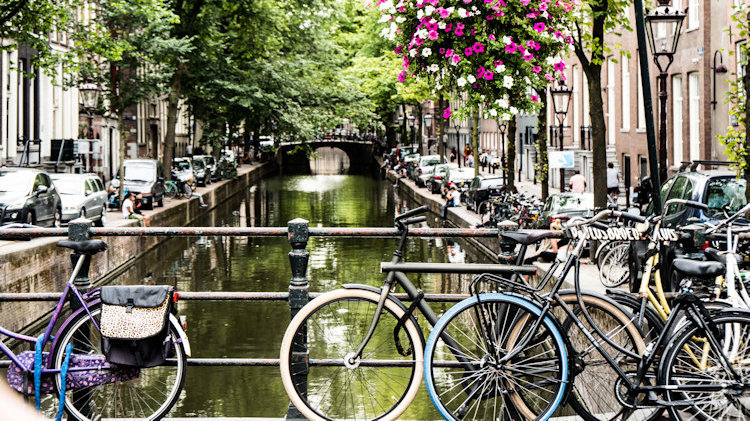 We sat at one of the long tables with a view of the canal. From our vantage point we could watch the canal boats, some small, some large, make the ninety degree turn to enter the Herengracht canal.
On that day, the flowers were in bloom, clouds hung lightly in the deep blue sky and we spent a long time talking and enjoying our meal. We shared a plate of vegetarian gnocchi with deep fried parsley, eggplant and grated cheese and an odd looking but delicious plate of carpaccio. In a style unique to me, instead of the thin slices of raw beef laid flat on the plate, the choice here was to create a roll. Inside the cylinders of carpaccio were fresh arugula leaves, crunchy fried potato threads and pine nuts.
After lunch, we explored the Jordaan, a revitalized area of historic canal houses and narrow streets. Without a plan, we bicycled down one street and then another. The small stores, coffee shops and cafes of the Jordaan line canals that crisscross the neighborhood. In some areas there were crowds, but mostly the streets were quiet, occupied by a couple pushing their baby's stroller, an older couple walking hand in hand.
By the afternoon we were ready to take a break. One of Amsterdam's pleasures is the joy of relaxing at an outdoor café with a view of a canal.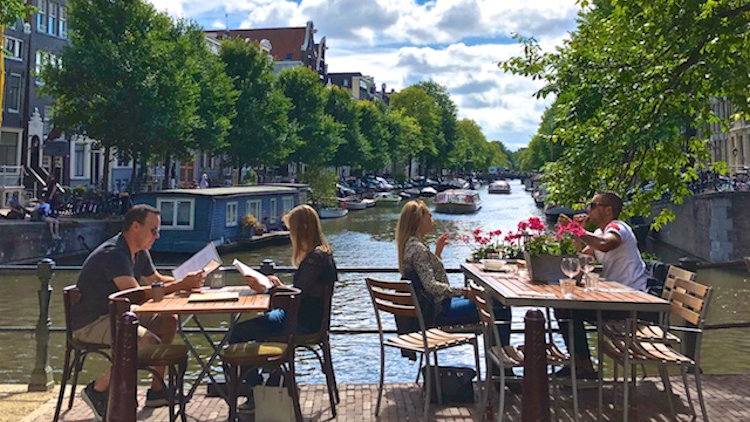 We stopped at Brasserie Bâton, a corner café with a view of the Herengracht canal. We ordered a cup of tea, an espresso and a slice of apple cake with slagroom (whipped cream), a Dutch treat. I'm not certain how long we stayed. Sometimes the most profoundly effecting experience is as simple as sitting quietly with someone you love and relaxing in a beautiful setting.
We returned the bicycles and walked across Dam Square in pursuit of Restaurant Long Pura, an Indonesian restaurant we had read about. Since we had been eating a lot, all we needed was a tasty snack. We ordered a vegetable soup with coconut milk and bean curd (Sop Tahu) and a selection of grilled satays that included chicken, goat, fish and prawns. Delicious. We definitely want to return hungry so we could order the rijsttafel ("a rice table"), a feast of small plates and steamed white rice.
At the end of our last day in Amsterdam, we headed back to the Hilton. Michelle took a hot bubble bath, luxuriating in the deep tub. I opened the bottle of Zuidam Jonge Genever I bought at 2008 Wijin & Dranken and sat close to the window so I could watch the jet liners silently take off and land. We went to bed early, curled up together, happily tired, enjoying the firm mattress and luxurious bedding.
The next morning, we had breakfast, finished packing and rolled our suitcases back to Schiphol. In less than thirty minutes, we had checked our bags, gone through security and were comfortably seated at the gate happy that we had used a stopover to create our wonderful experiences in Amsterdam.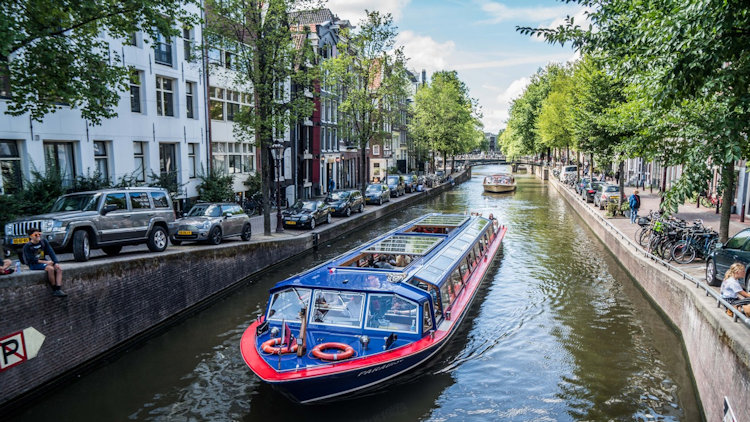 When you go
A layover happens because a final destination cannot be reached on a nonstop flight or because the most affordable booking has one or two stops. But there is a way to take advantage of travel through an airport that isn't your final destination.
By scheduling our flight to Los Angeles on a different day than our Paris flight, we had changed the layover into a stopover. Stopovers can be as short as one night or as long as an airline will allow.
Open-jaw ticketing is another kind of stopover. For a standard round-trip booking on one airline, the passenger departs, arrives and returns to the same airports. For instance, flying on KLM from Los Angeles to Amsterdam on a round-trip ticket would require us to fly from Amsterdam on KLM when we returned to Los Angeles. But let's say we wanted to fly home from Paris instead of Amsterdam. That would be an open-jaw booking.
Booking an open-jaw ticket or a stopover can be complicated. Airwander, an online service, looks to simplify the process by using algorithms to search out one-way segments to create the most efficient itinerary. Enter your dates of travel to the cities you want to visit and Airwander searches many airlines for flights that make those connections. Pulling together flights from different airlines, Airwander often creates itineraries that are less expensive than nonstop, conventional bookings.
2008 Wijin & Dranken (2008 Wine and Spirits), Haarlemmerdijk 59, 1013 KB, 020 4200821, 2008wijnendranken@gmail.com. Facebook page in Dutch only. Genever is also spelled jenever and pronounced "yin-e-ver."
Banketbakkerij Van der Linde, Nieuwendijk 183, 1012 MG Amsterdam, +31 20 624 8213. Just north of Dam Square and serving ice cream since 1937, the shop sells one flavor, vanilla, in cones, cups and ice cream sandwiches. There is almost always a line that can stretch down the block.
Bourgondisch Lifestyle, Haarlemmerstratt 115, 1013 EM, 020 412 00 27. Website in Dutch only. Also stores in Haarlem and Beverwijk. Cheeses, charcuterie and quality food and wine products.
Brasserie Bâton (Espressamente Bâton), Herengracht 82, 1015 BS, +31 020 624 81 95. Located alongside the Herengracht canal, a sidewalk café with friendly service. Besides the outdoor spaces in front of the café and on the canal, the charming interior has old school Dutch charm.
Café Restaurant De Ysbreeker, Weesperzijde 23, 1091 EC Amsterdam, +31 020 468 18 08.
The "icebreaker" is named for the location on the Amstel River in front of the restaurant where icebreakers moored during the previously harsh Amsterdam winters. A popular spot, the large, rambling restaurant has a sunny front room with large picture windows facing the river.
De Belhamel Amsterdam, Brouwersgracht 60, 1013 GX Amsterdam, +31 (0) 20 622 1095, info@belhamel.nl. An intimate, friendly bistro with a view of the Brouwers Canal (Brouwersgracht). Seating is available outside in front of the bistro and across the street at the picnic tables on the canal. Inside there are tables with a view of the street and canal.
Gartine, Taksteeg 7, 1012 PB Amsterdam, 020 320 41 32. Website in Dutch only. Owned by Kirsten & Willem-Jan Hendriks. Close to Dam Square on a quiet side street, serving lunch and high tea. Reservations are recommended for this charming, old school restaurant with an appreciation of local products.
Hilton Amsterdam Airport Schiphol, Schiphol Boulevard 701, 1118 BN Schiphol, +31 20 710 4000.
INK Hotel Amsterdam MGallery by Sofitel, NIeuwezijds Voorburgwal 67, 1012 RE Amsterdam, +31 20/6275900. My favorite Amsterdam hotel has a story to tell. The INK Hotel occupies a building that once housed a newspaper and its printing presses. Evidence of that history is imbedded in the interior design and the ethos of the hotel. Every room has pens and pads of paper inviting guests to write and share their stories. We ate our meals in the cozy Pressroom. Telling the story of the city, on the wall facing the bed in every room there is a mural-sized drawing on a blackboard by the Dutch artist, Jan Rothuizen. At first glance, the drawings are maps of Amsterdam neighborhoods. Look closely and the drawings tell stories, some risqué, some personal (Rothuizen shares family stories) and some historical, richly textured, humorous and fun.
Moco Museum (Modern Contemporary Museum Amsterdam), Honthorststraat 20, 1071 DE Amsterdam, +31 20 370 1997. Check online for dates of special exhibits. The Banksy show is open until January 15, 2019.
Restaurant Long Pura, Rozengracht 45-48, 1016 ND, +31 (0) 20 623 8950, reserveren@restaurant-longpura.com. A ten-minute walk from busy Dam Square, Long Pura is an intimate retreat serving carefully prepared Indonesian dishes. Amsterdam has a great many Indonesian restaurants, a legacy of the small country's wide ranging exploits in the Far East. Long Pura serves a large menu, featuring satays, soups, salads and rijsttafel ("a rice table").
Rijksmuseum, Museumstraat 1, 1071 XX Amsterdam. The museum is Netherland's national museum. The works exhibited are those created by Dutch artists or acquired by citizens of the Netherlands, which explains the very large collection of Far East Asian art, the result of Holland's colonial excursions.
Simon Meijssen, Van Baerlestraat 23, 1071 BG Amsterdam, +31 020 675 71 36. Website in Dutch only.
Stedelijk Museum Amsterdam, Museumplein 10, 1071 DJ Amsterdam, +31 20 573 2911. A museum for modern and contemporary art.
Van Gogh Museum, Museumplein 6, 1071 DJ Amsterdam, +31 20 570 5200. To avoid long lines, purchase an admission ticket online for a specific date and time. Also check online about any special exhibits.
Vondelpark3 – Kitchen & Bar, Vondelpark 3, 1071 AA , +31 020 639 2589, info@vondelpark3.nl. Snacks, meals, desserts and beverages, a good place to rest after visiting the museums or walking around Vondelpark. In warm weather, seating is available outside on the patio.
Wyland Focknik Proeflokaal and Spirits, Pijlsteeg 31, 1012 HH Amsterdam, +31 20 639 2695. Located close to Dam Square, the liquor store and tasting bar is tucked into a narrow alley next to a hotel. The Wyland Focknik distillery has been producing spirits since the late 17th Century. Besides selling genever, the liquor store also carries a great many brandies, most made from fruit but some made from chocolate, bell peppers and coffee.