The resort is celebrating its 25th anniversary this year with a $28 million renovation, so we decide that this is the time to finally cross it off our bucket list. Charles and Linda Hickox, the original founders of the resort have retaken ownership which is an added bonus because of their passion for this slice of paradise.
We fly into St. Maarten and take the half hour
boat shuttle
over to Anguilla. This exclusive island, just 16 miles long and 3.5 miles wide, doesn't allow cruise ships, casinos, fast food chains, or high-rise buildings so it's far from being a 'tourist trap' destination. Anguilla is widely perceived as ultra-high-end, yet it is surprisingly unassuming and low-key with the friendliest locals. Celebrities and billionaires may go to other Caribbean islands to be seen, but they come to Anguilla to disappear.
We are welcomed with fruity rum punches while front office manager, Rosette, checks us in telling us that the resort doesn't hand out room keys. Cap Juluca is definitely a safe haven. We are taken to our villa by golf cart and enter through a lush tropical courtyard. Our suite has cool ceramic-tile floors and colonial-style louvered doors opening onto a patio with a pathway directly to the beach.
ALL accommodations
here are beachfront, so your choice is picking either the first or second floor. I like the idea of walking right out to the beach from our room, but the second floor can provide a bit more privacy.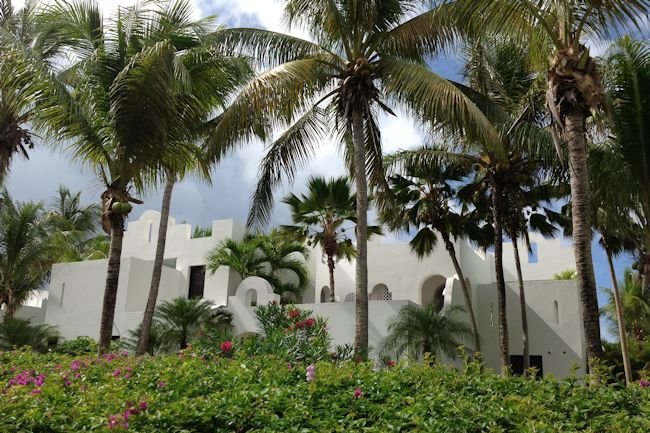 Our indoor/outdoor bathroom has the 'wow factor' -- sunlit by day and moonlit by night. We love the double-size tub and walk-in glass shower that leads to the outdoor solarium with loungers. Since Anguilla doesn't allow topless or nude sunbathing, this is a private area to even out tan lines.
I can't wait to get onto the beach, so we change into our swimsuits and make a beeline for the silky sand. The Caribbean sun and gentle breeze feel so good after our journey from up north! Cap Juluca is set on 179 acres with spectacular views overlooking the lush green mountains of St. Martin in the distance. The resort's exotic, whitewashed architecture reminds us that the Caribbean is a crossroads of cultures combining influences from Africa and the Mediterranean. As we stroll along the nearly one kilometer stretch of Maundays Bay, a staff member finds us down the beach and offers us a cold sorbet. There are five cabana bars up and down the beach so you can always get refreshments or snacks throughout the day while sunbathing.
We kick off our first evening at Cap Juluca with a sunset cruise on the resort's 32-foot boat with Captain Eddie and crewmate Elvis. This turns out to be an excellent decision allowing us to discover most of the island from the water and culminates in a stunning sunset with Elvis serving us champagne and telling us stories about the island.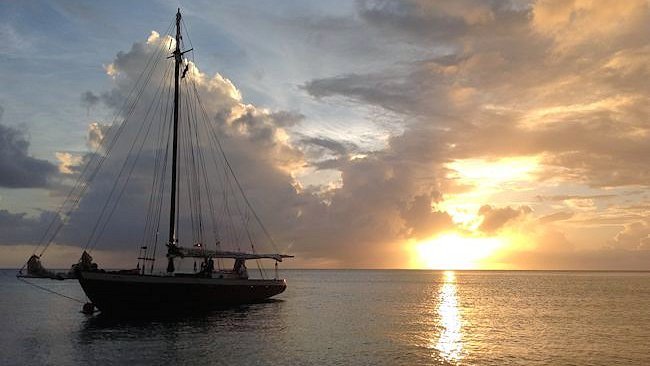 Anguilla is known as the "Friendliest Island in the Caribbean" and it's definitely true. You can't help but feel a special bond with the people here. Cap Juluca's staff members are so warm and thoughtful, always remembering our names and our preferences. During our stay we learn that 86 staff members have worked at the resort for 20 years or more!
Cap Juluca's Activities Director Cardigan 'Cardi' Connor, a former professional athlete, is a great asset to the resort. He manages all
health and wellness activities
from massages to tennis, fitness training to water sports and much more. Cardi has trained the A-List from Jennifer Aniston to Steven Tyler. Anguilla's vibe is "cool without trying" and 'Cardi' epitomizes that vibe.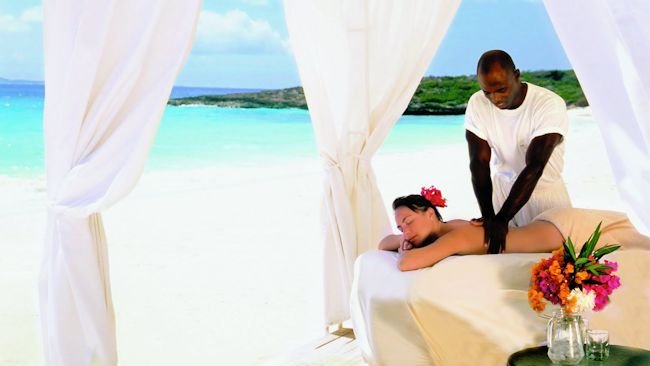 Train with Cardi in the hotel's very impressive and extensive gym and then let him pamper you with a massage on the beach.
It's easy to not want to leave the serenity and extreme beauty of Cap Juluca, but if you're so inclined the concierge can secure a mega yacht, helicopter or a private jet for some ultimate excursions to nearby islands like St. Bart's or St. Maarten. We choose a more subdued way to discover the island with local guide, Lloyd Gumbs. He shows us all the island's scenic and natural highlights as well as pointing out insider night spots like Elvis' Bar made famous by Paris Hilton. Our island tour culminates with a visit to the Heritage Museum Collection curated by Colville Petty. This turns out to be a remarkable opportunity to learn about Anguilla's fascinating history and culture. Old photographs and artifacts fill multiple rooms and trace the island's history over 4,000 years, from the days of the Arawaks.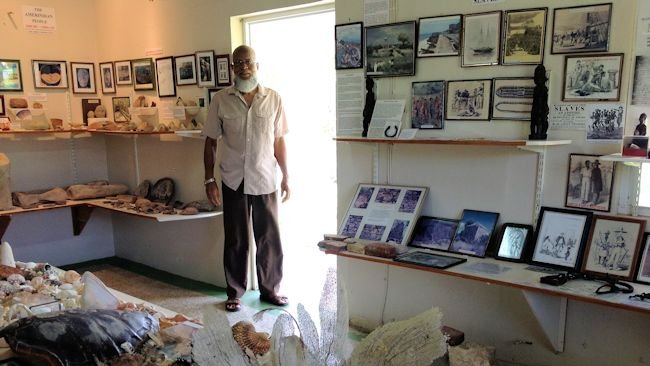 Anguilla Heritage Museum
We return to Cap Juluca in time for lunch at '
Blue
' -- the resort's casual open-air restaurant for breakfast and lunch. Centrally located along the beach, this is one of my favorite spots to sit back and soak in the sublime beauty of the surroundings.
Our afternoon is spent lazing on the beach and sitting at one of the cabana bars chatting with the bartender. Later in the afternoon we meander down to
Maundays Club
in the Main House for afternoon tea. A local brings horses around offering rides along the beach.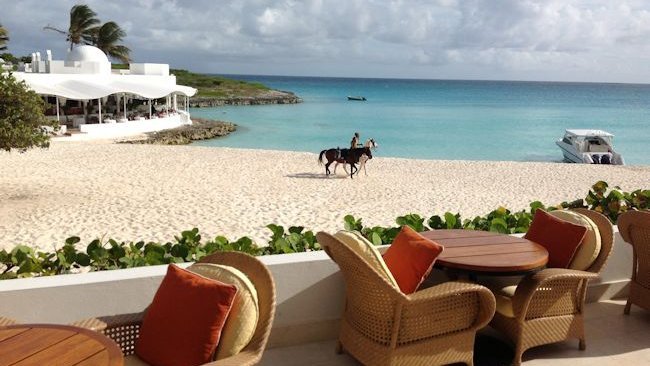 View of Pimm's restaurant from Maunday's Club in the Main House
Sadly, we've just booked a long weekend here, so it's our last night and we decide to do it in style. We celebrate with a candlelit dinner on the beach. Our
private dinner
with the shimmering lights of St. Martin across the water couldn't be more romantic.
Spice Lounge
, the resort's exotic waterfront lounge with Arabian flair, offers live music and dancing, but we are lucky enough to be going to a reggae concert by local celebrities Omari Banks and his legendary dad,
Bankie Banx
(not sure why the different spelling of their last name!).
Sunrise to sunset, I can't get enough of walking along Cap Juluca's beach -- one of the prettiest in the Caribbean. The resort is proud of the number of repeat guests it attracts and now my husband and I will be counted among them. Cap Juluca remains on our wish list because we can't wait to return!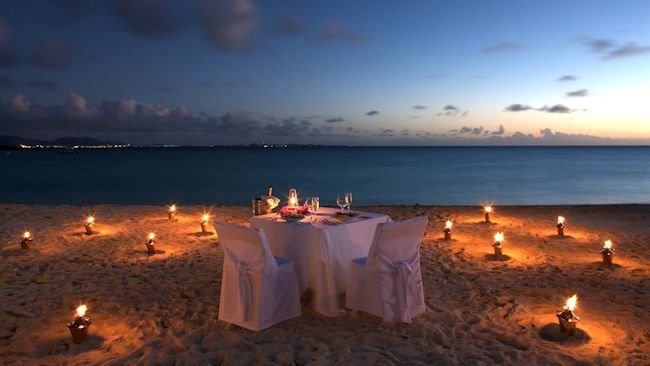 Beach dinner