After a long trip I was happy to have arrived at the Mandarin Oriental. The marble tiled bathroom had a large bathtub. I figured that would be the perfect spot for a leisurely, hot soak.
The bellman interrupted my reverie to offer a tour of the room's features. I thanked him and said I was okay. I was in Geneva on business and needed to get ready for a meeting. With considerable pride he wanted me to appreciate that the luxury of my room was more than skin deep.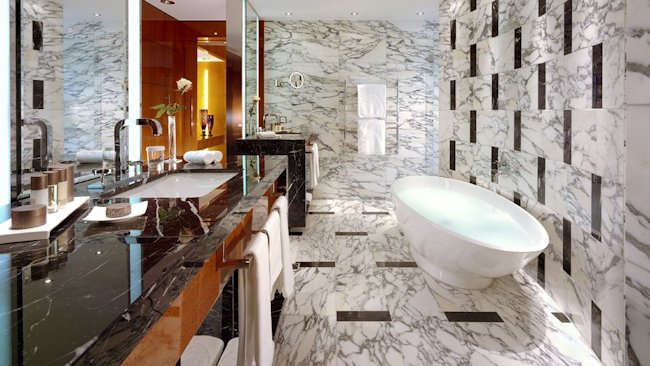 Hidden in the bedside tables and inside the desk were a plethora of high technology connections enabling me to use practically any modern electronic device. He opened the armoire to slide out a printer/fax machine with a direct-into-the-room phone number. In the bureau besides drawers for clothing, there was an espresso maker. He handed me the 24-hour room service menu. If I needed to finish a business report, I wouldn't have to leave the room even if I worked all night.
Geneva is a small city with an outsized importance in the world community. The city proper has a population under 200,000. The metro area has fewer than half a million residents. And yet. Geneva is an important global center for finance and diplomacy, home to headquarters for departments of the United Nations and International Red Cross and some hundred and fifty banks.
As a result, he explained, the Mandarin Oriental, a member of Swiss Deluxe Hotels, was very accustomed to supporting the special requests of business travelers. Whatever I needed for my visit, the concierge staff could accommodate. When I was ready to enjoy the city as a leisure traveler, they could help me discover the area's many attractions.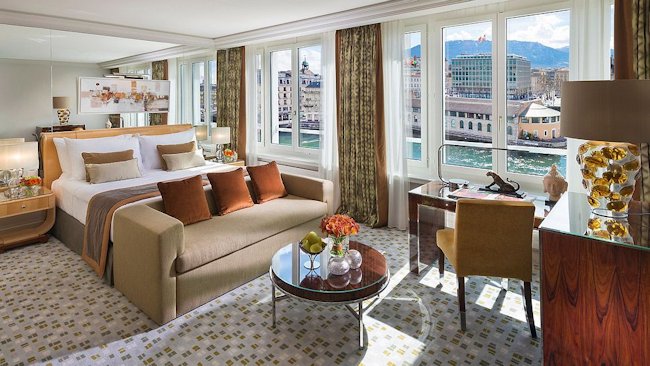 Getting Whatever Help You Need from the Golden Key Concierge Desk
With a welcoming smile, concierge Mathieu Breton pointed to the Golden Key pin on his lapel pin, an indication that he is a member of Les Clefs d'Or, an association that focuses on delivering high quality service. For wearers of the Golden Key being a concierge is not a job, it is a profession.
Centrally located, the 5-Star Mandarin Oriental is a short walk from the financial district where it is rumored Geneva's banks manage twenty percent of the world's wealth.
Given the great number of business travelers, the concierge desk is called upon to help with requests more complex than making dinner reservations. The staff routinely handles arrangements for hotel conference rooms requiring international video connections or last minute photocopying and binding of project proposals.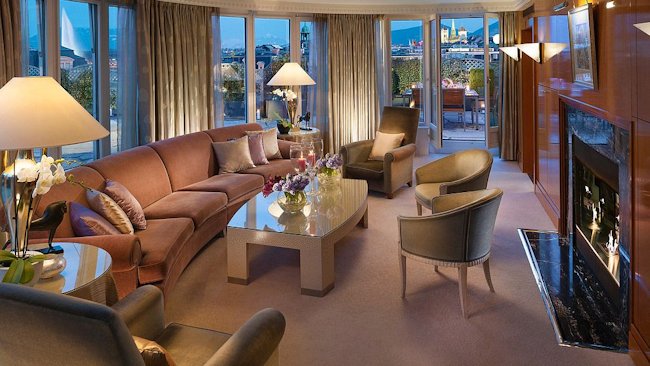 For leisure travelers--a group the hotel is actively pursuing--the concierge desk is a first stop for outings into busy, cosmopolitan Geneva. Guests of the hotel are only a few minutes walk to world-class shopping on Rue du Rhône and Rue du Marché. Shoppers in pursuit of watches can explore the sales rooms of Patek Phillipe, Piaget, Rolex and Frank Muller. Window-shop on a sunny afternoon and within several blocks you'll see the latest offerings by Versace, Louis Vuitton, Grisogono, Chopard and Claudie Pierlot, not to mention Christian Louboutin and Bulgari.
In addition to recommendations about upscale shopping, the concierge desk will create individualized maps to help visitors navigate the city. Depending on a guest's interests, the map might focus on historic buildings, art galleries, museums, nightclubs or fine dining restaurants.
When I travel, one of the ways I explore a new city is to visit neighborhood food and beverage shops to see what locals eat and drink. Sometimes you can learn as much about a culture by visiting a market as you can by going to a museum.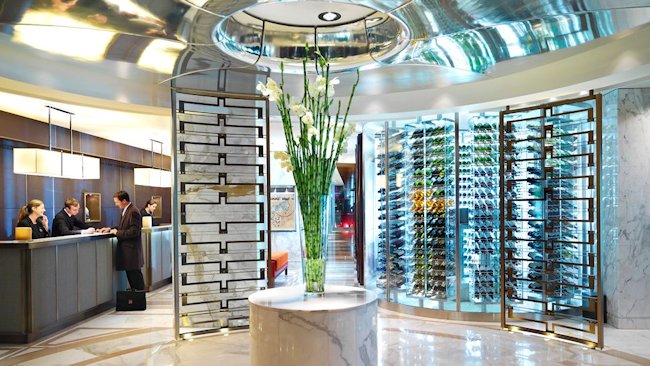 I wanted to sample Swiss wines. Since only two percent of the country's entire output is exported, the best way to appreciate the wines of the Lake Geneva region is to travel to Switzerland. Two blocks from the Mandarin Oriental, Breton directed me to Lavinia, a wine bar and retail shop with an extensive collection of local wines and eau de vie. Lavinia proved to be a good place to spend an afternoon pursuing my oenological education.
I also wanted to visit a supermarket. He sent me to Manor, an upscale department store chain well known for Manor Food, which sells high quality, internationally and locally sourced seafood, meat, poultry, charcuterie, cheese, greens and fruit. Ready-to-eat meals are also available as well as baked goods and an entire counter devoted to chocolates—from Switzerland, of course.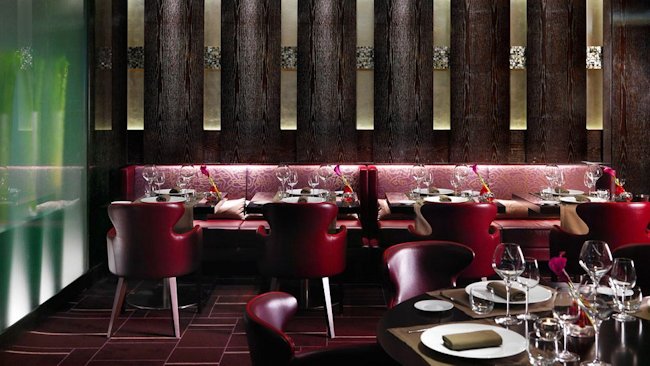 Rasoi by Vineet, Continental Europe's Only One-Stared Michelin Indian Restaurant
The Mandarin Oriental enlisted London based chef Vineet Bhatia to create Rasoi by Vineet to distinguish itself from the other nearby 5-Star hotels and their French style restaurants. The only Indian restaurant in Continental Europe to be awarded a Michelin star, executive chef Sandeep Bhagwat uses Swiss products prepared with an Indian point of view.
For one of the dishes on his fall menu, Bhagwat bought lamb from a local farm and flavored the meat with Indian turmeric, pairing the dish with a wine from the region, the biodynamic Domaine des Balisiers Satigny Comte de Peney made with Cabernet Franc grapes.
His dishes arrive at the table with visual elegance. Behind the apparent artistry is a complex act of culinary fusion and adaptation. When he returns home to India, he never cooks. Not that he doesn't want to cook for his mother--he would do so happily--but he travels thousands of miles because he yearns for her food. Her dishes are the lodestone of his cuisine, the true north when he is composing his menus in Geneva.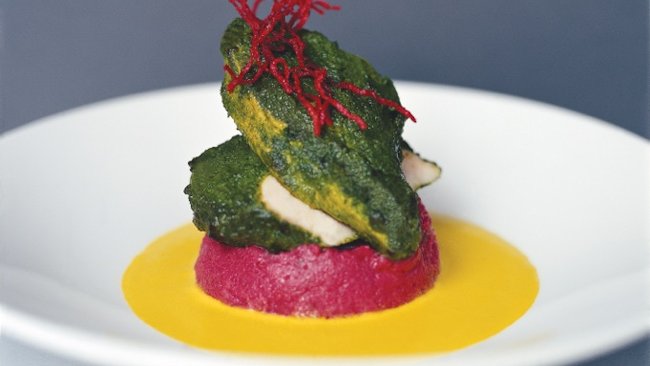 In the Rasoi kitchen, he takes his mother's recipes and balances the flavors, textures and ingredients of her recipes with the realities of a business clientele. For them, the fiery heat of full-bodied Indian cooking must be tempered. Raw onions and handfuls of garlic, so perfect at home, need to be winnowed, chastened and civilized when served to business travelers who have to be mindful of not offending their colleagues.
Drawing on a rich Indian tradition of vegetarianism, he always offers a great many vegetarian dishes, free of all animal products.
A tasting dinner illustrated the style and range of his menu. Bhagwat served dishes that featured purple and orange heirloom carrots and turmeric flavored crispy potatoes, grilled medallions of Canadian lobster topped with chocolate and ginger powder, lamb chops from a Geneva farm and deliciously spicy Gruyere naan. Paired with the dinner were wines from the Lake Geneva Region including Didier Joris, Arvine Gringe (Valais 2011) and Les Balisiers, Comte de Peney (Genève 2007). With dessert, Bhagwat served a Swiss eau de vie, Morand's Pruneau.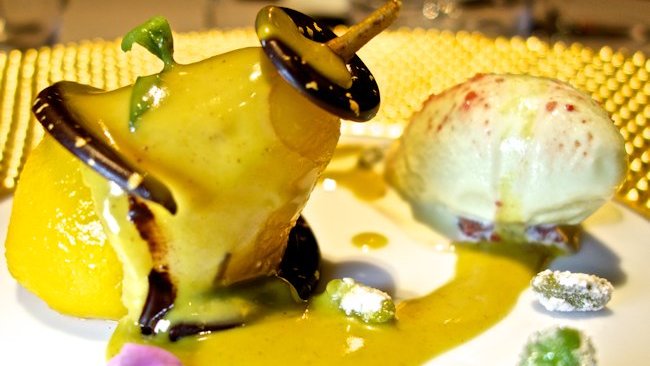 For dessert, a whole pear was presented on a gilded plate. Sauced in cardamom and smoked pistachio cream with a lemon grass ice cream quenelle, the poached pear was encircled by a dark chocolate cord and decorated with flakes of gold leaf. Cutting into the pear released a crumble of housemade Paneer cheese. Each spoonful contained half a dozen textures and time-released, complimenting flavors. The over all effect was light and airy even though the confection was dense with complexities.
Playing with the ingredients from two continents, Bhagwat had transformed a Swiss pear into a jewel that could have adorned the table of an Indian prince. Or, in this case, as a dessert for a guest of the Mandarin Oriental, Genève.
Visit website:
http://www.mandarinoriental.com/geneva/