Upgrade your virtual view with our pick of some of the best hotels to dream about now, and book for later. Soak up the serenity of the Indian Ocean, the skyline of Barcelona, and the tranquility of Lake Lucerne...and more.
The view from… Amare Ibiza
The fashion forward, sleek and chic, adults only Amàre Hotel Ibiza epitomises distinctive design, stylish sophistication and fun. Located on the beach front of the beautiful Bou Cove, the hotel's rooftop has incredible views across the ocean; by day, soak up the sunshine with a drink in hand and as night falls, the rooftop becomes one of the best spots on the island to catch the famous Ibizan sunset.
For more information: https://www.amarehotels.com/amare-ibiza/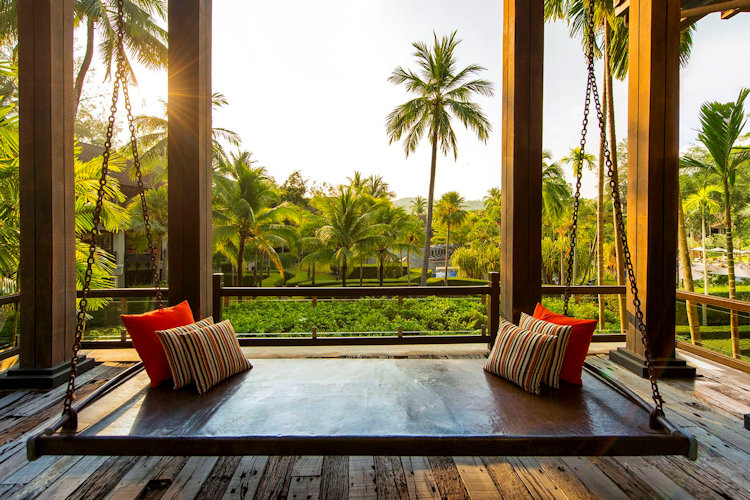 The View from… The Slate Phuket
Take a moment to pause at Rebar, The Slate Phuket's authentic Japanese restaurant Rivet's sister lounge bar. After indulging in fresh Sashimi and sizzling Wagyu at Rivet, Rebar offers signature cocktails overlooking the tropical Thailand sky. A design-led hotel set nearby the pure shores of Nai Yang Beach, The Slate designed by Bill Bensley is a sublime sanctuary of art and illusion as industrial elements and whimsical design combine for a highly unique guest experience.
To book or for more information, please visit www.theslatephuket.com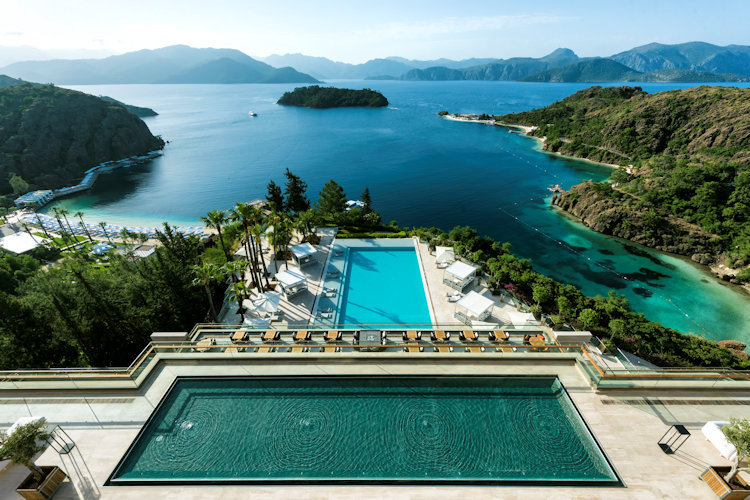 The View from… D-Maris Bay, Turkey
Perched above a picturesque cove offering breath-taking views of the Datça Peninsula, where the Aegean Sea meets the Mediterranean, D-Maris Bay offers the best sunset views in Southwest Turkey from their infinity pool overlooking Green Hill panoramic point. Home to a variety of both indoor and outdoor pools surrounded by lush forests, towering mountain ranges and turquoise waters, D-Maris Bay also offers the secluded luxury of five private white-sand beaches. Enjoy windsurfing, kayaking or catamaran sailing, before returning to refuel at one of the five scenic restaurants back at the resort, including the contemporary Japanese restaurant, Zuma.
To book and for further information, please visit www.dmarisbay.com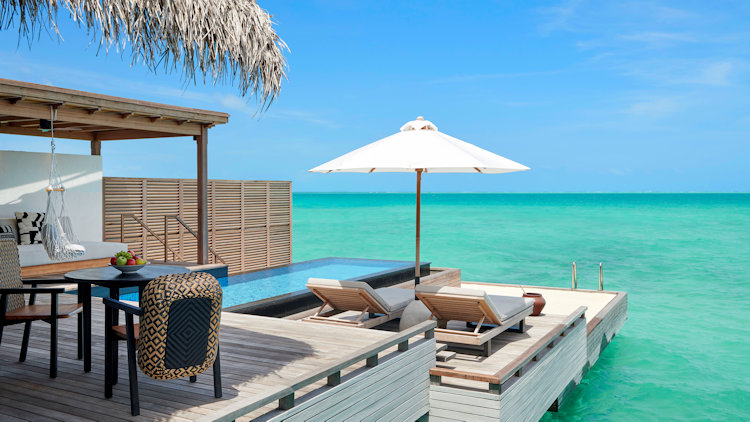 The View From… Fairmont Maldives Sirru Fen Fushi
As the sole resort on the Shaviyani Atoll, guests of Fairmont Maldives can enjoy uninterrupted views over the Indian Ocean with a stay in one of the Grand Water Sunset Villas. Experience a true sense of tranquillity with the sound of lapping waves on loop and a private terrace complete with plunge pool and direct access to the deep blue. Set within the largest resort lagoon in the Maldives, guests can rub shoulders with the 250 species of tropical fish, manta rays and turtles that patrol the coral house reef.
To book and for further information visit: https://www.fairmont.com/maldives/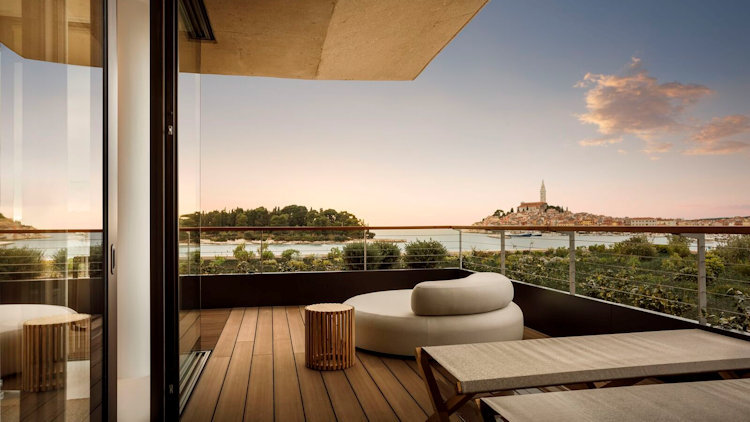 The View from…Grand Park Hotel, Rovinj
Soak up panoramic views of the quaint town of Rovinj from Grand Park Hotel's Grand Sea View Room. With a glass of Istria's finest red in hand, lounge on the wraparound deck and watch as the sun sets behind the spiral steeple of Rovinj's hilltop church. Famed for its truffles, wine and olive oil, Istria makes for the perfect weekend getaway for travellers seeking delicious cuisine with a side of culture.
To book and for further information visit: https://www.maistra.com/grand-park-hotel-rovinj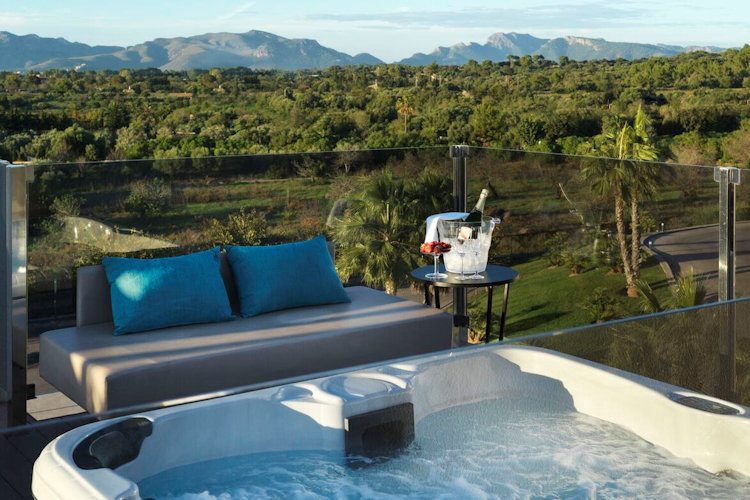 The View From… Zafiro Palace Alcúdia
Sit back and relax with a glass of bubbly in hand as you soak in the views from one of the Junior Penthouse Suites at Zafiro Palace Alcúdia. The hotel's most exclusive rooms are set across two floors and come with a rooftop panoramic terrace, a private Jacuzzi, Bali bed and breathtaking views across the island of Mallorca. Beautifully positioned in the traditional village of Alcúdia, the hotel is an all-suite resort where adults can enjoy moments of well-deserved bliss; whether from the swim up Wet bar for a cocktail post swim, on a bali bed at the adults-only Oasis Pool or with a massage in the Zen, Spa and Wellness Centre.
For more information: https://www.zafirohotels.com/en/hotels/zafiro-palace-alcudia/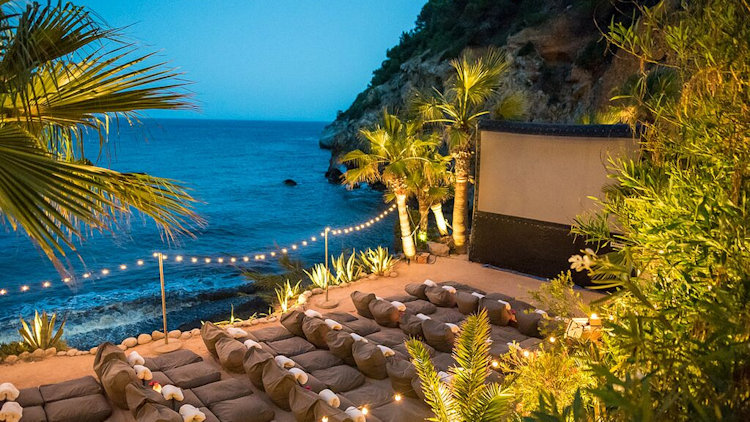 The View from… Amante, Ibiza
A beautiful rural restaurant and beach club perched on a cliff edge overlooking the Sol den Serra bay, Amante Ibiza boasts an idyllic backdrop surrounded by lush greenery, with panoramic views of Ibiza's untouched North Eastern coast. Guests can enjoy meditation and yoga classes by day as well as fine dining with fresh, plant-based ingredients sourced from Amante's very own vegetable garden, and outdoor cinema nights overlooking the moonlit Mediterranean Sea by night. A beautiful and atmospheric open-air film screening, Amante Ibiza's floodlit rocks, fine wine and fresh popcorn provide the perfect spot for a laid-back luxury moment.
To book and for further information, please visit https://www.amanteibiza.com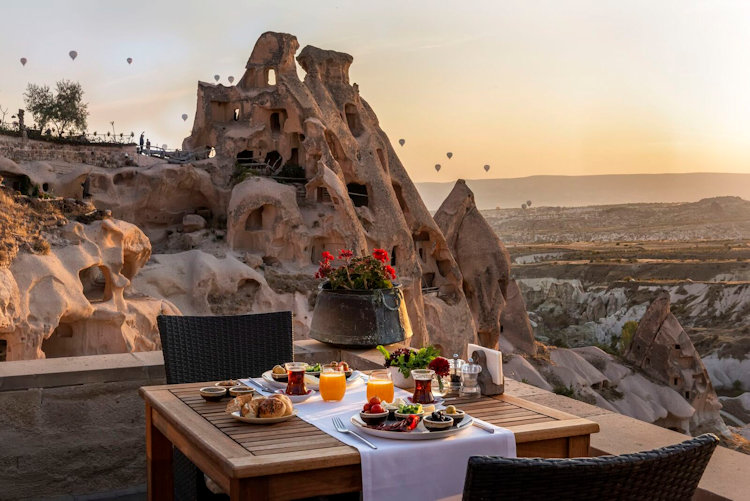 The View from… argos in Cappadocia, Turkey
Famed for its picturesque sunrise hot air balloon journeys, an alternative way to experience panoramic views of Turkey's magical Cappadocia is at heritage hotel argos in Cappadocia's SEKI Restaurant. Offering undistributed views of the honeycombed hills and magical fairy chimneys on the hilltop village of Uçhisar, SEKI Restaurant is dressed in rustic chic style décor, furnished with age-old artefacts. Enjoy Traditional Turkish cuisine made from seasonal produce sourced from the hotel garden, before retreating to a cosy cave room, emerging from a 2000-year-old network of ancient ruins, caves and underground tunnels.
To book and for further information, please visit www.argosincappadocia.com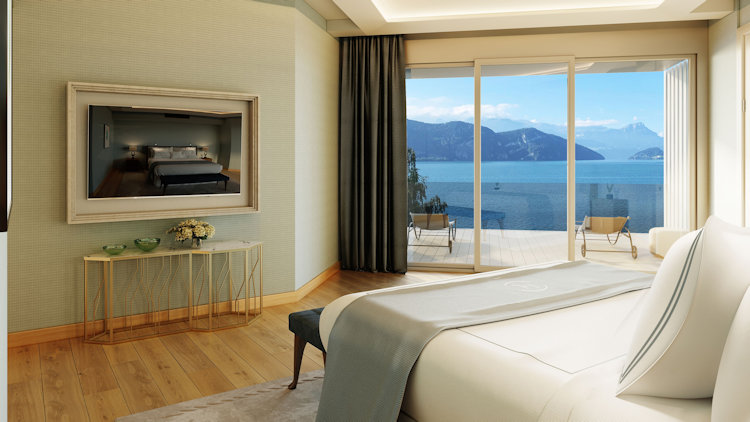 The View from… Chenot Palace Weggis, Switzerland
Bask in the tranquil views of Lake Lucerne, Switzerland from the comfort of your super king size bed in Chenot Palace Weggis' Deluxe Suite. Located at the foot of the Swiss Alps, the renowned Chenot brands new flagship property is set to open in June 2020 and will comprise a 5,000 sq. metre state-of-the-art medical, diagnostics, spa and fitness centre along with 97 luxury lakeview rooms and bespoke programmes for each guest. The palace will also be home to a series of sleep rooms with special acoustics and lighting to optimise sleeping hours, as well as ceramic fibre bed linen which converts body heat into energy, making this heavenly setting the perfect place to rest and rejuvenate.
To book or for further information, please visit www.chenotpalaceweggis.com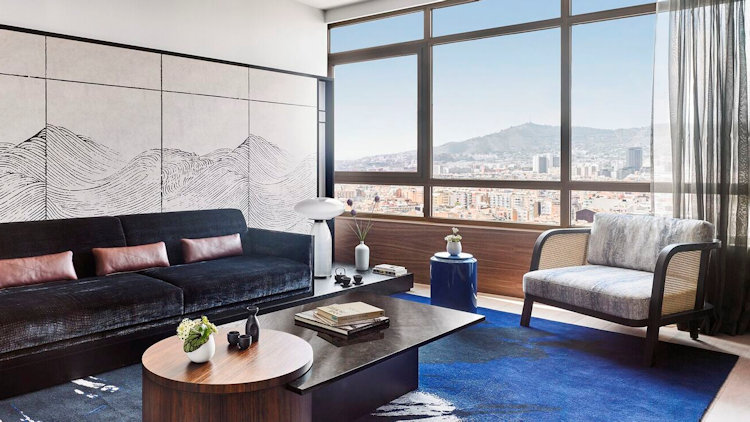 The view from…Nobu Hotel Barcelona
Home to some of the most spacious rooms and suites in the city, Nobu Hotel Barcelona offers jaw-dropping views across the vibrant city and blue Mediterranean below. The hotel's Sake Suites ooze space, style and sophistication, located between the 15th and 22nd floor guests can opt from gazing out the window from the bedroom, the bathtub, or expansive living room.
For more information: https://barcelona.nobuhotels.com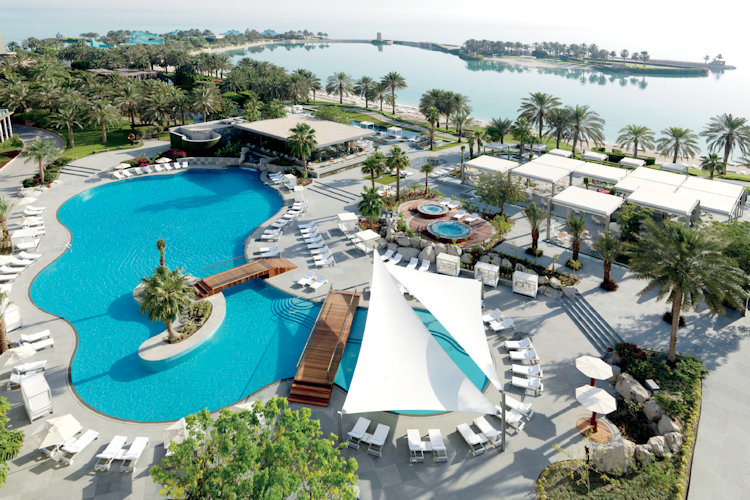 The view from…The Ritz-Carlton, Bahrain
A home away from home, the villas at The Ritz-Carlton, Bahrain are set on the seafront of this exotic island paradise, each come with their own private pool, direct villa to beach access, three lush bedrooms and a 24 hour butler on hand at the push of a button - should you need. Set a stone's throw from the historic heart of Manama, The Ritz-Carlton, Bahrain is a luxurious base from which to explore this vibrant corner of the world.
For more information: https://www.ritzcarlton.com/en/hotels/middle-east/bahrain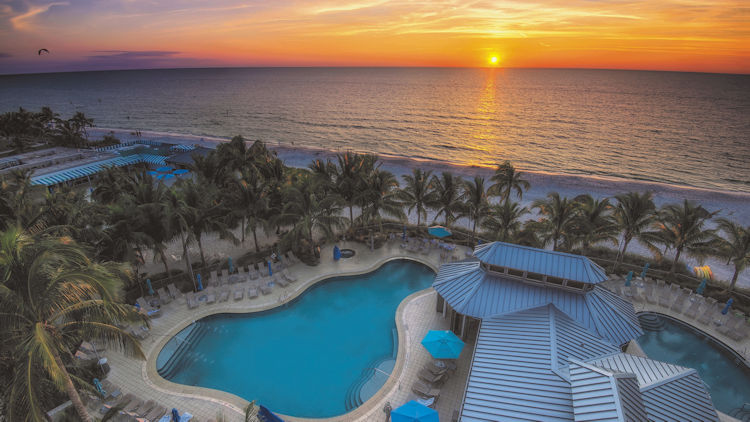 The view from…The Naples Beach Hotel & Golf Club
The Naples Beach Hotel & Golf Club is Southwest Florida's only beachfront resort with an on-site championship golf course, world-class spa and award-winning tennis center. Offering an incredible setting, the 319-room resort features 34,000 square feet of meeting space, many picturesque outdoor event venues, a Jack Nicklaus-designed championship golf course, world-class spa, tennis center with 6 Har-Tru courts, a beachfront pool complex, multiple restaurants and bars, a complimentary Beach Kids Club child activity program, and retail shops. Guests also benefit from no resort fees, complimentary self-parking and valet parking, and complimentary Wi-Fi.
For more information: https://www.ritzcarlton.com/en/hotels/middle-east/bahrain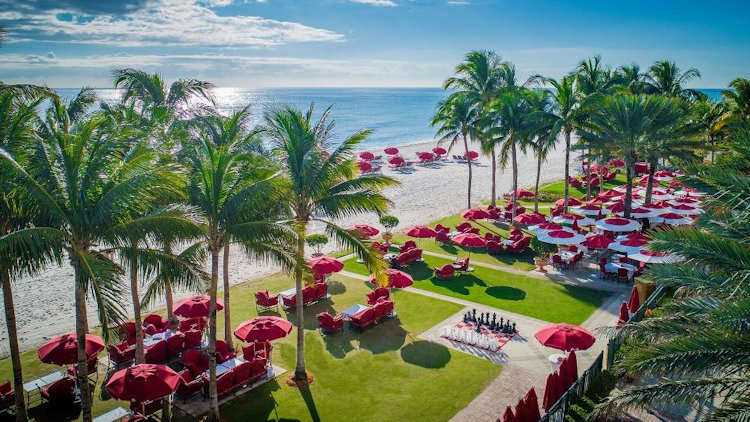 The view from…Acqualina Resort & Residences
Acqualina Resort & Residences presents its "Bringing Acqualina To You" virtual series sharing ideas and making its unique amenities available for you and your family members to enjoy in the comforts and safety of home. In the first series, Acqualina camp counselor Regis creates a cool shark craft inspired by their Feisty Fish marine theme, one of 7 unique ocean themes as part of Acqualina's camp curriculum. You can download a printable version of the template for the kids and watch the step-by-step video on Acqualina's Lifestyle Blog by visiting www.acqualinaresort.com. Check back on their website for more episodes and share your creative projects so we can all be together at this time through #AcqualinaLearning #Acqualina.
For more information: https://www.acqualinaresort.com


The View from...Hurtigruten
Sail the Norwegian Coast Virtually: Every day Hurtigruten is releasing one episode from the NRK broadcast "Hurtigruten Minute by Minute"—Taking you all the way from Bergen to Kirkenes. Anyone is welcome to join via this link
Hurtigruten Insiders Virtual Voyage: Guests' ability to turn something negative into positive is truly inspirational. Head over to Hurtigruten Insiders group, there is a virtual cruise organized by guests. Join the group and come on board here