Well, it's all here, folks, in regal Rocky Mountain splendor – and I had the fortuitous opportunity to experience this when I attended the
Vail International Dance Festival
. The festival is a celebration of dance, renowned for its artistic excellence and unparalleled programming. I was one of almost 20,000 people from around the world who descend on Vail each year for its two-week culturally-rich festival. Mark your calendars as this year's dates are July 29-August 12.
Vail, Colorado is a small town at the base of the Vail Mountain, home of the massive Vail Ski Resort. Set within White River National Forest, the town is a gateway for winter sports like skiing and snowboarding. It's also a summertime destination for golfing, hiking, and, of course, the Dance Festival. Downtown Vail is a vibrant pedestrian village with incredible lodging and dining to suit every budget.
The outdoor splendor of this site was my backdrop to artistic brilliance as Vail once again played host to the world's finest dancers. In fact, in quality and quantity, the lineup of world-class dancers was as awe-inspiring as this town's alpine scenery! Now in its 29
th
year, the festival's spirited atmosphere transformed the village into a setting that was inviting to dance aficionados and newbies alike.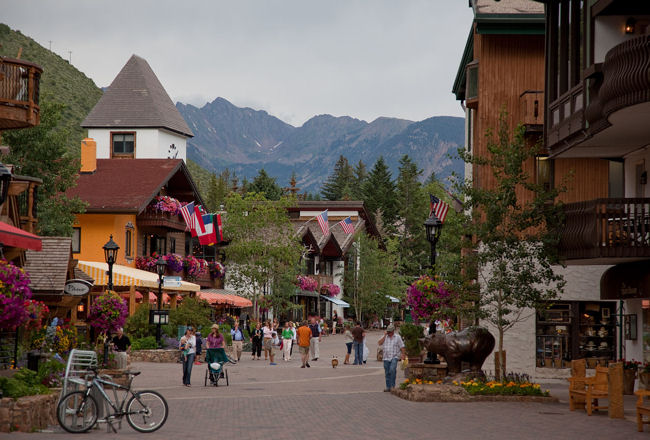 This year marks the 11
th
anniversary for Artistic Director Damian Woetzel – about whom the New York Times has called "…one of the foremost impresarios of American dance." He is a former principal dancer with New York City Ballet and, under his direction, has taken the festival to new heights with a roster of both national and international dance stars and his way of balancing the crowd-pleasing with novelty and risk. Woetzel has said, "It's a real pleasure to realize how these past seasons have brought together so many dancers, choreographers, musicians, and audiences. For me, the spirit of collaboration has been the most vital part of the festival, giving artists the chance to experience and work in new forms with new partners, and for the audiences, the chance to experience this work and be a part of the art itself…." Among the litany of impressive artists that have visited the festival are the Martha Graham Dance Company, the Royal Ballet, American Ballet Theatre and the Alvin Ailey American Dance Theater.
Included in last year's lineup was BalletX, Dorrance Dance in Concert, Dance Theatre of Harlem, Paul Taylor's American Modern Dance, and Ballroom Spectacular. On the bill the first evening I attended was the Dance Theatre of Harlem, a company formed shortly after the assassination of Rev. Dr. Martin Luther King, Jr. The ballet star Arthur Mitchell was inspired to start a school that would offer children – especially those in his native Harlem – the chance to learn about dance. The dream grew into DTH that, four decades later, has evolved into a multi-cultural dance institution with an extraordinary legacy of creative expression and artistic excellence. This marked its Vail debut. The program was presented at the Vilar Performing Arts Center in nearby Beaver Creek where they brought new life to ballet through classic and contemporary groundbreaking works:
Brahms Variations, When Love
(music by Philip Glass),
Dancing on the Front Porch of Heaven,
and
Coming Together.
My favorite work was
Dancing
, with swoon-worthy bodies sheathed in shimmering white leotards. Elegant moves and manipulations showed off their suppleness as they moved with regal ease. Kudos to Virginia Johnson, the company's artistic director who, since 2012, has brought DTH into the world-class stratosphere.
Paul Taylor is considered the greatest living pioneer of American modern dance since 1954 when he established his company. The performance, held at the Gerald R. Ford Amphitheater, marked the festival's debut of Mr. Taylor's new venture, Paul Taylor's American Modern Dance. He presented three works:
Polaris, Dilly Dally,
and
Promethean Fire.
One of the highlights of my visit was seeing
Ballroom Spectacular
directed by Anna Trebunskaya, she of
Dancing with the Stars
fame. This was a made-for-Vail showcase with ballroom champions from around the world performing a variety of dances – from waltz to rumba, cha-cha, meringue, samba, tango and foxtrot. The performance was at times romantic, other times rollicking – at all times fun!
Upcoming performances for the Vail International Dance Festival 2017 will kick off on Opening Night with a program ranging from tap improvisation and ballet to street dance and groundbreaking contemporary works. Returning Artist-in-Residence and tap dancer extraordinaire Michelle Dorrance returns as well as audience favorite Lil Buck; also a first look at the acclaimed L.A.Dance Project, founded in 2012 by former New York City Ballet principal dancer and choreographer Benjamin Millipied. Of this troupe the New York Times has said: 'The intelligence and eclectic generosity of the programming are not in doubt. The dancers prove attractive, impressive, versatile." There's "UpClose: Jerome Robbins," with an all-star cast that celebrates the launch of legendary choreographer Jerome Robbins centennial birthday year and the Martha Graham Dance Company returns in a program featuring Graham classics and new works created for the legendary company. And there's more…much, much more! If you attend only one festival/happening this summer, make it the Vail Dance Festival!
As I departed Vail, my head slightly spinning, I knew for sure it wasn't because of its 8,000 foot elevation. No, my '
Rocky Mountain High'
was completely due to this remarkable festival and the mountain-high level and quality of the dance!
WHEN YOU GO
Vail International Dance Festival
www.vvf.org/Dance_Festival
Visit Vail
www.vail.com/
Antlers at Vail (hotel)
www.antlersvail.com