THIS VALENTINE'S DAY SHAKE AT HOTEL VALLEY HO IN SCOTTSDALE WILL MAKE YOUR SWEETHEART SWOON
Hotel Valley Ho has everything you need for the perfect Valentine's Day celebration. Savor a delicious dinner at ZuZu from 5:30 p.m. to 10 p.m., complete with a starter buffet; choice of entrée including prime ribeye, lobster and king crab carbonara, and more; and a special "Show Stopper" Shake that will make your sweetheart swoon. You can also enjoy live music in the lounge from 8 p.m. to 11 p.m. Dinner is $52-$72 per person, plus tax and gratuity (price varies based on entrée choice). Reservations are required and can be made at 480.421.7997.
ZuZu's Strawberry Red Velvet Cream Cake "Show Stopper" Shake will be available not only during the Valentine's Day dinner, but also on February 15 and 16 from 11 a.m. to 11 p.m. This indulgent dessert features a white chocolate shake with strawberry gelato, strawberry red velvet cream cake, dark chocolate and strawberry ganache, marshmallow crème, capezzoli di venere truffles and white-chocolate-covered strawberries.
All those joining for dinner can also get a Studio Guest Room at a special rate of $249. This room type has an optional add-on experience that's perfect for Valentine's Day – the new Bathtub Bottle Service. Slip into the beautifully designed Philippe Starck tub and let Hotel Valley Ho pop the cork. You'll get a bottle of wine, chocolate-dipped strawberries, a LUSH technicolor bath bomb, plenty of bubbles for your soak and tea light candles. Guest rooms and the $100 bath package can be reserved at 480.376.2600.
VH Spa for Vitality + Health is offering two glasses of bubbly when you book two of the spring specials, including The Deep End Massage + Hypervolt, the Deluxe Detox Facial and Cool Breeze Pedicure. Take advantage of this Valentine's special from February 11 to 17 and call 480.376.2600 to make your appointment.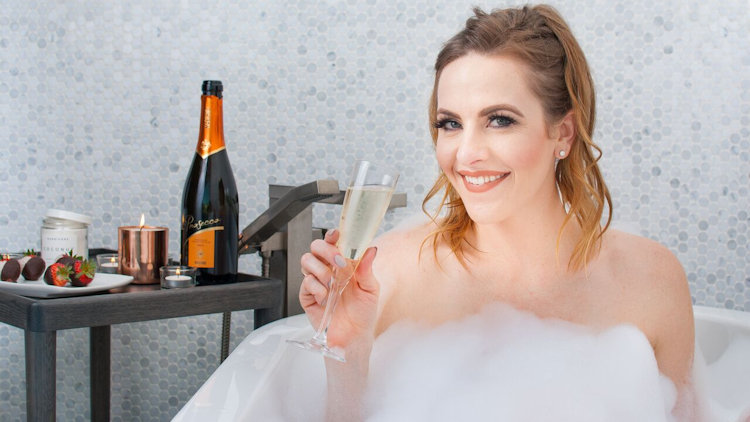 VALENTINE'S DAY DINNER & BATH BUTLER EXPERIENCE AT MOUNTAIN SHADOWS IN SCOTTSDALE
Savor a special three-course menu this Valentine's Day at Hearth '61 inside the sleek new Mountain Shadows resort. Start with a beet and goat cheese salad with blood orange vinaigrette, followed by your choice of surf & turf or sea bass with ginger butter, finished with a beautiful strawberry chiffon cake with white chocolate Champagne truffle. Pop the cork with half-off bottles of Veuve Clicquot Yellow Label Champagne and enjoy live music on Thursday and Friday from 6 p.m. to 9 p.m. and Saturday from 7 p.m. to 10 p.m. The Valentine's Day dinner menu is offered February 14, 15 and 16 from 5 p.m. to 10 p.m. and is $79 per person, plus tax and gratuity. Dinner reservations are required and can be made at 480.624.5400.
Everyone who enjoys the Valentine's Day dinner menu on any of the three nights can also take advantage of a special room rate, with Immerse Guestrooms available for $299. Add the Bath Butler Experience and let the resort's bath butler create a serene atmosphere for you to admire the stunning Camelback Mountain views from your tub. Indulge in the perfect bubble bath with chocolate-dipped strawberries, plenty of bubbles for your soak, tea light candles, and a bottle of wine. You'll also get two full-sized, luxurious items to take home with you—Herbivore Coconut Milk Bath Soak and a handmade soy wax candle by Vim + Vigor in a sleek copper vessel. Guestrooms and the $150 bath experience can be reserved at 855.485.1417.