Heedless of the Wind and Weather
During this season, town centers, market squares and narrow cobblestone lanes come alive with brightly decorated stalls offering regional food, Christmas decorations, sweet confections, crafts, and live entertainment. Oh, and let's not forget
gluhwein
, that spicy, hot mulled wine that is reason enough to visit the markets – and it banishes the cold quite handily! On my excursions into several enchanting German and Swiss medieval castle towns, I celebrated the magic of this season in a memorable way; an added plus was learning some background and history of each metropolis– and meeting warm and hospitable locals in the bargain.
Unique Uniworld
Popularity of river cruising is on the rise as continued news of mega-liners' disasters at sea lure us toward more intimate small craft like the
SS Antoinette,
Uniworld Boutique River Cruise's 164-passenger vessel. The company has been in business since 1976 and they currently have 18 ships, including the all-inclusive
SS Catherine
which launches later this year. From the moment I stepped on-board I was giddy with excitement. High above me in the two-storey lobby hung a shimmering light fixture that I later learned was the blue Strauss 10-foot Baccarat chandelier, resplendent with huge sapphires that originally hung in New York's famed Tavern on the Green. Checking in at Reception, I gaped at Brazilian marble on the walls and floor and was captivated by a 19
th
century Venetian glass mirror mounted behind the receptionist.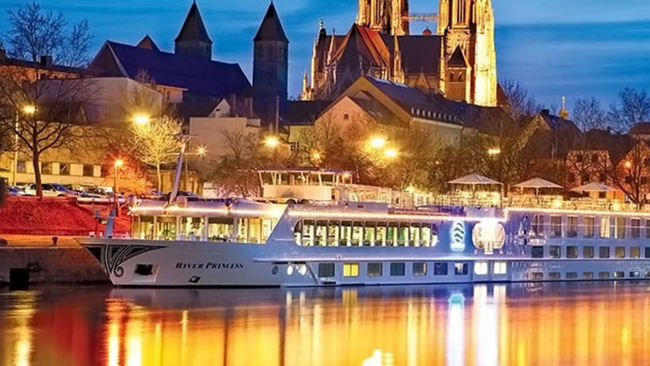 Entering my stateroom, I felt I'd stepped into Chateau de Versailles. My room was decorated in 18
th
century French furnishings, and perhaps my very favorite feature was a mini-conservatory (called a French balcony) enclosed with heavy toile draperies and outfitted with two cozy chairs, a soft cashmere throw and a floor to ceiling window that, at the touch of a button, lowered half-way, the better to encounter the waters of the River Rhine - and to photograph! Bikes were available for our cycling pleasure port-side and each day there was an engaging tour excursion into town to visit the markets, the cathedrals and just saunter and shop till sailing to the next Port of Call.
This Little Trekker Went to Markets
Our first stop,
Cologne.
This city of just a million inhabitants boasts 42 museums and a sophisticated dining culture as the cuisines of all Cologne's 181 nationalities are represented. It is Germany's 4
th
largest city with a bustling center for trade fairs and conventions, and a leading city for culture and art with a party-going mentality that encourages visitors to
kommen sie zu
uns
für einen drink
(join us for a drink). There's also a spectacular UNESCO World Heritage Site, the famed Gothic Cathedral of Cologne. Construction began in the year 1248, was halted in 1473, then finally completed in 1880. A visit here is at once empowering and overpowering; among its treasures I found my favorite in the Lady Chapel – an important triptych alter painting done in 1442. A portion of the work depicts the legend of St. Ursula and her 11,000 virgin companions who were murdered in Cologne by the Huns. The cherubic faces of Ursula's girls are sweet and poignant. Cologne's markets glow with pre-Christmas excitement and its stalls are small Alpine huts. I was smitten by the market on the
Rudolfplatz
which transported me into a world of Grimm fairytales. Costumed Grimm characters paraded the streets - a fantasy world for kids of all ages.
Then on to
Koblenz
with 130 gaily decorated wooden Christmas stalls, and
Rudesheim
, its 120 stalls representing 120 countries. Ahhh,
Heidelberg
, home to Germany's oldest university and, of course, immortalized by Sigmund Romberg's sparkling operetta
The Student Prince
. In the town center we were serenaded by carolers in colorful Victorian garb and before leaving town, I made it a point to see its fabled castle whose red sandstone ruins tower majestically over the entire Neckar valley.
Our voyage touched a small corner of France (Alsace).
Strasbourg
walks a tightrope between France and Germany. Straddling a medieval past and its progressive future, it pulls off its act in inimitable Alsatian style. I tore myself away from its inspiring cathedral to roam Old Town's twisting alleys lined with crooked half-timbered houses a la Grimm. Enchantment personified. The whole island of Strasbourg is a World Heritage Site and its Christmas markets, centered around the cathedral, have existed since the middle ages. The cherry on top of my Strasbourg visit was the chance to sample the region's specialty,
Tarte Flambe
, that consists of thin pastry covered with cream, onions, and bacon pieces (every bit as outrageously good as it sounds!).
Certainly Not Least
Our last Port of Call:
Basel, Switzerland.
It's the country's third most populous city located where the Swiss, French and German borders meet. Though not a particularly large city, it is
grand
in countless ways, not the least of which is its Kunst Museum with the most significant public art collection in Switzerland containing works from 1661 up to the 19
th
and 20
th
centuries. No surprise here. This
is
, after all, the home of famous
ArtBasel.
The Christmas markets at
Munsterplatz
and
Barfusserplatz
in Old Town are considered to be the prettiest and largest in Switzerland, with a towering tree that glows and shimmers at night, casting its spell over the entire square. The wares offered here are of very high quality, and the mulled wine I quaffed was maybe the best of all the ones I sampled (yes, there were many).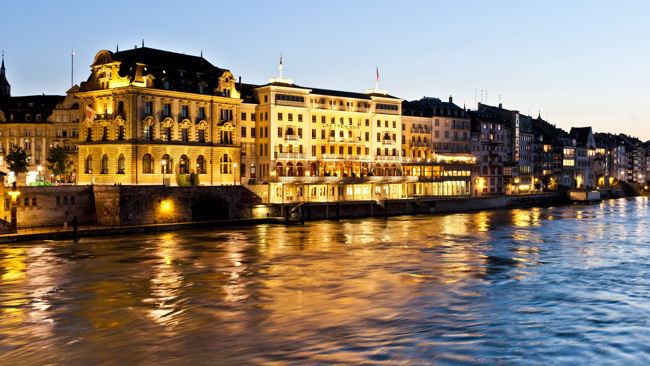 Les Trois Rois
is Basel's grand hotel. No, let me amend that. It is one of the grandest hotels in the whole wide world! The first official record of it dates back to 1681 and some of its past guests include Napoleon, Queen Elizabeth II, Picasso – the list goes on. In fact, one could say that every renowned, celebrated person for more than four centuries has guested here.
One of the oldest hotels in Europe, Les Trois Rois (The Three Kings) enjoys a prime location in the city's center and directly on the banks of the river Rhine. The day I visited it was decked out in holiday finery with two huge, bedazzling Christmas trees flanking steps to the entrance. An opulent, hushed and private atmosphere enveloped me as I tiptoed up to Reception and received the key to my room, a perfect blend of elegance, luxury and comfort. Les Trois Rois belongs to a first generation of urban grand hotels and truly exemplifies the pinnacle of the
grand Swiss hotel.
There are countless tales about Les trios Rois. The first official record dates back to1681. Through the years, the property has had a number of different owners and finally, in 2000, it was sold to the Richemond Group. Four years later, Dr.H .C. Thomas Straumann acquired the hotel and had it renovated back to the period around 1844. At that time, it was fitted with a luxury infrastructure to respond to the needs of the most exacting guest. In 2006, Les Trois Rois, the hotel with the richest tradition in Basel, opened its doors to the public once again.
In 1854, Wilhelm Theodor Steuber said of the hotel: "The highest demands are satisfied here; for example, there are even bathrooms!" Yes! Oh yes, there are bathrooms - and precious antiques, priceless works of art, cutting-edge amenities and much, much more. Les Trois Rois has been home to nobility, aristocracy, the landed gentry, and - for one glorious night -
me
. What a spectacular way to end my Uniworld Christmas Market holiday!
IF YOU GO:
Uniworld Boutique River Cruise
www.uniworld.com
Les Trois Rois
www.lestroisrois.com