The rain fell in sheets as an exquisitely dressed bellman opened the taxi door, offering a hand and an umbrella. We were swept inside, through the marble entry hall, and up to our suite. With the click of the door behind us a weekend of indulgence began, complete with bubble baths, spa time, and the distinct warmth of that first sip of an Irish coffee.
Every city has one hotel that captures its spirit and character, delivering a true sense of place. In Dublin, this is undoubtedly the Merrion. A five-star, Leading Hotels of the World member with 123 rooms and 19 suites, the Merrion is spread throughout four historic Georgian townhouses and a contemporary garden wing. This property is an ideal retreat during rain showers–and once clouds clear–a location smack in the center of Dublin puts everything desirable just beyond the doorstep.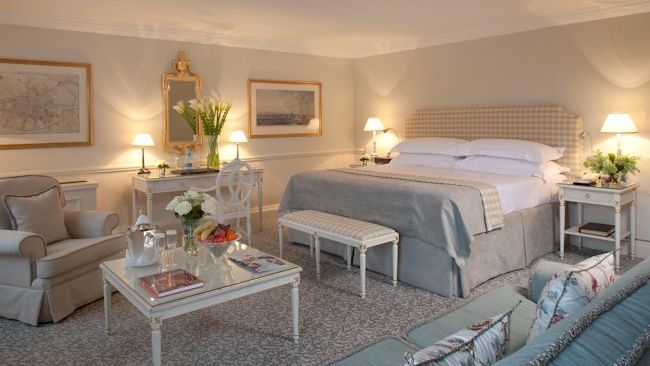 The elegance of another time is recreated within these walls. Originally built for wealthy Irish merchants and nobility, the main Georgian houses date back to 1760. Today, after a meticulous restoration, this era in Dublin history comes to life through Irish artifacts, antiques, and fabrics. Intricate maps and rare bank notes were framed on my suite's walls. The Merrion also showcases the often remarked upon Irish hospitality. Service is not only outstanding, but warm. Even the elevators are remarkably responsive.
The staff impressed from arrival, but it was the amenities that made me swoon. Drawing rooms invited hours of conversation on plush couches next to the fireplace. The still surface of the infinity pool tempted me in for a dip. Over the weekend I was torn between wishing for rain or sun: rain meant afternoon tea by the fireplace, while sun meant a glass of Champagne on the terrace.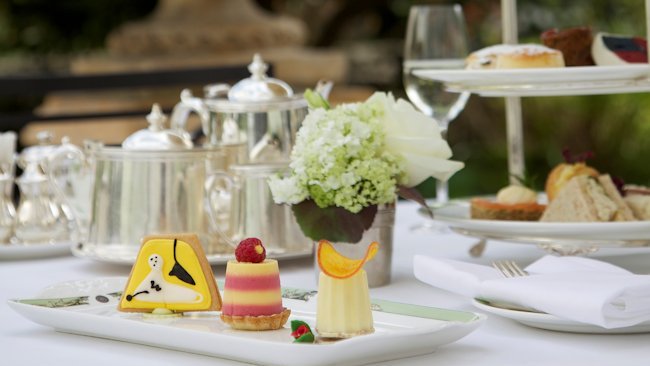 Pleasures at the Merrion don't end there. Serious gourmands will want to book a table at Restaurant Patrick Guilbaud, Ireland's only dining room with two Michelin stars. Breakfast in the Cellar Restaurant is an elegant affair, while the Cellar Bar is perfect for a casual lunch or dinner under the original wine vaults. This space has the nooks and crannies that only history can provide. One afternoon I commandeered an exposed brick room with friends for a classic lunch of smoked salmon and Irish brown bread washed down with a big pot of tea.
The morning after my arrival, the rain's foggy romance cleared and skies were a bright blue. The hotel is located on Upper Merrion Street, across from government buildings and at the heart of Dublin's city center. There are several nearby options for an afternoon stroll, including manicured Merrion Square or leafy St. Stephen's Green with its lake and resident swans. Exclusive shopping along Grafton Street or exploring the exhibits of the National Gallery of Ireland are both within a few minutes' walk.
While art enthusiasts will be drawn to the halls of the National Gallery, they should also roam through the Merrion. This hotel has one of the most important private collections of 19th and 20th century art in Ireland. Paintings by celebrated artists including Jack B. Yeats and Roderic O'Conor are on display for close inspection. Tours of the art collection with a guide from the National Gallery can be arranged. As for me, I liked the idea of combining a little art history with a meal. That's where Art Tea comes in.
The gardens were glowing with late afternoon sun when my reservation for Art Tea arrived. Seated on the terrace, we toasted a glass of Champagne before devouring tasty finger sandwiches, then crumbly scones with clotted cream, raspberry jam, and lemon curd. For the 2nd course, we retired into the drawing room by the fireplace. Pastries inspired by the art collection–each with a card detailing its history–were served on a silver tray. They're almost too beautiful and delicate to eat. Almost.
Rain or shine, tea or Champagne, breakfast in bed or the Cellar Restaurant–the Merrion gets it all just right. Give them the chance, and this hotel will make you a guest for life.
Jessica Colley is a freelance travel and food writer based in New York City. Follow her travels online at
www.thegreatamericantraveldream.com
.