While the colors at c/o The Maidstone might be bold, the atmosphere is just as relaxed as its beach location. I had planned this weekend getaway to sample the cuisine at the Maidstone's slow food restaurant, the Living Room. This philosophy of engaging with local foods fit in perfectly with my desire for this East Hampton getaway: to slow down and savor every bite.
The Maidstone is all about celebration. Celebration of design, of big and bold color, and of cuisine. The 19 rooms of the hotel are inspired by a variety of Scandinavian luminaries including authors, artists, and athletes. Designer Nadia Tolstoy has succeeded in creating a hotel that is as compelling as a contemporary art museum, but as comfortable as home. Few hotels can boast rooms that are diverse as their guests, and here, you can choose a room that matches not only your price point – but your personality too.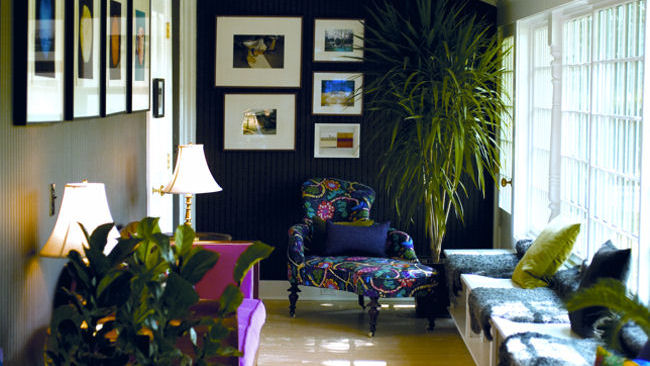 Striking design continues beyond the guest rooms and into the common space. The sunny lounge is filled with cozy furniture in a mix of funky patterns and rich colors. This is a great place to sip a French-press coffee or a happy hour cocktail. On a warm night, head out into the Buddha garden for pre-dinner drinks or better yet, plan your trip to coincide with one of the summer outdoor feasts currently planned for the summer. The concept of farm to table will take on a whole new meaning when it is savored under the stars.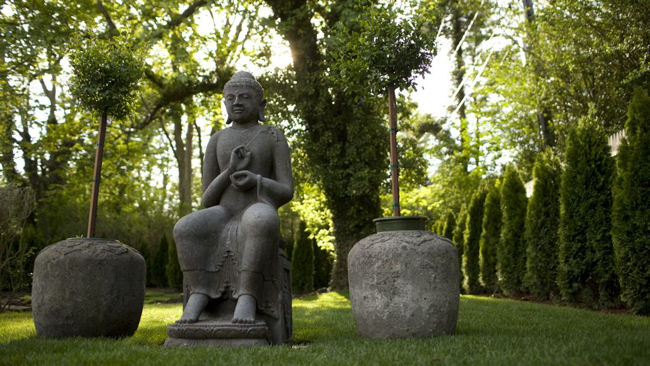 The mastermind behind the cuisine at the Maidstone is Executive Chef James Carpenter. A firm believer in the Slow Food movement, Carpenter is passionate about filling his menu with locally sourced and organic ingredients. Over a cup of coffee one afternoon, Carpenter told me, 'When you dine at the Living Room, most ingredients come from within a 100-mile radius.' Cuisine here delivers a distinct sense of place that can be absent from so many restaurant menus. While the Living Room has its Swedish influences, it is also distinctly a farm to table restaurant that celebrates the best of the seasons.
Sitting down in the Living Room Restaurant, I was eager to see if the food could be as creative and whimsical as the décor of the Maidstone itself. The dining room was given a dose of drama by night with its long tapered candles and traditional white tablecloths. Settling into our cozy chairs for the evening, we were greeted by sommelier Kelly Matis. She paired wines with our selections (always allowing us to taste her selections first). To stick with the local theme, we sampled some delicious Long Island wines throughout the meal.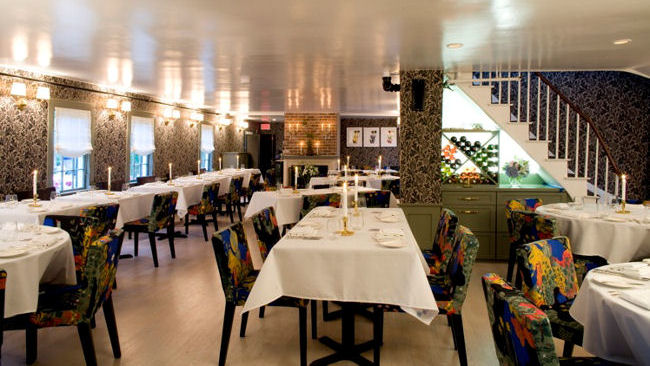 Chef James Carpenter lived up to his reputation the moment the first dynamite plate arrived. My appetizer of sautéed seasonal forest mushrooms was a woodsy celebration of local ingredients, complete with toasted brioche and flavored with brandy. Next came a Swedish Smorgasbord, complete with salmon that is cured in-house. Resembling a beehive, each compartment of the smorgasbord contained a few morsels more delicious than the last. Another fantastic dish was pork rillette ravioli, finished with Swedish Vasterbotten cheese. Not one drop of Carpenter's addictive tomato bacon broth went to waste; we soaked it all up with warm bread.
Entrees shined as well: I devoured the lamb Swedish meatballs with ricotta dumplings and kale. My dining companion was actually speechless over the sweet potato puree that accompanied her grilled Berkshire pork tenderloin and the chef was even kind enough to share a few secrets on his preparation when he approached the table to enquire about our meal. A passion for the process of cooking – from sourcing local ingredients to the final arrangement on the plate – was evident in each of these memorable dishes.
The Living Room has a great selection of wines available by the glass, and even arranges wine flights based on the season. Sommelier Kelly shared her passion about local Long Island wines and suggested the following day we visit the Channing Daughters winery, one of two wineries on the South Fork of Long Island. After the last nibble was eaten and the last drop of wine sipped, I stood up from the table feeling completely nourished. In the Living Room Restaurant, this nourishment is about more than just the food.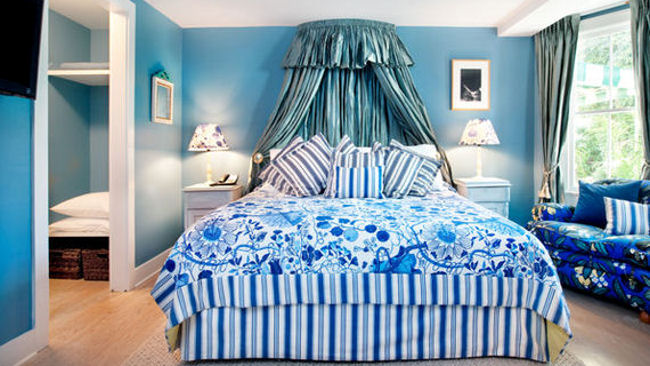 On that high note, it was time to retire for the evening. My room was only a few steps away, and while the Maidstone is known for its design, the rooms are functional and cozy too. After a restful night's sleep, I woke to find directions and maps from Kelly to assist in our excursion to the winery. First we took a seat in the casually-set Living Room restaurant (shiny wood tables were revealed beneath those white tablecloths) for a farm fresh breakfast. The weekend nourishment continued with fresh-squeezed grapefruit juice and Swedish pancakes with cloudberry jam.
After a short drive we pulled into the Channing Daughters winery. In March, the vines were bare but methodical rows were beautiful nonetheless. Inside the winery we sampled a flight of wines, including both whites and reds, while listening to a speech about the process of making wines in Long Island. This winemaker shared the same passion as chef James Carpenter – a passion and respect for the land that provides them such pleasure.
The Slow Food movement works to counteract 'fast food and fast life'. A restaurant like the Living Room and a winery like Channing Daughters encourage us to become engaged and interested in what we are eating and where that food comes from. These passionate craftsmen inspire us to take what we learned back into our regular lives. After a meal at the Maidstone, I am a believer that slower can indeed be better.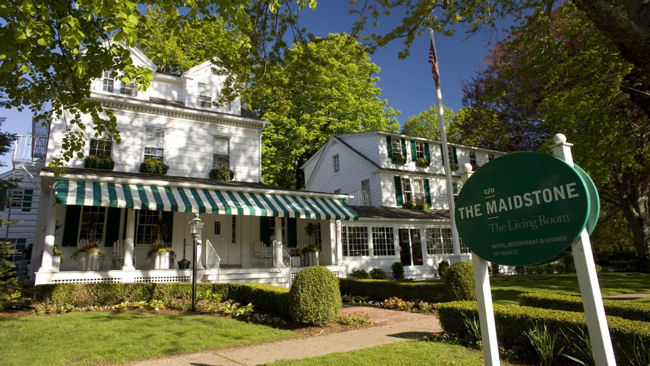 INSIDER TIPS:
• Not all rooms at the Maidstone are equally quiet – check with front desk to find the best room to suit your preferences.
• The 'Divine' category at the Maidstone is made up of three cottages. Separate from the main building, these are the most luxurious and quiet options. Special touches like fireplaces and spacious living areas make them worth the splurge.
• Complimentary bicycles are available at the Maidstone. There are several local routes you can take for a leisurely cycle.
Hotel Profile:
c/o The Maidstone
Jessica Colley is a freelance travel and food writer based in New York City when she isn't on assignment. She blogs about travels near and far at
www.thegreatamericantraveldream.com
.