This serene escape by the sea, with its classic touches, elegant service, and a restaurant worth traveling thousands of miles for, was about to win a serious place in my heart. Some might even call it l'amour at first sight.
My first feelings of affection for L'Auberge Del Mar were aroused the previous day, when we arrived early after a short drive from San Diego. The soft colors, cozy gathering spaces, and dazzling views made a memorable first impression, but it was everything to follow that cemented a lasting relationship. Our room was ready early, and contained every touch to make discerning travelers like us feel comfortable. From the gas fireplace to the inviting reading chair, the décor has undeniable appeal. Beach inspired touches were especially charming, including a black and white photograph of a couple laughing on the beach in the 1940s.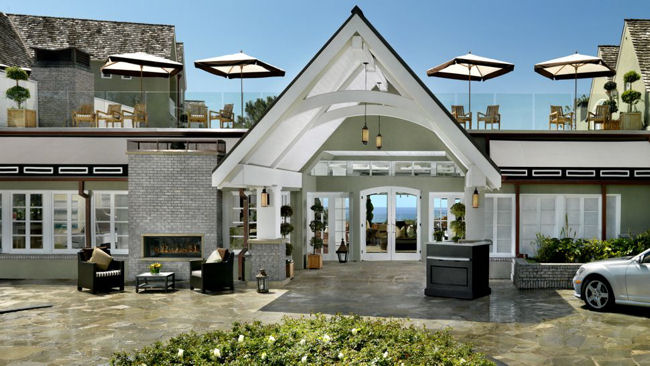 The first item on my leisurely agenda was lunch on the terrace. As we looked over the menu, I sipped on a glass of white sangria, brightened by fresh raspberries and blackberries. The waterfall terrace offers striking views over the Pacific that change their character according to time of day. Talking to other guests who frequently visit the hotel, I got the feeling that once this special property has its hooks in you, you are guaranteed to return.
The centerpiece of L'Auberge Del Mar is the pool. Many of the 120 rooms look out onto the aquamarine water, surrounded by plush lounge chairs, cabanas, and a bubbling hot tub. Between poolside service and a stocked bar, there is hardly a reason to leave, but a manicured path to the beach lured us away for an afternoon stroll. In just five minutes I was dipping my toes in the Pacific and stopping to admire shells. When it was time for sunset, we took a seat in white rocking chairs on the rooftop of the hotel and watched as the sun dipped closer and closer to the edge of the Pacific, glowing orange, until as if in a flash, it was gone.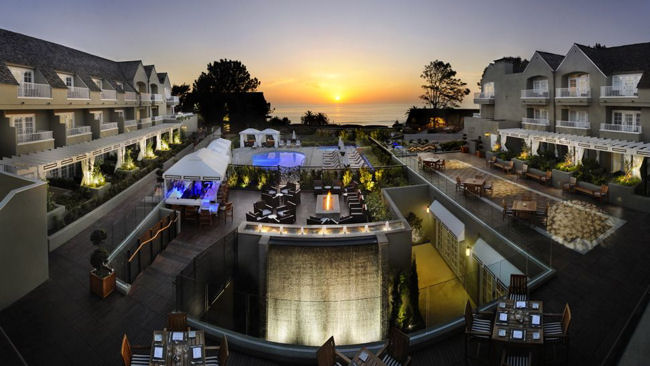 Some of the pleasures at L'Auberge are this simple, and others more complex. The greatest hotels are measured by their restaurants, by a chef that somehow manages to evoke the character of a place with his food. This concept is embodied fully by Kitchen 1540 and Chef Paul McCabe. On my first evening at L'Auberge Del Mar, I strolled through the lobby where guests were happily chatting over cocktails or lounging by the fire pit. Inside the restaurant, there are counter seats for champagne and oysters, outdoor tables for warm, sultry nights, and indoor booths so cozy that they call for an extra course or two of creative combinations.
At the core of Kitchen 1540 is a devotion to local, organic and seasonal ingredients. Chef McCabe is passionate about sustainable seafood and supporting local farmers. Our well-versed server guided us through the menu, answering questions with enthusiasm. One dish Chef McCabe is widely praised for is his organic beet salad. Bold flavors and contrasting textures combine to make a salad that is downright craveable – something I've never said before about beets. Pistachio brittle brought the surprise of a crunch, Valdeon blue cheese gave a pleasurable salty note, and the roasted organic beets were both vibrant in color and flavor.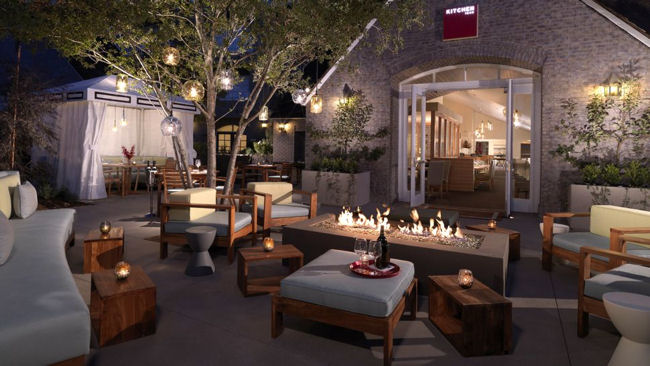 The organic beet salad seduced me into trying any combination Chef McCabe deemed worthy of his menu. The seared sweet diver scallops, served with popcorn puree and salted caramel marcona almonds further convinced me that I was in the restaurant of a forward-thinking food enthusiast. This dish brought me straight back to childhood seaside summers – filled with fresh seafood and evenings of watching movies while munching on Cracker Jacks. With each dish we sampled, our server paired wines to enhance the flavors. From creative cocktails to the last bite of dessert, every morsel that came from this open kitchen contained surprises, the transformation of ingredients, and serious pleasure.
The next morning I couldn't wait to speak to the mastermind behind these dishes. But first, it was time for breakfast. Seated on the terrace, I nibbled on a fruit plate while waiting for Meyer lemon ricotta pancakes. They arrived piping hot, directly from the griddle, served with candied lemon and orange maple syrup. Each fluffy bite was a stimulation of taste, smell, and sight that I had never experienced together before. Chef McCabe will do that to you – provide a taste so intensely delicious you will want to get on a plane to have it pass your lips once again.
Moments later I found myself in the kitchen with the chef, learning how to make his organic beet salad. I saw how simple the ingredients were apart, and how magical they became once combined. Next we moved over to the stove, where he taught me how to sear perfect scallops. First he patted them dry, seasoned two chunky diver scallops with salt only, and dropped them into a hot pan for a good sear. After turning the scallops, he added butter, garlic, and thyme to the pan, basting the scallops to provide a rich, golden finish. For another glimpse into Kitchen 1540, follow Chef McCabe on Twitter to see photos of new dishes and other details that might tempt you into a visit.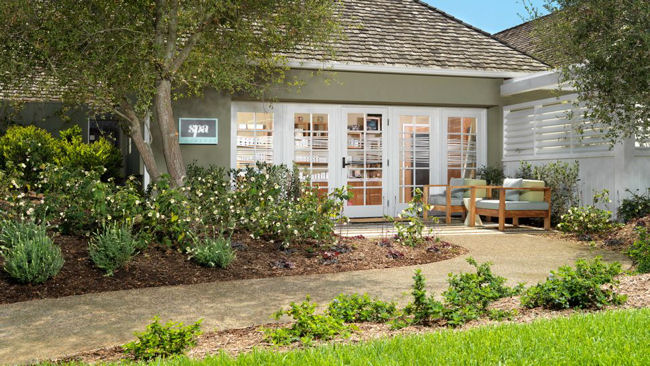 Beyond Kitchen 1540, L'Auberge Del Mar offers other forms of nourishment and wellness too. You can smell the sea air from Spa L'Auberge while indulging in a soothing massage or a clarifying facial. If you're looking for an invigorating way to start your morning, play a game of tennis on the hotel's private courts. Guests that would rather swim instead can enjoy the privacy of the lap pool. Golf enthusiasts can choose between some of the most famous courses in California – including the renowned Torrey Pines.
Sometimes amorous feelings fade with time – but this wasn't the case with L'Auberge Del Mar. Each gathering space, each meal, each relaxing afternoon by the pool or hours spent on our private balcony solidified my affection for this retreat by the sea. On our last evening, we sipped a glass of red wine after dinner by the glowing fire pit on the terrace. This luxurious boutique hotel allowed this New Yorker to take a deep breath and relax, to understand the allure of a California getaway by the sea.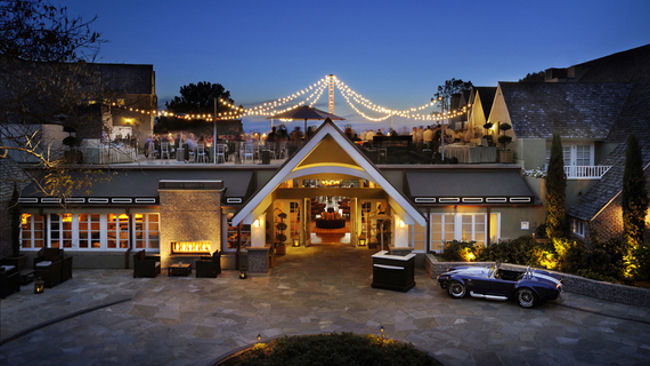 Jessica Colley is a freelance travel and food writer based in New York City. Follow her travels on
www.thegreatamericantraveldream.com
Hotel Profile:
L'Auberge Del Mar