Park City may not immediately come to mind as a summer destination, but we were looking for a quick, convenient getaway and we love mountain towns, so we selected it for our escape.
We also wanted to relax and be pampered so The St. Regis Deer Valley fit the bill perfectly. The hotel is ideally situated on 12 slope-side acres in Park City's exclusive Deer Crest gated community, above the historic mountain town, just one mile from Park City's Main Street and an easy 45 minute drive from Salt Lake City International Airport on I-80.
This grand hotel sits high atop a hill like a fairy tale castle overlooking its kingdom. Once you arrive, you feel like you are in a magical place. The location is so steep, there is a lower entrance and an upper entrance, connected by the only funicular at a North American resort.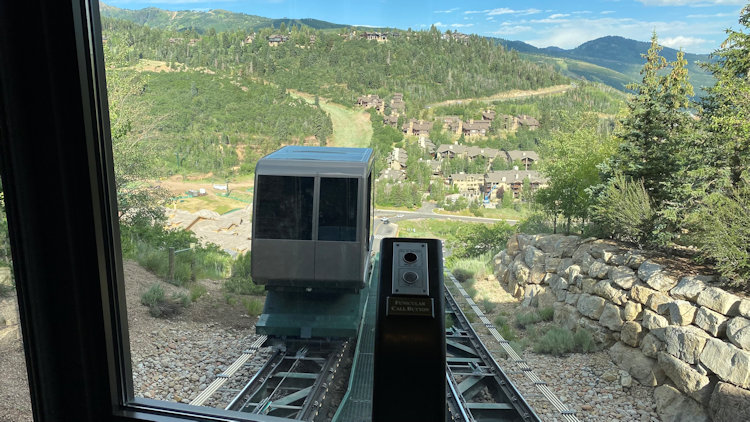 Funicular
We arrive at the lower entrance and have the thrill of experiencing the dramatic ride up by funicular. We are met by our butler, Toni, who hands us refreshing drinks and takes us on a brief tour of the property on the way to our suite. We pass through the lobby with its grand bronze-cast fireplace that harkens back to the Gilded Age and even in July, there is a fire burning.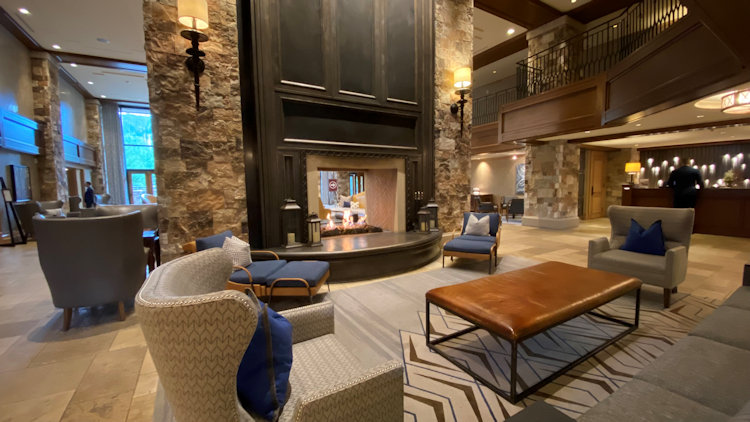 Lobby
The St. Regis Deer Valley is a grand hotel and yet has the intimate atmosphere of a private ski lodge. Toni tells us that guests feel so at home here that in the winter they come down to the lobby library in bathrobes to have coffee, read a book, or play board games.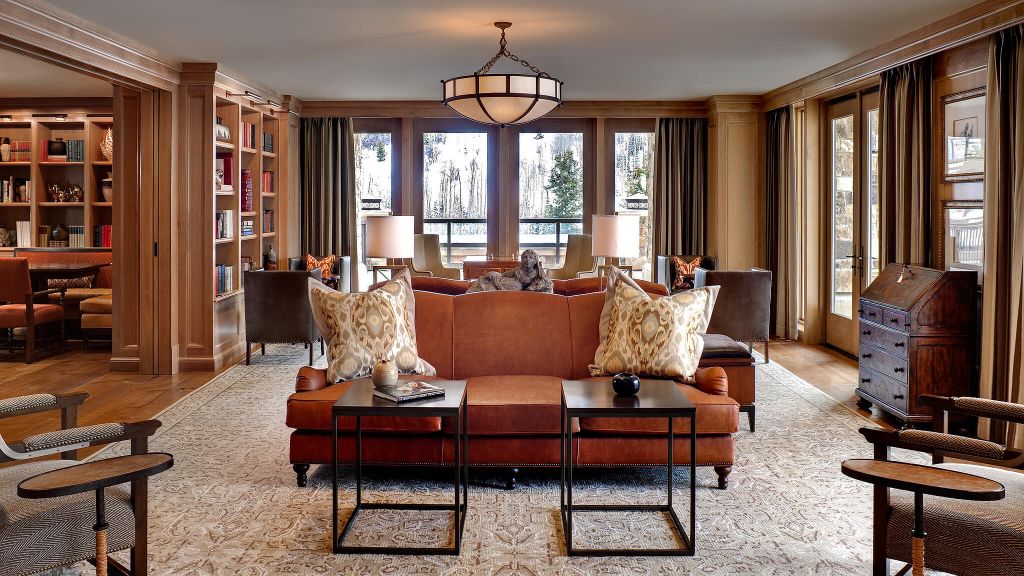 Lobby Library. Image courtesy of The St. Regis Deer Valley
We booked a Luxury Suite to get the added benefits of 24/7 butler service and 900-square-feet of living space. When we arrived in our suite, our luggage had already been delivered. We are here with our little dog "Gucci" and were pleasantly surprised with a basket full of amenities and treats for him, including a personalized bandana embroidered with his name. Toni took some of our clothes to be pressed and we settled in for our luxurious stay. St. Regis Butler Service has been a treasured hallmark of the St. Regis experience since 1904 when the Astor family founded the brand. Our key card even says, "Welcome to the House of Astor."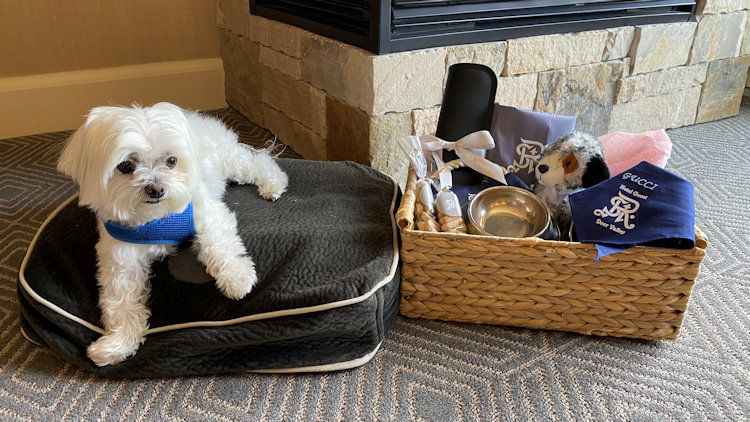 Gucci's welcome amenities
The luxury suites are the very definition of refined mountain living offering all the comforts of a fine home, and effortlessly combining indoor elegance with outdoor adventure. An atmosphere of welcoming relaxation is achieved with warm earth tones, cozy throws, and electric fireplaces in the living room and bedroom. We also have two balconies, one off the living area and one in the bedroom, with perpetually unobstructed views of the breathtaking mountain scenery. I count at least a dozen ski runs that I can see, so it must be equally as stunning in the wintertime.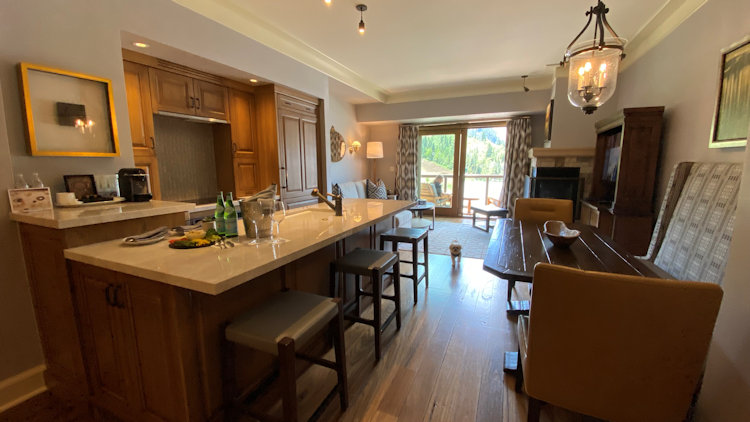 Luxury Suite living area
We have a full kitchen with high-end appliances: Wolf® stove, SubZero® refrigerator, Bosch® dishwasher, and Nespresso® coffee maker as well as fully stocked cabinets with fine dinnerware and a range of cooking equipment. The central kitchen counter offers bar seating for casual dining. Adjacent to the open kitchen, the parlor makes an inviting lounging and entertainment center with a L-shaped sofa, fireplace, and media center.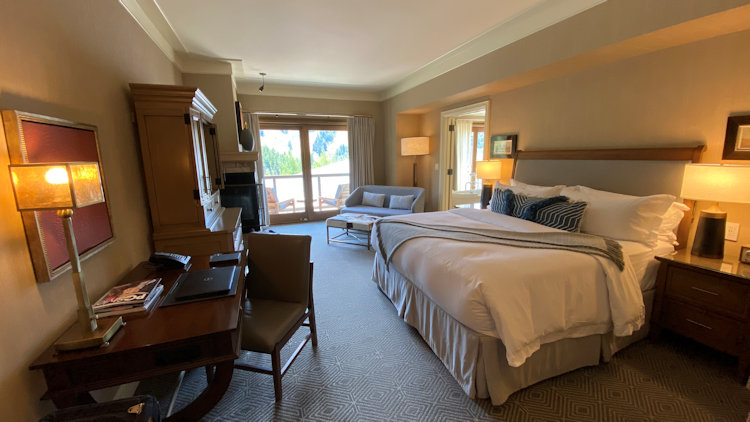 Luxury Suite bedroom
The huge master bathroom is accessed by a wide entrance with plantation shutters from the bedroom and features a deep soaking tub with views of the mountains, a glass-enclosed shower, and marble countertop with dual sinks.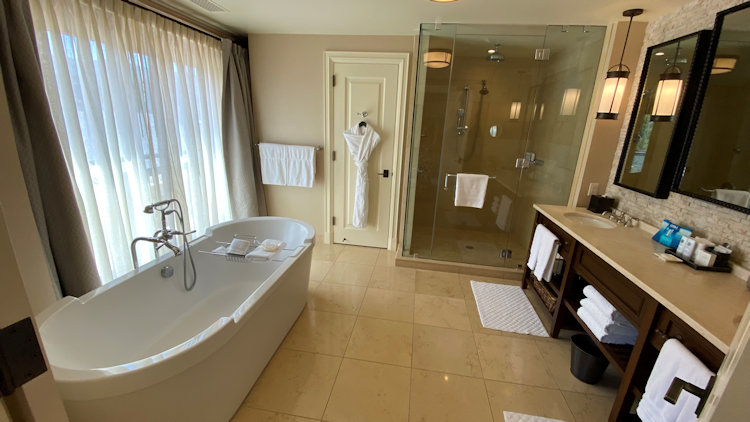 Luxury Suite bathroom
What better way to celebrate our arrival than with a private Champagne Sabering? Rituals and traditions are integral to the St. Regis brand. Sommelier Mitchell Paine, tells us that the art of sabrage dates back to the battles of Napoleon Bonaparte, who famously opened champagne with his saber in both victory and defeat. Napoleon said, "Champagne: in victory, one deserves it; in defeat, one needs it."
Daily Resort Rituals also include the nightly S'mores Tradition which invites guests to design their own decadent treats around the Astor Terrace fire pit, using confections from the Resort's Pastry Chefs. A nightly Champagne Sabering Tradition is held every evening at dusk which gives guests the opportunity to learn the history of and witness the dramatic opening of a bottle of champagne with a real saber while enjoying a complimentary taste of the libation—a perfect start to an evening.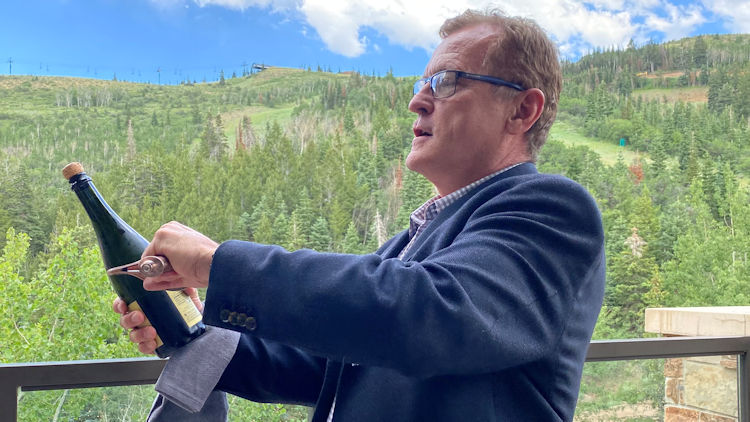 Sommelier Mitchell Paine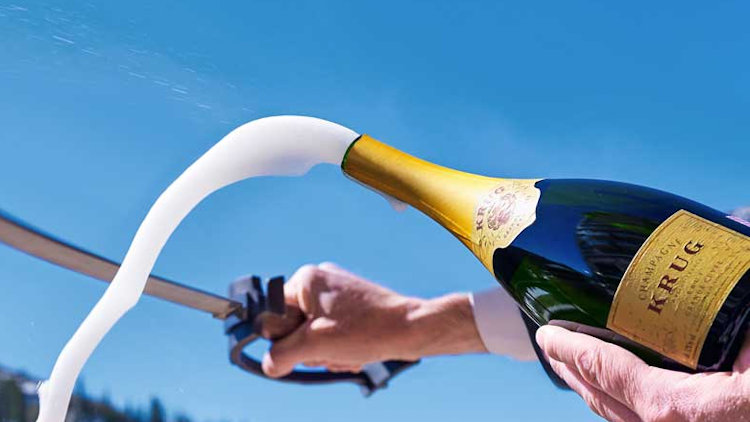 Champagne Sabering
St. Regis is one of the most storied hotel brands in history, founded by John Jacob Astor IV, one of the richest men of his time, born in 1864 and died in the sinking of the Titanic April 15, 1912 after making sure his pregnant wife was safely on a lifeboat. The original St. Regis hotel opened on Fifth Avenue in New York City in 1904 during the "Gilded Age" by the Astors who were the leaders of the new social class with matriarch Caroline Astor at the helm of high society.
St. Regis ushered in a new era of lavish parties, balls, and suppers – occasions previously confined to the private homes of the elite – and thus became the next social mecca for years to come. Caroline Astor was highly regarded as the Queen of New York high society during the Gilded Age. The hotel was built to entertain 400 notable guests that represented New York's elite at the height of that era. John Jacob Astor IV created an experience beyond expectation, incorporating understated elegance, great attention to detail, and a design that evokes the feeling of a residential home. Butler service was not something hotels would offer, so the Astors brought in butlers to look after their guests just like they would be in a wealthy person's home. The St. Regis brand successfully carries out this vision to this day.
St. Regis makes sure every property around the world is truly the best address in every location. They currently operate about 50 hotels, with 10 in the U.S.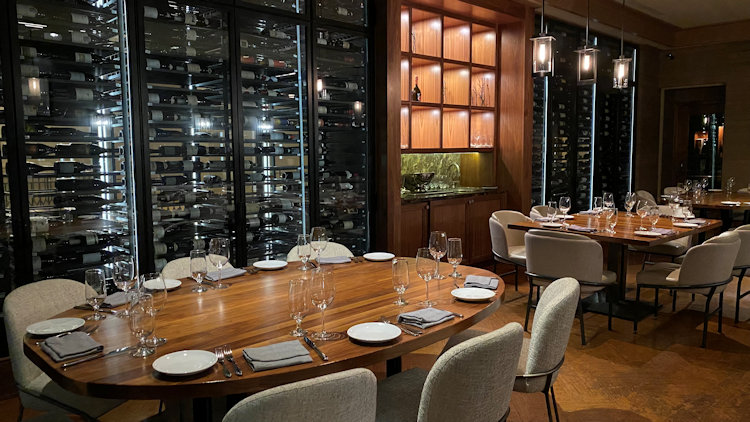 Wine Vault
The St. Regis Deer Valley features a Wine Vault -- an intimate private dining experience where wine connoisseurs indulge their passion for the finest vintages, enhanced with customized menus by the RIME culinary team. We were able to get a glimpse of the Wine Vault on our way in to dinner at RIME. Guests gather in the Wine Vault dining room for intimate private parties, receptions, Winemaker Dinners and exclusive St. Regis Aficionado experiences. With an impressive collection of over 10,000 bottles, and featuring more than 750 different labels, the wine list has been awarded Wine Spectator's "Best of Award of Excellence" for many consecutive years.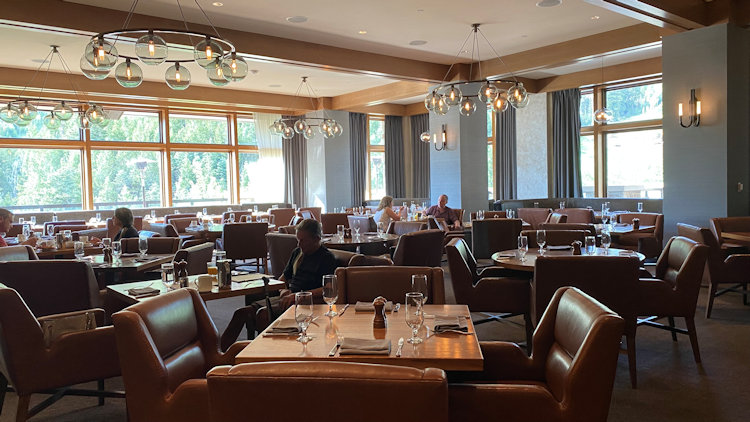 RIME
In addition to the Resort's award-winning Wine Vault, The St. Regis Deer Valley offers dynamic dining venues, each with its own distinctive menu and atmosphere. RIME, the Resort's signature restaurant, offers pristinely prepared fresh seafood and sustainably sourced prime cuts, in elegantly rustic indoor and outdoor settings; Brasserie 7452 is a bistro-style lounge surrounding a three-sided fireplace; Mountain Terrace is perfect for an al fresco lunch, cocktails or a romantic dinner under the stars; and the St. Regis Bar features a vibrant triptych mural that pays tribute to the mining history of Park City, with supple leather seating and menus to compliment libations.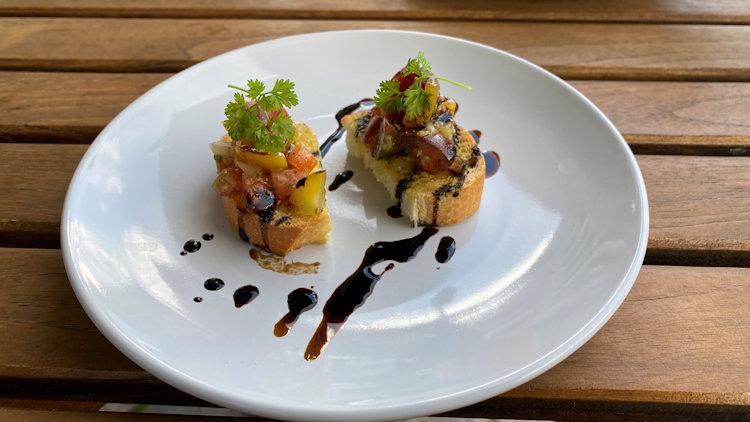 Amuse Bouche
RIME serves traditional American dining as conceptualized by Executive Chef Alex Malmborg. The restaurant is known for its excellent steaks and seafood, but we were pleasantly surprised to discover that they also offer a full vegan menu daily.
Our Vegan tasting menu consisted of seven courses, each course bursting with flavor: Amuse Bouche Gazpacho; Chilled corn soup with heirloom tomatoes and basil; Compressed watermelon salad; Black Truffle lettuce wraps; Grilled eggplant with braised artichokes, tomato chutney and basil pistou; Risotto with white asparagus; and Blueberry coconut tart and an espresso martini for dessert! It was incredible and showed off Chef Alex's creativity (not to mention some great wine pairing by the sommelier).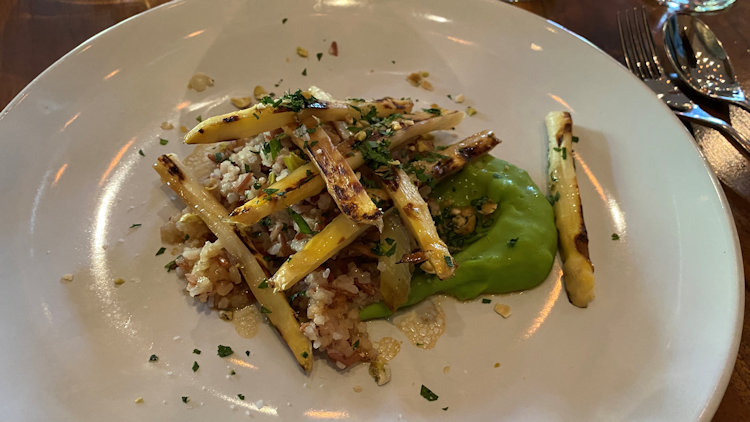 Risotto with white asparagus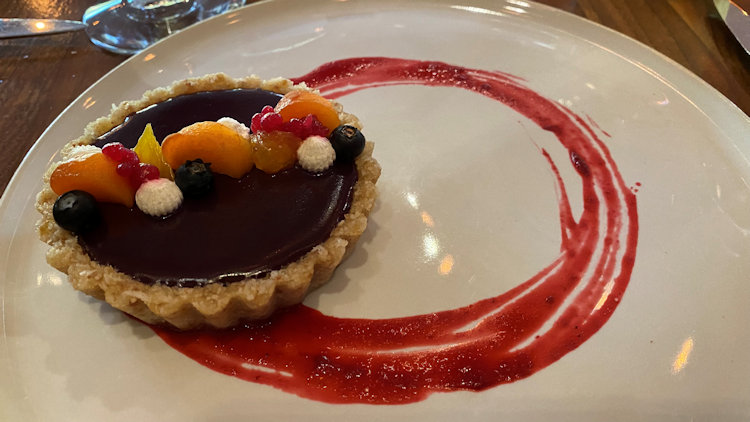 Blueberry coconut tart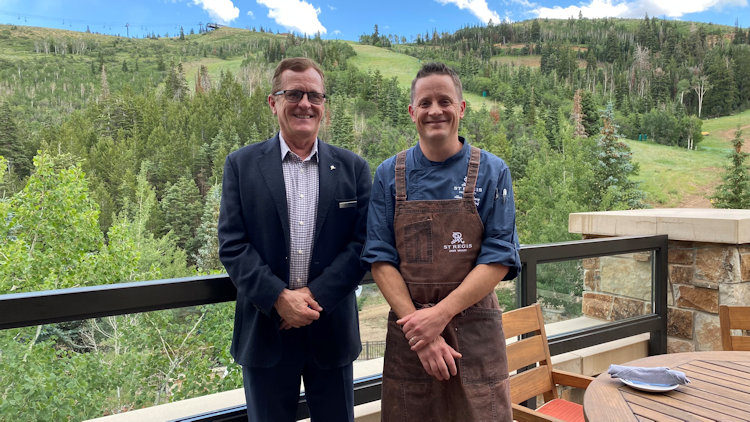 Sommelier Mitchell Paine and Executive Chef Alex Malmborg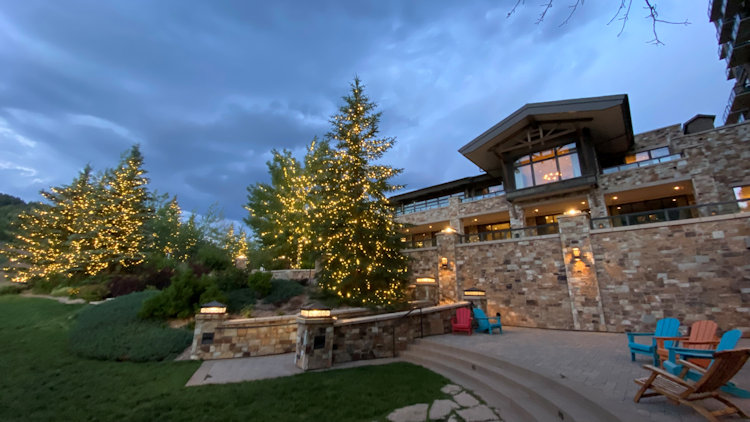 In addition to fires burning in the fireplaces, Christmas Trees twinkle outside all year long.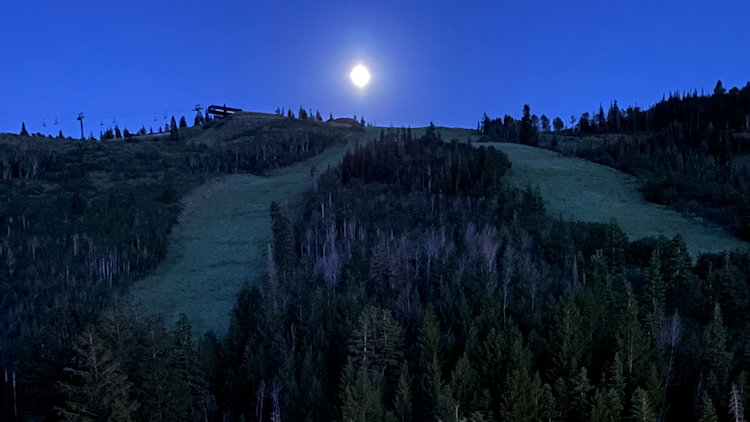 Full moon rising over the mountains, view from our Luxury Suite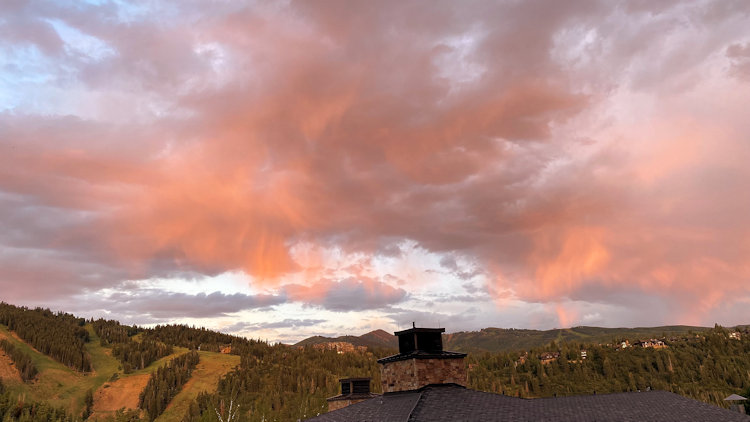 Morning sky at sunrise, view from our Luxury Suite
The views from our balconies have been awe-inspiring, from the full moon rising over the mountains in the evening to the sunrise lighting up the sky in the morning.
The hotel's 14,000 square-foot Remède Spa allows you to unwind and surrender to hours of pampering with healing body rituals. With a full menu of sumptuous, revitalizing treatments, the spa offers an exquisite setting with 11 treatment rooms and two private spa suites with exterior patio featuring hot tub and waterfall.
We were feeling a touch of the altitude so we booked the "Oxygen Inhalation Therapy" that the spa offers. I've always wondered about it and it did help us feel better.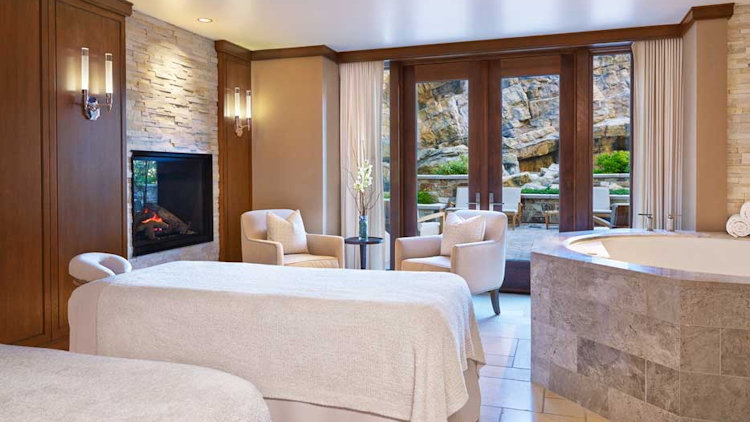 The St. Regis Spa, Image courtesy of The St. Regis Deer Valley
The resort offers endless opportunities to be active with daily morning yoga and guided mountain hikes, ranging from very easy to advanced. The St. Regis Athletic Club offers state-of-the-art fitness equipment in a 3,300-square-foot facility open 24 hours daily, featuring Peloton cycles, free weights, and TechnoGym equipment including treadmills, elipticals, and upright and reclining bikes. Also offered are pilates studio and personal training services. The St. Regis Athletic Club is complimentary for residents and guests. After all that activity, the Remède Spa provides ultimate relaxation!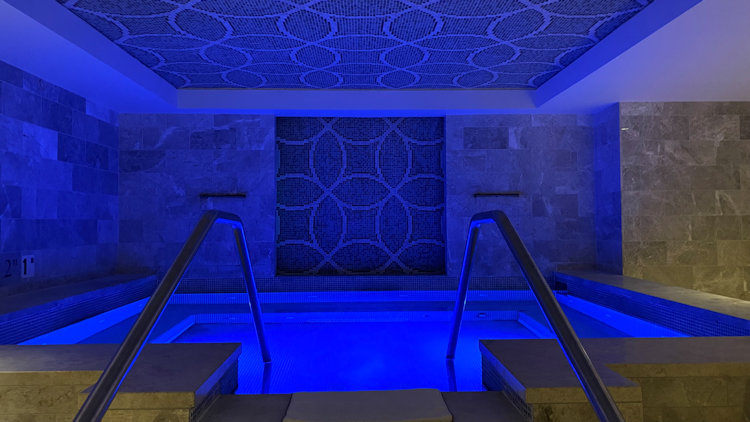 Spa hot tub
Another way to refresh is with a dip in the two-tier infinity pool or hot tubs, basking in fabulous mountain views. A new pop-up poolside kitchen this summer adds to the experience with a menu that includes Sesame Ginger Tuna Tartar Cones, Huli Huli Grilled Chicken Sandwiches and of course, hotdogs, hamburgers and milkshakes. Refreshing libations include Strawberry-Mint Moscow Mules and Ginger Margaritas and non-alcoholic frozen Pina Coladas and Mojitos. Thursday night Dive-In Movies feature a classic or current theatrical while guests lounge on inflatable rafts.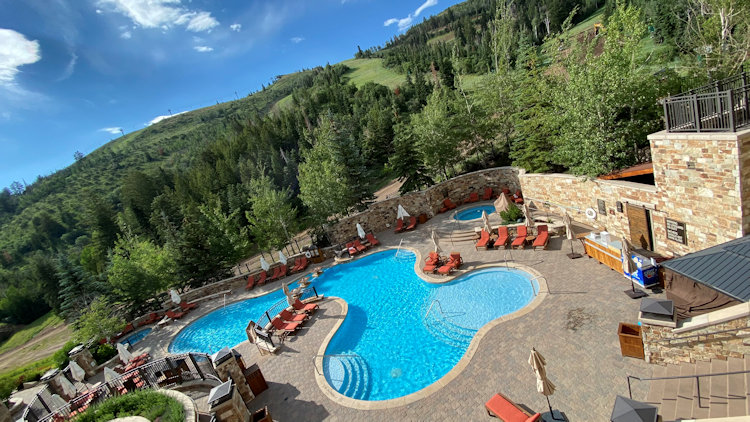 Two-tier Swimming pool
Park City Mountain Resort is the largest ski resort in the U.S. and consistently rated #1 best ski resort in the USA, but the summers are equally as impressive. There is so much to do in Park City in the summertime that you could spend the whole season here and not run out of things to do. The Resort's Concierge and signature Butler Service can arrange Blue Ribbon trout fishing, tee-times at eight championship golf courses, stand-up paddle boarding and kayaking on the Jordanelle Reservoir, and the chance to experience a world-class bobsled run (yes, even in the summer!) at Utah Olympic Park.
Daily Lawn Games on the Resort's lush Grand Lawn include croquet, archery, volleyball, badminton, ladder toss, Cornhole, spike ball, KanJam, Kubb, Giant Chess, Giant Jenga and, on weekends, axe throwing taught by professionals. Root Beer Float Pop-ups allow guests to make their own frothy concoction, and Festive Food Trucks on the weekends offer a wide variety of fare. Live music is featured every Saturday and Sunday on the Astor Terrace.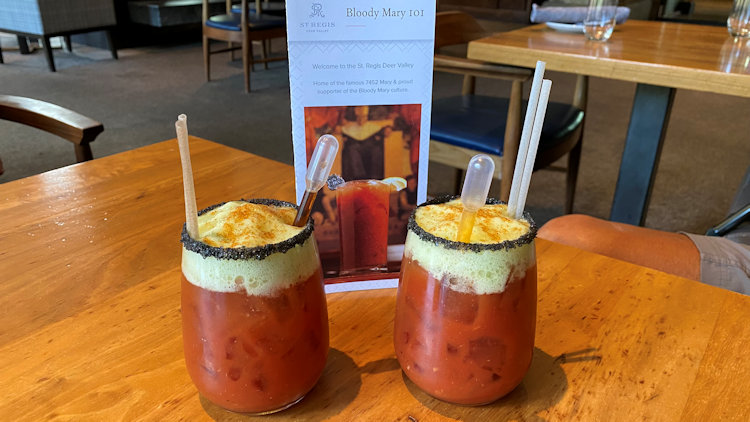 Bloody Mary 101 Classes teach guests to make the "7452 Mary," named for the elevation of the Resort's bar.
In 1934, famed barman Fernand Petiot perfected the recipe for a vodka-and-tomato juice cocktail, known as the Bloody Mary at The St. Regis New York's King Cole Bar. Originally christened the "Bloody Mary", the cocktail was renamed the "Red Snapper" so as not to offend the hotel's refined clientele. After almost 90 years, the iconic Bloody Mary remains the signature cocktail of the St. Regis.
Each hotel and resort in the St. Regis portfolio has crafted its own unique, locally inspired interpretation of the brand's signature cocktail. The Bloody Mary here at The St. Regis Deer Valley is called "7452 Mary" named after the elevation at which the St. Regis bar sits, the classic Bloody Mary base is crafted with local Five Wives Vodka and topped with Wasabi-Celery Espuma, rimmed with Black Lava salt, and finished with a pipette of Worcestershire and Tabasco so that you control the heat.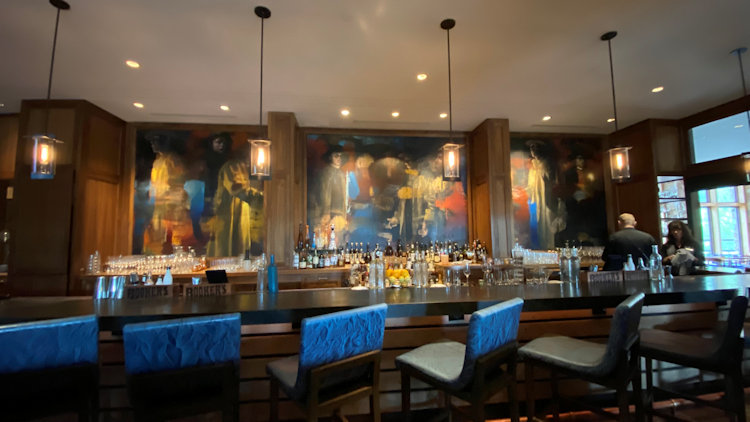 The St. Regis Bar
The three-piece triptych behind the bar entitled "Into the Mines" by artist Philip Butler shows miners in a mine shaft. We are told that most St. Regis hotels display a triptych art piece depicting local culture.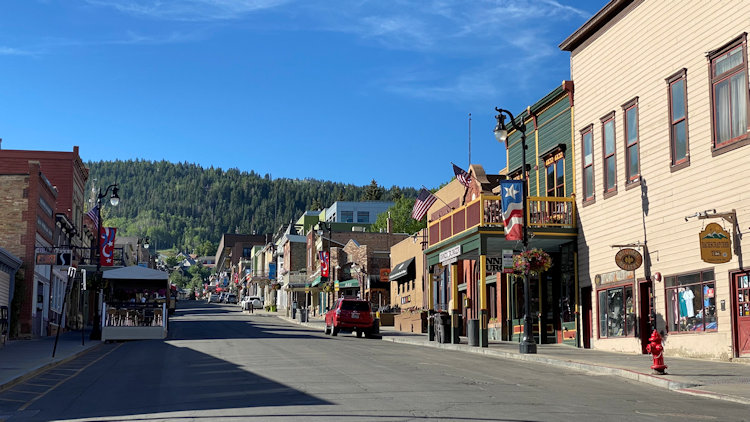 Park City's historic Main Street
Main Street – Culture, Food and Libations
Once the basecamp of a silver mining town, Park City's Main Street has come to represent the heart and soul of one of the most popular mountain towns in the west. It's also packed tight with luxury shops, art galleries, museums, nightlife and boutique restaurants to satisfy every craving.
Park City abounds with summer events including Park Silly Sunday Market, a super-fun festival held weekly on Main Street with live music, eclectic local crafts, unique finds, gourmet food and farmer's market fare. The August Kimball Art Center Festival, one of the leading art shows in the country, showcases art from hundreds of artists along with music and food from innovative purveyors.
Image Courtesy of Riverhorse on Main
The hotel's concierge recommended Park City's top rated restaurant, Riverhorse On Main, and arranged for us to be taken there by the hotel car. Riverhorse on Main is among an elite list of top restaurants in the nation and is one of the oldest and most distinguished restaurants on Park City's historic Main Street. It is a 16-year recipient of the Forbes Travel Guide Four Star Award and is lauded by restaurant critics and the dining public alike as one of North America's top culinary destinations. The Riverhorse perpetually rotates its menu on seasonal and creative demands.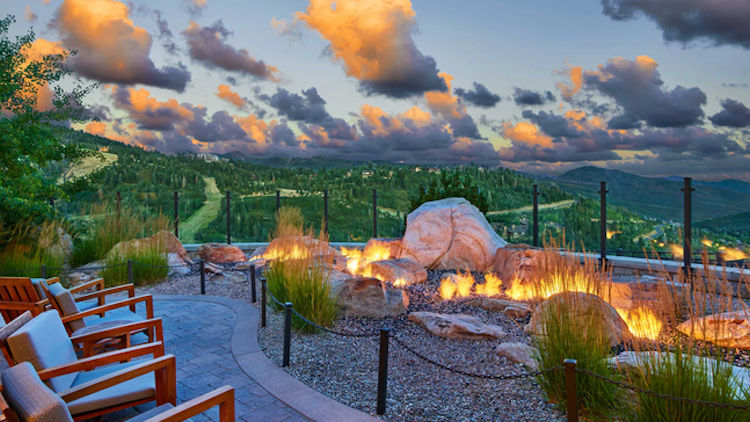 Fire pit on the St. Regis Deer Valley's Mountain Terrace. Image courtesy of The St. Regis Deer Valley.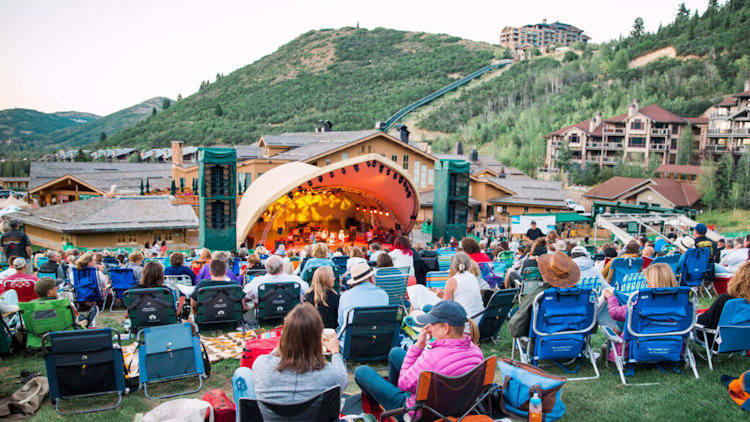 Concert venue with the St. Regis and funicular in the background. Image credit: Park City Chamber of Commerce
Two magical summer concert series are held immediately adjacent to the Resort, easily reached via the funicular. The Deer Valley Music Festival and Grand Valley Bank Community Concert Series feature performances including Utah Symphony's Patriotic Pops. You can enjoy food and beverages while listening to music wafting from the concert on Astor Bar's Terrace. A customized concert picnic basket can always be ordered from your Butler or the Concierge.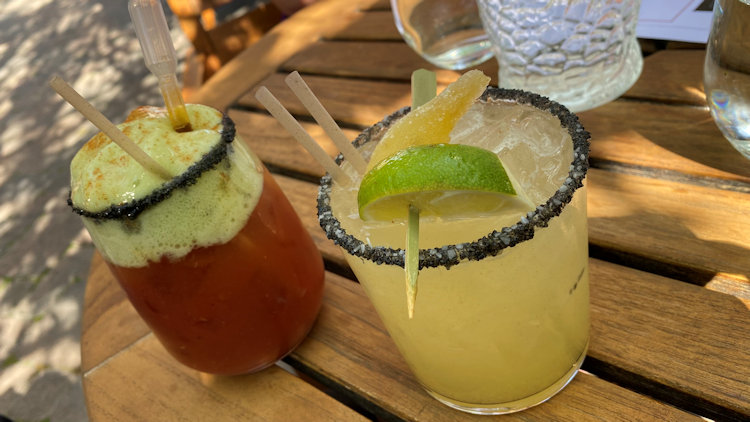 Cocktails
We are toasting our memorable stay with drinks outside on the Mountain terrace. We've been in relaxation mode all weekend, so we just watch as groups of hikers and bikers do the hard work of crisscrossing the mountain paths, as we sit back and enjoy refreshing cocktails.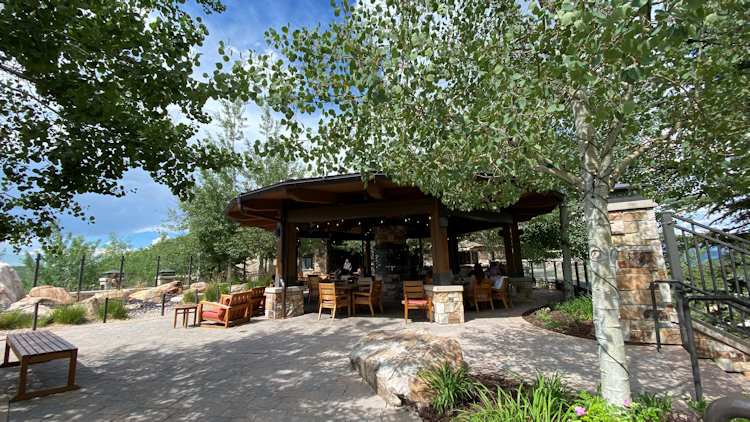 Mountain Terrace
Every St. Regis team member we came in contact with had the same outlook – they told us that they feel honored to work in such a wonderful environment. St Regis has hosted legendary guests in the past like Marilyn Monroe, Ernest Hemingway, Marlene Dietrich, Salvador Dali and Alfred Hitchcock – which is fitting for an equally legendary brand. The management won't disclose current well-known guests, but the St. Regis brand was born of a distinctive legacy and crafted for connoisseurs who desire the finest experiences imaginable.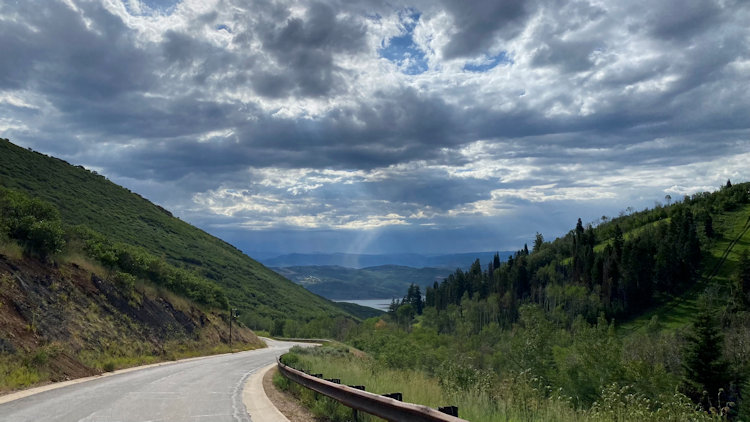 Scenic Departure
After such a great experience, we are sad to leave, but we have this wonderful view to inspire us to plan our next visit!
All images Ⓒ by Christine Gray/Luxury Travel Magazine unless specified
St Regis is planning to double the number of hotels and resorts it operates in the next five years. In 2022 it will open the The St Regis Kanai Resort, The St Regis Chicago, The St Regis Marsa Arabia Island, The Pearl (Qatar), plus a hotel in Belgrade. The St Regis San Francisco will reopen following a complete renovation.