Yet another stunning addition to the Kessler Collection has been unveiled, this time alongside huge rocks with rushing water amid tumbling low-level waterfalls in Greenville, in a region fondly called Upcountry South Carolina. The Grand Bohemian Lodge Greenville officially took its place in the Autograph Collection as well with a September 15, 2022, ribbon cutting attended by both Kessler Chairman and CEO Richard C. Kessler and Greenville's Mayor Knox White along with key team members who made the stunning property a reality — a gargantuan seven-year effort with a $100-million-plus investment.
Design of the boutique, modern lodge of 187 luxury suites and guest rooms was an intentional nod to the great national park lodges of America and the unique city park setting here. In the National Park Service, it's called 'Parkitecture,' and works beautifully here. Inside and out, the impressive but approachable hotel features rich woods and stone accents plus gorgeous statuary and sculptures of Native American themes.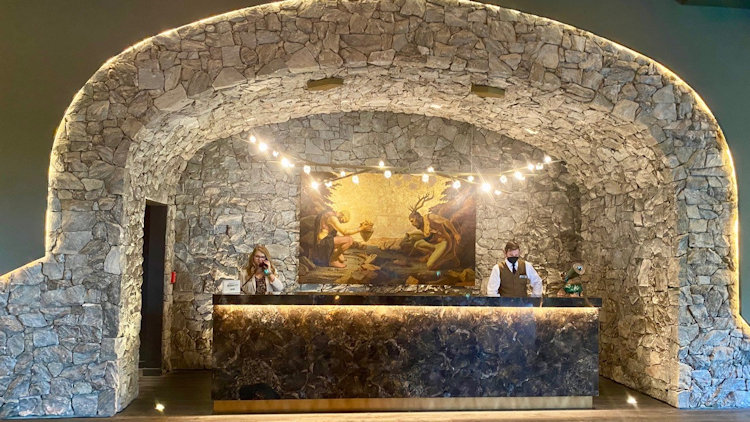 "After years of planning, we're proud to see our vision of natural beauty and tranquil ambiance come to life in downtown Greenville," Kessler said at the ceremony. "We look forward to introducing the luxurious Grand Bohemian Lodge to our beloved repeat and new guests alike in this emerging destination full of rich heritage."
The ceremony featured traditional Native American drum and double flute instrumental sounds, appropriately, as the lodge is filled with outstanding Native American art subjects. Before awarding Kessler a key to the city, Mayor White noted: "I certainly knew if I could just get Richard Kessler to Greenville, something great would happen. And boy did it."
Kessler said, "As soon as I saw the location on the river I knew there was no question this would be the site of the hotel... We couldn't do a typical hotel; it's too precious of a site in this park. We had to do something special, and this is really an opportunity for us to add something beautiful for the community."
The lodge created a new green space and a new Eastern gateway to Falls Park and the Reedy River plus additional landscaping.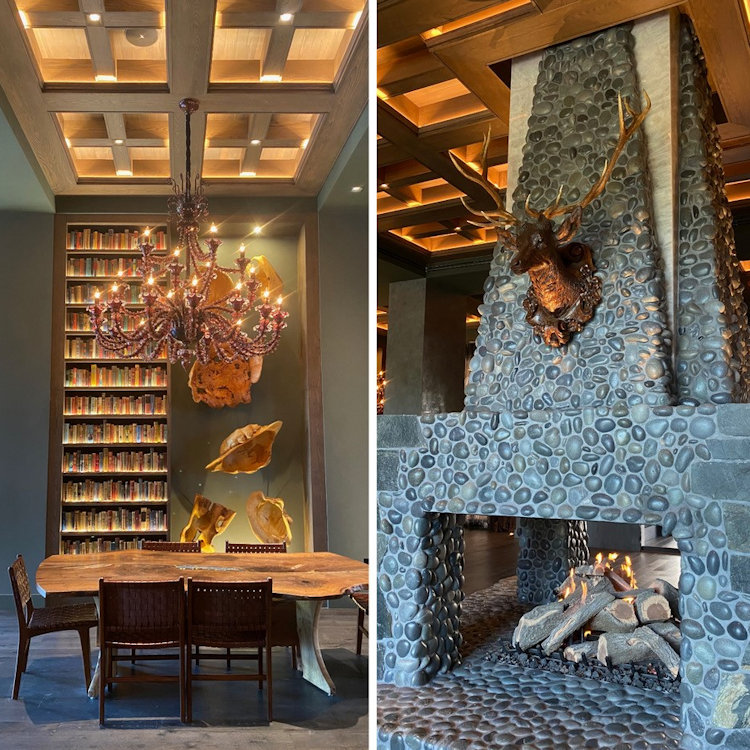 Beautiful Spaces, Amazing Art
Located in the heart of Greenville, the seven-story property features signature Grand Bohemian interiors designed to reflect the area's natural beauty. Like all Kessler properties, art and special spaces are at the forefront here, from the massive, four-sided lobby fireplace rising to the high ceiling to a library space just off the main lobby, plus the signature Poseidon Spa as well as indoor/outdoor upscale dining and a celebrated bourbon bar. Porches sport custom timber rockers, and even one large oval heated mosiac "egg" we fit into for a quick selfie.
One of the things we've loved about our eight Kessler property experiences thus far is the amazing artwork, and Grand Bohemian Lodge Greenville does not disappoint. Much of its $2 million worth of curated art is from Mr. Kessler personal, long-standing collection, particularly Native American and Western-themed pieces. There is also an impressive section of multiple framed arrowheads, the result of one artist's 20-year collection, as well as unique Native American jewelry pieces under glass just beyond the reception desk. Both are worth a study for their beauty and vastness.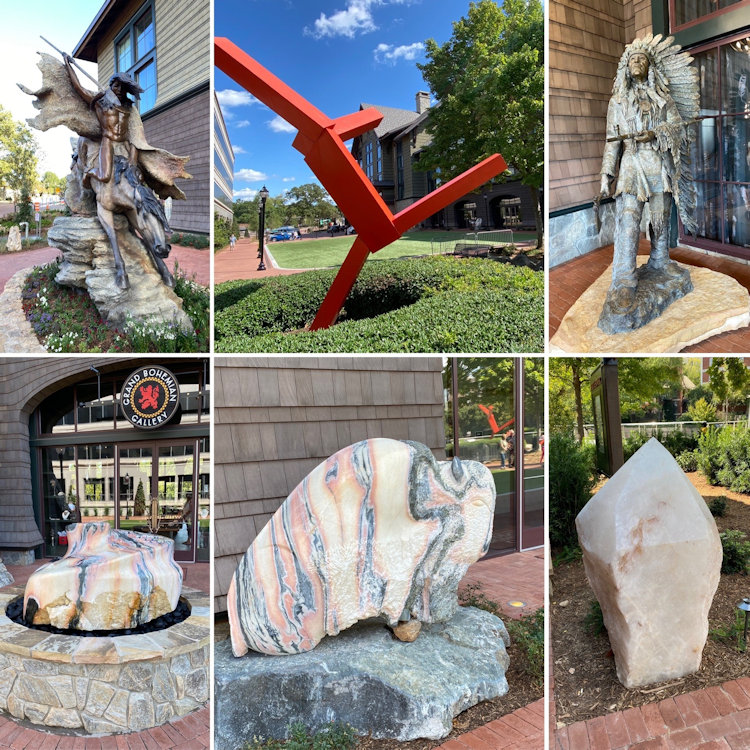 Indoor-Outdoor Dining & Bourbon Bar
Appropriately named, the lodge's restaurant Between the Trees overlooks those waterfalls and Falls Park with indoor or outdoor seating. Michelin Star Chef Nicolas Abello created his take on modern lodge cuisine here to include local produce plus fish, beef and game, along with regionally sourced cheeses. An in-house pastry chef creates memorable desserts.
Guests can enjoy an intimate or group dining experience around one of the four fireplaces, in a 1,000-bottle wine room or the private dining room featuring an exterior glass wall that opens up to views and sounds of nature. A member of the food-and-beverage team confided to us that when discussion of having live music came up, it was nixed as the natural sounds of the running river and waterfalls was entertainment enough.
Overlooking the suspension Liberty Bridge and falls, Spirit & Bower is the property's upscale bar featuring an outdoor verandah and terrace offering a variety of seating for both dining and lounging, two fireplaces, and a stone firepit. We selected a small plate from the shareable menu, opting for the Wagyu beef sliders with local gouda cheese, bacon jam and garlic aioli — three in all on soft buns. Our dinner appetizer of grilled octopus salad was so good, we ordered it again the second night. Another interesting appetizer is the frog leg lollipops. The New Zealand lamb entrée easily feeds two.
Spirit & Bower's interior has handsome decor and displays its curated bourbon and whiskey collection with some of the rarest and most coveted spirits in the country. A sleek and elevated stone bar opens up to the exterior, engaging guests and connecting the inside with the beauty and sounds of Falls Park.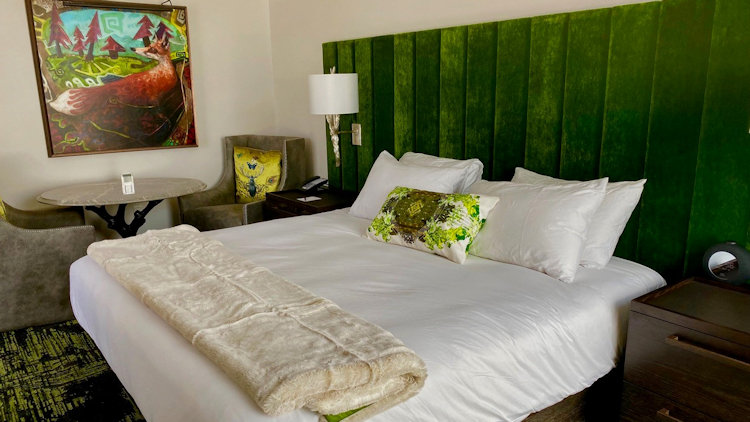 Our third-floor, corner, king room was spacious and featured the Kessler touches we've grown to expect: great in-room and hallway artwork, plush bedding, roomy bath with separate toilet closet and glass-fronted shower with rain showerhead plus signature bath products. Kessler, too, has its own signature wine. We especially appreciated the two high-back, upholstered chairs on casters and large stone table where we could enjoy a snack or yes, fire up the computer.
But there was little time for either as Grand Bohemian Lodge is wandering distance from all the best things to do in Greenville, including an inviting Main Street, Peace Center Concert Hall, a thriving art and music scene, local boutiques, craft breweries and the 22-mile Swamp Rabbit Trail for running, biking and walking. Named The South's Best City on the Rise by Southern Living magazine, Greenville is a year-round playground for guests of all ages. Among its many festivals and special events is the popular euphoria-Greenville, a four-day celebration of food, wine and music in the fall.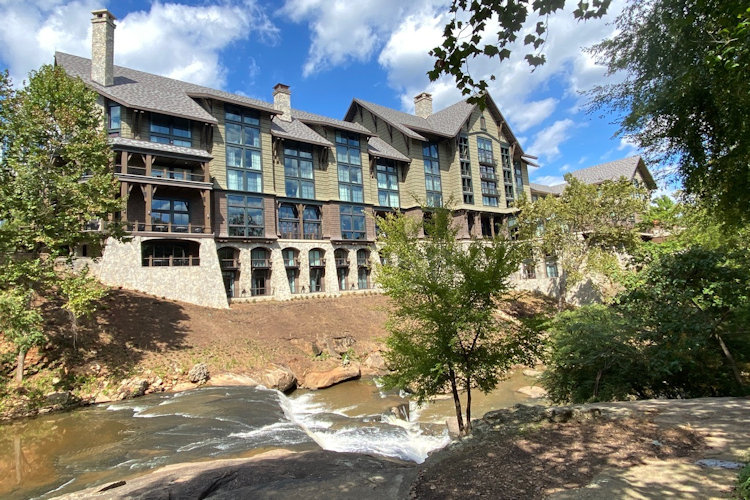 If You're Going
Visit Grand Bohemian Lodge Greenville, 44 E. Camperdown Way or call 864-520-5300. Regularly scheduled public tours are available. For more on what to see and do around town, check out VisitGreenvilleSC.com.
Kathy M. Newbern and husband J.S. Fletcher are award-winning freelance travel journalists based in Raleigh, NC, who have visited 76 countries, all seven continents and reported on 81 cruises. They often incorporate their travels into their other business, www.YourNovel.com, where they put you and your sweetie in your own personalized romance novel "wild" or "mild."
Photos courtesy of Fletcher Newbern.