It's been three years since we last visited Savannah, GA. Pulling up to the new JW Marriott Plant Riverside District, it's a joy to see that a city so old can embrace something so new: a grand achievement reviving a defunct electrical power plant along the Savannah River into a new district devoted to entertainment.
There's always been so much to do here, and we've missed this historic destination sometimes referred to as America's Most Romantic City.
We've missed meandering her cobblestone streets and moss-laden live oaks in her 22 oh-so-walkable historic squares. Memories of the profusion of spring blooms — the azaleas, dogwoods and secret gardens — come to mind.
We've missed the chance to plunge into almost any type of tour you can imagine, and the history, art and culture at every turn. We've missed the rooftop bars and dining venues that pepper the landscape bringing delicacies to the table from local waters and farmers dedicated to crops long associated with Low Country cuisine.
We've missed the party side of life and revelry often times compared with New Orleans that also allows to-go alcohol drinks, so you can sip and stroll, or so we learned last time on our Savannah Taste Experience Food Tour. We also visited Savannah's first post-Prohibition distillery, Ghost Coast, which in turn inspired a visit to the Prohibition Museum, the only of its kind in the nation. A secret password at a non-descript door gave us access to the attached Speak Easy. Fun.
Eventually we went on a hunt for the town's historic cocktail, the Chatham Artillery Punch. We found it at the chic Artillery Bar, as well as mega-cool Alley Cat, well known to insiders but you'll need directions down to the alleyway entrance. The "punch" was created to celebrate George Washington's 1791 visit. Its name honors both Savannah's location, Chatham County, and Georgia's oldest military unit. With four kinds of liquor plus sparkling wine, this punch is so strong that Washington's next-day hangover made him vow never to return.
Yet we have returned, pleased to find that once we unload and settle into our suite that we won't need to venture further this time. Plant Riverside District, known as "Savannah's Entertainment District," will garner our attention for an easy three days of exploration via connecting buildings riverside, all catering to eclectic tastes be they art, music, architecture, history, paleontology, or food and wine.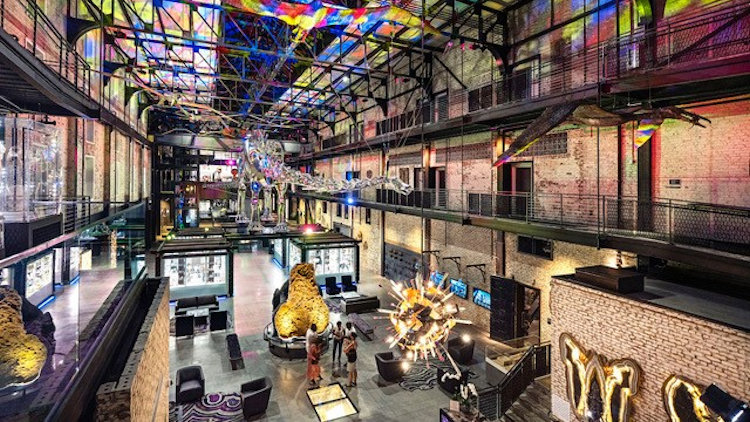 Yes, there's a chrome-dipped, life-size dinosaur installation gracing the JW Marriott lobby just steps from the Savannah's new Plant Riverside District's performance venues and eateries Note the giant geode below it, taller than the visitors
Amazing Complex; Chrome Dinosaur
Thank you, Richard C. Kessler, for being a visionary and Bohemian at heart.
Resident hotelier Richard C. Kessler, chairman and CEO of The Kessler Collection, brought his latest vision of luxury hotels to life here focused on three major themes: water, beauty and natural sciences. It's intentional that "plant" is part of the sprawling name. For a decade Kessler had eyed Savannah's aging electric power plant (circa 1912), early on envisioning upscale accommodations inside, and lighting its twin towers in his signature red and purple, like a phoenix in the night sky. Designers retained the plant's architectural identity in bringing that vision to life.
Guests stepping through the JW Marriott entrance immediately crane their necks, as we do, to take in the chrome-dipped, life-size dinosaur installation overhead. The expansive lobby is actually called the Generator Hall in what's known as the Power Plant building.
We watch young visitors at one section of the plant wall left intact for interactive learning. They demonstrate its functionality, busily pulling knobs, pushing levers and turning handles, perhaps imagining creating electricity. Overhead video screens highlight the construction process that transformed the plant into this unique destination.
On the second floor with an open-air view to below, we witness a hands-on paleontology activity and hear a lecture related to some of the fossils of ancient creatures and geological antiquities in the expansive hall below. There's a giant Ice Age cave bear skeleton, for example.
This vantage point gives us another look of another wow factor: Spaced below are several massive geodes taller than visitors mingling about. Each sparkles with different colored crystals inside — purples, teal, brown — all enhanced with special lighting. That same lighting entices us into the lobby shops in full-surround glass and chrome. They line the hall's center on each side.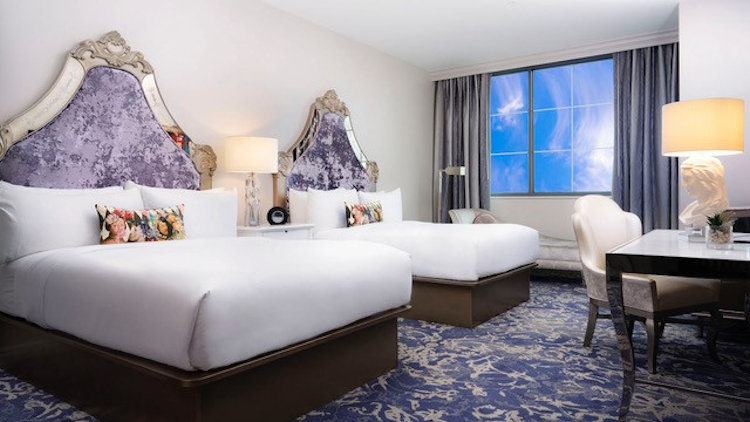 An example of a Queen Room in the Three Muses building at Plant Riverside District, Savannah, one of three accommodations options
Unique Accommodations
The complex has three unique accommodation options situated in three buildings: chic architecture in the Power Plant, romantic styling in the Three Muses, and contemporary maritime details in the Atlantic. Once inside our suite in the latter, it's not long before a cargo ship, one of many plying the river, has us tracking its progress from our vast floor-to-ceiling window. The next evening, we'll watch the full moon rise from this same, perfect perch.
In all, there are 419 luxurious guest rooms and suites, bars and lounges, a pool, the Poseidon Spa, two fitness centers, and multiple meeting spaces.
The District adds several dining options to the waterfront long popular with visitors. Our first foray is into the Baobab Lounge where outstanding African art and décor have us snapping Instagram images. Our waiter kindly guides us through unusual choices.
Nearby is Byrd's Famous Cookies; at check-in we received complimentary key lime coolers from here. We find the Compass Pool Lounge atop the Atlantic building, with a cool pool and cabanas and yet again, friendly staff. Finally out at street level, riverside, we check out District Gelato, District Seafood, District Smokehouse, Riverside Biergarten, Riverside Sushi and Savannah Tequila Company.
For our dress-up dinner, we choose the upscale Stone and Webster Chophouse, which has a casual front seating area, and a more romantic interior room with candlelight. That's where we toast our Savannah return and dive into mouth-watering steaks.
Another evening, it's pizza at Graffito's — love its eye-catching graffiti mural. Our go-to breakfast spot, which works another day for a quick lunch, is located near that big ole dinosaur — the Turbine Market + Café. It's true that Savannah boasts many great places to eat, but the venues here within feet of our lodging fully satisfy.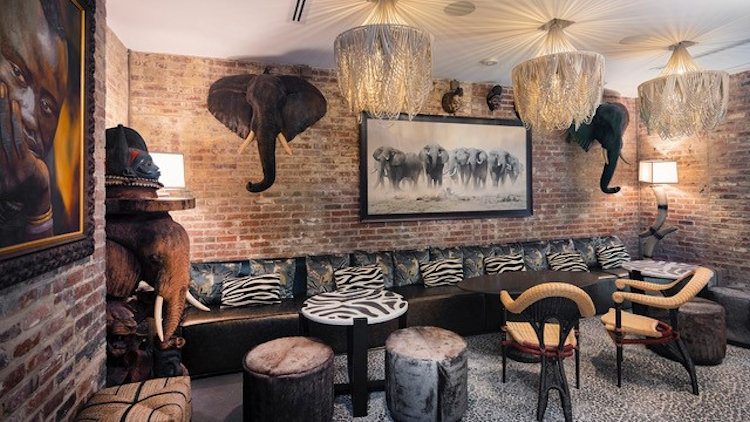 The Baobab Lounge in the JW Marriott at the Plant Riverside District features stunning African art and decor

Unique Spaces, Entertainment Galore
We don't want to miss anything, starting with the rooftops. First, we stroll through the Three Muses Building's Myrtle & Rose Rooftop Garden for a gorgeous river view. A Sunday Brunch is available, and in the evenings, this cozy spot fills up.
We next check out Electric Moon Skytop Lounge + The Moon Deck at the top level of the Power Plant Building. We take the plunge down its one-level slide, videotaping and laughing as we zip down.
The Atlantic Building accommodates large events with meeting rooms opening onto the long waterfront lobby. Inside hang striking portraits of notorious pirates; outside the nautical theme continues with a giant, golden, ship figurehead leaning toward the pull of the tides. She mimics the female figure known as a Neptune angel historically sprouting from large wooden ships' bows.
The Atlantic is also home to the newest hotspot for concerts in Savannah, District Live powered by Live Nation. We especially enjoy an evening of songs by Savannah native Johnny Mercer who found success in Hollywood in the late 1930s with such hits as "Moon River," and "Days of Wine and Roses." He penned nearly 1,400 in all. Impressive.
The district grand opening featured the unveiling of the space, part of an impressive museum featuring the "Gretsch Sound." On display are popular guitars used by well-known musicians, archival pieces, displays and photographs. The project is a partnership between the Fred and Dinah Gretsch School of Music at Georgia Southern University and The Kessler Collection.
The Plant Riverside District fountains between the Atlantic and JW Marriott buidings are custom choreographed for music and light shows staged to the timeless music of Bach as well as an original, international percussion piece written specifically for complex.
We witnessed a rousing, foot-stomping set by The Equinox Orchestra one night, and on another, a sampling of the Streetmosphere Circus show with Cirque Divina, an ongoing Friday and Saturday night performance. Wednesday through Saturday nights, there's a resident magician, too. And of course live music.
Savannah riverside can help unleash the Bohemian in you.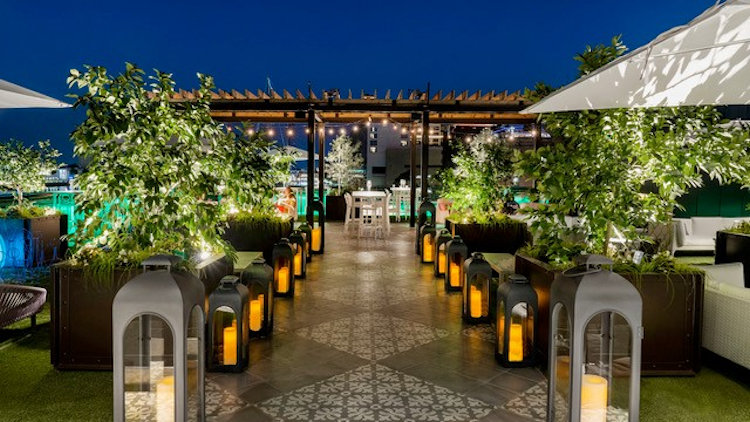 A romantic view awaits at Myrtle & Rose Rooftop Garden overlooking the Savannah River
If You're Going
For a splendid discovery of this new side of Savannah, visit www.plantriverside.com. For more on what to see and do all over town and at nearby Tybee Island, check out www.VisitSavannah.com.
For fans like us of what in Savannah became known as "The Book," we recommend John Berendt's "Midnight in the Garden of Good and Evil," released in 1994 and later made into a film by Clint Eastwood. For more from the author, check out this VisitSavannah podcast "Anything but Ordinary" where Berendt proclaims "Savannah loves its eccentrics" .... "keep appreciating your oddballs": https://www.visitsavannah.com/season-2-episode-2-john-berendt-author-midnight-the-garden-good-and-evil. Listen to the end. Could there be another iteration?


J.S. Fletcher, a guest in the Atlantic Building in the District, is enthralled by a passing cargo ship on the Savannah River. (Kathy Newbern photo)
Kathy M. Newbern and husband J.S. Fletcher are award-winning freelance travel journalists based in Raleigh, NC, who have visited 76 countries, all seven continents and reported on 81 cruises. They often incorporate their travels into their other business, www.YourNovel.com, where they put you and your sweetie in your own personalized romance novel "wild" or "mild."
Photos courtesy of Plant Riverside District and Fletcher Newbern