As we ate, cocktails were replenished, a salty breeze blew off the sea. This was the beginning of a schedule-free weekend, where at a whim we would read, swim, walk, and eat. A place this idyllic always has an idyllic name; in Nantucket, the name is the Summer House.
Located in 'Sconset–a former artist colony on the southeastern coast of the island known for its rose-covered cottages–this seaside retreat is a short drive from Nantucket airport and the gentle bustle of Nantucket town. The Summer House is home to 18 cottage bedrooms decorated in soft hues with bright white finishes. The cottages, with natural cedar siding and pitched roofs, have the feel of a lovely New England home, complete with books and board games on the shelves, and a big lobster pot set on a Viking range in the kitchen.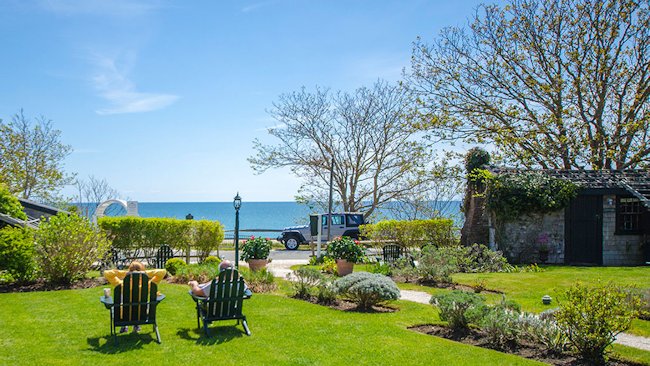 Photo credit: Summer House
The idea for this weekend escape hatched a few weeks earlier in Manhattan, as the early summer warmth developed into mid-summer heat. I began to dream about Nantucket's consistently cooler temperatures–set 30 miles from Cape Cod out in the Atlantic Sea–yet I wasn't interested in driving and taking a ferry. Instead I booked a flight on Cape Air, a small airline offering direct service from Westchester Airport to Nantucket (among other routes). In about an hour, a small propeller plane brought us from the fringes of the Big Apple to the shores of Nantucket.
The oysters and clams we slurped down upon arrival were just a snack to hold us over until dinner. After the sunset we retreated to our cottage, a generous space with a kitchen, living room, and outdoor dining area. Another night the aforementioned lobster pot might call, but for the first night, we opted to dine in the Summer House restaurant. After slipping into a summer dress and locking the cottage behind us, I started to hear piano music before I saw the gently glowing porch.
Blooming flowers and a path of crumbled white seashells led to the front door, where we were escorted to a quiet table for two. Before arriving on the island, I pictured Nantucket as solely a summer destination, but seeing couches arranged around a fireplace, I began to think that spring days and fall nights would be lovely here as well. We raised a cocktail while reading over the menu, a tempting list of dishes curated by award-winning chef Todd English.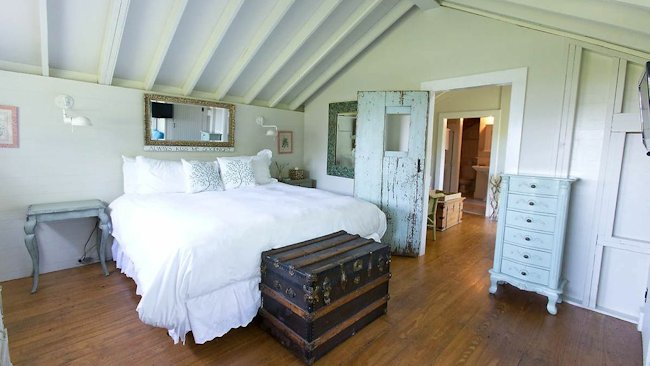 Photo credit: Laurie Wright
After just one night, I took to calling the evening meal at the Summer House supper. It seemed appropriate, given the leisurely pace, the live piano music, attentive staff, and impressive flower arrangements. We started light with a shaved vegetable salad and lump crab cakes. The menu is peppered with tastes of summer, from watermelon to cornbread, evoking memories of summers past. After dessert, we brought our glasses out to the front lawn where the light of fireflies flickered beneath a starry sky.
The next morning I woke to the sound of soft rain on the pitched roof of our cottage. After breakfast on the peaceful front porch, the clouds cleared as we strolled down to the beach. Kids were ambling along the water's edge, chasing a seal that popped his head up about 15 feet from shore. Families were taking photos. I imagined that the father in the photo was once the son, behind held by his mother on this same beach–an annual family tradition.
A lazy couple of hours by the pool later, it was time for lunch. Beneath an umbrella, I sipped on a Summer House specialty cocktail–a refreshing blueberry lemonade–while waiting for my lobster cobb salad. We got chatting to the next table, a group of cyclists that travel to Nantucket each year to bike and eat. They plan their route around stopping for lunch at the Summer House and refueling with fish tacos. I thought of embarking on some cycling myself that afternoon, but one of the real joys of Nantucket is that there's always tomorrow for ambitious activities.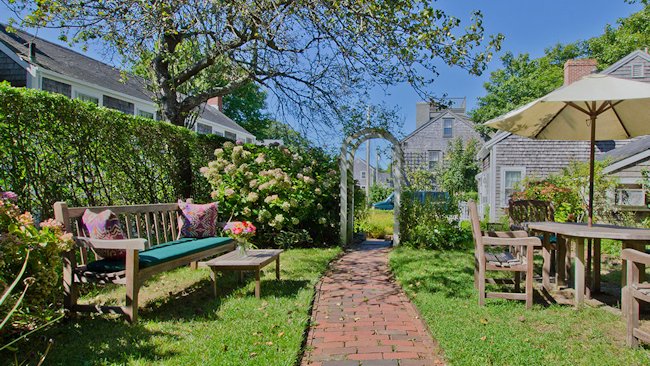 Photo credit: Summer House
Overlooking the sea on a natural bluff, the Summer House is isolated from any noise or bustle, with Nantucket town a short drive away. Freshened up, we went into town for a stroll around the scenic harbor. Cobbled streets gave way to docks, where yachts of every size and shape were tied up or returning from a day's frolic out at sea. There are many restaurants to choose from in town, but only one is set in a historic building that dates back to 1709. We took a seat at Figs, a Todd English restaurant at the 29 Fair Street Inn.
People who return to Nantucket year after year say that one of the island's joys is that many pleasures stay the same. I thought about this idea sitting in one of three candlelit dining rooms at Figs, where countless romantic meals on breezy summer nights have taken place. There might be a new cocktail on the menu, or a new spin on an old favorite dish, but for those of us that love to travel, it can be nice to know that some places got it right the first time, and anyone who gets a taste will certainly be back.
Visit website:
http://thesummerhouse.com/
Freelance writer Jessica Colley covers cuisine, culture, the arts, and experiential travel. Her articles have appeared online, in print, and in guidebooks. More information:
http://jessica-colley.com/