The early 20th century outrigger canoe that spans the length of the spacious lobby is the first indication that this is not your typical tropical resort. The colorful surfboards that line an entry hall are another clue. And the island's largest infinity pool makes it official - Four Seasons Resort O'ahu at Ko Olina is stunningly special.
Located on Oahu's west side, far from the crowds of Waikiki but close enough to capture Honolulu's urban buzz, the Four Seasons overlooks one of four beach coves that dot this sunset view-perfect, fit-for-a-king coastline. Not mere hyperbole, the Ko Olina area was long ago the vacation choice of King Ka'mehameha himself.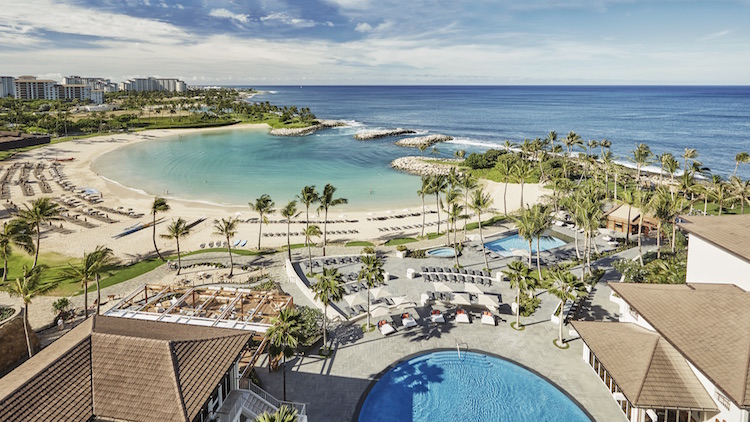 The resort's 17 story high rise, originally built in the 1960's, revealed its Four Seasons incarnation in 2016. Architect Mark de Reus (author of Tropical Experience and featured in Architectural Digest and The New York Times) and local interior designers Philpotts & Associates took their cues from the innate beauty and history of nearby Lanikuhonua – drawing on the elemental spirituality that permeates this former retreat for Hawaiian royalty. "We wanted to create an atmosphere that guests could step into with wonder and be drawn immediately to the elements," says Mary Philpotts, a descendent of Queen Liliuokalani, the favorite wife of King Kamehemahe the 1st. "Our focus was on the guest looking out versus looking in, and we wanted to achieve a distillation of the landscape itself. The clouds in motion, the palm trees swaying, the sky and the surf; it's all very magical."
That magic begins within the airy lobby where Prince Kuhio's massive, solid koa wood racing canoe takes center stage. Built in 1902 and on loan from Honolulu's Bishop Museum, it's a dramatic showstopper. Juxtaposed around the corner is a thoroughly modern line-up of colorfully painted surfboards by Oahu-based artist Eduardo Bolioli, the resort's current artist-in-residence. (And yes, each board is available for purchase. Book one of the resort's suites, and receive a $1,500 credit toward the purchase of one or more. Or, for a keepsake that fits within your suitcase, find limited edition prints of his exhibited work within the two on-site gift shops.)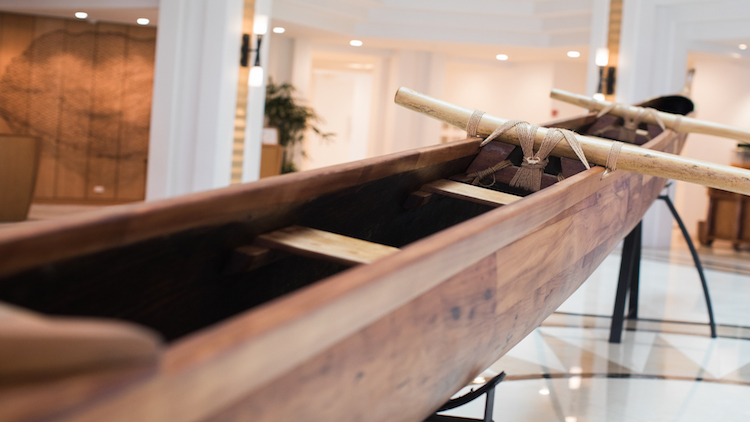 Lobby canoe. Photo by Ola Collective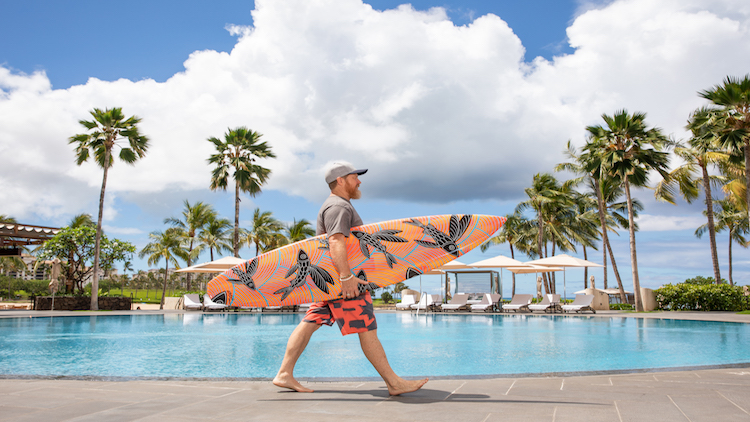 The resort's Artist-in-Residence Eduardo Bolioli
ACCOMMODATIONS
The resort's spacious 370 rooms (the average size is a minimum 640 square feet) feature expansive marble bathrooms, large flat screen televisions, Nespresso coffee machines, and ocean and coastline vistas, best viewed from the furnished private lanais. 55 of these rooms are suites, the most spectacular being the 3,200 square foot Penthouse Suite - a two-bedroom, two and a half-bathroom space featuring an 800 square foot wrap-around lanai, the center of which boasts a bougainvillea bedecked dining portico with dramatic panoramic views of the Pacific.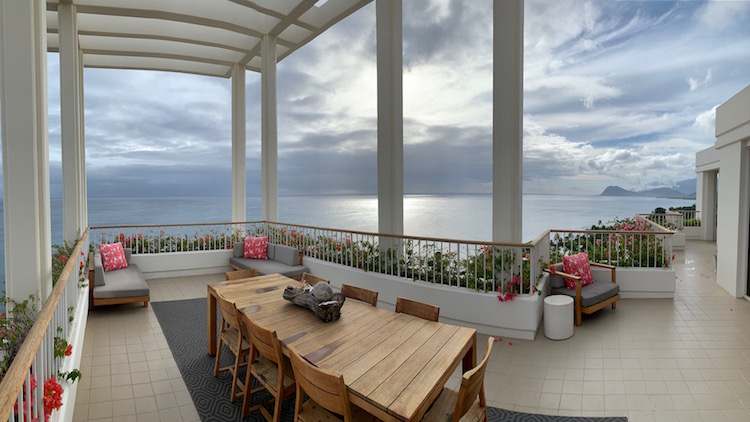 The Penthouse Suite. Photo by Dan Miller
ACTIVITIES
And while the indulgent rooms and suites are indeed a lure, the bevy of pools, lagoons, meandering paths, destination restaurants and bars, a sumptuous spa, an expansive health club and tennis center provide more than enough activity to fill sunny days and sultry nights. Of the four swimming pools, the shore-adjacent, adults only infinity pool (the largest on the island) is a guest favorite. Park the wee ones from 9am to 5pm at the Kids for All Seasons Camp Kohola where they'll enjoy a supervised, summer camp-like experience as you bask in the tranquility of a private cabana where a bottle of champagne awaits and 'Dr. Mai Tai' makes a daily afternoon appearance, 'prescribing' a complimentary island cocktail to all in attendance. The large, round, central Serenity Pool is another favorite, as is the family specific pool. A spa lap pool rounds out the non-ocean swim choices, but the large cove upon which the resort lies is as calm as any manmade option and is perfect for snorkeling, paddle boarding, and body surfing – the equipment for which is complimentary.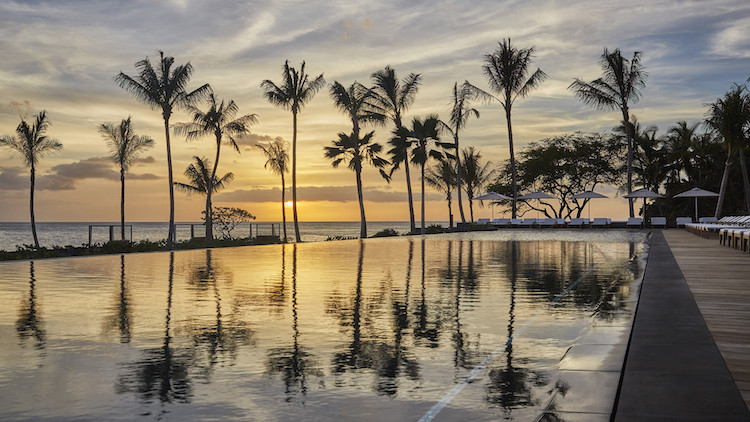 The Adult Pool
Also complimentary is morning yoga, held daily at 7am in the oceanside, tree-shaded zen garden. Follow the hour with a walk along the Ko Olina shoreline, past the four spectacular beach coves to a turnaround at Ko Olina Marina. For those seeking tropical adventures, the resort's concierge team can easily arrange outrigger canoe adventures, scuba diving outings, underwater photography lessons, and helicopter tours. Star gazers will want to employ the services of the resort's resident astronomer Greg McCartney whose massive telescope allows for viewing of Saturn's rings. He'll describe while pointing out varied constellations how ancient voyagers used the stars to navigate the Polynesian islands.
Learn to weave with local artisan Pi'iali' Lawson, whose family has practiced the time-honored craft for multiple generations. He'll explain the cultural significance, the terminology, and materials utilized. Participants depart with a self-woven keepsake. Learn the art of hula, string a shell necklace at the Ni'ihau Shell Jewelry Making workshop, or take part in a one-hour tennis clinic at the five rooftop courts. Enjoy preferred tee times at the nearby 18-hole Ko Olina Golf Club. Relax at the Naupaka Spa & Wellness Center, a 6-level day spa featuring Hawaiian-inspired indoor and outdoor treatments as well as male/female hot tubs and cold plunges.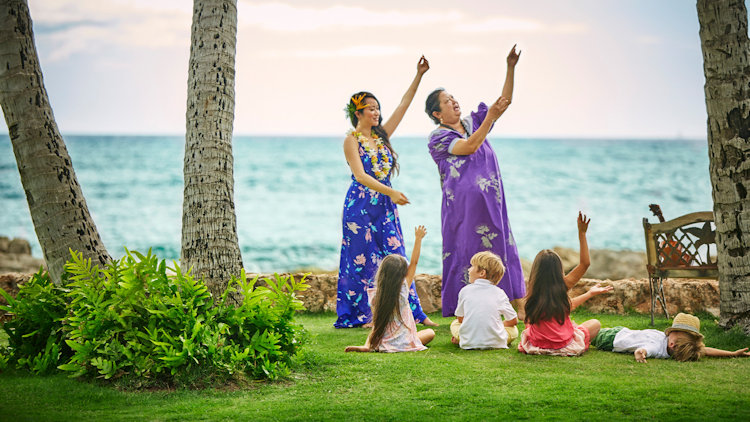 And if retail is the therapeutic choice, the resort's two chic boutiques supply all the goods – from footwear, to fine jewelry, to elegant resort clothing. Lobby level Caprice and downstairs Wili Wili offer big city options to please one and all. Tip: Book an appointment at Caprice and enjoy the luxury of their two Missoni-inspired dressing rooms while assessing the latest Missoni fashions, glass of bubbles in hand.
DINING
A multitude of options ensure both atmospheric and menu variety; no repeats necessary. Start the day at La Hiki Kitchen overlooking the Serenity Pool, where on weekends, their legendary brunch buffet is the most popular on the entire island. Enjoy a bounty of fresh shellfish (including unlimited lobster tail), poke, dim sum, salads, fruit, egg dishes, waffles, and an artful array of desserts. At dinner, steak reigns at the restaurant's newest evening concept La Hiki Steak; the menu showcases premium cuts, inspired dishes, elevated table side experiences, and classic cocktails. At Mina's Fish House, James Beard award-winning chef Michael Mina realizes his long held desire for a beachfront restaurant. The menu features locally caught, whole fish, for which the world's first in-house fish sommeliers can advise on taste and texture. The restaurant's lagoon-adjacent patio is the perfect vantage point for watching the resort's nightly torch lighting ceremony. Don't miss the 'If Can, Can' cocktail, a refreshing (and powerful) blend of rum, Orange Curacao, pineapple, Lilikoi, lime, and Orgeat, served whimsically in an orchid-adorned Spam can - a witty nod to the longtime staple of the Hawaiian diet.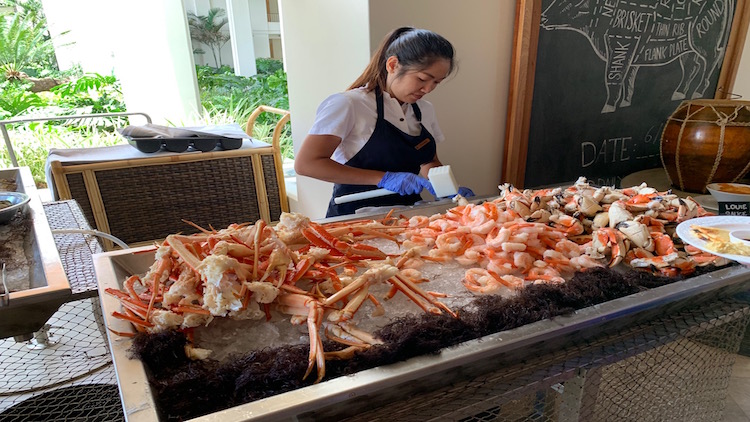 Weekend brunch bounty at La Hiki Kitchen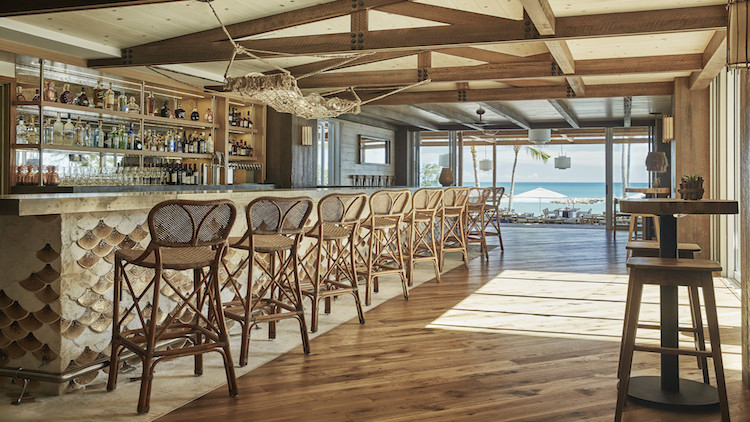 Mina's Fish House interior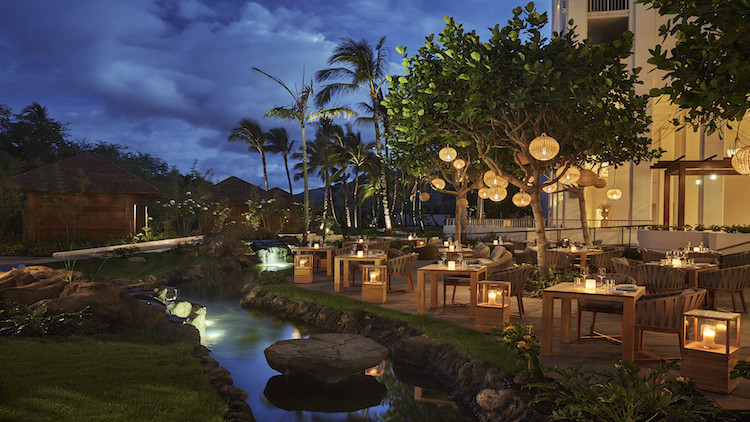 Al fresco dining at Noe
Romantic Noe, situated amongst interior gardens, flowing waterfalls, and koi ponds, serves what is best described as Capri-meets-Oahu cuisine – characteristic Southern Italian citrus flavors shape dishes inspired by top quality meats and seafood, locally sourced vegetables, and homemade pastas. A notable wine list features Italian labels, many never before available in Hawaii. Start your meal with house made focaccia, and end it with house made limoncello. Waterman Bar & Grill is a surf-style, casual poolside eatery perfect for light bites and sunset cocktails, and Hokulea, located off of the lobby serves morning coffee, mid-day snacks, and pre-dinner drinks – all of which can be enjoyed on the expansive, canopied terrace. Finally, The Bar at Hokulea, located above Mina's Fish House, is THE spot to welcome the night. (Don't miss the entryway with it's glass-encased, hand carved wooden leis by local wood carver McD Philpotts.) Featuring crafted rum cocktails utilizing the island's own Kohana Hawaiian Agricole Rum, the atmosphere is an urbane and sexy fusion of O'ahu's vibrant energy and the Four Seasons Resort O'ahu at Ko Olina's elegant serenity.
Photos: Four Seasons Resort O'ahu at Ko Olina unless otherwise noted