Simon, 61 and Carla, 55, are from the UK and have been sailing the oceans for the past three years. Their journey has taken them on a voyage of 25,000 miles and they have visited forty seven countries and countless islands and cays in between. Luxury Travel Magazine caught up with them on the south coast of Portugal and asked them what luxuries have they had to go without in this nomadic lifestyle, and what they love about it.
How did the two of you meet and how did you choose this lifestyle?
Carla and I met on the dating site, eHarmony in 2015, after we met for the first time we did not see each other again. A couple of months later I sent Carla a text asking her out for a second date. Carla was on a stop over in New York, on her way to The Dominican Republic with her two girls, Jessica 28 and Rafaela 25. Luckily Carla switched her phone on to roaming, and "Ping" my text came in.
We met two weeks later at Baker Street Tube Station on a rare sweltering hot London evening. Over a glass of red wine, taken by the roadside outside a pub, we chatted away and decided to give the relationship a go for a few weeks, just to see how we got along. We never missed a weekend and eighteen months later we were married on a beach in Barbados, with our four children there to witness the event.
Two days later, as we were lying on a sunbed soaking up the Caribbean sun, Carla said "Shall we sell the house, buy a boat and go sailing?" I thought about this for all of two seconds, and said "Yes." The plot was written; we just had to find a way to make it happen.
Over the next eighteen months we bought and sold three houses, flipping them to get enough money together to buy the boat and pay for the first year of cruising. We never faltered from our desire to leave this life on land and take to the oceans. By March 2018 we were sitting on our very own yacht, Ocean Fox, in Croatia for the first time, we were a little hesitant, as the reality of our plans were about to unfold.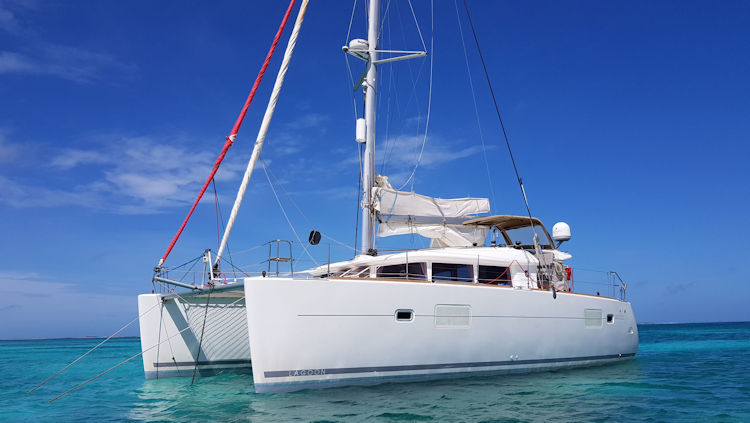 How difficult was it to leave your home, family and friends?
This was something that did concern us as we had a great social life back in the UK. We also knew we would miss our four children, who by now were all in the mid twenties and living their own lives.
We had a family barbecue in the summer before we departed, to break the news. Simon's daughter Jasmine was rather concerned and upset that we would be leaving and my oldest daughter described us as "Two irresponsible teanagers." To add to their embarrassment we said we were going to film the adventure and screen it on YouTube!
At some point in life, children have to be left to forge their own way in this world. We had both given everything we could to support them, but it was now our time to have some fun; before the grandchildren came along and we would be back to support them again.
How did you find the right boat and what qualifications did you need?
I had sailed before, having learned with my father in dinghies when I was a boy and slowly moving up to coastal sailing, but Carla had never sailed. The summer before we left we went on a week's sailing course in Spain. This would give me the all important skippers license and it would give Carla a knowledge of boat work and life afloat. You can go on sailing programs all over the world and the qualifications are internationally recognized. A skippers license is mandatory in some countries.
While we were there we discussed our plans with the other crew and the suggestion came up to use a catamaran instead of a monohull yacht for the journey. This would give us more stability at sea and in those far away anchorages. These boats have so much more room than monohulls and the saloon is at deck height which gives you a fantastic all-around view.
We sold the last house in March 2018 and we were given a week to move out, we still didn't have a yacht, but we had found one in Croatia. Carla dropped me off at Heathrow and said, "I love you, but don't come back without buying the boat." I did the deal the next morning and ten days later Ocean Fox was ours.
I imagine you would have a basic lifestyle on a yacht, what have you had to give up?
Many people would think so, but we miss almost nothing at all. Our boat has three cabins, two on the port side for visitors with their own bathroom, and we have a vast suit on the starboard side. We have a king size bed, wardrobes, storage cupboards and a bathroom with a separate shower.
Our large 12 volt battery bank gives us mains electricity through an inverter. We were able to bring a host of appliances with us, everything from hair dryers, food mixers, to toasters and the washing machine. We generate our own electricity from solar panels and from our wind generator. We also make our own fresh water from the sea through a desalination plant that we installed. We are almost self sufficient and can live off grid for months with the help of two fridges and a freezer not to mention lashings of hot water.
There is little that we miss from home and one benefit is, we don't have to cut the grass each weekend, instead the views keep changing day by day, week by week.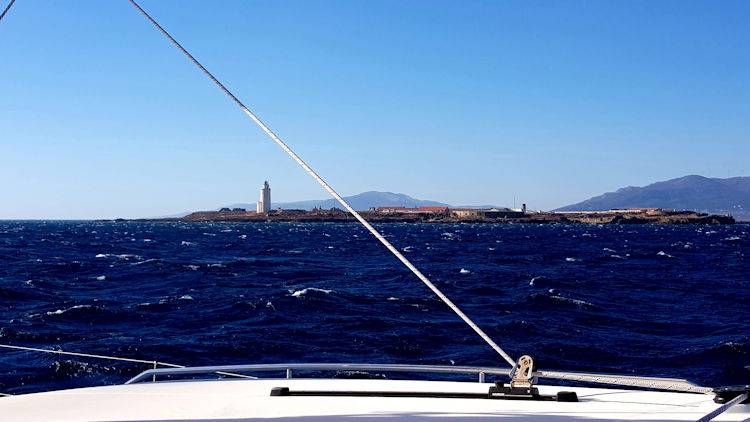 How scared can you be crossing an ocean?
From Croatia we headed out through Greece before passing through the Mediterranean and out through the Straits of Gibraltar. We were very determined that we were going to cross the Atlantic to the Caribbean within the first year of our adventure.
On the first night of our journey south to Lanzarote and the Canary Islands, a huge storm blew up, it was a Severe Gale, Force Ten with seas of thirty plus feet. It hit us in the middle of the night and Carla and I were on deck in the pitch blackness with foaming seas all around us as we fought together to get the sails down. We were only secured to the boat by our tethers.
The gale lasted for three days but by the time we arrived in Arrecife the sun was shining and the seas were like glass. We had been tested, we had been scared, but we had survived, and with no damage to the boat we decided that this experience was not going to stop us.
This was not the last time we would be tested on this journey. However, as soon as the sun is shining you forget these times, as nothing lasts forever at sea. Neither of us, like these long stretches of open waterway have to sail, the night watches in particular are not our favorite. It is just a means to an end, and as soon as the anchor hits the seabed the journey is forgotten. And a reconnaissance mission is planned.



Los Roques

Tell our readers about some of the off the beaten track places you have visited?
One of the great advantages of sailing is you get to go to places you would never go to on holiday. One of those is Los Roques. This group of 350 islands lies about 100 miles off the north coast of Venezuela and three days sailing west from Grenada. Few people visit as the borders are closed to most of the countries close by.
We visited for a week on our way to Bonaire in the Dutch Caribbean. As we arrived we could see the 200' high rock coming out of the mist, partly hidden by the breaking tradewind seas as they smashed into the reefs below. Behind the reefs, boats were happily at anchor in the sheltered waters inside the two rings of reefs that surround these islands.
Los Roques has a population of around 3,000, most of the population live on the main island of Gran Roque. Asphalt has never found these islands, the roads are as they were a century ago, simply sand. We were made very welcome and as soon as we had dealt with the formalities, passports stamped and fees paid, we were off to see what the islands have to offer.
Here you can have a whole island with a three mile powder white sand beach to yourself, you will only share it with passing rays enjoying the warm sheltered waters, starfish and the birdlife are abundant. We had the most incredible week living isolated and totally off grid, having beach barbecues and sunsets to die for. There is no cell phone service on these islands, for that matter there is no electricity for most of the day.
Bocas del Toro in Panama is another remote area we visited. Tucked away behind the Caribbean coast, this collection of islands is not on most people's bucket list. The lagoons between the islands are teeming from fish to crocodiles, the islands are a lush jungle, inhabited by the miniature Red Frogs and the slow moving Sloths, who live high up in the jungle canopy.
The main town has brightly painted timber houses, clinging to the waterfront enticing the tourists to the bars and restaurants within. Everywhere you go you travel by water taxi, skimming across the waters powered by a brutally large outboard motors.
It is a backpackers paradise, with an excess of fresh food and shops to keep the average tourist busy for a week or so. We however had all the luxury of our home waiting for us out in the anchorage.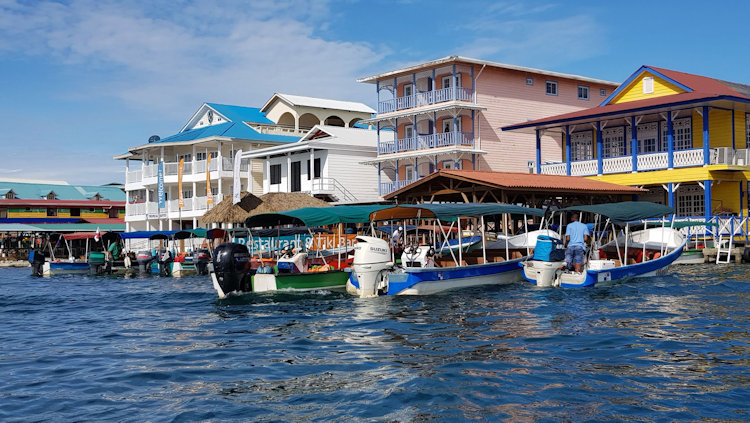 What about communicating with family and friends?
We do have a Sat Phone we use when we are at sea or in remote locations. We can make phone calls, send emails and messages, but it is all rather basic. Whichever country we go to, we would normally buy a local SIM card to give us unlimited data, and communicate through the internet. We find a way of talking with our family most days, this is a luxury we will not go without.
You have a naked sailor onboard too, tell us more?
When we were in the Canary islands we picked up our naked cat, Dobby. He is a Sphynx, hairless. He arrived at seven weeks old and has sailed across the Atlantic twice over the past two years. He is more like a dog than a cat, he will be by the door waiting for us to return, sit and fetch on command. He is very affectionate and clings to us like velcro. We always know when the conditions are getting rough, as he will disappear into the back of his sleeping bag or under the bed covers.


How do you fill your time when you are anchored up in an idyllic Caribbean anchorage?
We are very active on social media sharing our journey and inspiring others to consider taking up this lifestyle. We have a YouTube channel, we post two programs a week. This keeps us busy but we still have time for swimming, paddle boarding and walking. We walk around 200 miles per month to keep ourselves fit. Carla also has a food blog that she updates each day. Healthy Onboard. If we are ever bored we climb into our dinghy, visit another boat in the anchorage and ask the crew over for sundowners. The boating community is very friendly and helpful. Along the way we have met some wonderful people who will be lifelong friends.
Why do you love this lifestyle and what advice would you give someone considering joining the liveaboard cruisers?
Being able to travel in your own time is wonderful. There is never a rush to go anywhere, if we like somewhere we may stay for weeks if not months. You always have your home with you, so it is not like being on holiday at all. After three years it would be hard to give up the freedom the sea has given us, the winds can always take us somewhere new.
Regarding inspiring people most boaters we have met would say the same, "I wish I had done this years ago." If you are thinking of becoming a liveaboard the sooner you take the plunge the sooner you will be rewarded by what the world off grid has to offer. And, as for the finer things in life, there really is little you have to give up.
You can follow Simon and Carla's story on social media:
Web: www.sailingoceanfox.com
YouTube: https://www.youtube.com/channel/UC3WjVOASAqK3a8RU5zL8Bxg
Patreon: https://www.patreon.com/search?q=Sailing+Ocean+Fox+
Facebook: https://www.facebook.com/sailingoceanfox/
Instagram: https://instagram.com/sailingoceanfox/
Healthy on Board on Facebook: https://www.facebook.com/healthyonboard/
Healthy on Board on Instagram: https://instagram.com/healthy_on_board/
Web: www.healthyonboard.com