If you're looking to explore the almost endless Croatian coast and all its hidden gems, then you should consider cruising as your way of traveling that allows you to visit all the corners of the coast. The choice of luxury yachts in Croatia is quite diverse but they all have some similar key points.
Luxury accommodation
With luxury Croatian yachts you get an exclusive and top-quality accommodation. You are provided with spacious cabins that can easily measure with rooms you could find in a 5-star hotel along the coast. They are all beautifully decorated with each detail perfected to measure up to the highest standards. Most of the luxury yacht have their own private ensuite bathrooms and all the amenities that would 100% secure you don't miss a thing! Explore the wide range of luxury yachts in Croatia at https://www.croatialuxurygulet.com/
The professional crew
These yachts, in general, provide the highest standards of safety and comfort, and they all come with very professional but friendly personnel. Depending on the size of the yacht and number of guests on board the number of the crew can range, but an unforgettable voyage along the Adriatic and coast of Croatia is an absolute guarantee. The crew on board will do all in their power to make your cruise holiday stress free, and you will be able to relax in an atmosphere of relaxing luxury!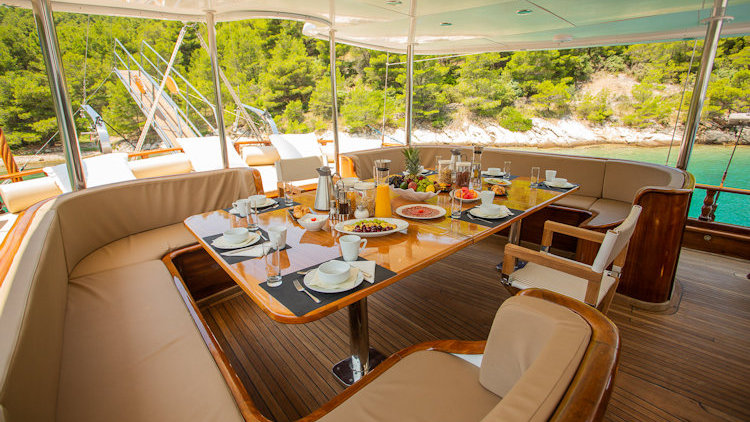 Beyond amazing food
Besides looks of the yacht and professional crew, the food is an important factor for any holidays. On luxury Croatian yacht you can expect delicious traditional meals with a modern twist that will be prepared by your personal Chef on board. You will have an incredibly diverse menu that can be adapted and personalized according to your preferences. Croatian food, in general, is well known for its quality and even the toughest critics will be pleased for sure!
Many different amenities and watersports
With this type of boats you don't have to worry that you, your family or friends will be bored. Luxury yachts usually feature many diverse amenities for relaxation like; pools, jacuzzi, massage room and many diverse watersport options like paddleboards, skysurfing, snorkeling equipment for kids, jetski, kayaks, banana rides, etc.
So you can stay active even while cruising and enjoy in endless fun!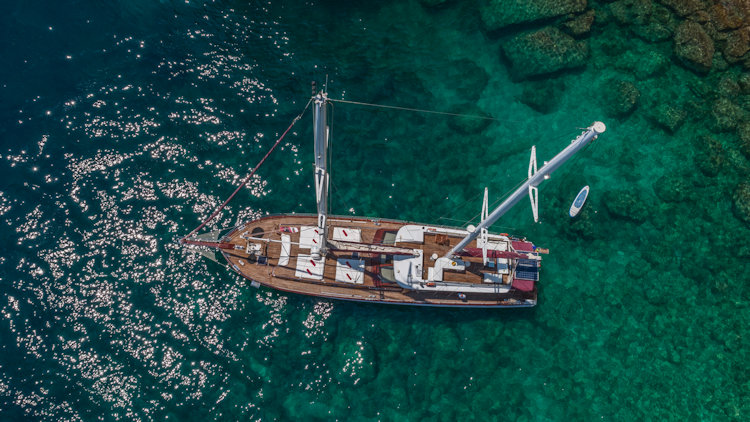 Some luxury yachts in Croatia to consider:
Aiaxaia
Aiaxaia is 48 meters long luxury motor yacht, with two decks that can accommodate up to 12 guests in 6 luxurious and spacious cabins. Whole interior and exterior of the yacht are constructed according to the latest modern guidelines built to measure up to the highest world standards. On the deck of this gorgeous yacht, you will find lots of space for enjoying under the sun and along with that many diverse recreational amenities (2 jetski, paddle boards, kayaks…
Professional crew and superb cuisine are an absolute guarantee!
Corsario
Corsario yacht is another 48-meter long, newly bulit for 2019, a mega yacht with sleek lines and an impressive modern design. This yacht guarantees a cruise in absolute luxury and elegance. It features a well-balanced mix of traditional tall ship exterior and super modern interior with exquisite ambiance. 12 guests can accommodate in 6 luxury cabins where you will be provided with all you need for your comfort and relaxation during whole cruise of course. Furthermore, Corsario features jacuzzi and sauna on the flybridge where you can relax during the day and enjoy in some romance during the night.
Navilux
One of the top 3 most luxurious vessels in Croatia is by far lavish motor sailing Yacht Navilux built in 2012. This magnificent sailing yacht is an ideal choice for family cruises with its luxuriously decorated 6 spacious cabins for 12 charter guests and some additional accommodation for two personal support staff. In the overall interior, you will notice that designers designed everything with guests comfort in mind, everything is decorated to achieve the luxury and comfortable atmosphere.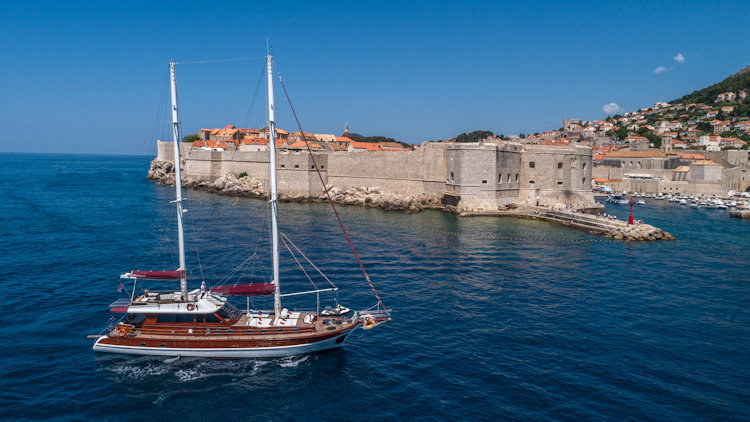 Best places to visit in Croatia
Vis
Vis is by far one of the most mysterious islands of Croatia that hides many natural phenomena. It kept its unspoiled nature and uniqueness by simply being the furthest island of the coast in Dalmatian region. In history, it was used as a military base that you can today explore via many organized tours. Mentioned wonders of nature at the start are Blue Cave and Green Cave that reflect some of the most impressive magical shades of blue and green. However, you will have to be a good planner if you want to be a part of this spectacle since only at the specific time of the day you can witness this wonders.
Dubrovnik
Dubrovnik is the town you maybe even heard of… It is one of the most beautiful towns of Croatia and some would say even the world. Either way towns cultural and historical heritage protected by UNESCO list of World Heritage, along with pristine nature and gorgeous blue sea will enchant you and you'll absolutely fall in love with this place. Dubrovnik was also well known for being the main filming location in Croatia for King's Landing, for popular Game of Thrones series. If you are a fan of serious you can take a guided tour of Dubrovnik to visit all the filming scenes. One other important attraction is visiting and walking on Old City Walls where you can learn more about towns history and enjoy in epic views.
Hvar
Island Hvar is an absolute must visit, and here's why! Island was rated as one of the top 10 most beautiful islands in the World and the main town of the island (Town Hvar) is a destination worthy of visiting especially in the late afternoon & evening. You might wonder why is that so, well Hvar is known as the party island, popular even among A-list stars. Even if you are not interested in the party scene of this island you can still find many luxury restaurants specialized in local cuisine, rich history, lavender fields, and amazing pebbly beaches. Island is also known as the sunniest island of Croatia so you don't have to worry too much about your holidays being spoiled by bad weather here!
Korčula
People love to say that Korčula is like little Dubrovnik but with less tourist. This amazing island and town of Korčula feature stunning city walls that frame the Old Town. Small maze streets are full of history, small local shops, and restaurants that are really nice to check. The city is also known as the birthplace of explorer Marco Polo so you can find themed shops along the whole town. For leisure time there are many beaches some suitable for kids too. This island rich natural beauty, crystal sea, gorgeous vineyards, olive groves will make you wish to come back for more.