Fusing the relaxed formality of the French Riviera and seaside charm of the Italian coast with the timeless grace of Palm Beach, The Breakers is now entering its second century of enlightened family ownership. A pioneer in the luxury hotel segment, The Breakers invests an unrivaled $25 million each year in its ongoing revitalization and renewal, including the implementation of a number of ecologically-friendly practices to conserve resources and protect the environment. The Breakers continues the tradition of excellence begun by its founder, Henry Morrison Flagler, in 1896.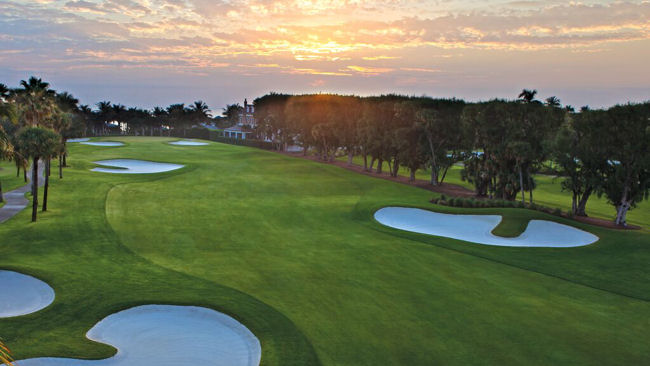 Ocean Course. Photo Credit: Nile Young Jr.
Ushering in a new era of casual sophistication, The Breakers' innovative, eco-minded initiatives have permeated not only the guest experience, but also its workplace. Long before "going green" became mainstream in the hospitality industry, The Breakers initiated a formal policy requiring its 2,000 associates to sign off on sustained guidelines to cover waste management, energy use reduction and water conservation. As a pioneer in the luxury hotel segment, the "Green" Team at this legendary, 538-room oceanfront resort saw the "big picture" of enhancing the quality of life for future generations very early on.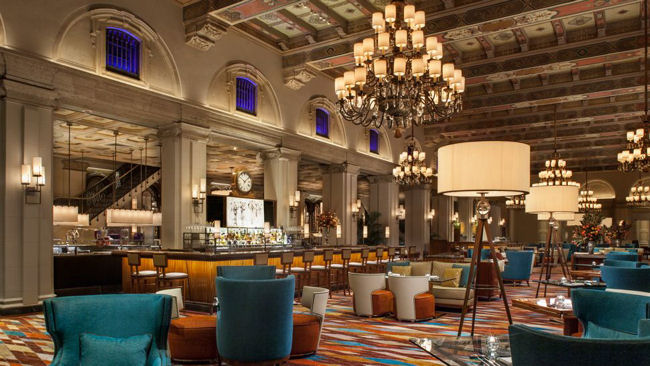 Similarly, visionary and railroad tycoon, Henry Flagler recognized Florida back in 1897 not as swamp-filled nothingness, but rather as a viable tourist destination. Flagler commissioned Scotsman Alexander H. Findlay to build the first regulation 18-hole golf course in Florida, the Ocean Course at The Breakers. This recently restored heirloom of vintage seaside links rewards wits over power as ocean breezes, narrow palm-lined fairways intertwining amongst sandy hazards, recently enhanced water bodies, and randomly placed, deeply recessed bunkers have successfully heightened playing interest while re-establishing the original grandeur of Findlay's design. And with water conservation and run-off concerns in mind, a modern, eco-friendly drainage and irrigation system has been installed to even more rejuvenate The Breakers' Grande dame, the Ocean Course.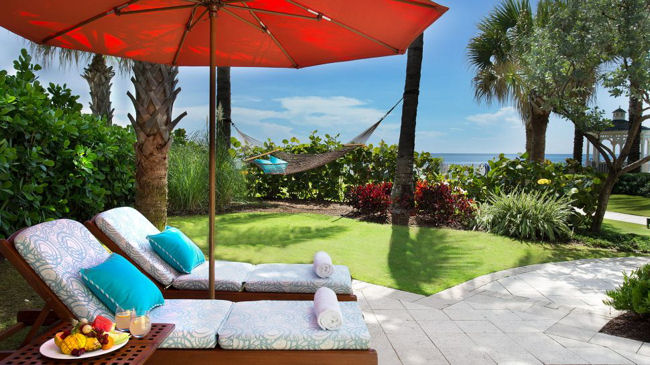 According to Jean Latham with
Global Eco Traveling
, a dynamic new company assisting the insatiably- eco and authentic minded traveler, "The awareness of eco-sensitivities and the global impact of traditional past travel practices impact to the earth, has taken prominent positioning in the travel industry." In other words, Latham shared, "The Breakers 'gets it' because there is an impressive and rapidly growing segment of travelers who intentionally seek out entities which engage in sustainable eco practices."
This forward thinking legacy of sustainability has been underscored by team members at The Breakers with the founding of an independent, non-profit organization, Localecopia. Co-founded in 2008 by Rick Hawkins and Geoffrey Sagrans of The Breakers' executive purchasing team, Localecopia effectively plays "matchmaker" between local farmers/organic food producers and area chefs, restaurateurs, and hospitality operators. This innovative, grassroots advocacy assists chefs in buying locally, fosters collaboration on environmental and sustainability programs, seeks out experts in alternative energy research, and has established key partnerships with the University of Florida and local governments.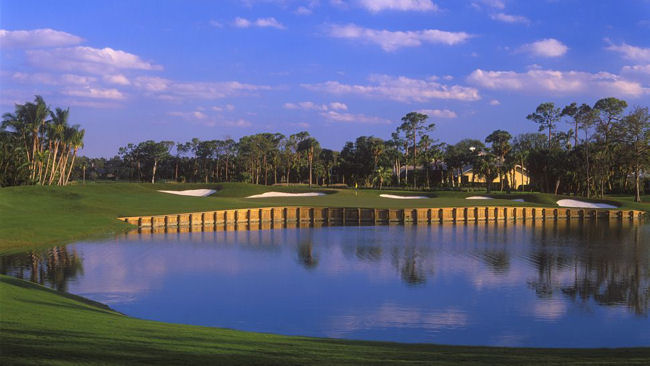 Long before anyone proclaimed the words "farm to table," The Breakers launched its very own, on-site Green Market in 2007, making it possible for its team members to purchase superior quality, sustainably-grown products. The Breakers also cultivates a variety of micro greens, herbs and other naturally harvested ingredients on a year-round basis in its own 2,000 square foot garden for use in the hotel's restaurants. And with environmental and social standards sincerely in mind, Rainforest Alliance (RA) Coffee was made available to guests at The Breakers, the first hotel in the world to do so.
Renowned for its gracious service, The Breakers' persistent desire for constant revitalization and good stewardship reflects the enduring legacy of their owners and proud team members. Throughout this thoroughly modern and dynamic beachfront property, new software has been implemented to reduce the reliance on printed paper and newspapers are delivered by request only. In the fight against plastic bottles, all associates have been provided traveling tumblers and separate filtered water faucets have been installed in the majority of the guest rooms. Additionally, knowing that the turquoise, coastal waters of the Atlantic are home the world's largest concentration of loggerhead sea turtles, the "Green" Team monitors and maintains the glistening beaches at The Breakers by marking nesting areas and investing in practices to prevent beach erosion.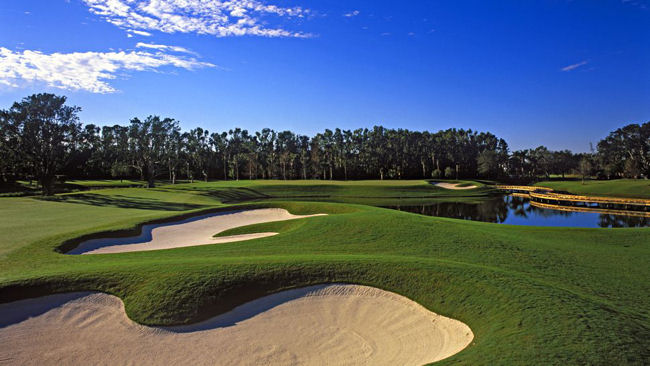 Since 1996, The Breakers' award-winning landscaping team has been preserving, conserving and restoring the prevalence of native plants throughout the resort property, as well as golf operations. Indigenous species such as Sabal Palm, Coco Plum, Thatch Palm, Sea Grape have been carefully nurtured and recycled according to Florida Best Management Practices (BMP) to help protect Florida's ground and surface waters. All of the beautiful, thoughtfully-planned, ocean-side landscapes at The Breakers reduce overall maintenance, are draught and salt tolerant, attract and sustain native wildlife, require less fertilizer and soil amendments, and, most importantly, require less water.
This lush, "big picture" landscape of Florida-native and environmentally friendly plants is also prominent throughout The Breakers' contemporary counterpart to its historic Ocean Course, the Rees Jones Course. Now a modern marvel located ten miles inland and serviced by a complimentary shuttle, the original course was redone by Golf Hall of Fame member Jones in 2004 and awarded "Renovation of the Year' by Golf, Inc. Artfully sculpted with gentle contours and set in the style of a nature preserve against the backdrop of an immaculately landscaped residential community, the Jones course also presents a multitude of large, multi-tiered, peninsula greens. The neo-classical design philosophy will encourage you to go "deep" off the tee to avoid long iron water carries to the smooth, tiff eagle Bermuda grass, putting surfaces.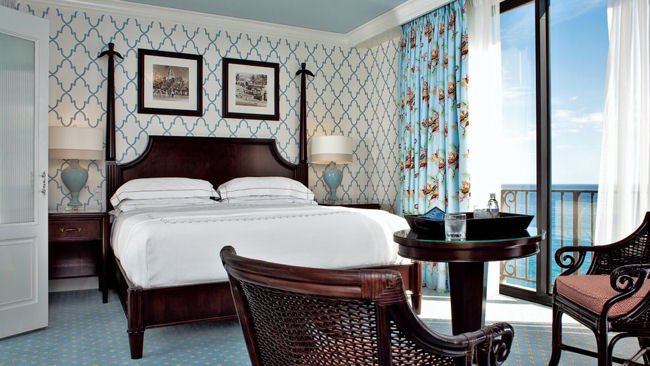 With regard to energy efficiency, it's no wonder why The Breakers Palm Beach has been luring generations of discerning travelers to its idyllic, Italian-Renaissance setting, as they seamlessly blend an amazing array of modern amenities into the guest experience. The 200-foot, loggia-flanked, Murano-glass-dripping, vaulted main lobby is now illuminated, as are all other public spaces, outdoor areas, and guest rooms, with CFL, LED and high efficiency lighting. Meeting and office spaces feature motion-activated, energy-efficient lighting, and smart thermostats in guest rooms connect directly to their energy management system.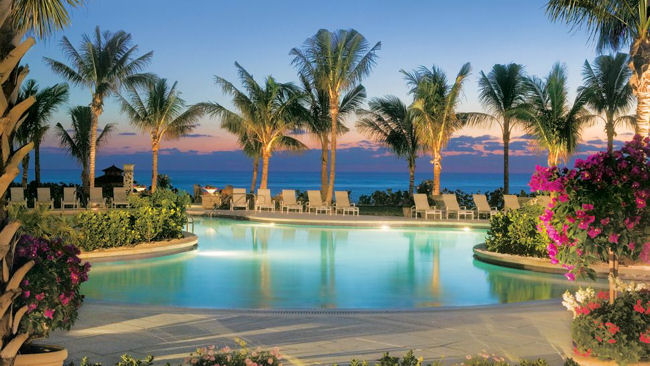 Energy efficiency extends beyond the guest experience at The Breakers as team members have the option to travel via a fully electric shuttle during their time on property, or take advantage of on-site electric vehicle charging stations for their personal cars. 25 million kilowatt hours of green energy credits were also purchased in 2015 to offset 100% of the property's electrical use. This is equivalent to not burning 18,516,407 pounds of coal or the amount of CO2 sequestered by 14,130 acres of American forests in 1 year.
Finally, and most imperatively, in an era when global environmental concerns have taken center stage and the golf business is greatly affected by resource issues, the importance on one specific resource stands out: Water. The Breakers understands that conserving and making the best use of water is essential to the health of the planet, the luxury hotel segment, and our great past time, golf. In 2000, a reverse osmosis irrigation system was installed at The Breakers, allowing for the conversion of undrinkable water from an on-site 1,100 foot deep well into irrigation water for the resort property, including the Ocean Course. This efficient facility is capable of producing 500,000 gallons of water per day, and conserves 95 million gallons of potable water per year.
An "American Classic" and winter haven of choice for the nation's well-healed for more than 100 years, The Breakers offers joyful, authentic, unforgettable, and for more than a decade now, a NATURALLY responsible experience. "An environmental conscience factors into how we run our business and how we make business decisions," said Rick Hawkins, The Breakers' director of materials management who has served as steward of the resort's green practices. "Our efforts are very intentional with the goal of setting standards high enough to be a model for our community and our peers."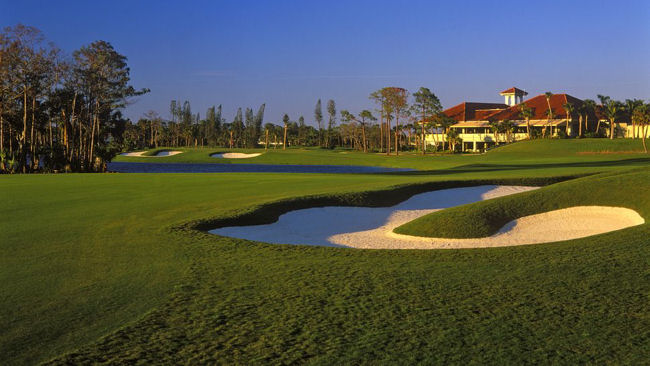 With over two-thirds of today's travelers caring about the impact a venue has on its environment and the well-being of the local community they visit, "going green" is no longer a trend, it is a way of life. The extraordinary commitment The Breakers is making to balance preservation and modernization, and the continuous introduction of amenities to bolster their contemporary appeal has not gone unnoticed. The Breakers' timeless atmosphere, renewed style of relaxed elegance, and state-of-the-art, eco-minded transformation is being celebrated by consumers who take ownership in being good caretakers of the earth and seek out travel experiences which embrace that perspective. Guests at The Breakers reap the fruits of the resorts environmental stewardship without having to compromise their expectation for a distinctive, memorable resort experience. The Breakers, Palm Beach, remains after more than 100 years, an unrivaled, NATURAL masterpiece.
Tim Bona is Co-Host/Travel Correspondent for "Where To Play Golf" Radio, TV & Print
Visit website:
www.thebreakers.com