There is no denying that it is a much-loved holiday destination, for good reason – and staying in a luxury villa in Thailand adds an extra layer of elegance and convenience to your holiday.
Imagine waking up in a lavish master suite, then wandering down to the kitchen where the aroma of hot coffee is already in the air as a private chef prepares a delicious breakfast. After breakfast, your only decision is: is it another day lazing by the pool or the beach, or will you make the most of the activities here or nearby? Whatever you choose, one thing is for sure: staying in a luxury villa makes for the perfect Thailand holiday. The main destinations are luxury villas in Phuket and Koh Samui luxury villas, both islands in the south.
Thailand Luxury Villas
A stay in a villa means renting a modern and well-equipped property, so that you have the convenience and privacy of the entire villa. Villas range in size from romantic single-bedroom getaways, to sprawling villa estates featuring a dozen or more bedrooms which can cater for large groups and even events such as wellness retreats.
While many hotels and resorts are dated or lack any real personality, luxury villas are unique and beautiful. Many are architecturally designed, often using traditional design elements, meaning they feel like they authentically belong in the place where you are staying and are a real home away from home. You can expect all modern amenities, such gym, cinema room, games room, even private spas and wine cellars attached to private bars.
Villas also incorporate shared living spaces so that you can enjoy time together as a couple, family or group - spaces that can be lacking in hotel rooms. Villas are therefore very social, giving you a chance to create wonderful memories together, however, they also offer each guest privacy when desired.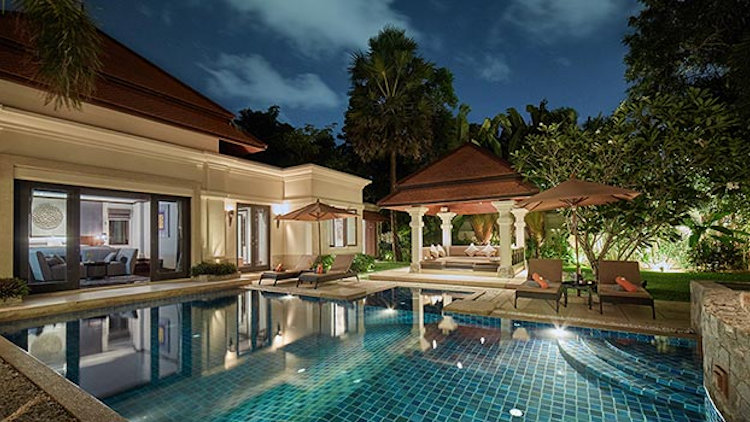 The Settings
Luxury villas are located all over Thailand although most popular on Thailand's glorious tropical paradise islands of Phuket and Koh Samui, in many different settings. Around these islands, there are many settings to choose from: perhaps your Koh Samui luxury villa is within a hilltop estate, or maybe you'd prefer beachfront villas in Phuket. One of the best things about enjoying a luxury villa holiday is that you can choose an option that works perfectly for you and your group.
Generally, villas are nestled amongst lush tropical gardens that feature native trees and plants. There's nothing like walking out of your living room or bedroom and into a lush tropical paradise to remind you that you are enjoying a wonderful and relaxing holiday. In larger villas, you may also find manicured green spaces for playing ballgames, practising yoga or simply relaxing with a good book. It truly feels like a home, rather than a temporary space.
The Staff
In order to ensure your ultimate enjoyment and relaxation during your stay, luxury villas have a team of professional staff who are on-hand to assist yet also respect your privacy. From house-keepers who ensure the villa stays looking sparkling clean during your entire stay, to professional chefs who can prepare delicious Thai or Western meals at your request and in the privacy of your home, villa staff are part of what make the experience so delightful and utterly relaxing.
The Facilities
You can expect to be wowed by the facilities of a luxury Thailand villa, whether it's the poolside cabanas and spaces or the games amenities such as pool & table tennis table, cinema, sports and water sports. Best of all, the facilities in a luxury villa are entirely private. There's no need to worry about crowded pools or needing to dress up to go out to a restaurant after a busy day of swimming – in a luxury villa, the pool is just for you, and you can always opt to have a relaxing dinner at home, prepared by your chef; perhaps poolside, or on the sofa with your loved ones.
For those looking for more options for what to enjoy at home, you can also find villas that have a wide variety of other facilities, such as tennis courts, cocktail bars, Jacuzzis and yoga rooms. There is a great variety for all budgets and interests.
For Kids
While a luxury villa stay is something that anybody can enjoy, it is a particularly great option if you are travelling with little ones. Youngsters will love the facilities of villas, such as outdoor space to play in, while parents will love not needing to worry about noise due to the privacy of the villa. Plus, villas are perfectly equipped for making for a stress-free family holiday. You can easily have snacks prepared in the kitchen for fussy eaters, and villas are furnished with high-chairs, cots and other necessities.
Clearly, luxury villas are the ideal place for enjoying the perfect Thailand holiday. As well as providing unparalleled relaxation, luxury and privacy, they are the perfect setting to create amazing memories to cherish for years to come.