As privacy becomes ever more important among the world's wealthiest, yacht charters continue to grow in popularity. Private superyachts offer the ideal way to enjoy a luxurious vacation in incredible destinations, all away from prying eyes. Indeed, yacht charters offer the perfect way to travel the world in style.
Check out this yacht charter guide and discover the top four reasons why the world's rich and famous choose to vacation aboard their own private superyacht charters.
Four reasons to travel by private superyacht


1 – Luxurious accommodation
Private superyachts offer a host of luxurious amenities, ensuring every need is catered to. Indeed, many of these extravagant floating hotels boast sumptuous amenities such as gyms, spas, yoga studios, infinity pools, beach clubs, wine cellars, cinemas, and even medical centres, along with a wide range of tenders and toys, from jet skis to submarines, inflatable slides to flyboards, and everything in-between.
Earlier this summer football legend David Beckham and his brood, along with singing sensation Elton John and his family, enjoyed a break abroad a luxury yacht when they sailed to the south of France from Italy, sharing their luxurious experience with their followers on social media. The families were seen enjoying the many toys onboard, including the water skis, while sunbathing and cannonballing into the sea.
Not only do private superyachts boast a wonderful array of amenities limited only by the imagination, but they also feature world-class design, with every detail meticulously thought out and finished to the most exacting standards. Indeed, today's private superyachts are designed to provide every amenity the world's most discerning travellers could desire, ensuring they can vacation in complete privacy and enjoy true freedom.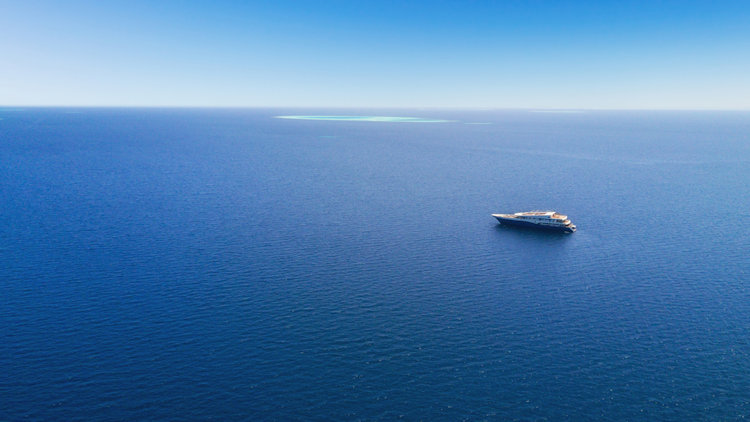 2- Space for all
Today's private superyachts offer space for all, with many able to accommodate up to 30 guests, in addition to a luxury yacht crew to cater to your every need. These vessels boast light and airy suites, open-plan saloons, and ample deck space, ideal for entertaining or simply enjoying time with friends and family. This makes private superyachts the ideal option for celebrities and VIPs who wish to enjoy a luxurious vacation with their closest friends and family, in complete privacy.
Earlier this year actress Kate Hudson was spotted enjoying a luxurious vacation aboard the lavish 82.5 metre O'Mega yacht in Italy, on which she hosted three generations of her family. In August billionaire makeup mogul Kylie Jenner celebrated her 22nd birthday in style aboard 91-metre superyacht Tranquility joined by a bevvy of friends and family.


3 – Discreet crew
Not only do superyachts offer the ultimate in privacy amidst awe-inspiring surroundings, but yacht charters also come with their own highly experienced and professional luxury yacht crew. Superyacht crew are trained in discretion, ensuring a private hideaway for the rich and famous. Luxury yacht crew also have security foremost in their minds, making these luxurious vessels the ideal spot for exceptionally high-profile figures.
Many of the world's best private superyachts not only boast a crew of highly experienced yachtsmen trained in service to a level that rivals even the most luxurious shore-based resorts, but also a slew of highly skilled experts, including a culinary team that is able to prepare sumptuous gourmet cuisine to guests liking, and wellness providers who can provide a wide range of decadent five-star treatments. Indeed, celebrities and VIPs can rest assured that whatever they desire while aboard a private superyacht, the luxury yacht crew will make it happen.


4 – The world at your fingertips
One of the main reasons the world's elite opt for a luxury private superyacht is the flexibility it offers for bespoke travel, whether it's discovering the traditional blue-water havens of the Mediterranean and the Caribbean, or exploring more off-the-beaten-track destinations such as Antarctica. On a private superyacht, VIPs can go wherever they please. Indeed, celebrities such as Leonardo DiCaprio, Katy Perry, Orlando Bloom, Cristiano Ronaldo, Beyonce, Rod Stewart, Kate Moss and heiress Chloe Green have all recently enjoyed luxurious yacht vacations exploring some of the world's most glamorous locations. In addition, when at high-profile events along the French Riviera, for example, many of the world's famous opt to stay aboard a private superyacht due to the complete privacy it offers.
For the world's wealthiest in search of the ultimate private vacation experience cocooned in luxury, a superyacht charter offers the ideal option.
Article by Joanna Lewis