An idyllic heaven of untamed wilderness, iridescent aquamarine waters and miles-long, sprawling stretches of pretty much deserted white sand, the Dominican Republic is a fit for any traveler.
A seductive blend of old-world charm and modern life, this triangle of land in the Caribbean Sea is the perfect destination for luxury travelers, bon viveurs, high-profile vacationers, avid golfers, nature lovers, beachcombers and history buffs, as well as everyone in between.
Dreaming of a sojourn in the glowing tropical sunlight? We are all fed up with nearly two years of travel restrictions, but in 2022 travel is back on the cards! Here are five very good reasons to add the DR to your holiday wish list for 2022.
Rich history and culture
The Dominican Republic mixes tropical beauty with a fascinating, multicultural history. It occupies the eastern two-thirds of the island of Hispaniola, the second largest of the Greater Antilles, with Haiti, a former French colony, to the west.
Founded in 1496 by explorer Christopher Columbus' brother, Bartholomew, the bustling metropolis Santo Domingo on the southern coast of the island is the oldest and largest city in the whole of the Caribbean, with a marvelous historic center.
Walk through its well-preserved Zona Colonial, also known more colloquially as La Zona, declared a World Heritage Site by UNESCO in 1990 for its 'outstanding universal value'. Let the Roman Catholic Cathedral of Santa María la Menor, the oldest still standing basilica in America, take your breath away. Visit Columbus Square, the Fortaleza Ozama, the oldest fortress in the New World, and the famous Alcázar de Colón, the Americas' first castle.
Outdoor activities
The Dominican Republic's perfect year-round climate creates an epicenter for outdoor living and activities.
Golf in particular is becoming especially popular, with Punta Cana increasingly being recognized as one of the country's premier golfing destinations. Sitting on the Dominican Republic's easternmost tip, Punta Cana golf courses are visually stunning, giving an impression of blending with the white sand beaches and the tropical sea.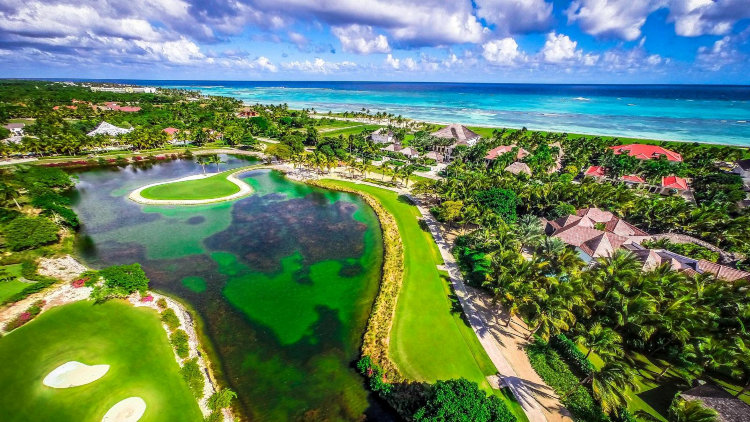 With 26 absolutely breathtaking golf courses to choose from, the Dominican Republic has emerged as one of the world's newest bucket list golf destinations, and it is definitely the place to go in pursuit of the pleasures golf has to offer.
A nature lover's paradise, this Caribbean nation of stunning beauty is also a hotbed of adventure tourism and a year-round hub for extreme and watersports enthusiasts. Kiteboarding, ziplining, windsurfing, scuba diving, snorkeling, sailing – you name it and the DR does it!
Idyllic beaches
With miles and miles of fine, powdery white sand bordered by tall, leaning coconut palm trees and transparent deep-blue and turquoise waters, the Dominican Republic is a terrestrial paradise for beach lovers and sun worshippers.
The Caribbean Sea has hundreds of different shades of electric blue, turquoise and shimmering blue-green depending on the depth of the water, and the talcum powder-like beaches and hidden lagoons framed by white cliffs that run all along the coast are drop-dead-gorgeous. Let the daydreaming begin.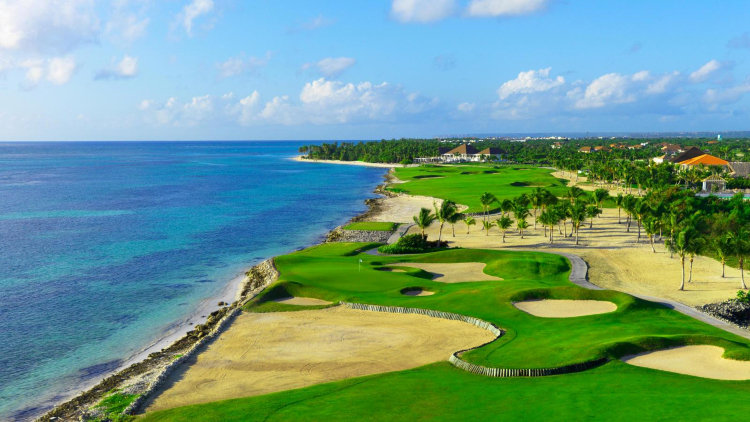 Ultra-luxe Accommodations
The DR is fast becoming a luxury hotspot, with a growing number of super-luxe accommodation options. Luxury villa holidays in this gorgeous tropical country have always been popular with high-end travelers, and they are all the more alluring now, after the coronavirus pandemic.
Who wants to spend their holidays surrounded by hordes of perfect strangers, having to get up at 5am to put towels on sunbeds and fighting over the last sandwich in a crowded buffet restaurant? When you stay in a private pool villa with breathtaking sea vistas, the whole property is exclusively for you. There are no shared facilities. You can relax, enjoy a holiday at your own pace, and practice effective social distancing from strangers in a way that wouldn't be possible even in the most exclusive hotel.
Eclectic cuisine
Foodies love the Dominican Republic! The nation's fascinating, multicultural history gave rise to a varied cuisine, influenced by indigenous Taíno people, Spanish conquistadores, Middle Eastern immigrants, Cubans, Puerto Ricans and even African plantation slaves brought here during the slavery time.
From Mangú and Chenchén to Sancocho and Tostones, get ready to enjoy delightful specialties, infused with flavors from all over the world. And don't miss a chance to explore local delicacies, from chocolate and rum to coffee.
Vibrant nightlife
For buzzing nightlife, head to the capital, Santo Domingo, the most modern city in the Caribbean, and indulge in the local bars, cafes, restaurants, nightclubs, discos and casinos. Santo Domingo comes alive at night. Puerto Plata, Punta Cana and Bávaro have a great nightlife scene as well, with discos open until dawn, and tons of outdoor restaurants that become especially lively late at night.
Visiting this tropical paradise soon? The world is gradually opening up, and the Dominican Republic is open without restrictions. Visitors are allowed in with no quarantine or testing on arrival.