Exploration has been part of humankind's nature since the dawn of time. Whether you're looking for an adventure, a relaxing break or simply to wind down in nature, these awe-inspiring resorts invite you to experience nature, spa pampering, great food and surroundings, in the most unique and memorable way you can imagine.
North America
Dunton Hot Springs, Colorado
Just across the mountain from Telluride, Dunton Hot Springs is a romantic 1800's ghost town set in an extraordinary alpine valley. This rustic, yet ultra-luxurious resort offers a variety of day and overnight packages, and the entire town can be rented exclusively for corporate retreats, family reunions and weddings. This perfectly restored ghost town thrives on contradictions; hand- hewn log cabins exquisitely furnished, a life-worn saloon serving food of startling quality, lung torturing trails followed by pampering massages, sensuous hot springs beneath shimmering snow banks. This romantic old mining town still provides high speed wireless internet access in every cabin and video conferencing in the dance hall to the comforting sound of a tumbling waterfall.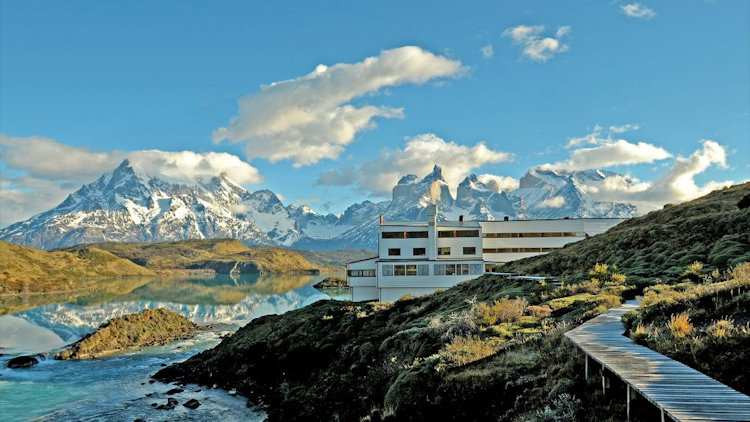 South America
explora Torres del Paine - Patagonia, Chile
Explora in Torres del Paine was designed as the perfect haven for exploring the region's wondrous geography and wildlife. Besides the favored location inside Torres del Paine National Park, this lodge's architecture was planned in a way that interferes the least possible with its natural surroundings. It is an extension of the territory. Just 100 meters from the main building, the spa at Explora in Torres del Paine is the perfect setting to unwind after a day of exploration. Relax in our heated, covered pool, in the steaming sauna, or in one of our four open-air Jacuzzis with a view to the Paine River.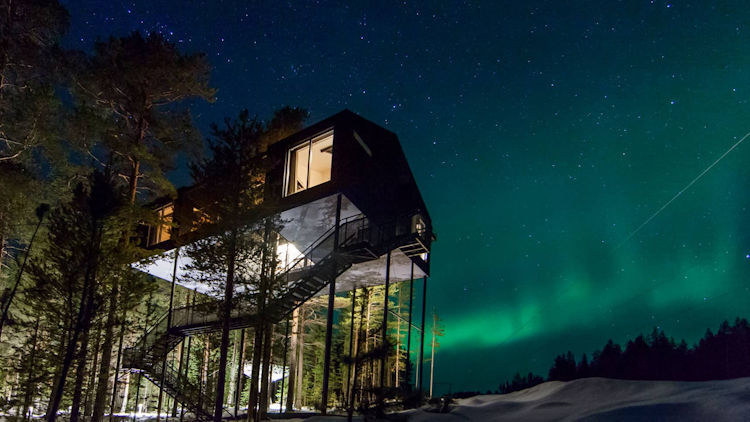 Europe
Treehouse Hotel, Swedish Lapland
Even though you might be a world away from home, at the Treehotel, you feel like part of the family. Get away from the stresses and demands of everyday life -- at Treehotel nature, ecological values, comfort and modern design are combined for an exciting adventure. Gaze out at Sweden's spectacular nature from separate, unique and secluded and comfortable rooms in the trees. From September to March you have the chance to watch the Northern Lights illuminate the sky above you. In summertime, daylight lasts all night long. One thing's for sure at the Treehotel, you'll be inspired by your surroundings and experiences.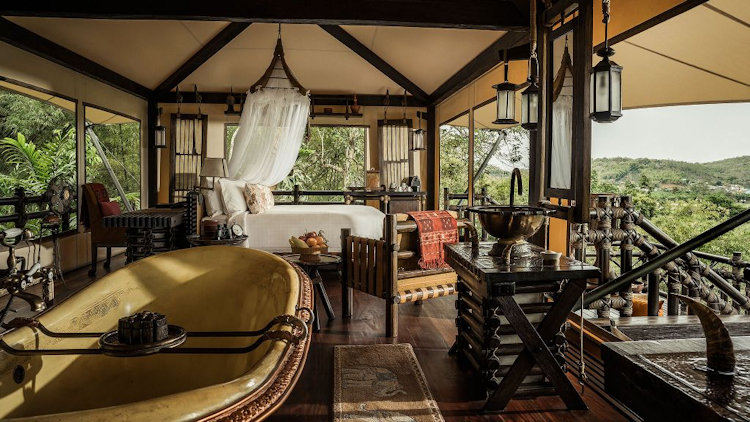 Asia
Four Seasons Tented Camp, Thailand
Welcome to the adventure of a lifetime in the natural surroundings of northern Thailand, bordering Burma and Laos. Interact with rescued elephants, explore spectacular mountain trails or bamboo jungles and unwind in luxury tents. Let the 19th-century explorer's spirit in you come to life – while enjoying Four Season's signature hospitality and all-inclusive experiences.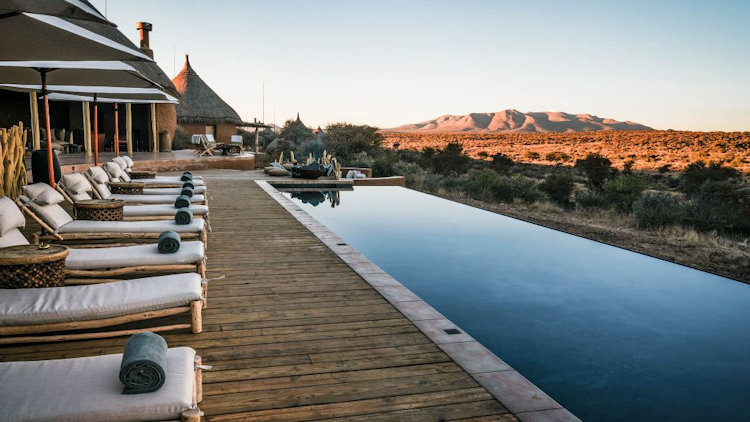 Africa
Zannier Hotels Omaanda, Namibia
This boutique lodge and 10 individual Owambo-style thatch and clay huts are set in the heart of the Zannier Reserve, a 22,000-acre wildlife conservancy located half an hour from Windhoek. Through a partnership with the N/a'an ku sê Foundation, guests are treated to unforgettable experiences, from breakfasting with meerkats to up-close sightings of big cats. With magnificent views stretching to the distant hills of the Khomas Hochland Plateau, the one- and two- bedroom thatched huts are inspired by traditional Owambo architecture. At the resort's very own Zannier Reserve, safaris and excursions are tailored to suit your thirst for adventure. Track a rhino or a herd of elephants going for a swim; spy a leopard climbing up a Jackleberry tree or simply experience the nocturnal beauty of the savannah – all with your own private guide. Wellness in untouched wilderness, with sunrise yoga, stargazing, open-air infinity pool and spa embracing African healing therapies and rituals designed to purify and rejuvenate.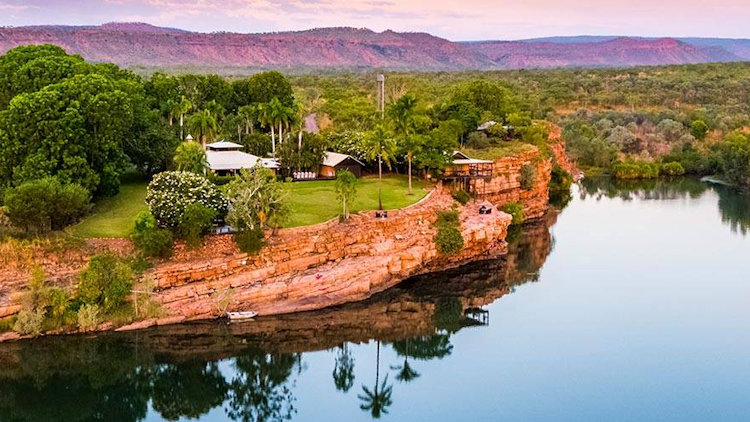 Australia
El Questro Homestead, Western Australia
El Questro sits amid the untamed natural beauty and vast ancient landscape of Western Australia's East Kimberley region. El Questro is a destination unlike any other and offers the freedom to explore one of Australia's last true frontiers. From deep gorges and majestic ranges to thermal springs, mud and salt-flats, rainforests and cascading waterfalls, everything the Kimberley has to offer is located across the property's 700,000 acres and is why it is said that El Questro is the heart of the Kimberley.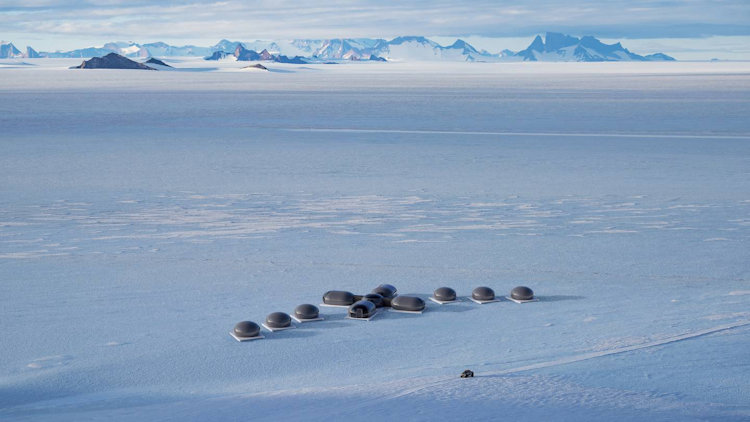 Antarctica
Echo Sky Pods, White Desert
The first itinerary, Ice & Fire: Antarctica and Rwanda is a 20-day journey that will take place from 8 January to 28 January 2023, discovering the highlights of Cape Town, Antarctica and Rwanda. After two nights at the exclusive One&Only Cape Town, a maximum of 12 guests will depart on a private jet to White Desert's brand-new camp, Echo, boasting luxurious Sky Pods with expansive floor-to-ceiling windows and dramatic views over the vast Antarctic playground guests will get to explore. During their eight-night stay, travelers will take a 2.5-hour flight to Atka Bay, where they will experience one of nature's marvels – exclusive access to observe over 14 000 breeding pairs of penguins and their weeks-old chicks. Additionally, guests will embark on an overnight excursion by plane to the South Pole, which is visited by fewer than 800 people each year. Other activities include trekking through ice waves, exploring crystal caves, fat biking and cross country skiing, accompanied by highly qualified and knowledgeable White Desert guides.