I have lived in New York City for nearly three years now, though I have been visiting yearly since the age of 14. One of my first times exploring the city, in a passing conversation about recommended dining spots, I recall a New Yorker telling me that I could eat at a different spot once a day for over 20 years. An ambitious, expensive, and probably unrealistic action to maintain. I compromised with myself and made it my goal to try a new restaurant every week, and I was successful unless traveling or quarantining. Now that New York is starting to look more alive, I have lessened my home cooking and takeout orders. One of the first spots I ventured outdoors to was Lola Taverna, a relatively new must-visit Greek restaurant.
I had been dying to experience a night at Lola, so I rallied a few of my friends, who were socially responsible and frequently tested, and booked a prime time reservation on a Wednesday. Lola is packed every night of the week, so a reservation is necessary, and note that the weekend spots go quickly. Anyway, I arrived a bit late but was escorted by the hostess to the outdoor table. The first thing I obviously noticed was the immersive ambiance filled with palm trees, pots of pink and red flowers, accompanied by bohemian neutral decor. For an hour and a half, I truly felt that I was in a tropical oasis.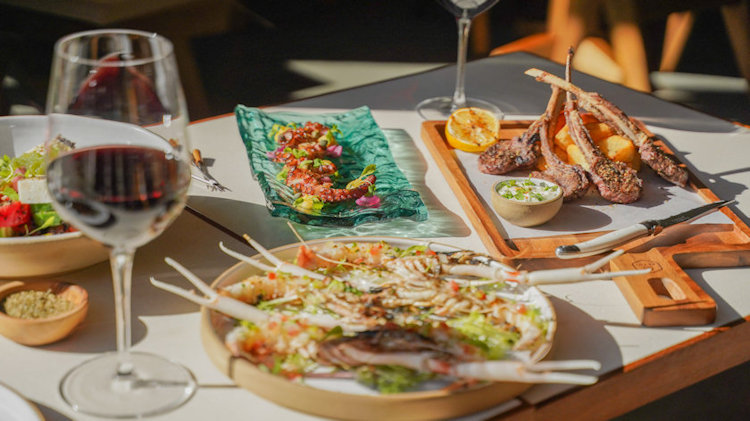 Image credit: Konstantinos Kollias
The service was the next level; we were properly, but not overwhelmingly checked on. Down to the last sip of wine, our server had the bottle in hand, ready for refills. The whole staff was attentive, approachable, and accommodating. Moving on to the food...wow. I splurged on the warm pita and display of dips; my favorite was the Kopansiti. Lola's mezze options were more unusual than those typically found at a Greek restaurant, but I was all for it. The chicken gyro bao buns are out of this world. Rehashing this memory, I am now craving them. The range of main dishes is suitable for meat-lovers, pescatarians, and vegans. Though I eat everything, I opted for the impossible meat kebabs, packed with flavor, and truly a must-try item. Chef Dionisis Liakopoulos really knows how to outdo the Greek classics and incorporate a spin on staple items.
Lola Taverna is an innovative beauty to the Greek restaurant realm in NYC. The success was expected considering restaurateurs Cobi Levy and Will Makris are the masterminds behind this creation. The two have had their fair share of opening popular dining spots in the city. Now, the duo is back at it again, wowing locals and visitors alike.
"With everything going on in the world, we wanted to create an escape in the heart of SoHo," Makris said. "Lola is supposed to be a garden space that transports our customers into a moment of presentness for relaxation and enjoyment."
Levy and Makris understand how to create unforgettable dining experiences time and time again. Even if you are the type of person dedicated to trying new restaurants, just know that the Lola family is committed to innovation and is always coming up with fresh ideas, so each visit will always be unique.