They have just launched their RÖK collection which is the first of its kind phone case made with real rock that are durable and intricate pieces of art. The new RÖK collection features authentic slate stone cases for Apple, Samsung, Google and LG phones. These handcrafted cases are now available for purchase on the
WÜD Life
website.
By utilizing natural materials – such as stone for its RÖK collection and wood for its WÜD collection – WÜD Life provides truly one-of-a-kind products to consumers. No two cases ever look the same, delivering on the promise for personalized protection.
With the factory setup in Virginia Beach, WÜD Life handles design and manufacturing in the U.S.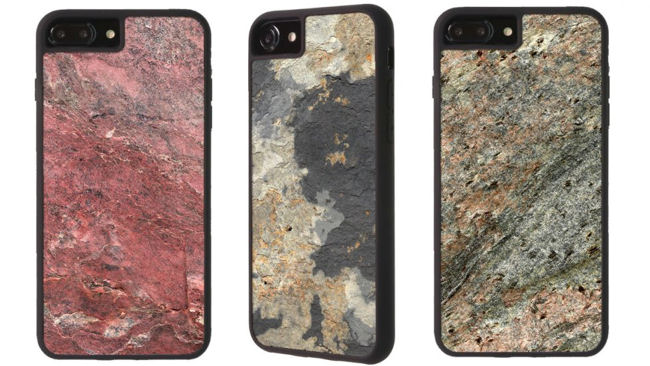 The new RÖK collection reminds people of the calming and grounding influence of nature in their otherwise hectic lives.
One-of-a-Kind Beauty
WÜD Life, currently known for their intricate tech cases made from
real burl wood
, is now expanding their natural and unique designs through the RÖK collection. No two WÜD Life cases are ever alike, as each is crafted by hand.
The RÖK collection launches with nine options, each featuring different textures that range from rigid to smooth polished stone, including Volcanic, Aztec and Moon variations.
Ultimate Protection
The phones are lightweight and feature a higher lip on the front side to protect the phone's glass. A textured grip area prevents the phone from slipping, and a flexible rubber front absorbs shocks from accidental drops. The camera and all ports are completely accessible with the case on.
The RÖK collection requires no special care, and all cases in the collection are covered by a lifetime warranty.
Packaging
Each case is beautifully suspended in transparent packaging, appearing to hang almost mid-air between two clear panels. The front of the package offers an unobstructed view of the case, while the back reveals an infographic of the RÖK collection's special features.
All RÖK collection iPhone 7 cases will fit the iPhone 6/6s, and iPhone 7 Plus cases will fit the iPhone 6/6s Plus, allowing retailers to carry fewer SKUs.
Pricing and Availability
Prices for the RÖK collection start at $39.99 with free worldwide shipping.
In a world where everyone wants to be unique, these are one-of-a-kind phone cases.
Visit website:
https://wudlife.com/