Why oh why Wyoming? Because! From Jackson Hole in the West to Buffalo in the Northeast and everything in between, this is a most beautiful land of staggering natural beauty, offering an authentic Western experience. From its two national parks, Yellowstone and Grand Teton, to rodeos, river rafting, resorts, ranches, scenic woodlands and a wonderland of wildlife, Wyoming is nature experienced up close and very personal.
The Last of the Old West
I visited Wyoming for the first time last year and was delighted to find that the town of Jackson (Jackson Hole is the name of the valley) is the gateway to nearby Grand Teton National Park, Yellowstone National Park and the National Elk Refuge. Often described as the "Crown Jewel" of the Rockies, downtown Jackson is dotted with upscale cafes, shops and art galleries and enjoys the glitz and glamour that wealthy travelers and West Coast expats have brought to this former cattle ranching community. But, glitz aside, I experienced Jackson Hole's Old West Days celebration, and if you set your sights for May 22-31, 2021, maybe you can, too. C'mon, by then it's just possible that you can make this happen – and guaranteed this event will put you smack in the heart of the old romantic west.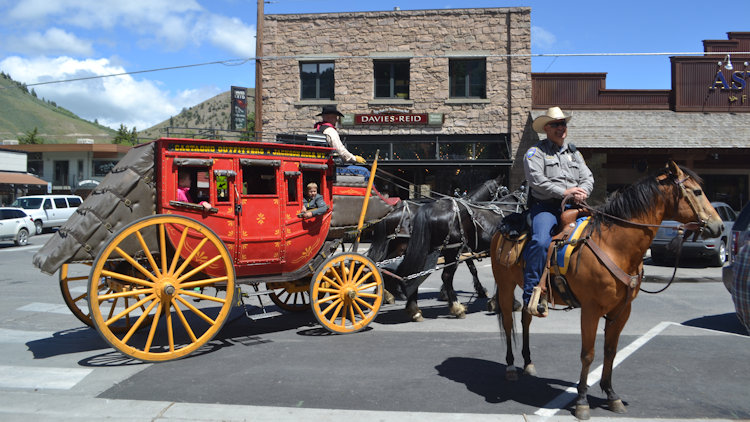 A Hole Lotta Fun
Celebrating Jackson Hole's heritage through art, food, music and dance, the Old West Days event includes country and western music, cowboys spouting poetry, and a Mountain Man Rendezvous where old-time crafts people work with magic of their trades. A highlight of the weekend is the Old West Parade, one of the last and best horse-drawn parades today. Kids will love the stage coach rides and shootout reenactments. In fact, the shootout on Town Square is the longest running shootout in the country. This historic Square has an old Hollywood Western feel with its wooden boardwalks, galleries of western art, old-time candy stores, and good restaurants. To add a bit of silliness, there's yodeling, clogging, line dancing, pickin', fiddlin' and bagpipes too. Clearly, Old West Days provides a memorable fun weekend for the whole, multi-generational family.
In Jackson, besides Old West Days, there's a lot more hootin' and hollerin' to be done. For an authentic chuck wagon supper and western show, visit the Bar J Chuck wagon. Originally a working cattle ranch, the atmosphere here is of time gone by on and of cattle drives of the 1800s. After a hard day in the saddle, there was always an evening of tall tales and music at the chuck wagon. This tradition continues at the Bar-J. A rib-stickin' old style western meal is followed by songs and stories performed by the Bar-J Wranglers. I found myself caught up in cheery chuck wagon revelry, singing along to "Tumblin' Tumbleweed" and other western golden oldies.
Another day, I took a scenic float down the Snake River with Sands Wild Water River Trips, a must-do. Although this company offers wild white water rafting, I opted for a slow, leisurely raft float, my chance to sit back and let myself be enthralled by spectacular views of the majestic Teton Mountains surrounding me. Although the Snake is a very fast-moving river, on my float I spotted a red fox and deep in the pines I saw a large black splotch with jutting white spikes that our guide swore was a moose. There were two bald eagles swooping low over the water and hawks and herons were our constant companions as they flew alongside our raft.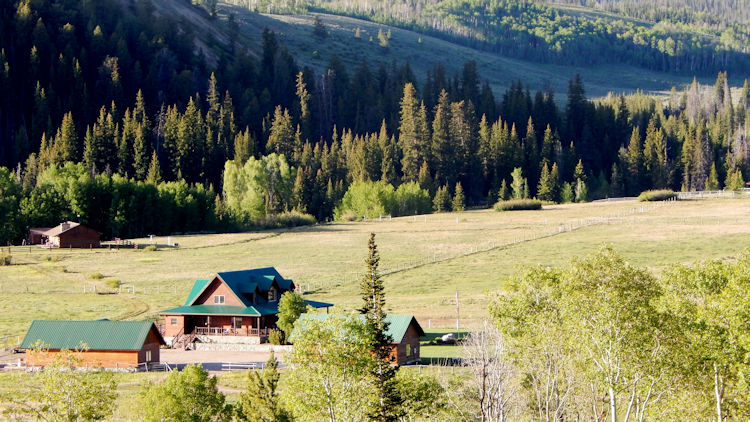 Not yet having my fill of wildlife, I visited the National Museum of Wildlife Art, an imaginatively designed sandstone bldg overlooking the National Elk Refuge with a 5000 piece collection of animal art ranging from the fantastical to the utterly realistic and including several etchings by Picasso. There's also a Children's Discovery Gallery, free to kids, and judging from the squeals of delight emanating from the room, it's safe to say the kids were having a blast.
At A-Ok Corral, no gunfights here but cowboy fun? Yes, lots. From the back of my chestnut colored mare (promised to be slow and steady) I had a panoramic view of the heart-stopping Gros Ventre Wilderness and Teton mountain range, the fields ablaze with pink, yellow and purple wildflowers. All of the horses at A-Ok Corral are well-mannered and mountain-wise and there's a horse here for all riding abilities. After all, they even found one for me.
Ready for Some Pampering
There are a host of world-class, luxury resorts here, and I was lucky enough to visit a few of them. At Amangani, ("peaceful home"), eastern serenity meets Old West Americana meets international glamour. The property clings to the crest of east Gros Ventre Butte, some 7,000 feet above sea level, high above Jackson. Towering floor to ceiling columns of Oklahoma sandstone, walks in pacific redwoods and chairs of rattan and woven cowhide, Amangani has its roots in the American West, in the cattle ranches that wind through the valley below and in the mountains that rise up as a backdrop to wide-open plains. Located in a secluded valley, the vibe here is casual and the amenities rival any luxe resort on the planet. There's a heated infinity pool, a sigh-inducing Asian spa, and a restaurant that produces standout fare. In my mystical, Zen-inspired room, I lit a fire, opened the drapes and languished in the bathtub while gazing at the sky and the Tetons beyond.
The Four Seasons Resort Jackson Hole, high in the Teton Mountains and on the doorstep of both national parks, is a magnificent natural hideaway mountain resort experience, an alpine lodge with seductive sophistication plus the typical comfort, care and personal, intuitive service one has come to recognize as distinctly Four Seasons.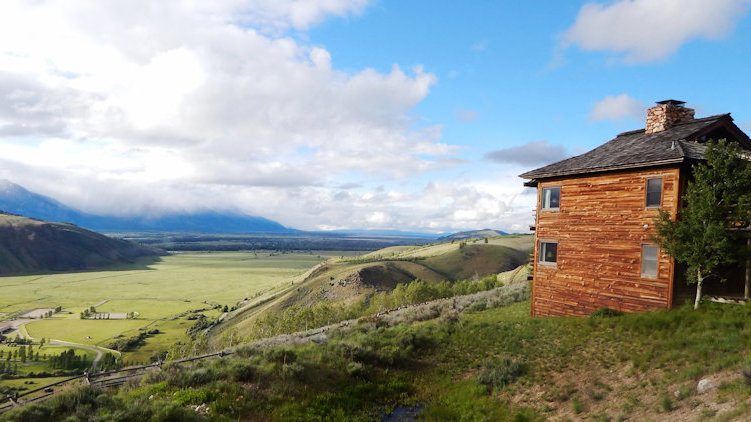 Spring Creek Ranch is utterly secluded yet totally accessible with unmatched views, luxury accommodations and a quiet western elegance situated just five miles from the Town Square on a 1,000 acre wildlife refuge. I dined at their award-winning Granary Restaurant in a unique, cliff-side setting facing the Tetons. So mesmerized was I by the awe-inspiring views, I almost forgot to order dinner but glad I didn't. It was wonderful.
Common to Jackson, the red-tailed hawk (Buteo jamaicensis), is easily identified by its mannerisms. They usually leave their perch with slow, distinct wing beats. A shrill, rasping cry is often heard as they fly off to search their prey. No shrill cry for me, just a melancholy sigh as I slowly and sadly leave my perch here in magical, wondrous Wyoming.
If You Go:
Photos courtesy of Sloane Travel Photography