Although Xigera Safari Lodge opened in 2021 in the pristine Okavango Delta - a UNESCO World Heritage Site - it has already been showered with multiple awards and accolades. Amongst the aficionados that have been impressed by this new and exceptional lodge are Robb Report, National Geographic Traveller, Condé Nast Traveler and Travel and Leisure. Xigera's exterior and interior design earned kudos from Architectural Digest.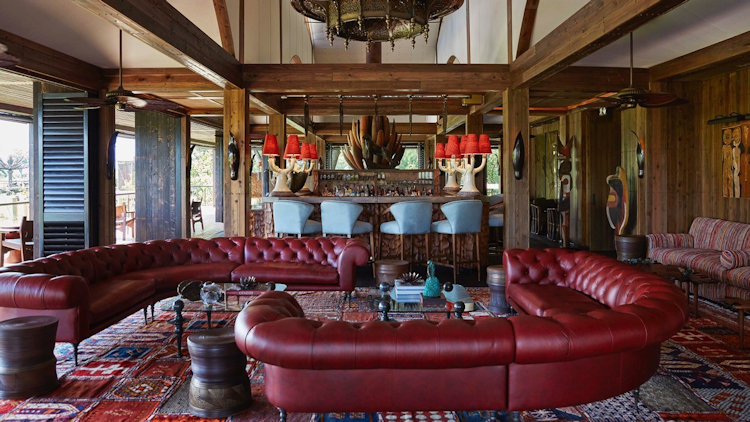 Image by Xigera Safari Lodge
Situated on the Western edge of Moremi Game Reserve, the lodge overlooks the vast floodplains of the alluvial fan of the Okavango Delta. In this semi-arid area, with its constantly changing fluvial system, Xigera Safari Lodge has permanent water, so guests may enjoy land based and water based activities all year round. This channel water is stabilized by papyrus that is particularly pretty at sunset and is home to scores of Malachite kingfisher, the endangered Wattled crane and Long-toed lapwing. Being poled by a skillful guide in a mokoro - a hollow dugout canoe of wood historically, but now fiberglass - is a classic experience in the Okavango. Hippos benefit from the water channel in front of the communal lodge dining area, entertaining guests by leaving the water at sunset, to graze. They punctuate the night with loud honking and grunting.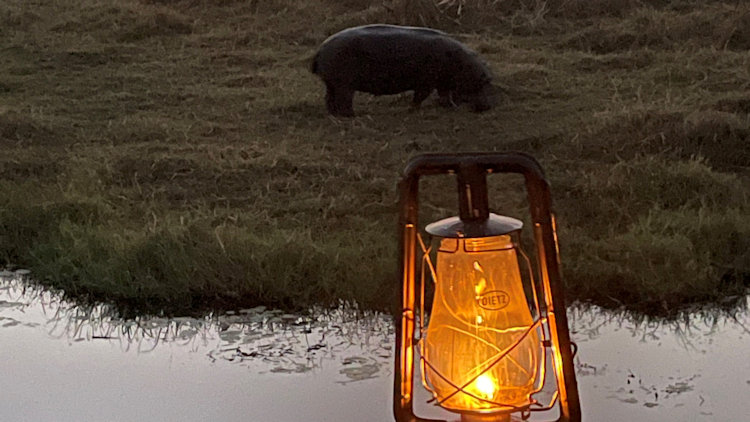 Twelve solar-powered, air-conditioned tents are set far apart from one another, ensuring that each one has totally private frontage. Each suite has been constructed on stilts above the seasonal channels, for water to flow when the delta is in flood and for wildlife to pass beneath. Shy bushbuck shelter in the lodge surrounds and warthogs graze on bended knees. Handcrafted from FSC-certified cedar, with a vaulted tensile roof cover, the suites blend into the wilderness. The décor is unique in each suite. The Sausage Tree Suite conceptualizes the tree's maroon-colored flowers through the ruby-red textiles, a delightfully unconventional splash of color when most lodges choose subtle hues of khaki.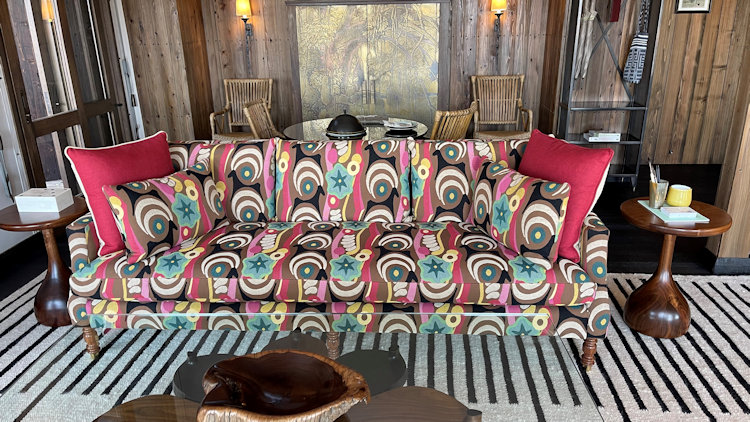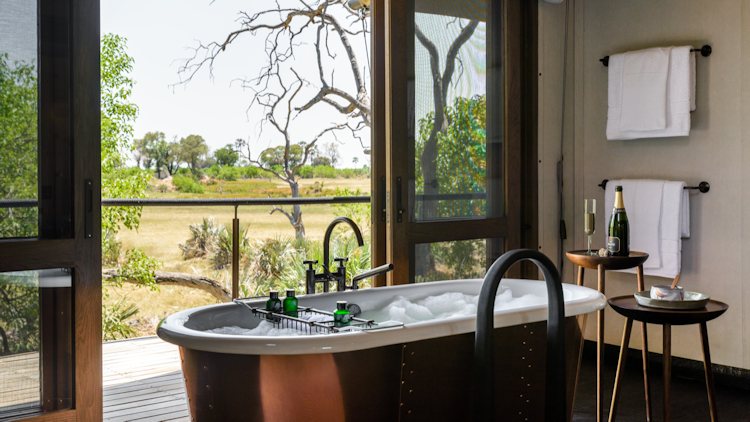 Image by Xigera Safari Lodge
In my suite,1 980 square feet of indoor and outdoor space comprises a bedroom - with king sized bed and tables with ceramic Ardmore lamps depicting waterlilies and African jacana - a separate lounge and dressing room, plus a bathroom with twin vanities, indoor shower and a free-standing copper bathtub. Candle holders are fashioned from brass, in the shape of a waterlily, a clever theme, as it is Xigera's logo. The outdoor shower sports a panoramic view of the floodplain in front and tree canopies above. On my secluded deck I find gazebos with designer outdoor furniture and a daybed with scatter cushions in fine fabrics.
Attention to detail in The Sausage Tree Suite includes a bar fridge brimful of cute bottles of artisanal South African products like Elephant gin and the aromatic Clemengold gin; a watercolor painting kit and a comprehensive checklist of flora and fauna species in the area. A witty coffee table depicts a wooden waterlily supporting a sheet of glass, as if below water. The logo is found embossed on paper, towels and serviettes, plus represented by objects like candle holders, the blades of fans and carved wooden bowls. My welcome granadilla cake even has the waterlily made of icing on the serving plate.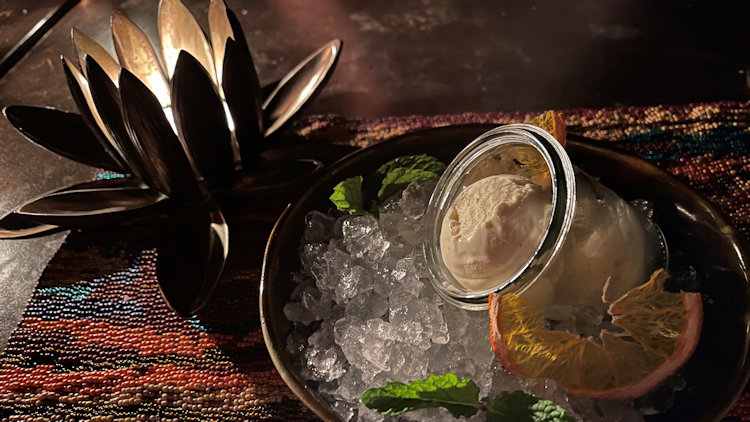 Reimagining the concept of safari décor, Toni Tollman - daughter of Beatrice Tollman, the celebrated founder and president of the Red Carnation Hotel collection of hotels - commissioned hand-crafted pieces of art, inspired by the beauty of the surrounding eco-system. A celebration of African creativity, each sculpture, image and ceramic piece has been thoughtfully placed to meld into the visual splendor of the surrounding Okavango Delta. My particular favorites are the practical art of wooden benches and chairs - carved from fallen trees - that dot the walkway and the deck of my suite. Adam Birch spent seven months on site to carve these 150 large scale timber sculptures, training local carpenters in the process.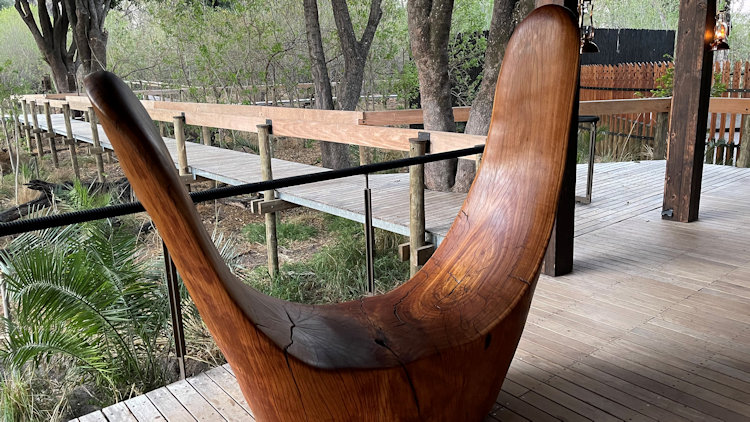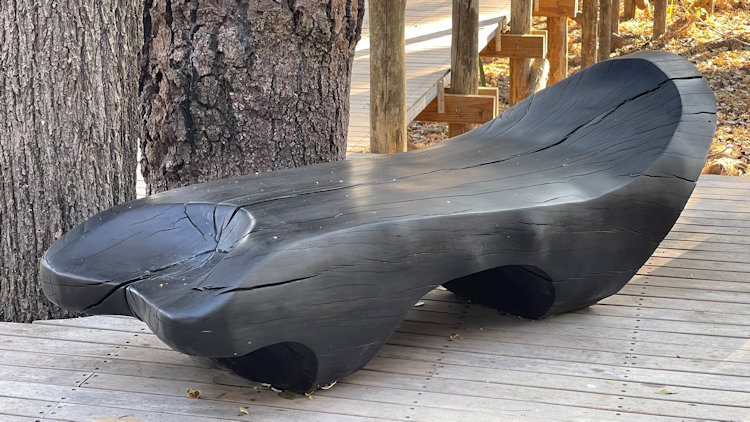 The elaborate system of boardwalks between the suites and from the communal areas facilitate a pleasing walk within the lodge confines. From the suites, or the walkway, I spot an abundance of game, including elephants, aggregations of lechwe - adapted for the wet conditions with splayed hooves - scurrying squirrels, basking lizards and skinks, plus a variety of butterflies. A huge drawcard to Xigera Safari Lodge is the Pel's Fishing Owl - a 'mega-tick' for birders - which roosts in the ancient trees that tower above the suites. Each early morning the walkway is moist under the Sausage trees, where the crimson flowers have fallen and spilled their nectar. The African mangosteen tree - known locally as the Bob Marley tree, as its shape is reminiscent of dreadlocks - gives off yellow-orange sap from its orange berry.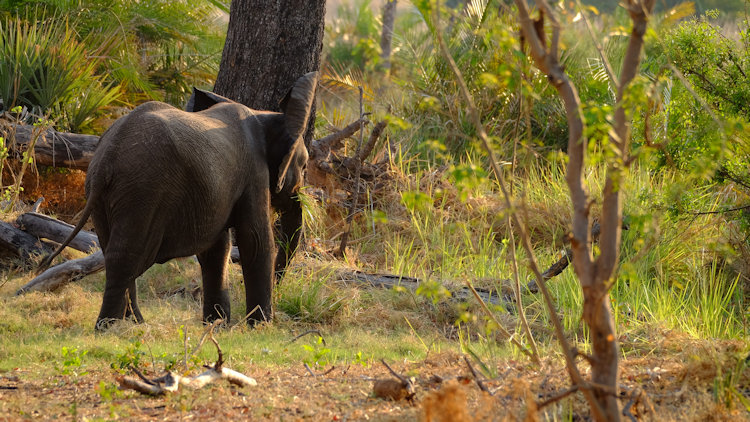 Every aspect of Xigera has been carefully thought out, planned and conceived. The communal dining and lounge area have a feng shui flow of air from one end to the other. Yet there are separate pods for socializing, including a lounge with curved red couches next to the well-stocked bar and a sunken sitting room dominated by a copper-clad waterlily forming the chimney of a fireplace. The adjacent dining area has tables under cover, some outside for alfresco meals beneath wicker umbrellas and others in private spaces open to sunshine. Romantic lanterns, stars and moonlight illuminate the nooks at night.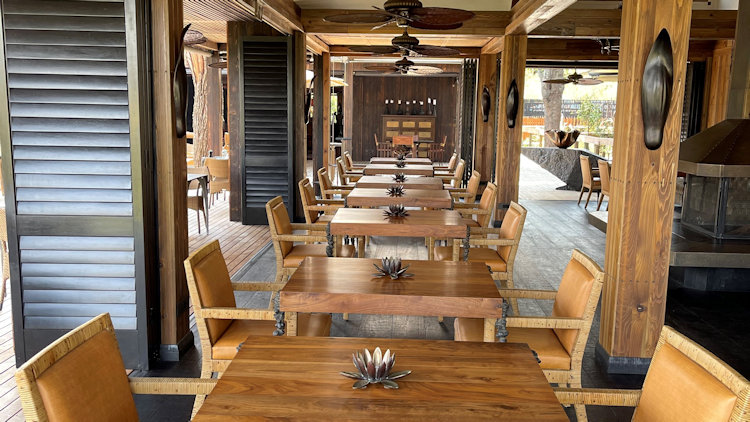 The sand-blasted white Land Cruiser has bespoke features designed by Mike Myers - renowned for his wildlife photography and in the safari industry after decades of service - to ensure ease for photographers. With only six seats and an aisle in the middle of the game vehicle, each guest has an outside seat. One of the hallmarks of Xigera Safari Lodge is its extreme flexibility, for guests to plan or to flow into activities as they please. This makes a welcome change from the boot camp schedule of most lodges. As I am keen on photography, I adore the light at the break of dawn, so I choose to head off into the wild as the Red-billed spurfowls call from atop termite mounds, in a series of loud gruff notes and Chacma baboons scamper down from their safe-haven in a African ebony tree. The iconic Big Five are regularly sighted, as well as African Wild Dogs, cheetah, aardwolf and sided-striped jackal. The classic sunset stop in the wilderness is taken to a new level of sumptuousness.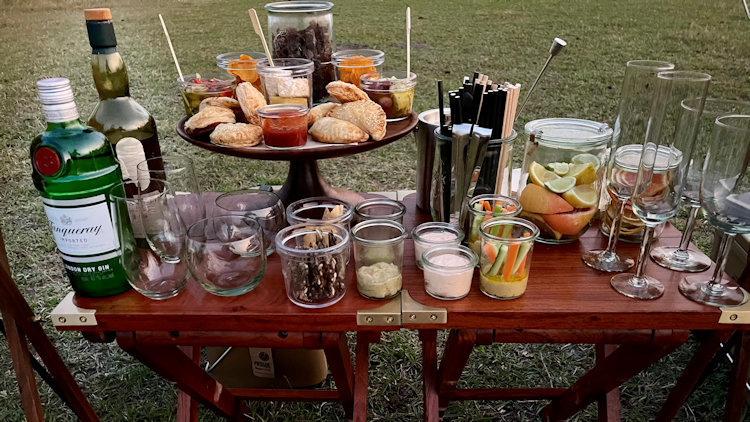 When I am in the lodge precincts at dusk - when the hour of the butterfly becomes the hour of the moth - I sit on a promontory in front of the Spa and heated lap pool, beneath a metallic water-lily inspired umbrella, gazing at the dramatic sunset. Xigera Safari Lodge is a place to reconnect with nature, to cast off the cares of the world, absorbing the energy of this extraordinary biome.
Getting There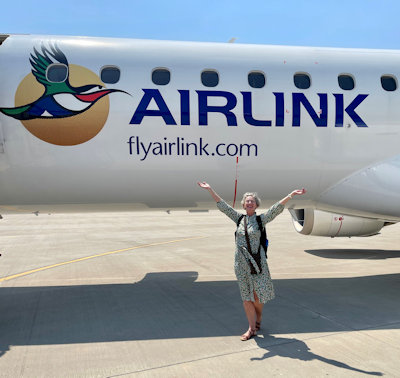 Airlink
Airlink operates direct scheduled flights from Cape Town and Johannesburg to Maun (Okavango Delta), Botswana.

Book direct on www.flyairlink.com, or the FlyAirlink app or with your favorite Travel agent.
Airlink is a privately-owned full-service premium regional airline offering the widest route network in Southern Africa, offering more flight choices and more connectivity.
With more than 50 aircraft in the fleet, Airlink's on time performance is consistently better than 95%, this is a clear indication of our determination and commitment to remain synonymous with customer centricity, punctuality, service excellence and reliability.
Travelers can also enjoy the benefit of intra-continental style business class service on select routes operating magnificent Embraer E-190 / E-170 regional jets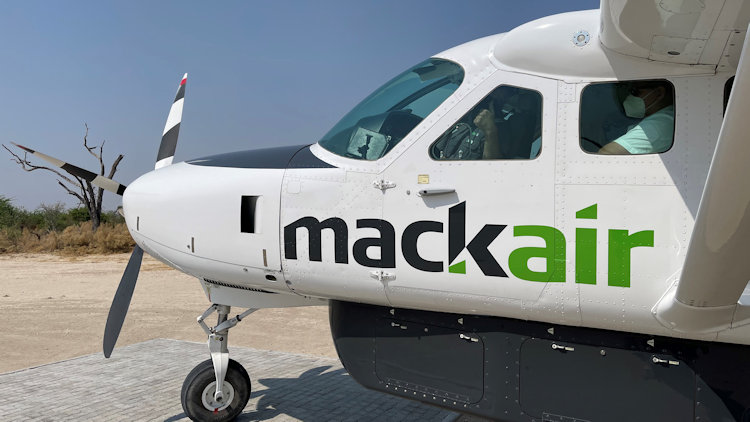 Mack Air
Mack Air is one of the most advanced charter companies in Southern Africa. Operating in Northern Botswana for over 25 years they have developed intimate knowledge of the country and can access any runway, however remote. Mack Air has a versatile fleet of over 24 aircraft. Trustworthy, efficient and personable service is offered from take-off all the way through to landing. Taking you where you need to be, on a higher level!
For more travel features by Gillian McLaren (@Jetset_Gillian):
www.gillianmclaren.blogspot.com