As soon as you have checked in and freshened up, you will want to take a leisurely walk outside the hotel to explore the nearby intersecting pedestrian streets lined with small shops, cafes, bakeries, churches and plazas with fresh water fountains.
A block from the hotel on Bahnhofstrasse, the pace quickens on Zurich's commercial boulevard, famous for the concentration of prestige clothing and jewelry stores. A ten minute walk south will bring you to Lake Zurich where the ferries dock and sailboats crisscross the cool water under a bright clear sky. In the summer, sunbathers sit on the stone walls that edge the lake to take advantage of the warm weather.
Now that you have a sense of the area, it is time to explore the Widder.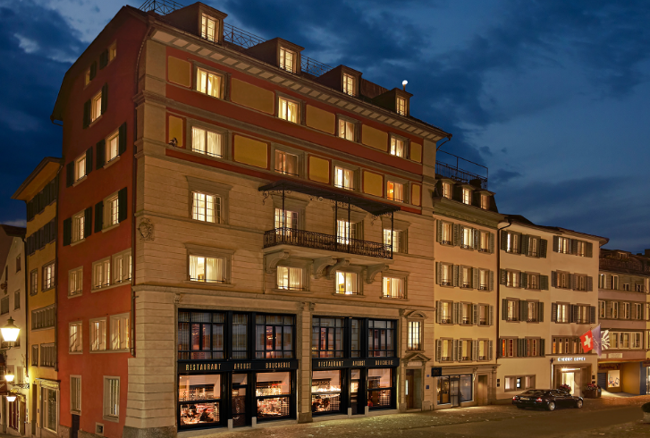 Forty-nine rooms, each one unique
Even though the Widder is located in the heart of busy Zurich, the hotel is a peaceful refuge with forty-nine rooms, a fine dining restaurant, a casual café and lounge bars.
"Stay Unique" is the hotel's mantra. That is both a personal encouragement to guests and a self-description. When the Swiss architect Tilla Theus won the commission to construct the Widder, she was asked to create a single hotel out of nine historic buildings.
Some of the buildings had been constructed in the Middle Ages when rooms were small and closets and bathrooms had not yet been invented. The building's historical designation restricted what she could do with the existing interior walls.
Theus had to preserve the old while she built a modern hotel. Her solution was to create forty-nine rooms that are different from one another in shape, size and design.
She protected frescos hand-painted on ancient plaster. She meticulously restored ceilings decorated hundreds of years ago.
In the eave of one building, Theus found a space with a charming view of the city. The problem was that a giant beam cut through what had been the attic. Unable to remove the beam, she embraced it and made it part of her design for the cozy room.
Not only was the architecture a challenge, so too was the interior design.
In rooms where Theus restored stone walls hundreds of years old, she placed sleek fixtures and Eames chairs, that most quintessential of modern furnishings. Since each room was unique, that meant finding or designing furniture, window treatments, lamps and accessories that were appropriate for the space. If she did not like the bedside lamps that were available in stores, she designed ones that would complement the room, even if that meant she had to create one-of-a-kind lamps.
In a sitting room that cried out for a dining room table but only had space for a pedestal coffee table, she designed what she needed. With a touch of a button, the coffee table slowly rises to dining room table height, ready to receive plates from room service.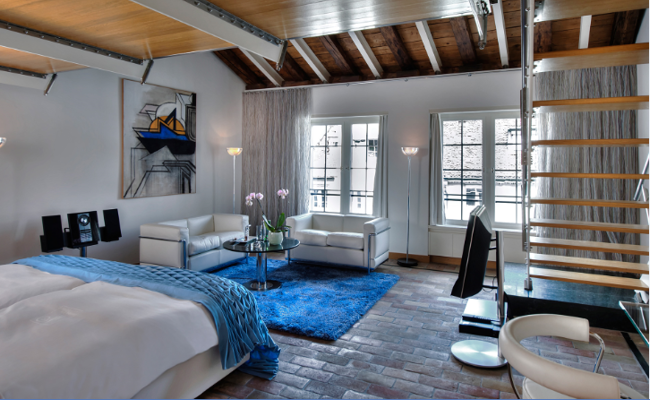 All shapes and sizes
The rooms range in size from cozy efficiencies to a penthouse suite with a 360 degree view of the city. All the bathrooms have television screens imbedded in mirrors. Some bathrooms have both showers and bathtubs. Others have showers in bathtubs. Space determines those choices.
In my room, suite number 607, there were both, a free standing, oblong bathtub and a walk-in black marble shower. The twin sinks reminded me that had my wife been available to join me, we would have been able to do our ablutions without interfering with one another and still be together.
A select number of rooms have private outdoor spaces. Mine had a large terrace furnished with a wrought iron railing, chairs, a wooden table and chaise lounges. The buildings across the street, like the Widder itself, were historic. The view was very much what I would have seen a hundred years ago.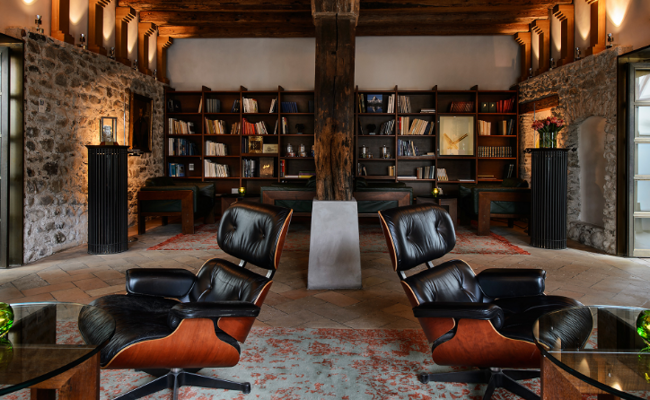 Creature comforts
In the morning when you awake at the Widder, you will lounge in bed fifteen minutes, probably longer, because the high quality mattress, linens and pillows are so comfortable. You will make a coffee using the Nespresso coffee machine in your room and you will catch up on your emails using the high speed wifi.
After a shower with plenty of hot water, you will ride the all-glass elevator downstairs to the casual restaurant AuGust for a complimentary breakfast.
On warm, sunny days, you will want to eat outside at one of the wooden tables shaded by an umbrella. Inside the cheerful restaurant you will linger over the cold buffet deliberating exactly what you want for breakfast. There are a good many choices with a selection of charcuterie, cheeses and yogurts, fresh fruit, cereal grains, dried fruit, pastry, breads and rolls. In addition to the buffet there are also a dozen hot, ala carte menu items as varied as a poached egg, pancakes or an omelet with crab, cheese and herbs.
After you have eaten scrambled eggs with crisp bacon served in a copper skillet, you will linger over a second cappuccino. You watch people walk quickly on their way to work. You feel unhurried even though the city is awakening from its slumber. The server asks if you would like anything else, but, no, thank you, you have had everything you need. Now it is time to explore the city.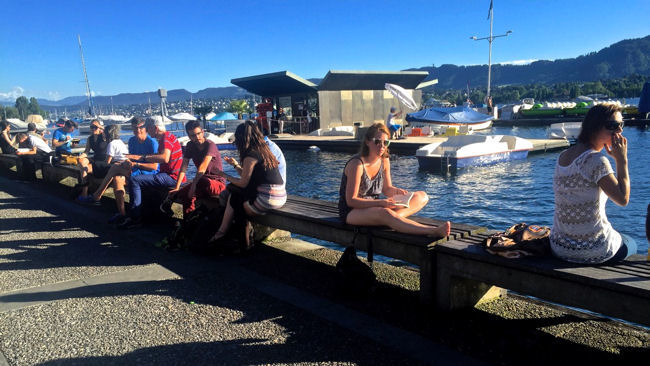 Photo: David Latt
Out and about
Zurich is a grand mix of the new and old. For help navigating the city, the concierge desk is a great resource. Describe your interests and the concierge will make recommendations and create individualized maps for tours of shops, music venues, parks, museums, art galleries and historical sites.
Within ten minutes of the hotel, you can walk to Lake Zurich for a swim at one of the swimming clubs that pop up during the summer or take a cruise on a ferry that crisscrosses the lake. You can spend an afternoon on Bahnhofstrasse window shopping at Salvatore Ferragamo, Prada, Louis Vuitton, Bulgari or Montblanc. The concierge will recommend cafes close to the hotel like the charmingly old school Honold Tea Room or the garden terrace at Griederbar, the shaded restaurant and bar on the second floor of the Grieder department store.
No doubt you will want to visit Sprüngli, an ice cream shop, bakery, chocolatier and café beloved of visitors and locals alike. If the outdoor sidewalk café is filled, locals know to find a window table on the second floor where the wait staff will happily allow you to relax reading a novel or working on a cross word puzzle.
I spent the better part of an afternoon at Sprüngli with relatives who live in Zug, a suburb of Zurich. For lunch we ordered canapés and coffees while we caught up on news about family in Europe and the States.
Then it was time for ice cream. The sundae menu lists extravagant confections with half a dozen homemade ice creams and a great variety of fruits and sauces. My litmus test for any ice cream shop is a hot fudge sundae. So that is what I ordered.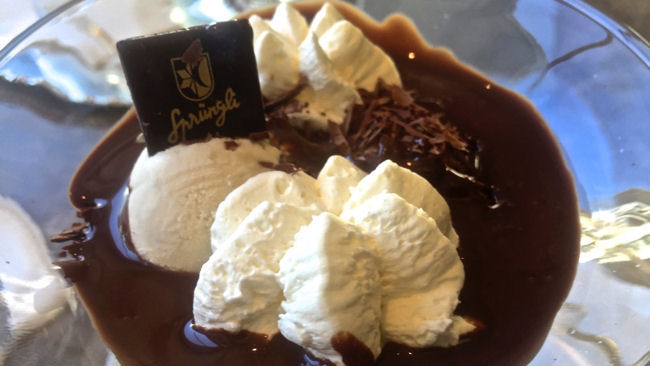 Photo: David Latt
The large goblet filled with vanilla ice cream was accompanied by generous servings of whipped cream and hot fudge. Part of the fun of a hot fudge sundae is pouring the heated chocolate onto the ice cream. At moments like this, everyone happily becomes a child again.
Before we said goodbye, my cousins guided me through the retail shop on the first floor with shelves of freshly baked pastries, handmade chocolates, rows of colorful macaroons and a freezer chest of ice cream novelties.
On a walking tour of the Old Town, you will discover that in Zurich, history is everywhere. Look carefully on old stone walls and you will find metal placards that tell the story of a city that has played an outsized role in European history from its founding by the Romans to the current day. Ask the concierge at the Widder to mark up a map or arrange a guided tour of the city.
With the help of a guide, I discovered the remnants of a Roman bath excavated in an alleyway on Thermengasse between Schlüsselgasse and Storchenggasse. The pavement has been peeled back to reveal the stone architecture of an ancient spa. Placards on the wall explain the importance of spas to Roman culture.
Nearby, leave the bright sunshine and disappear into the darkness of Fraumünster, a church built in 853 by Charlemagne's grandson, Louis the German, for his daughter Hildegard. When the Reformation swept across Europe seven hundred years later, all the statues and colorful art were removed leaving behind towering, blank faced stone walls. In the twentieth century, Marc Chagall designed five stained glass windows that returned color to the church.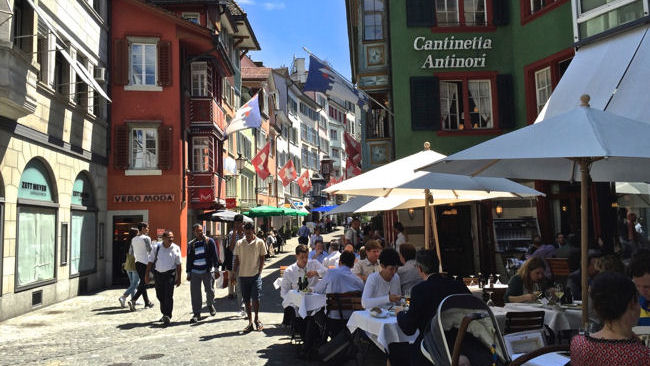 Photo: David Latt
Casual Dining Lounges and the Fine Dining Restaurant
After you have explored Zurich, you will want to return to the Widder to relax.
When the weather is warm, the hotel transforms the outdoor patios into summer oases. Just off the lobby, the garden café Al Fresco and the Summer Lounge, an outdoor bar, are shaded by a canvas awning that lets in cooling afternoon breezes. The full menu is complimented by grilled dishes prepared by a chef working at the outdoor barbecue.
You will want to have a fine dining meal at the Restaurant. You can order ala carte or have the tasting menu, which gives insight into chef Tino Staub's culinary soul. His French-inspired cuisine focuses on local Swiss products.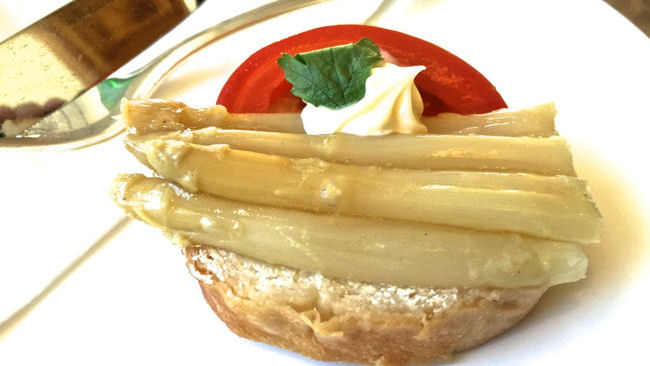 Photo: David Latt
The Restaurant feels like the dining room of a friend who just happens to have a world-class chef in the kitchen. For my dinner, I was seated at a table in front of a small window that looked out onto the street.
The four course wine paired Menu Degustation featured separate courses anchored by dishes of salmon, eggs, prawns and cheesecake. That sounded simple enough.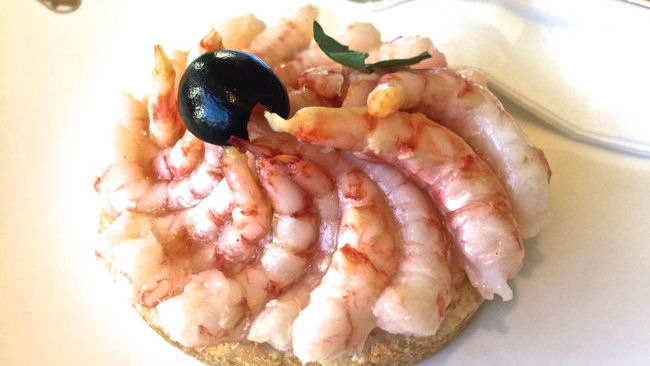 Photo: David Latt
But before the four courses began, the server presented the table with a "greeting" from the kitchen meant to tease the palate. A small cube of tuna tartar was flavored with avocado cream and mango-chili chutney. A spoonful of warm potato foam in a tiny bowl was soothing and delicious. A slice of zucchini plated on acidic caper cream was seasoned with tomato dust.
An elegant amuse bouche followed. A single charred scallop was blanketed with paper thin white truffle shavings.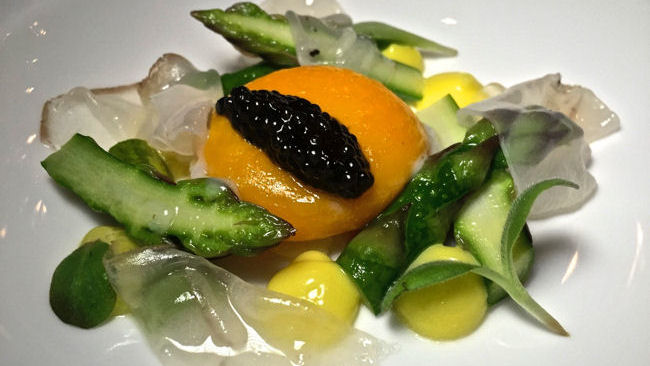 Photo: David Latt
The main course dishes progressed from the familiar--a barely cooked cut of salmon with fennel, orange and Jerusalem artichokes--to the richly indulgent–a sous vide egg yolk with asparagus, lardo and caviar--to a plate of barely cooked prawns served with English peas and sweet banana slices in a delicately flavored red curry.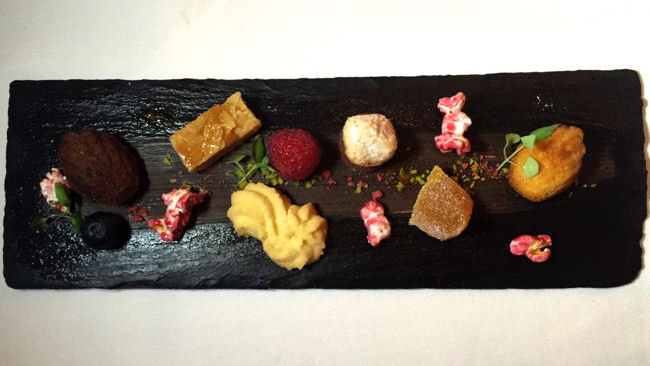 The light-as-a-parfait cheese cake was served with cookies and was the first of several desserts that were presented by the kitchen. Handmade chocolates, popcorn kernels painted with raspberry sauce, cookies with nuts, a single blueberry and a single raspberry. With a glass of Swiss cherry kirsch the meal ended, a perfectly executed experience.
The next morning it was time to leave the Widder. Even though I had a train to catch, I allowed myself one last espresso on the terrace so I could look out at the city and enjoy the quiet of this very special hotel in the heart of the Zurich's Old Town.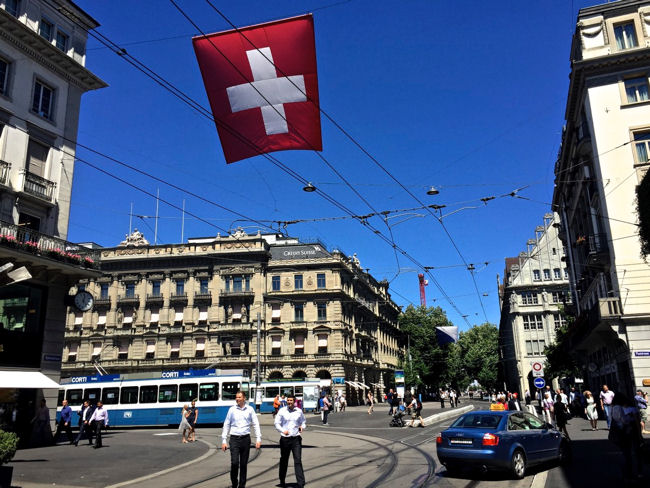 Zurich Bahnhofstrasse. Photo: David Latt
When you go
The Widder Hotel is a member of Swiss Deluxe Hotels, Virtuoso and Leading Hotels of the World.
Widder Hotel, 7 Rennweg, 8001 Zürich, Switzerland
T +41 (0)44 224 25 26 • F +41 (0)44 224 24 24,
home@widderhotel.ch
,
https://www.widderhotel.com/en/home/