We ate peanut filled dumplings from a Chinese couple cooking on a charcoal stove built onto their bicycle-wheel push cart. On beaches shaded with palm trees, we watched fishermen sell their catch of fat mud crabs and shiny shrimp to the young chef who then walked to her outdoor kitchen to prepare our meal which we ate under a tin roof, our feet in the sand. We were offered gin and tonics in an elegant Art Deco palace dedicated to the fine arts of eating and drinking. We visited noisy, incense-drenched temples and paid our respects quietly at war memorials. For eight days and nights we immersed ourselves in the local culture and we enjoyed ourselves immensely.
Exploring Singapore
For years I heard friends rhapsodize about Singapore's culinary scene. They talked about eating exotic street food at stalls called
hawker stands
. They described the joys of eating laksa, medu vadai, Kashmiri naan, bak kut teh with thickened soy sauce, Hainanese chicken and rice, popiah and murtabak. But if I visited Singapore, how would I find the best hawker stands and how would I possibly know what to order? I could search online but what I needed was an insider's view.
That's why I was happy when I was invited to join the Bold Food tour of Singapore and Penang, Malaysia.
Muffie Fulton
, owner, cook and guide, created Bold Food for culinary adventurers who wanted an insider's view of her favorite cities around the world. On this tour, she would give us a personalized look at the culinary traditions, history and culture of Singapore and Penang.
The trip began before I left home. Fulton mailed a welcoming package that included information about visa requirements (there weren't any), a pair of cozy socks and an exquisite coffee table cookbook by a Michelin-starred chef we would meet in Singapore.
Arriving in
Changi Airport Singapore
after a long flight, a second gift was waiting in my room at the
Fullerton Hotel
. In addition to another pair of those cozy socks and several packs of tissues (she said I would understand why later), Fulton had delivered a sampler of local taste treats, cookies, coconut candies and containers of
kaya
, a coconut milk sweet spread.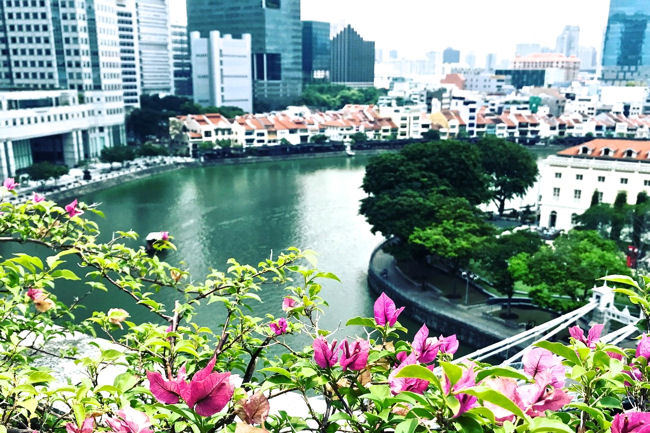 Fullerton Hotel balcony view
When we gathered in the lobby of the hotel, Fulton introduced us to one another and we met
Charlotte Chu Kin Fong
, a local guide who would tell us about Singapore's history and culture as we explored its culinary scene.
Riding in the air-conditioned van, Fong explained there were two Singapores. One city dazzled with towering skyscrapers and modernist buildings. The other was a city of ethnic neighborhoods and 19
th
century architecture. Sharing both cities was a complicated, diverse community with a Chinese majority and minority populations of Malay, Muslims, Eurasians and South Indians. Key to the society functioning peacefully was that the ethnic and religious groups were required to respect one another. The government of this prosperous city-state had taken great care in protecting those groups. Our tour of Singapore would take us into all those communities.
The first stop was a walking tour of
Little India
.
As we worked our way down the narrow sidewalks, Charlotte explained that the streets were especially crowded because people were preparing for
Theemithi
, the Hindi Fire Walking ceremony.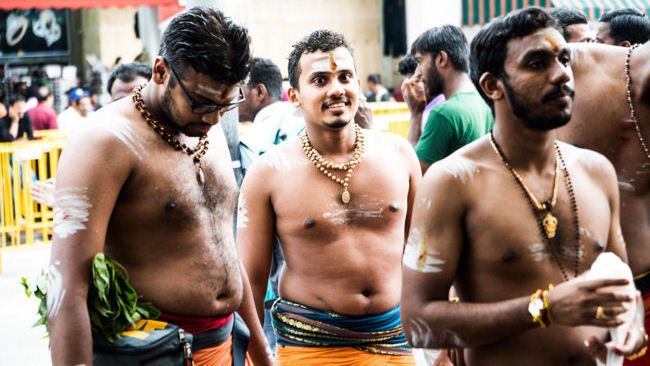 Devotees preparing for Theemithi (the Hindi Fire Walking ceremony) at the Sri Mariamman Temple
We stopped at
Ananda Bhavan Restaurant
, said to be the oldest Indian vegetarian restaurant in Singapore. Just inside the entrance, customers waited in line to order take-away dishes. We pushed through a side door and walked up a narrow staircase to a long dining room on the second floor.
From the menu above the open kitchen, we ordered a snack of vadai, naan and drinks. I was told by a friend that when I was in Singapore, I should always order fruit juices, so I chose a glass of fresh-squeezed watermelon. Our order arrived quickly. The donut-shaped vadai had a deep-fried outer crust and a savory inside made with lentils, flour, curry leaves and peppercorns.
I was about to sheepishly admit that I wanted to take a picture of the beautifully plated dish when I noticed that everyone else had their cameras and smart phones aimed at the vadi. The ritual for our group was established at our first meal. Before we ate, we took photographs. Once everyone had recorded the moment, we dug in.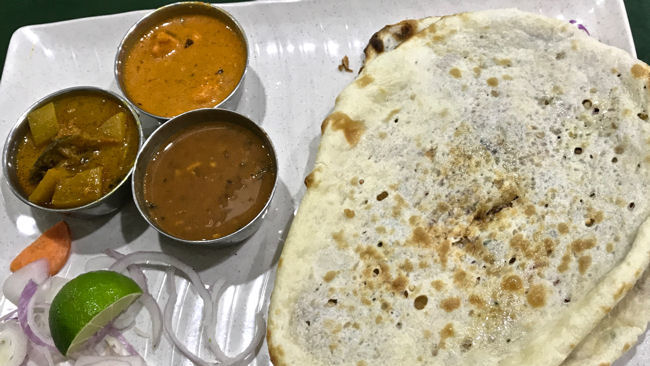 Ananda Bhavan Restaurant Kashmiri naan
A plate of Kashmiri naan arrived next. Usually when I have had naan, it had been savory. This version had a sweetness because it was stuffed with ground almonds, cashew nuts, glazed cherries and sugar. We eagerly tore off pieces of the chewy, toasted bread and dipped them into the three sauces. The black lentils were good. The paneer and the potato curry were outstanding. Our fingers were damp with sauce and oil from the naan. Happily, Fulton had given us those packets of tissues. We discovered that restaurants rarely offer paper napkins so it was good to bring our own.
While we ate, Charlotte told us about Theemithi, part of a several weeks long celebration leading up to
Deepavali
or
Diwali
, the Hindu festival of light. The ceremony would take place around the corner, so when we finished the naan, we headed to the
Sri Mariamman Temple
on South Bridge Road.
We removed our shoes and socks and joined the noisy throng inside the Temple. A man seated on the floor fed charcoal into a blazing fire. The fire walking wouldn't begin until the evening, but, in preparation, men danced to the clanging of percussion instruments and the rhythm of deep-throated drums. We moved with the flow until we had circled inside the Temple and then moved outside again where devotees paid their respects to statues of their deities,
Gamesh
and
Draupati Amman.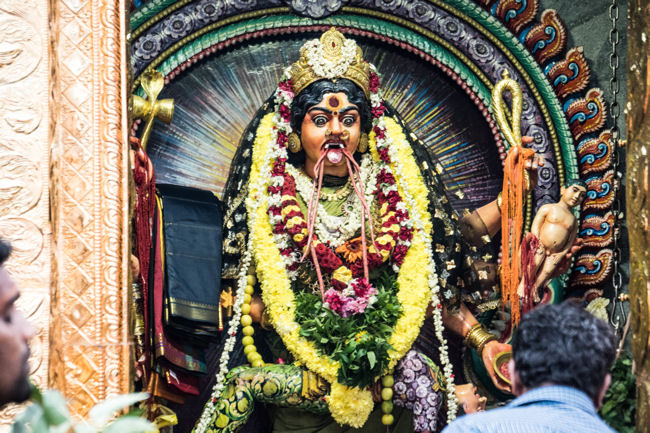 Statue of Draupati Amman
Wherever we walked in Little India, the streets were filled with people, food and flowers. From the rooftops of the Temple, freshly painted gods and goddesses looked down on women in saris, men with jet black hair and children passing by on the sidewalks below. Bright murals splashed across the sides of three and four story buildings. Vegetables and fruit were stacked high in the stalls lining the sidewalks. As dusk approached and the crowds grew in anticipation of Theemithi, thick green metal fences prevented pedestrians from interfering with the steady traffic of trucks, buses and automobiles.
After the grit and funk of Little India, we drove to
Marina Bay
not far from the Fullerton Hotel. That area was defined by Singapore's economic engine, the Financial District's densely packed, high-rise glass and steel buildings.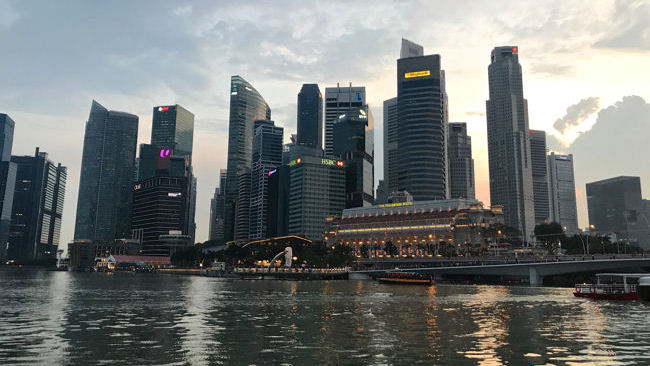 Singapore Financial District
At the Merlion Park Jetty, we lined up to take a
Singapore River Cruise
. At the stern, we found good seats on the open-air deck. As the sun set and we motored in our little wooden boat from the marina into the
Singapore River
, we watched the city come alive with lights and music. We knew that at the same time the fire walking ceremony was taking place across town, here on the riverfront people crowded the streets not in religious pursuits but in the pleasurable search for food, drinks and entertainment.
Our cruise ended at Riverside Point. Dinner that night was all about crab. Singapore is famous for many dishes.
Chili crab
is one of those. We ate at
Jumbo Seafood
, a popular restaurant with a view of the river. Cooked in their shells, delicate fleshed mud crabs were flavored with a spicy-sweet red sauce. As the platters with chili crabs arrived, everyone tied on bibs. To fill out the meal, we added black pepper crabs, mee goreng noodles with scallops and shrimp and a plate of medium tofu fried with spinach and enoki mushrooms.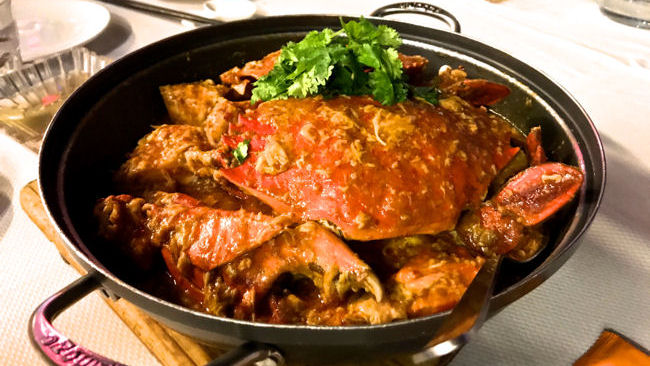 Chili Crabs at Jumbo Seafood
With fingers sticky from the crabs, we passed the plates around the table and ordered bottles of Singapore's
Tiger Beer
. We cracked crab legs and picked meat out of the bodies. We talked. We got to know one another. By the end of the meal we were very happy.
The shape of the tour
For our visit to Singapore, Fulton created a high-low itinerary as a way of experiencing the culture of the city. We would explore ethnic neighborhoods to eat rustic dishes in
hawker centers
, organized like food courts. And, we would be seated in fine dining restaurants to enjoy beautifully crafted meals. In between we would search out the purveyors who supplied both with fresh herbs, dried spices, just-picked produce and fruits and freshly caught shellfish and fish. And, we would explore the city's multi-cultural heritage.
In the morning, walking through the
Bugis
shopping district the next day, we stopped at
Parkview Square
. Nicknamed "Gotham City" for its black-and-gold Art Deco design and massively large statues, the complex felt like a Batman-version of New York's Rockefeller Center.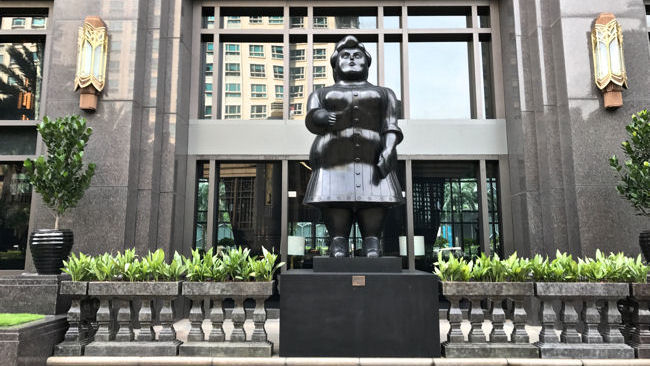 Fernando Botero's "Dressed Woman"
In the plaza in front of the entrance, we had our first encounter with Singapore's rich tradition of public art. A giant golden crane in flight, Fernando Botero's "Dressed Woman" (2003) and Xia Hang's "To Poseidon" (rusted Stainless Steel, 2015) dominated the main plaza. Looking up at the roof tops, we strained our necks to see sculptures of Atlas holding up representations of planet earth.
Matching the elegance outside was a gin bar and lounge just inside the entrance to the building. The interior of
ATLAS
took our breath away. The Art Deco grandness on the exterior was matched inside. On the walls at the entrance, muscular giants in metal reliefs scaled the jagged angularity of skyscrapers. A painting on the vaulted ceiling depicted a primeval landscape planted with stylized-Egyptian ferns and populated by gazelles leaping into the air. Besides gold, which was featured everywhere, the color scheme favored dark tones, ebony, forest green, burgundy and browns. Extravagantly beautiful floral displays decorated the edges of the room.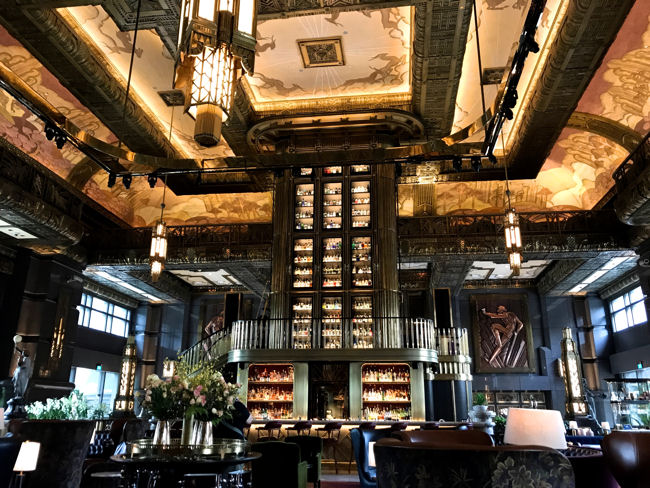 ATLAS interior
Framing the room were two elegant wooden bars, one designed for intimate conversations, the other as a grand setting. What had our attention was the gin bar. Like kids seeing a Ferris wheel for the first time, we stared at that amazing sight on the far side of the room.
Behind the bar and back-lit, a four story cabinet with over a 1,000 bottles of gin dominated the room. A delicate, curving staircase for bartenders-only reached the first level. To retrieve a bottle from the higher levels required the athleticism of a mixologist willing to be strapped into a Cirque-du-Soleil-style harness and hoisted up high like an angel in flight.
We vowed to come back to enjoy the bar that night but unfortunately we ran out of time. On a longer visit to Singapore, an evening at Atlas was definitely on our bucket list.
Only a few steps from the very modern Parkview Square and half a dozen other impressive skyscrapers, we walked on
Haji Lane
, a street of two-story wood-framed, colonial styled
shop houses
, colonial buildings with retail shops on the ground floor and living space above.
The shops sold a mix of designer chic clothing, inexpensive nick-knacks, paper products, hats and jewelry interspersed with small cafes, barber shops, art galleries and beauty salons.
Haji Lane, Arab Street and the Bugis are in the
Muslim District
, also called
Kampong Glam
.
When Singapore was laid out in a plan crafted by
Stamford Raffles
in the 1820s, ethnic groups (Europeans, Indians, Chinese, Malays and Muslims) were assigned different areas of the city. The modern version of that plan maintained the quality of those neighborhoods but allowed for diversity. Which meant that a Chinese Christian can live in the Muslim District and a European can live in Chinatown.
We continued our exploration of the district walking down
Bussorah Street.
The stores sold clothing, scarfs, aromatics mixed to order and discount shops selling household goods as well as Turkish, Mediterranean and Middle Eastern cafes, ice cream shops and even an American 7-11. Dominating the street was the large golden dome of one of Singapore's best known mosques, the
Masjid Sultan Singapura Mosque
, also known as the
Sultan Mosque
. We joined other visitors and walked inside to appreciate the elegant interior. Gold, green and white columns framed the large, carpeted prayer hall.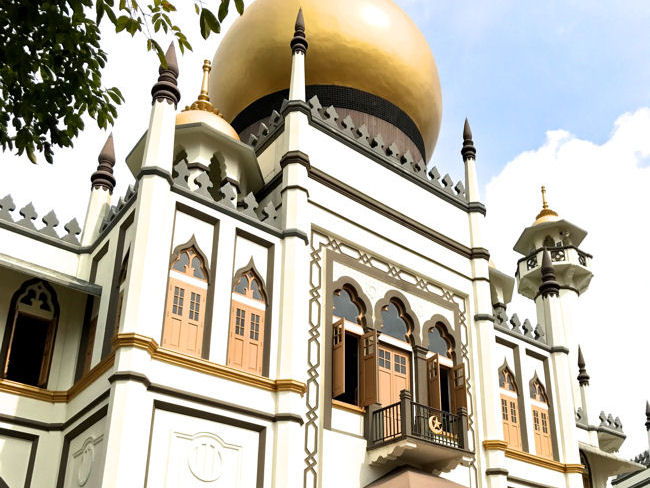 Masjid Sultan Singapura Mosque
Singapore's spiritual life was evident in the mosque and in the other ethnic neighborhoods. After we left Kampong Glam, we took a walking tour of
Joo Chiat Road
, a
Peranakan
community (Chinese and Malay). On Tembeling Road, we stopped at the
Kuan Im Tng Temple
, a shrine no larger than a small cottage with a giant jolly Buddha, its arms upraised in joyful celebration of life.
Hawker Centers
We were on a food tour, so we had to eat at hawker stands. Originally hawkers sold snacks and beverages in make-shift stalls on the sidewalks and from carts parked on the street. To modernize, Singapore engaged in large scale urban redevelopment which forced the relocation of hawkers into buildings called hawker centers. The stalls were individually owned. The food served was entirely the choice of the owner-cook. Some hawker centers were upscale. Many were not.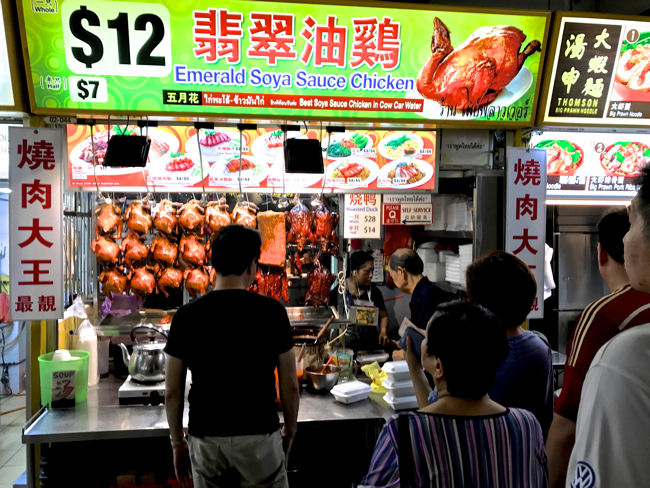 For lunch we stopped at the
Chinatown Complex
, a large concrete building. If you lived nearby, you would stop at the dry goods stores on the first floor to buy whatever you needed at home. If you were cooking that night, you'd go downstairs to the basement wet market to see what looked good in the stalls selling fresh eggs, meat, poultry, fish, spices, herbs and dry mixes like curry powder.
Since we were there to eat, we headed upstairs to the hawker center on the second floor. Pick vendors with lines, Fulton encouraged us, because that meant locals knew they were good. We spread out over the five aisles of stalls in search of savory treats. We rendezvoused back at a long table with way too much food, but we wanted to try local dishes we had never seen before.
I bought a hot pot of pork ribs (bak kut teh) in a delicious broth with a thickened soy sauce and bird's eye chiles. The seasoned soy sauce added salty heat to the fall-off-the-bone pork. I would tell you the name of the stall, but, unfortunately, the signage was in Chinese.
We had a plate of what is called
white carrot cake
, a local favorite. But carrots were not used. Steamed daikon (radish) was mashed together with rice flour to make a dough that is cooked with preserved vegetables, dried chilies, ground shrimp, palm sugar, tamarind and the juice from sweet and fragrant Calamansi limes. We shared a plate of Hainanese chicken with rice, a quintessential Singaporean-Chinese dish. When prepared correctly, and this was, the meat was tender and moist. The best flavors were in the rice, cooked with chicken fat and stock, and in the dipping sauces made with a chili sauce and salted, caramelized ginger.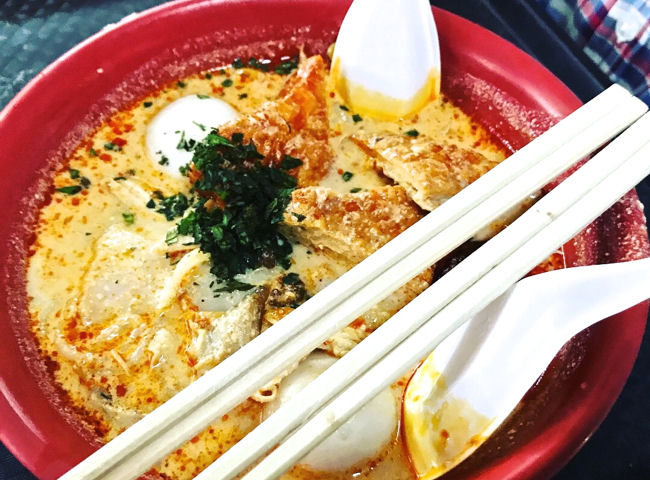 We ate bowls of soup and noodles called
laksa
which has a great many versions. This one was flavored with ground dried shrimp and coconut milk which mellowed the broth. We had a plate of roasted meats, pork belly, roast pork and duck. They were crusty, smoky, moist and delicious. And, we sampled freshly squeezed juices including carrot, celery, apple & plum, soursop, strawberry and limeade, which was my favorite.
Plenty of food and culture too
Fulton introduced us to another local guide,
Gluee Leong "Lee" Woon
, who would help us explore the
Joo Chiat
and
Katong
Eurasian and Peranakan Districts. "Eurasian" refers to the descendants of Europeans who married Asians. "Peranakan" means "locally born" and refers to the children of Malay women who married Chinese men. From a culinary point of view Peranakan cuisine created a distinctive fusion of Malay recipes and spices with Chinese techniques and ingredients (most importantly, pork).
As we strolled through the area, Lee pointed out that the two-story buildings lining the streets in this area were shop houses like the ones we had seen in Kampong Glam. Similar to the tenement houses that populated New York's Lower East Side in the 19
th
century, shop houses in the colonial period housed as many as a hundred people in a limited space without modern conveniences. Given that Singapore does not have a great deal of land to build single family dwellings, today a shop house for a family of four can sell for between $2.5 and $5 million dollars.
The explosion of land values and the creation of a dramatically modern skyline has happened in a short amount of time. The large residential housing blocks where most people live were built by the government in an accelerated pace that continues today. Not unlike New York City, land reclamation projects filled in the shore line and added areas where today hundreds of thousands of people work and live.
Today Singapore is ranked with London, New York, Zurich and Hong Kong as one the world's most important financial centers. Given that only forty years ago modern sanitation was introduced, that transformation is nothing less than extraordinary.
Small restaurants with large flavors
Our visit benefited from Fulton's many trips to the area to search out destinations she loved. And, we had the advantage of local guides, who had grown up in the neighborhoods we were now exploring.
Without their guidance, I would never have walked into
Har Yassin Restaurant
with its aged plate-glass window and faded menus. Overhead lights cast a harsh glare on the bare bones interior with refrigerators in the dining area. Nothing in its appearance would suggest that the restaurant would serve a memorable meal.
On the way to our table, we stopped to watch the cook in the front window create crepe-thin sheets of dough on a blazingly hot iron griddle. On the same griddle, he transformed spiced ground beef into crisp granules which he then spread across the crepes. With quick, efficient flips of his metal spatula, he turned flaps of crepe onto each other, added more finely ground beef and created a neat packet, marked with caramelization. He was making
murtabak
, a popular South Indian dish.
We sat at a turquoise colored table. In addition to the ground beef murtabak with vegetable curry and lamb soup, we had deliciously salty, tender mutton with red sauce (tulang merah). To cool us on that warm night, we ordered bright pink glasses of rose cordial with evaporated milk (Bandung) and iced mint tea two ways, with and without milk.
Originally, these dishes and beverages were sold by Indian cooks to Indian laborers. They would carry mobile stoves to areas where work was being done. Once they had saved enough money, some opened hawker stands while others opened cafes like Har Yassin.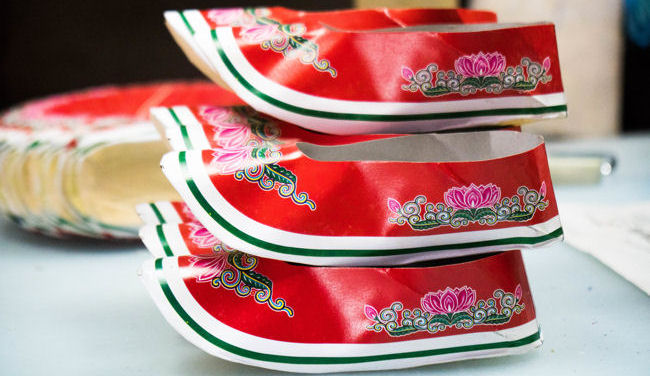 Handmade Crafts
The Bold Food tour was designed to give us a view into the culture of Singapore and, later, Penang. Part of that culture was disappearing. Implements central to daily life like candles and brooms had been handmade. Under the pressure of industrialization, those crafts disappeared, some slowly, some overnight. During the tour we were able to take a snapshot of that world by visiting craftsmen who may be the last to do work that once gave their families identity and a living.
In a suburban area far from the steel and glass high-rises, we stood on a grassy field planted with five hundred twenty-foot tall poles. Hung high on those poles were song birds in cages. A dozen men lounged in a shaded area, talking and listening. For some, the park was a place to sell their birds. For others, they brought their birds to the field to learn new songs.
Before we arrived at the
Kebun Bahru
Birdsinging Club
we were told not to wear sunglasses or baseball caps with the bill forward because that would make us look like hawks. We moved quietly and stayed a distance from the cages so we wouldn't scare the birds.
Across the street from the park, we met
Ten Leng Foo
in his
BirdsAsia
store. His handmade bird cages can take as many as two weeks to build and cost as much as $3,000. That's a lot of money, but not for a bird that can sell for $10,000 or even as much as $100,000.
Like Ten Leng Foo,
Henry Ng
is the last of his kind. He is the only craftsman in Singapore to make lion heads used in ceremonial dances. His southern Chinese style lion heads cost between $1,000-1,300 while ones imported from China cost $300. The dancers prefer his because they are stronger and more comfortable. He told us he had plenty of work, but his children did not want to learn the craft. It was only a matter of time before the only lion heads used in ceremonial dances in Singapore were
Made in China
.
We heard a similar story at
Tay Guan Heng
, a rough-hewn workshop in an industrial park where brothers Amos, Stephen and Albert were the third generation in their family to make hand-crafted decorations for joss-sticks and intricately detailed clay sculptures. Their children wanted to go to college and work in the high-tech and financial sectors not to work in a labor-intensive workshop.
Yeo Hung Teo
was one craftsman who had adapted to the changing times. Chinese paper lanterns were the specialty of his
Yeo Swee Huat Paper Agency
, but low-cost imports made that product line unprofitable. His company still worked with paper, but he made offerings which were burned to honor ancestors in ceremonies to keep away "hungry ghosts." The paper offerings could be anything used in life that could be used in the afterlife. We saw paper replica slippers and miniature horses. If you wanted a full-sized house or boat made out of paper, no problem. His business was doing well, but he faced competition from an unexpected quarter. To avoid the environmental impact of incinerating paper, we were shown an app that "burns" virtual offerings. Good for the environment. Bad for Yeo Hung Teo.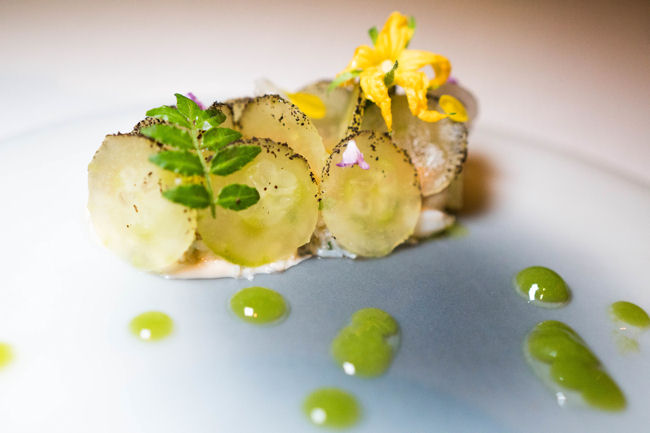 Stone Crab Sea Urchin and Cucumber
A meal like no other at Restaurant André
For our final meal in Singapore we ate at
Restaurant André
. We had traversed the city exploring its history and culture. We had enjoyed meals in hawker centers and in local ethnic restaurants. On our last night, we had dinner at the Michelin-starred Restaurant André, celebrated as one of Asia's best restaurants and included on the list of the
World's 50 Best Restaurants
. The passion project of the Taiwanese-born, French-trained chef, André Chiang had created a unique restaurant in a small house on Bukit Pasoh Road.
Before we visited, Fulton had mailed us a copy of Chiang's
Octaphilosophy: The Eight Elements of Restaurant André
so we knew that the dishes would be visually stunning. From the recipes in the book, we also knew that Chiang was an inventive chef, a perfectionist in his execution and creative in his use of ingredients.
As described in
Octaphilosophy
, the restaurant was an outward expression of his inward thoughts. He expressed that self in every detail, from the color of the walls, the solitary olive tree in front, the serving plates, many of which he made himself, the dishes and most especially the wine list called the
Book of Spirits
.
The book had the appearance of a hand-written diary, with thoughts and drawings accompanying a list of well-chosen wines and spirits. Chiang had created a Proustian book of memories, his way of saying these wines were not only good, they were memorable.
As explained by his wife,
Pam Chiang
, who presided over the dining rooms, our dinner was intended to be a conversation that would engage all our culinary sensations. Texture, color, flavor and temperature would be put into play along with the artful presentations of each dish in unique jars, plates, carafes and bowls.
The night of our dinner happened to be the restaurant's eighth anniversary and the Chiangs' thirteenth wedding anniversary. The menu was a celebration of both. We would have seventeen savory dishes and ten end-of-the-meal dishes, a mix of cheeses and sweets. Each dish would be paired with a beverage.
Trained in the best French kitchens, Chiang learned about the wonders of French wines. But he also learned that the experience of those wines could not be guaranteed. The qualities of a bottle of wine would ultimately only be revealed after it was opened. Sometimes that was a good experience, but not always. In his search for perfection, he turned to his kitchen instead of the vineyard. He believed that he could better control the qualities of the pairing by creating juices made by carefully fermenting vegetables and fruits. Our meal would include pairings of both.
The meal began with a "Black Cherry, Red Coral" capsule. We were advised that we had to consume this marvel of molecular gastronomy within ten seconds, after which it would disintegrate. The outer cherry-essence shell evaporated in my mouth releasing a cool liquid with hints of sherry, balsamic vinegar, cocoa butter and seaweed.
The second experience began with a single clam served on kombu seaweed and a sheet of lava. The clam was sensuous and briny. To the side of the clam was another plate filled with what appeared to be sticks of Japanese binchotan charcoal. Except. One stick, Pam Chiang told us, was not made of charcoal but piquillos and sweet prawn puree. All the sticks looked pretty much the same. But there was one I thought had a slightly different texture. Taking a bite of the "charcoal," I hoped I had chosen correctly. If I had chosen badly, I would bite into a gritty piece of charred wood. Happily I had picked correctly. The flavors of the dish were delicious.
The charcoal was the first but not the last of Chiang's slights of hand. We would have spaghetti that was not pasta but thin strands made out of a squid body. We were served a delicate potato soufflé crown, topped with salty, cold pearls of caviar that was placed on top of what appeared to be soil but was actually made of granules of edible chocolate-garlic. We had risotto without rice and what appeared to be freshly grated slivers of white truffle that was not truffle.
These slights of hand were to challenge us. Did what we see control what we tasted? Or, could our eyes see one thing and our mouths taste a different reality?
Fish and chips
Other dishes were fine dining versions of familiar dishes like fish and chips made, not with cod, but with tiny whole wakasagi fish flown from Tokyo's Tsukiji fish market, wrapped with potato threads and deep fried. The small fish was chewy. The potato threads crunchy. The dish finished with a clean strong salt flavor.
As we ate, we had a tasting of wines from the
Book of Spirits
that took us on a journey around France. We had a light and refreshing Cotes du Jura, 2015 Valentin Morel, Les Pieds Sur Terre (Naturé) with a dish that celebrated the heady flavor of mushrooms. A seared Gillardeau oyster topped with thin slices of scallop was served with a lovely wine, Alsace, Vague A l'Ame, Lieu-dit, Sunngass 2006 from a vineyard where no machines were used, only horses.
With exquisite flourishes, Chiang's dishes showed his skill as a chef to transform nature's products into art as well as food. But there was another way he practiced his art. In
Octaphilosophy
he talked about allowing nature to speak for itself. Which is what he did with a dish of stone crab. He cut tiny, paper thin circles of cucumber, edged with flakes of black pepper. Hidden beneath a pale green blanket was the centerpiece of the dish. Sweet crab and salty sea urchin. He didn't add an elaborate sauce. He didn't transform their shape or texture. Their superior qualities came entirely from the ingredients themselves.
The pairing for the crab was a Noëlla Morantin 2015 Vin de France 'LBL' and a fermentation labeled "7" made with an infusion of cucumber, pineapple and a small quantity of elderflower. The minerality of the 'LBL' was a good contrast to the crab. The fermented juices' mix of sweetness and crispness was exceptionally delicious.
The steady progression of dishes and pairings of wines from the south of France and fermentations from the kitchen led to the culminating events of the meal.
Most notably, his "Foie Gras Royale" with black truffle coulis, the first dish that Chiang created as a young chef. Over the years, many dishes were removed from the menu. But "Foie Gras Royale" was always served.
The dish arrived in what appeared to be an elegant porcelain bud vase which was actually a bowl with a tall lid. Foie gras and truffles were transformed into custards of differing colors. Using a demitasse wooden spoon, we scooped out some of both layers. One scoop. Two densities and textures. One spoonful and the flavors, fats and sweetness of the foie gras rolled onto the tongue. Coming so deep into the progression of dishes, the richness was intoxicating and a bit overwhelming. Happily, the paired Mas Coutelou NV Vin de France 'L'Oublié' had enough tannins to balance the richness.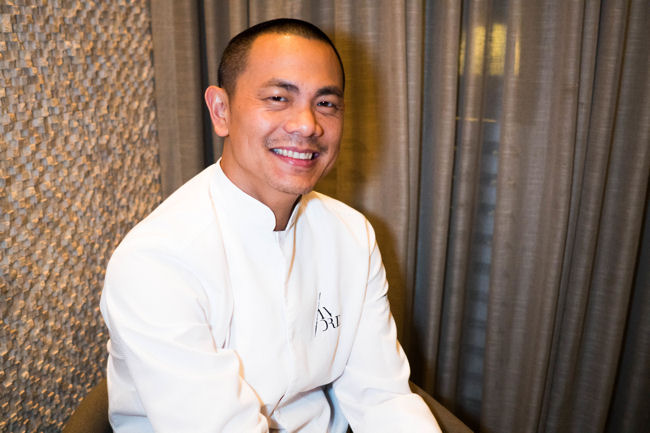 Chef Andre Chiang
A conversation with Chef Chiang
At the end of meal, we had the opportunity to sit with Chiang. Even after a busy day of cooking, he was relaxed. What energized him, he told us, was the pursuit of perfection. He pursued the best ingredients and he challenged himself in an on-going process of experimentation. He talked about working with his team and encouraging them to explore new ideas.
We asked why he chose Singapore as a location for his fine dining restaurant? After spending most of his early years working in France, he told us, when he was thirty he decided he would come back to Asia. He had been in France too long. "I'm Asian," he said, "but I don't know much about Asia." When he was making the decision ten years ago, at that time he thought either Singapore or Hong Kong was the place to go. Four years in a row, he had worked in Singapore during
Gastronomic Week
in 2003-2006, so he felt he had a connection with the city.
He and his wife started modestly with four tables. And now, on his eighth anniversary, he had achieved many of his objectives. He talked about challenges to come and what the future might bring.
It was late. Almost 1:30 in the morning. We thanked chef Chiang for making us a wonderful meal and taking the time to sit with us. We left the restaurant.
In the morning we awoke to amazing news. At 3:30, just two hours after we left, chef Chiang sent out an email announcing that he was closing Restaurant André and giving back his Michelin stars. Chiang said he was moving to Taiwan to focus on development and innovation.
Restaurant André will serve its last meal on February 14, 2018. Given how abruptly he made the announcement, clearly he was ready to move on to the next chapter of his career. As in his cooking, so in his life, chef André Chiang takes bold steps in pursuit of artistic perfection.
Next stop
An hour's flight north from Singapore to Penang, Malaysia and we were ready for the next stop on our Bold Food tour.
Stay tuned for the next article about our adventures in Penang...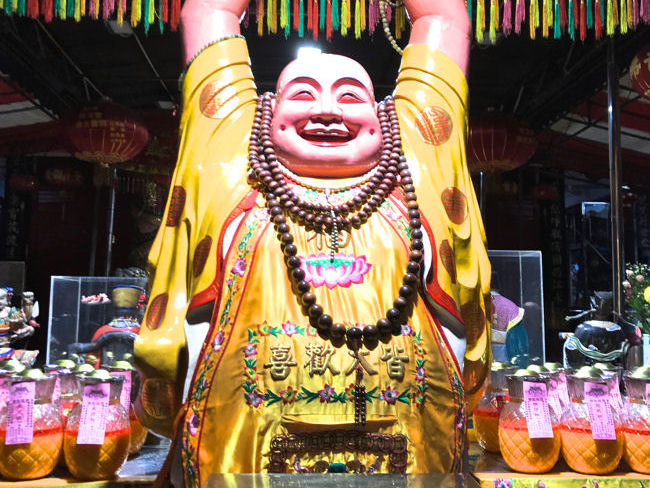 Kuan Im Tng Temple
When you go:
Bold Food LLC,
www.boldfoodco.com
,
+1-888-884-5702
or contact Muffie Fulton directly at
Muffie@boldfoodco.com
. The website has a schedule of cooking classes and food trips. In 2018 there are trips planned to Singapore and Penang, Malaysia; Bangkok and Chiang Mai, Thailand; Fukuoka and Tokyo, Japan – Ramen Trip; Barcelona, Spain; Austin, Texas; Lima, Peru and Mexico City. The tour price is based on the location, number of days, double occupancy and includes all costs during the trip, except for travel to and from the destination. Single room occupancy is available at an additional cost.
Amoy Street Food Centre, 7 Maxwell Road, Singapore 069111, +65 9660 2232
,
an affordable hawker center in the Central Business District with dozens of stalls serving fresh fruit beverages, Chinese, Indian, Japanese and Malay dishes
Ananda Bhavan Restaurant, 58 Serangoon Road, Singapore 217964, +65 6396 5464, said to be the oldest Indian vegetarian restaurant in Singapore
ATLAS, a Grand Lobby and Bar, Parkview Square, 600 North Bridge Road, Singapore 188778, +65 6396 4466,
http://atlasbar.sg
BirdsAsia, Teng Leng Foo, across the street from the Kebun Baru Birdsinging Club, +65 9008 1382, https://www.facebook.com/BirdsAsia-345827982197873/
Chinatown Complex (hawker center), 335 Smith Street, Singapore 050335, the food court upstairs has favorite hawker dishes including soups, bbq meats, noodles, beverages and desserts. Visit the ground floor for clothing and dry goods and the basement level with stalls selling fresh produce, fruit, meats, poultry, seafood and dried spices, seeds and nuts.
Har Yassin Restaurant, 48A Changi Road, Singapore 419705, +65 6345 1027. An Indian Muslim restaurant specializing in mutton with sauce. In the restaurant's front window, watch a chef make murtabak on a giant griddle.
Jumbo Seafood, 30 Merchant Road #01-01/02, Riverside Point, Singapore 058282, +65 6532 3435,
https://www.jumboseafood.com.sg/en/home
, multiple locations. Please know that the peanuts, wet naps and tea placed on the table when you are seated are not complimentary. Unless you ask the server to remove them, you will be charged.
Kebun Baru Birdsinging Club, Ang Mo Kio Avenue 5, Block 159, Singapore 560159, +65 8182 2943,
https://kebunbarubirdsingingclub.weebly.com
Lau Pa Sat (hawker center), 18 Raffles Quay, Singapore 048582. Located in a heritage Victorian glass and steel building, Lau Pa Sat is in the heart of the Central Financial District, so the prices are higher and the selection is a bit more eclectic than in other hawker centers.
Mayflower Market & Food Centre (hawker center), 162 Ang Mo Kio Avenue 4, Singapore 560162. Located in the suburbs, the stalls serve a great variety of dishes, with many Chinese-Malay combinations.
Restaurant André, 41 Bukit Pasoh Road, Singapore 089855, +65 6534 8880,
www.restaurantandre.com
. Lunch and dinner are served through the closing on 14th February 2018. Reservations for the "Farewell" menu can only be made online. Wine and fermented juice pairings are an added charge. Owner-chef: Chef André Chiang