For those of you who like to rock, the party's on at Hard Rock Hotel & Casino Punta Cana.
High rollers who put down a minimum credit line of $100,000 frequent the resort which is home to the second largest casino in the Caribbean. The 1,755 room all-inclusive property with 9 restaurants, 17 bars, and 13 pools is situated on 121 acres along the powdery soft sands of Macao Beach in the Dominican Republic.
The high roller experience begins with a private SUV transfer from airport, a VIP rep meets you on arrival and you are whisked to your Presidential Suite or Oceanfront Villa for private check in. You are introduced to your personal butlers who will tend to all your needs and desires. As a VIP, you also get your own golf cart to zip around this sprawling resort.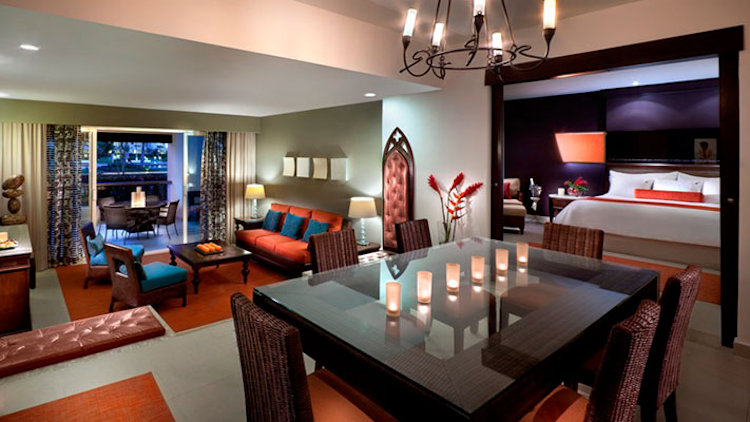 Presidential Suite
Accommodations
As a high roller, you'll be living like a rock star in a Signature Presidential Suite or in one of just three luxurious, newly renovated 7,744 square foot penthouse villas with ultra-modern décor. The villas feature an expansive living area opening on to an equally expansive ocean view terrace, complete with a stunning infinity hydro spa tub and two more Jacuzzi tubs. There are two master bedrooms and two double bedrooms, a private spa treatment room, bar, dining area and full kitchen (with private chef if you desire). The villas are so lavish and relaxing, it's almost impossible to leave, but the Privé gaming experience awaits in the casino.
If you're not a high roller, you can still live like one in the Rock Royalty - Caribbean Sand Suites which also come with a personal assistant to tend to your every need, whether it's champagne service by the beach or standing reservations at a romantic hotspot, you can enjoy the adults-only Rock Royalty experience.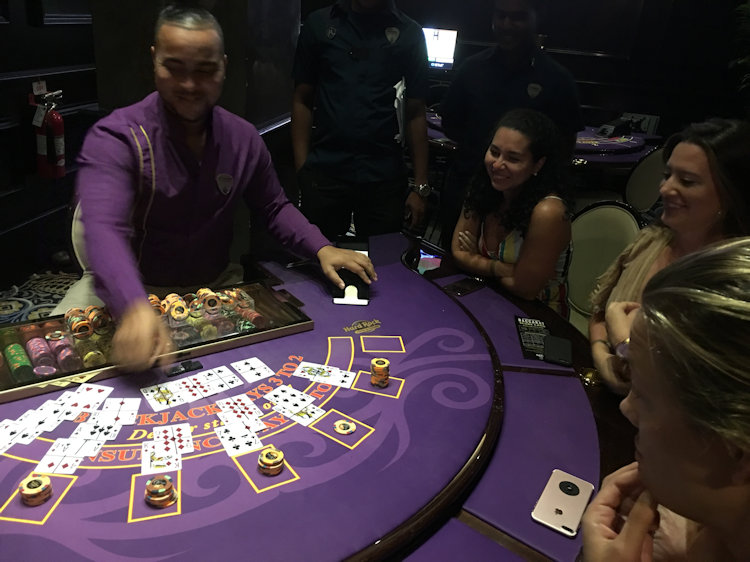 Priv
é
- private gaming salon
High rollers are escorted inside the Hard Rock Casino's Privé section – a private gaming salon where $500 is the minimum wager per hand. As a VIP player, you enjoy personalized music, food, and drinks in your private room with high limit games and no limit service. Don't wish to wager that much? The 45,000 square foot casino awaits with additional private gaming areas. Grab a seat and go for a ride with classic table games like Craps, Roulette, Blackjack, Poker, and Baccarat, or go for a spin on one of the 457 slot machines. You can also relax in the race and sports book section with giant viewing screen.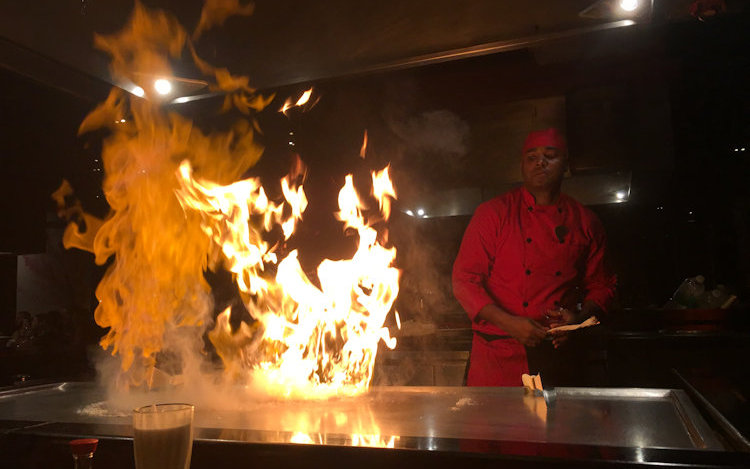 ZEN restaurant
Dining & Entertainment
High rollers staying in villas can enjoy a private chef to create anything you desire from the resort's nine restaurants or anything else you can dream up. The restaurants offer something for every taste -- Italian, Asian, Latin American, Caribbean, Mexican, Mediterranean, and more...you name it! You can also book a private dinner at the Casino's unique restaurant, Montserrat Manor, with rooms that are modeled after an actual manor house. The Boulevard, with all its boutique shopping, lounges and dining experiences, offers a sweet shop and ice cream parlor for after dinner indulgences.
ORO night club inside the casino is the ultimate, most exclusive nightclub in the Dominican Republic providing an experience to rival Las Vegas and Miami's finest clubs. Dance and enjoy right next to celebrities, artists, and sports figures while watching the world's best DJs and performers. ORO is designed to maximize the nightclub experience, elevating and seducing its guests into uninhibited euphoria. Here, you will find the best service, attended by professional and breathtaking servers and bartenders, with the best security team that make you feel like a VIP.
In addition to the night club, the resort offers concert venues that feature the world's most famous performers like Andrea Bocelli, Justin Bieber, Maroon 5, Rihanna, Ariana Grande, and coming in October, Shakira (who also owns a home in Punta Cana).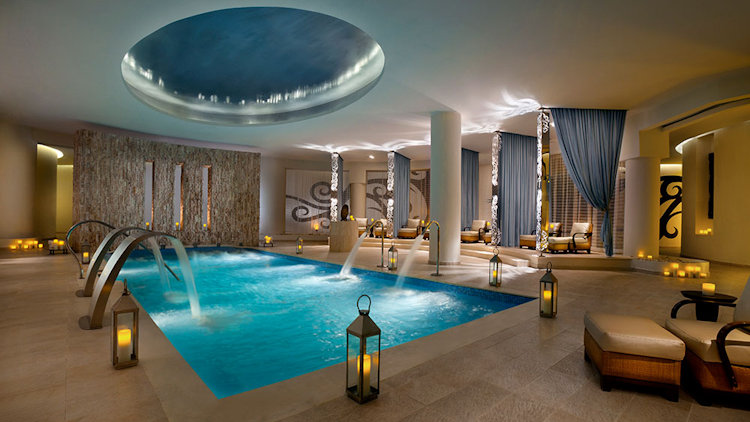 Spa
After an exciting night in the casino and nightclub, chill out and bliss out with a signature spa treatment. The three high roller villas include a private spa room so guests can enjoy treatments in privacy. Or head to the Rock Spa featuring the most complete hydrotherapy circuit in the Caribbean and one of the most elaborate fitness centers you'll find at any resort. Signature spa treatments include use of music, rhythm and pressure for an experiential journey.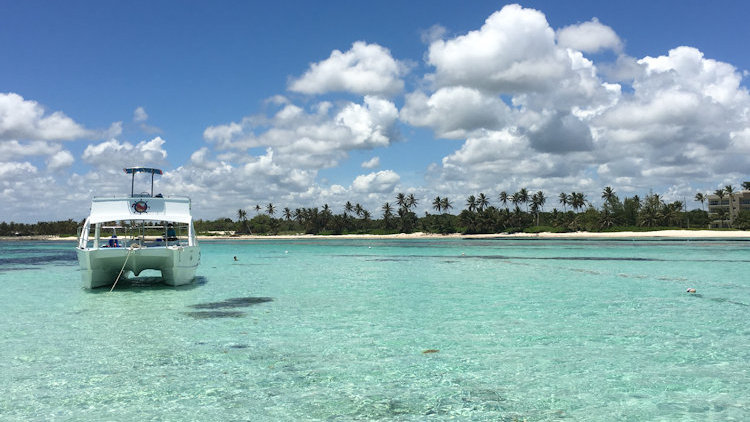 Beach, Pools & Activities
The resort features no less than 13 expansive pools, including one adults-only pool, three kids' pools, one lazy river, and two private pools for Legendary Members. The hotel is also located directly on Macao Beach providing the perfect setting to relax on an inviting Bali bed or take a long walk in the powder soft sand.
If the beach and pools aren't enough, you can take off for a catamaran sail along the Dominican coastline. You'll pass the beachfront homes of Shakira and Julio Iglesias among other celebrities. (Punta Cana is privately owned by just three people: Julio Iglesias, Oscar de la Renta, and business man Frank Rainieri.) Depending on your desires, you can experience many things as you admire the majestic coastline and luxuriate aboard your exclusive catamaran: stop in a reef area to snorkel and observe tropical fish and marine species; visit an underwater museum featuring submerged art pieces and statues; and sail to a natural swimming pool to soak in its shallow aquamarine waters while sipping on refreshing drinks. You can also stop at the Indigenous Eyes Ecological Reserve, where you take a refreshing dip in a gorgeous natural freshwater lagoon.
The Hard Rock Hotel and Casino Punta Cana provides the perfect getaway for families and people who like a lot of action and activities on their vacation.