According to the latest reports, flight hours for private charters have more than doubled in the last four months of 2021 compared to the same period in 2020.
Ever since the pandemic hit, people have been trying to find a safe and timely way to travel, and that's how private jet charters became both - a necessity and a convenience.
Imagine traveling from one country to another in a few hours, without getting to the airport hours in advance, waiting for a long time, mixing in with crowds, and exposing yourself to potential health risks.
Private flying eliminates all the stress factors for travelers, so it's one of the topics we wanted to discuss in depth.
We put together a guide to help you go through the process of booking a charter - from research to boarding.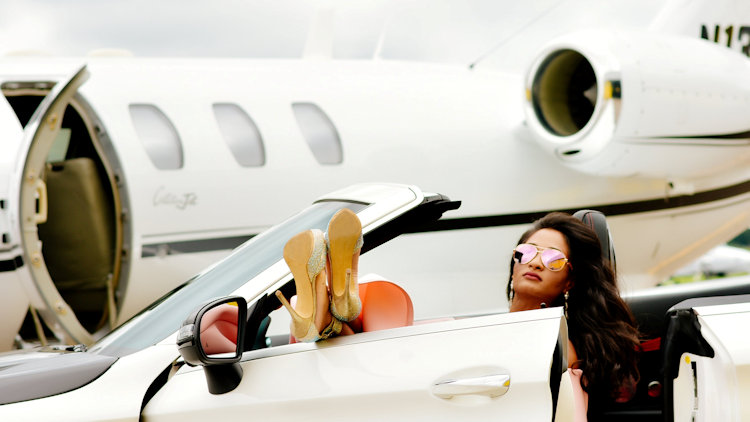 Photo By: Chalo Garcia/Pexels
Find The Jet That Suits Your Needs
Whether you want to explore Costa Rica this season or you need to travel for work, researching which jet to take is the first step of the journey.
First, weigh your options and get feedback from acquaintances, friends, and social media, to find a reliable airline company.
Next, it's time to find a jet that fits your needs, and the four factors below will help you do that:
Luggage
Although flying private means having significant benefits, you have to know the number of bags you'll bring. Considering that some private jets can only fit in 2-3 carry-ons, you should contact the company or a broker and let them know how many bags you need to bring with you, to get advice on the jet size you should be looking for. You should also contact the airline company if you need to take special equipment on board.
Number Of People You'll Travel With
The number of passengers is tightly connected to the size of the jet. Sharing a private jet with a group of friends is an excellent alternative since it can be surprisingly more affordable, but there's always the option to book a single seat on a shared charter. This is why you have to determine the number of seats/beds or cabins you'll need for your trip.
Since the number of travelers dictates the jet size, you should also know these common size categories:
Very light jets can accommodate between 4 and 8 people and cost between $2,000 and $3,000 per hour;
Mid-size jets can accommodate between 8 and 10 people and cost between $3,000 and $6,000 per hour;
Large jets can accommodate up to 18 people and cost between $5,000 and $11,000 per hour;
VIP airliners can accommodate between 16 and 80 people and cost more than $15,000 per hour.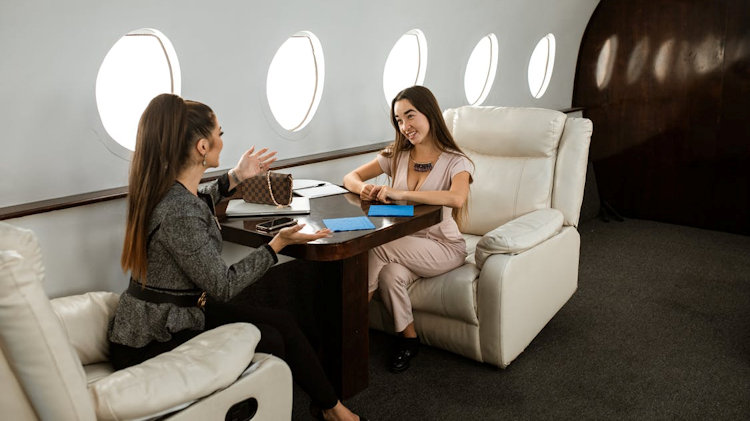 Photo by RODNAE Productions/Pexels
Final Destination
Research all the airports in your final destination and determine whether the jet can bring you there. Flying private is the best choice when you want to stay away from messy, crowded airports and need to get somewhere fast.
Although most private jet companies fly to large airports, you should carefully choose the landing spot. Numerous small and private airports aren't as busy, can be very close to your final destination, and are potentially more affordable.
Trip Purpose
What's the purpose of your trip? Are you hosting a special dinner on board and want to treat your guests to a unique food experience? In that case, you should find a flight that offers catering services with a private chef. In addition, some people need private jets for medical purposes, which require special equipment.
Flying private is common among business people, CEOs, and entrepreneurs due to its benefits. Suppose the purpose of your trip is work. In that case, you can tailor the entire experience to your needs, treat your business associates with various amenities such as carefully curated food menus, save time, enjoy a WI-FI connection and be productive, ask for particular catering, meet your urgent needs, and take off within hours of the booking.
Membership Program
If you frequently fly for business or any other purposes, a membership program with the jet company can be beneficial. Check if the company offers discounts and member points so that you can enjoy certain perks and have the most luxurious private jet experience ever.
Book A Jet
Most private jet companies have sites where readers can check all the information they need and book a charter. However, some decide to use a broker to help them out.
Whether you'll go directly to the private jet operator or through a broker depends on your preferences. Here are a few other things you should decide and discuss with the company before booking the jet:
Meals
Get in touch with customer service or visit their site and find out the menus they offer to add the right option for your journey when booking. You should research the catering options beforehand because some companies offer a private chef with you onboard if that's something you're interested in. Remember to let the private jet company know if you have any food allergies or intolerances.
Flight Attendant
Will you need a flight attendant with you during the flight? This factor can increase the cost, so keep that in mind and decide whether it's a necessity and whether it fits your budget.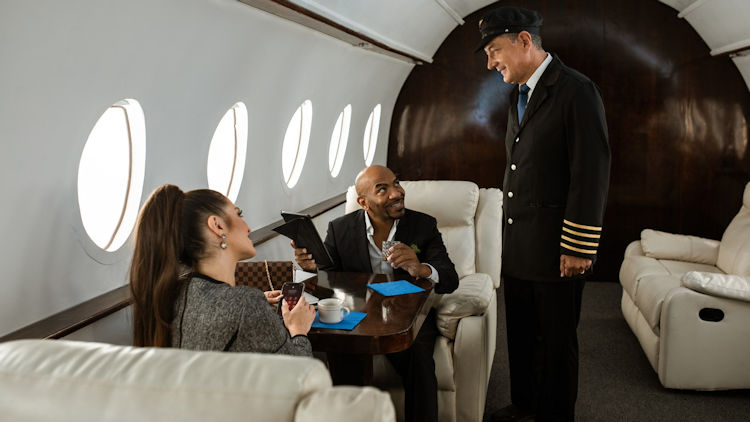 Photo by RODNAE Productions/Pexels
Payment
Many rental companies have a private jet rental cost calculator on their sites for the readers to get an estimate. Once you enter all the details (time of flight, destination, number of passengers, etc.), you'll know the prices and you can start the booking process. You can also contact the operating company via phone, get all the details, and book through them directly. If you're not tech-savvy, a broker can be very helpful.
Once you book, the company/broker will inform you on all the documents they need and send over a confirmation and a contract. You can do this yourself through apps or if the company has a booking service on its website. Payments are usually made through credit/debit cards or wire transfers.
Requirements
Due to the pandemic, each country has different rules and regulations. Before boarding the jet, you should check their website or contact customer service to learn more about the requirements and documents you must bring on the flight.
Don't forget to bring a valid password, and find out if you need COVID certificates for vaccination. Also, remember that some countries require you to have a visa for entry, so you should double-check before booking a flight.
Take The Flight
Grab your passport and head to the airport! Passengers boarding a private jet don't have to arrive early; 20 to 30 minutes before departure is fine.
Another significant benefit of flying private includes ultimate privacy and next-level comfort. Most people are huge fans of private jets because they can take their pets with them and enjoy a stress-free experience. Your pet can travel in the cabin with you; however, you have to ensure you have all the necessary documents such as passport, vaccinations, etc.
An additional pro of private jets is that companies will go to great lengths to fulfill your needs. For example, if you're vegan or gluten-intolerant, you can get in touch with them and curate a menu to your wishes. In some cases, you can even request to fly with the same crew on numerous flights, so you can quickly tell that the main priority of these airlines is to provide you with a carefully crafted and individual experience.
Once you get to the plane, you need to show all your documents, such as identification, registration, and the booking for the flight. There is no ticket; instead, you'll receive an itinerary. Once everything's cleared, you can start your journey. The services on board depend on the package and the facilities you choose when booking. If you need to book a chauffeur service or a shuttle after landing, you should let the company or broker know during the booking process.
Final Thoughts
According to research, the global business jet market was worth more than $24 billion in 2020 and is expected to reach a staggering $37 billion by 2028. Some of the main reasons people opt for private is because they can be productive while flying; it's flexible, comfortable, time-saving, and discrete. So it doesn't matter if you're a busy CEO who wants to host your business associates or a group of friends who want to enjoy the Caribbean; private flying offers the ultimate luxury and is slowly becoming accessible to more and more people.
There is no doubt that the cost of this pleasure is a little high, but you get in touch with fewer people during the boarding process and flight, reduce health risks, feel safe, enjoy your privacy, bring your pets on board, have a perfect working space, and share it with people you know.
Reports suggest that there will be over 7000 business jet deliveries in the upcoming decade. As you can see, this is a growing branch that more of us will start supporting, thanks to its convenience and amenities. So if you're always on the go and are looking to save time, avoid long queues, and get almost anywhere you can think of, flying private should be on top of your list.
_________________________________________________________________________
Daniel Herman
Daniel is a digital marketing and aviation enthusiast who is currently working as a content associate of JetFinder - an aviation brokerage company. Their services include private jet charters, medical evacuation flights, cargo flights, group charters, helicopter charters, and more