We pull into Keswick's circular driveway and share a smile over our choice for a weekend get-away. Golden hues against a verdant landscape conjure up a Tuscan villa complete with vineyard. This was once the estate of the Robert Crawford family and the entryway's fireplace, oil paintings, and plush furnishings are more like living room than lobby.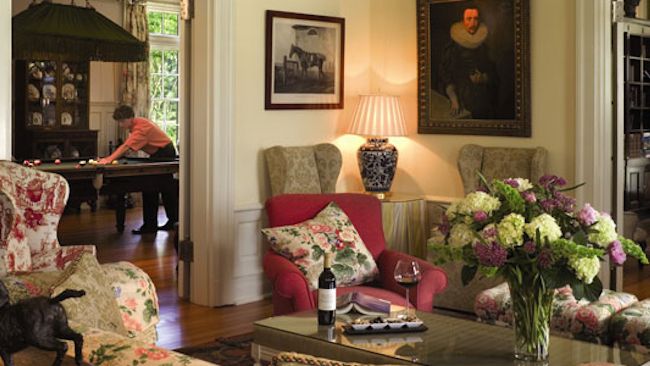 The historic north wing of Keswick Hall dates back to 1912, and its public rooms are filled with period-inspired furnishings and art that tell the story of the original home. Roaring fireplaces create the ideal environment for a game of snooker in the billiards room, an afternoon of reading in the library, and an evening cocktail in the lounge.
We're booked in a room in the original villa, so we ascend the home's grand staircase to room #12, an elegant "Deluxe Balcony Room" overlooking the hotel's formal gardens. Across the hall, rooms offer exquisite views of the golf course and lush rolling fields. We're told all 48 rooms and suites have been newly refreshed and feature 'Hypnos' beds -- favored by the Queen of England. I, for one, am ready to sleep like royalty, but first it's down to one of the hotel's restaurants and bars, Fossett's, for cocktails and appetizers.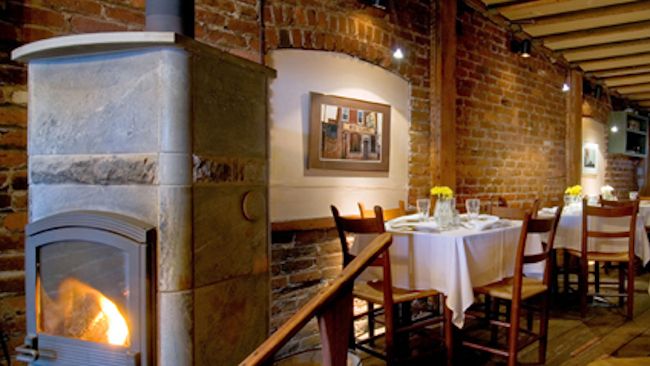 C&O Restaurant mezzanine
The plan is to head to downtown Charlottesville for dinner. The hotel arranges a table for us at the C&O Restaurant that had its humble beginnings as a railroad bunkhouse. The entrance is on a mezzanine that once led to the legendary C&O Night Club (closed in 1988). Rustic barn siding and intimate lighting create a bistro atmosphere. A Tulikiva wood stove warms the few tables, and we settle in to enjoy our fine dining experience.
Awaking refreshed the next morning, we breakfast in Fossett's, with its spectacular wall of windows, and watch the sunrise over the 18th green of the golf course. We decide on a day of touring this historic region that was the birthplace of three U.S. presidents – Thomas Jefferson, James Madison, and James Monroe. Since our time is limited, we decide to visit the closest and most famous, Thomas Jefferson's Monticello.
Fossett's
Keswick Hall's resident expert, Shirley Midyette, organizes visits to Monticello (as well as Madison's Montpelier and Monroe's Ash Lawn-Highland) for interested guests. Shirley sets up reservation times, acquires admission tickets, and accompanies guests on the tour. A former Monticello guide, Shirley has a wealth of information to share. We learn about the three former presidents, known as the "Virginia Dynasty," and all our questions about plantation life, Visitor Center exhibits, and the museum shops are answered.
Our afternoon plans involve a visit to a local vineyard. We're surprised to learn that Virginia (our recently adopted state) is the fifth largest wine producer in the U.S., and that Keswick Hall is just a short drive from more than 25 vineyards that offer tours and tastings. Once again we find ourselves exchanging the smile that says, "We've hit the jackpot!"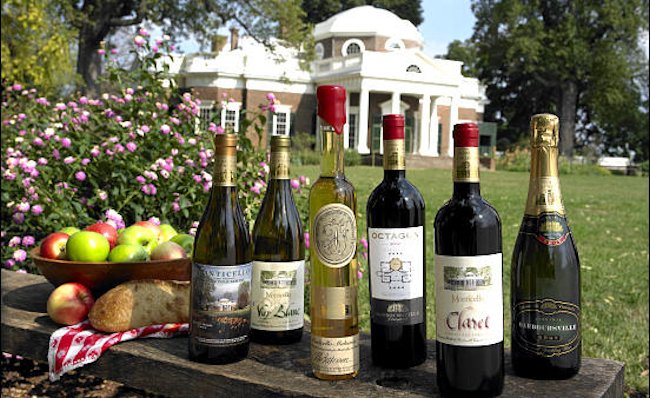 Barboursville wines at Thomas Jefferson's Monticello
We choose Barboursville Vineyards for its history. Two hundred years ago when Thomas Jefferson and James Madison visited each other at home, they traveled through this estate on the daylong carriage ride between Monticello and Montpelier. The plantation then belonged to Jefferson's friend and Virginia's governor, James Barbour. Jefferson designed the landmark mansion that still graces the property.
We tour the impressive winery and then visit the tasting room where visitors can sample up to 18 vintages. We enjoyed the award-winning Octagon, served to Queen Elizabeth II when she visited in 2007 for the 400th anniversary of Jamestown. Again, we were surprised to find out how many different wines are produced here – whites, reds, blush, and dessert wines.
Our final day is all about relaxation. Keswick Estate offers an extensive trail system designed as a complement to the property's Audubon Sanctuary certification program. The trails wind through some of the most beautiful and private settings on the 600-acre property. We revel in the solitude of the estate's wooded areas and its extraordinary natural beauty. Then we join Keswick's head gardener, Yara Acker, for an informative and entertaining tour of the flower gardens, vineyard, and chef's garden.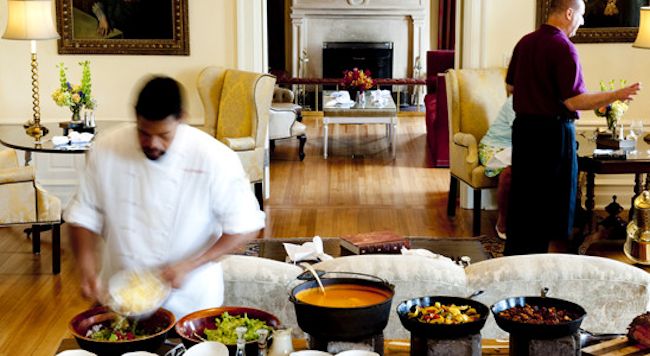 Villa Crawford lunch
For today's lunch we opt for another of the hotel's restaurants, the warm and charming Villa Crawford. Its delicious buffet of entrées and accompaniments allows us to sample and indulge before we head in separate directions. I'm off to the spa and my husband to play the newly opened Pete Dye–designed golf course, Full Cry. Full cry is a hunting term describing the call of hounds that have found a scent and are in hot pursuit. My husband is in pursuit of that often-elusive experience, a satisfying golf game!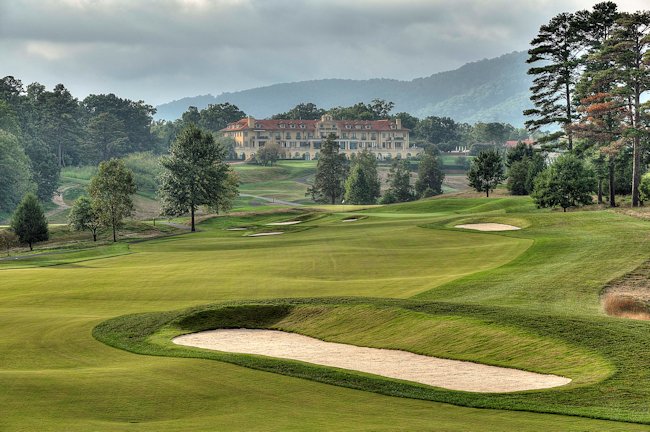 The new course replaces an Arnold Palmer–designed course that has challenged golfers at Keswick since the 1990s. Barely two months after it's opening, the Full Cry has been named to Golf Digest's prestigious "2014 Best New Courses" list. I wonder how my "weekend warrior" husband will fare.
In the spa I am pampered with a massage and facial. We meet up at the end of the day for a plunge into the spectacular horizon pool with its infinity edge overlooking the golf course. My husband is beaming. The holes are long but forgiving. The scratch golfer is challenged while those with a higher handicap can find reward.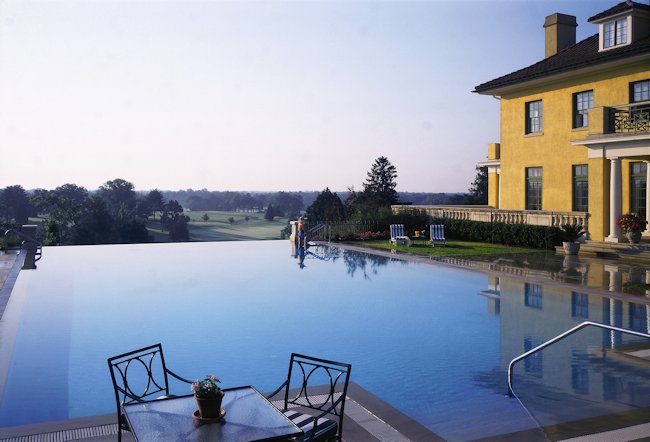 Horizon pool
The day's grand finale is dinner at Fosset's. Here the tradition of local produce and "garden to table" eating cultivated by Jefferson at Monticello continues. In fact, Fosset's is named after Thomas Jefferson's French-trained chef! We select our wine from an extensive offering of both Virginia and international wines, including the hotel's own vintages. Once again we're mesmerized by the view of the estate's pristine landscape and the beautiful Blue Ridge Mountains beyond.
We talk about all we did this weekend and all there is left to do – tennis, archery, croquet, snooker, biking, horse riding. With D.C. only two hours away, we can come back anytime or any season! For now, we reflect back on our get-away, sip our excellent wine, and smile.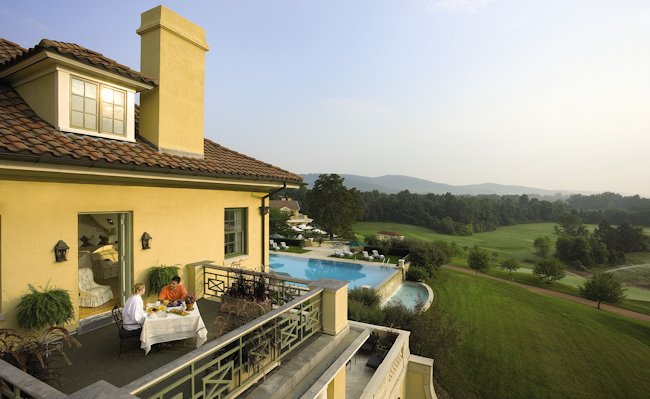 Room #9 is the Louis XV inspired room, featuring the original hardwood floors that date back to 1912 and French doors that open onto a private terrace - the room offers breathtaking views of the golf course and infinity pool below. This is one of the most frequently requested guest rooms and is the original master bedroom of the Crawford family who resided at Keswick from 1912 to 1919.
More information:
Keswick Hall
Visit hotel's website:
keswick.com