The fresh fruit punch of orange, mango and pineapple juices was refreshingly cold. What a delicious way to begin our tour of
Penang
.
With
Muffie Fulton
of
Bold Food
we had explored
Singapore
the previous week, sampling street food in hawker centers and relaxing in Michelin-starred luxury in one of the world's finest restaurants. Now we were an hour north in Penang, on the island of Penang off the northwest coast of
Malaysia
.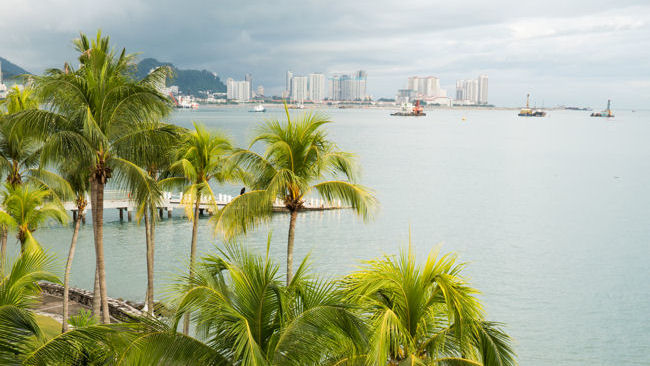 Penang the city
I was tempted to relax in my comfortable room, but with the afternoon free, several of us wanted to meet so we could walk around the city. We consulted with Nagesh Riyaaz, the concierge on duty, who highlighted a route on a map and off we went.
We walked leisurely on Jalan Penang ("jalan" is Malay for "road") south from the hotel. We peered into small shops selling clothing and air-conditioned restaurants with plate-glass windows. Attracted by smoke from a charcoal fire, we looked at an open-air café where the cook was grilling meat and vegetables. A row of sheep-heads ready for the grill stared at us. We were looking for something a little less dramatic so we moved on.
We were in pursuit of one of the restaurants recommended by Riyaaz,
Hameediyah Restaurant
, an Indian-Malay restaurant on Campbell Street. At the sidewalk entrance, a friendly cook worked at a griddle station. At the back of the room, tucked away in the shadows next to a staircase, two cooks navigated a closet-sized space as they created plates of meats, vegetables and rice. The menu was a mix of Indian (roti, biryani) and Malay (nasi kandar, ayam percik) dishes.
After ordering, we walked upstairs to the dining area, a narrow room with two rows of four-top wooden tables hugging the tile walls with just enough space between the tables for the servers who carried the plates from downstairs. We found a table close to the windows facing the street.
Overhead fans moved the air around to cool the room.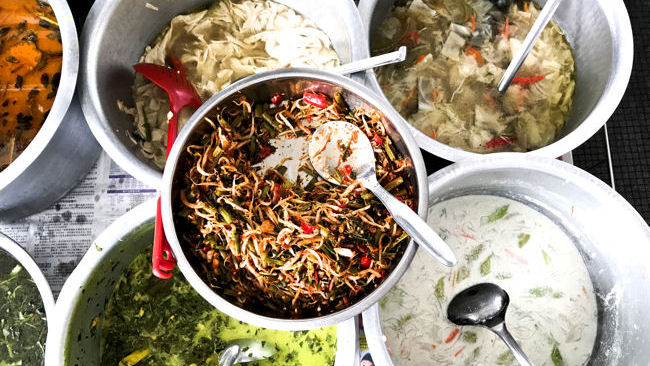 Our dishes of
mee goreng
(curry noodles) and
murtabah
(pan fried bread with beef, curry and onions) arrived quickly. The mee goring was filled with scallions, scrambled egg, chicken and potatoes. We ate with the forks and big spoons provided in the wooden box at the end of the table. The locals ate with their fingers.
The dishes were similar to ones we had eaten in Singapore where "murtabah" was spelled "murtabak." Here the murtabah was thicker, not as thin or crisp as the Singaporean version. Both were delicious.
After our snack, we returned to the hotel, eager to begin our tour.
A good guide makes all the difference
Fulton introduced us to
Mark Ng
, our guide who would take us where locals ate and to locations outside of the city where tourists rarely visit.
Ng had grown up in Penang so he knew every hawker food stand and café in the city. We walked into
George Town
, named for King George III, established by the East India Company in 1786 and named a UNESCO World Heritage Site. Densely populated, the buildings in George Town are a mix of colonial two and three-story stucco buildings and modern high-rises. As we walked, Ng talked about Penang's ethnic mix of Malays, Chinese, Indians and English, a mix similar to Singapore. The difference here was that in Malaysia the predominate group was Muslims. In both Singapore and Penang, Chinese were the predominate ethnic group.
Our first stop was
Ali Capati Corner (Vanapatan)
, a café in
Little India
with an outdoor kitchen and dining area covered by tarps.
As much as we enjoyed Singapore's hawker centers, in Penang we would experience the street food vendors up close and personal. This, Fulton told us, is what Singapore used to look like.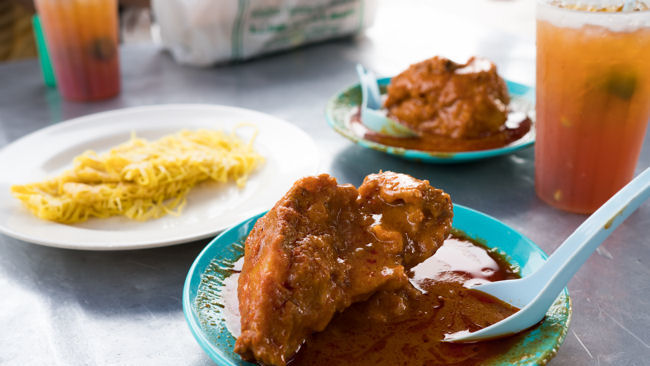 We gathered around
Jahabar Shathik
as he worked behind a giant hot griddle making the Muslim bread,
roti jala
. He poured the flour-sugar-turmeric batter into a cup with holes in the bottom. Swinging the cup over the surface of the griddle, he created strings of yellow noodles in the shape of a net ("jala" means "net"). Once the batter was charred on one side, Shathik flipped it over to cook the other side. The roti jala was served with shredded chicken curry flavored with cardamom, star anise, clove, lemon grass, chiles and a pandan leaf.
We tore off corners of the roti and used them to pick up bits of chicken coated in bright red curry. The spicy-salty curry called out for a cold sweet drink. Just in time, tall glasses of limeade with Calamansi limes, a tiny fruit with a big flavor, arrived at the table.
A foot or two from our picnic table, motor scooters whizzed by. Pedestrians walked in the narrow street forcing trucks to slow down to a crawl. From across the street, a man in an upstairs window yelled down his order to one of the cooks. Through it all, we talked, ate and sipped our limeade, oblivious to the noise as we enjoyed the first official meal of our Penang tour.
For breakfast we returned to the same corner, but across the street to
Restoran Sejahtera Muhibah
to have a typical Malay breakfast of roti (Indian flat bread) with lentils, dhal, anchovy sambal, fish curry and scrambled eggs. The roti was good but what made the meal so delicious was the iced Ceylon tea mixed with a good amount of condensed milk. Served in an tall glass with a straw, the bright pink, foamy confection was the perfect way to begin the day.
The shape of the tour
Every day we had an adventure. We walked through different neighborhoods in Penang, drove south from the city to check out a farm and spent a day on the mainland at a fishing village. Every afternoon Fulton planned our days so we had free time to explore on our own or take a nap in our air-conditioned rooms. At night we reconvened for drinks and dinner, exploring Penang after dark.
A good guide has to be a good story teller as well as a person knowledgeable about a local area. As we walked, Ng told us about Malay food, culture and history. He filled our heads with tales of 19
th
Century English colonial rule and how ethnic groups today vied for attention creating a complex political scene.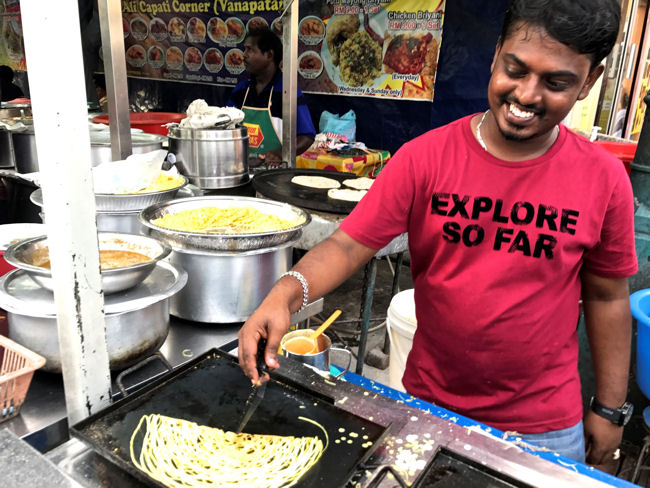 In Penang, where to find hawker stands?
There were a few permanent hawker centres like the ones in Singapore, but in Penang, a food stall could be mounted on bicycle wheels, to be rolled to a good street corner where people would stop when they were hungry. To find food vendors, Ng explained, look for where people congregate. There were open-air stands with corrugated tin roofs or with coverings as temporary as plastic sheets next to residential blocks or at the intersections of busy roads.
In George Town, we stopped at
Ko Cha Bi Pan Cake
, near the corner of Kimberley and Jalan Sungai Ujong. Mr. and Mrs. Keong have been serving up crispy Chinese pancakes filled with ground peanuts or canned sweet corn for 18 years. And that was after Mrs. Keong's dad had worked on the corner for 20 years before he retired. From 7:30am to 11:45am, the friendly husband and wife toast ground peanuts and make the crepe-like pancakes they serve to passerby's from their charcoal fueled griddle.
We ate the paper-thin, crisp on the outside, spongy-sweet inside pancakes. The ground peanut filling was good. A mix of the peanuts and sweet corn was even better.
At the stand next to the Keong's, we had fried radish cakes with sprouts, scallions, egg, chili cooked in lard, seasoned with dark and light soy sauce. We couldn't finish the fried radish. The "to-go" container was a piece of newsprint with a section of banana leaf underneath the radish cake. The packet was wrapped up and secured with a pink rubber band and put into a light green plastic bag.
Switching from Chinese to Indian cuisine, we stopped for a snack at
Woodlands Vegetarian Restaurant
, a South Indian vegetarian restaurant with a large menu. Without our guide, I would have ordered what I knew, a biriyani, a samosa or a vegetable masala. Those might have been great, but Ng wanted us to try a few of his favorite dishes.
The waiter arrived balancing a large oval platter with an amazing
paper dosai
, a three-foot long sheet of crispness, golden brown from the griddle and coated with ghee (clarified butter). As we tore off pieces, the dosai cracked and left the tips of our fingers shiny with ghee. I certainly could never have imagined that a batter of rice and lentils could be that tasty. Eating the dosai was like biting into a crisp cloud that evaporated in your mouth. But Ng directed us to use the dosa like a scoop, to dip into the silver cups of chutneys (coconut, tomato and lentil). So delicious.
Next we shared a football-sized puffed-up bread (
chenna batura
) that collapsed when we touched it, served with chickpea stew topped with finely chopped red onions. The waiter brought a thick pancake (
plain uthappam
) made with lentils and rice flour and a savory lentil doughnut (
medu vadai
).
We ate everything.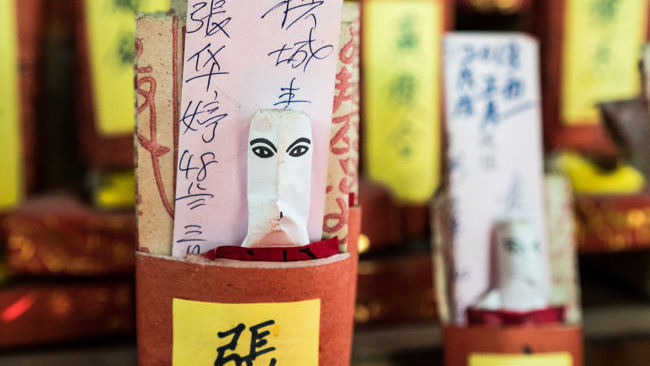 Penang's ethnic mix
Ng talked about the ways in which Malaysia was a country at the cross-roads of Malay, English, Chinese, Thai, Indian, Muslim cultures and cuisines. Food and history collided together in Penang.
One detail was particularly telling. In pursuit of Chinese goods, English trading companies introduced opium to China, causing an epidemic of addiction. To protect its sovereignty and its citizens, in the 19
th
century the Qing Dynasty fought and lost two wars with the English and French (the First and Second Opium Wars). To escape the violence caused by the English opium trade, Chinese sailors and merchants in large numbers immigrated to Malaysia.
The Chinese community established deep roots in Penang and Singapore. When a Chinese man and a Malay woman married, the resulting off-spring were called
Peranakan
, with distinctive clothing, customs and cuisine.
We stopped at the
Goddess of Mercy Temple
(
Kuan Yin Teng
or
Kong Hock Keong
), a Chinese temple, built in 1801. Ng showed us how we could tell our fortunes by throwing ceremonial sticks and making an offering. Outside the temple, vendors sold giant joss sticks and colorful, fragrant flowers used as offerings for ancestors.
From the temple we walked south to see the half dozen wooden
clan jetties
that extended into the water. Used by Chinese clans to conduct trade, some legal, some not, the makeshift wooden docks led out to small shops and houses. We arrived after dark so our walk to the end of the Tan Jetty was accomplished with the aid of flashlights to avoid stumbling into the muddy water below.
At the end of our long day, we were rewarded with a meal at the outdoor
Chew Jetty Hawker Centre
.
We found a table in the middle of the crowded dining area as traffic raced by on very busy
Pengkalan Weld
. Underneath a corrugated metal roof, neon fixtures lit up the concrete space as cooks worked frenetically to keep up with the demands of people hungry and in a hurry. Overhead fans pushed air across the twenty-five tables that stretched from the street into the parking lot in back.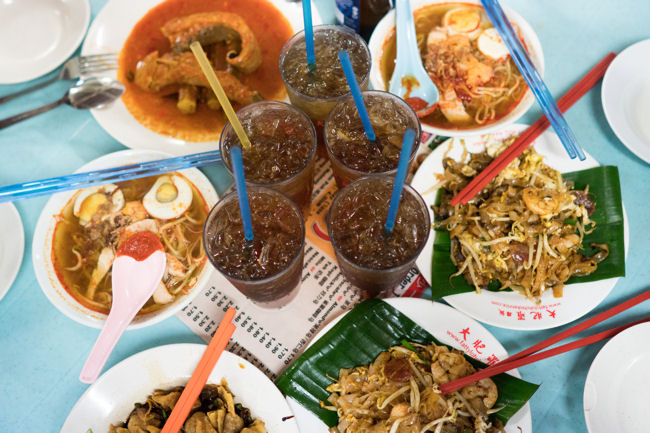 We walked around to see what the cooks were making. Each of us picked out a dish that looked good and returned to the table with hands full. Beers were ordered. Plates and silverware were passed around. And the feast began.
We had
Tiger Beers
from Singapore and iced nutmeg drinks with bowls of spicy prawn and noodle soup. We shared a plate of fried won tons with soy sauce, sautéed sting ray and, my favorite, char koay teow, flat rice noodles with thin chorizo disks, chicken, shrimp and scrambled egg, very similar to Mee Goreng.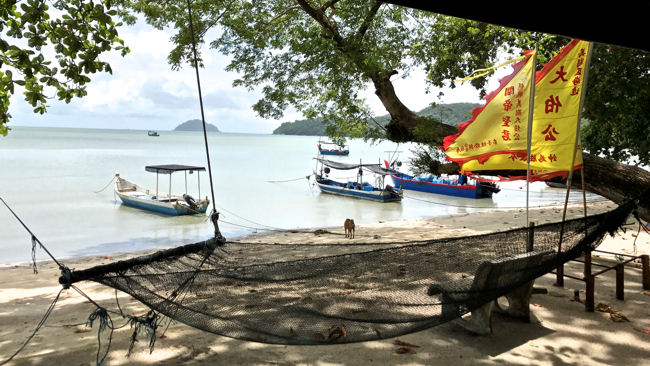 A trip to the countryside and the beach
For our Bold Food tour, Fulton wanted us to experience Penang Island's countryside as well as the city. That meant a visit to
Peng Siew
's farm in
Balik Pulau
, a small town on the southwest corner of the island. Siew grew bananas, jackfruit, nutmeg, star fruit, pineapples and durian. To make ends meet he also raised chickens and sold eggs.
On a sunny morning, as we walked up a hard baked dirt path through Siew's orchard, Ng advised us to watch out for snakes who enjoyed the trees' cool shade. He pointed out a four-foot snake wrapped around a tree trunk. If he hadn't shown us, we would never have seen its well-camouflaged shape. He also advised us never to walk underneath a jackfruit tree. The pointy-fruit can weigh as much as eighty pounds. When they are ripe, they drop from the tree and can injure or kill anyone unlucky enough to be lingering below.
After leaving the farm, we stopped at
Kim Laksa
, an open-air, roadside café to have
laksa
, one of Malaysia's national dishes.
Different regions make laksa with different stocks (usually fish or chicken or a mix of both), noodles (rice or wheat noodles, fat or thin) and spices (tamarind, curry and/or coconut cream). At Kim Laksa, the laksa was made with fish stock (mackerel or sardine), seasoned with tamarind, lemongrass, Laksa leaf, pineapple for sweetness, chilies for heat and tamarind. Just before serving, fat rice noodles were added and topped with a crumble of spicy, charred ginger flowers and chopped lettuce which wilted the second it touched the hot soup.
We tried laksa with and without coconut cream. Personally, I preferred the soup with because coconut cream balanced the raw taste of the fish stock and mellowed the heat from the chilies. We ordered tall glasses of freshly squeezed carrot juice with sweetened condensed milk chilled with crushed ice and a limeade with sour plum (ume) which added saltiness to the sweet iced drink.
On the drive back to Penang, the sunny day turned overcast and then the rains began. Our driver, Mr. Ong, suggested we stop at a café he had recently discovered on the beach.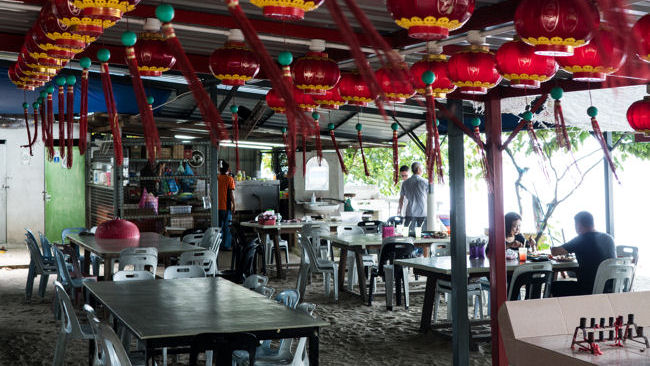 A fishing village and a café on the beach
We hopped out of the van and took cover under the corrugated aluminum roof as the rain came down in a heavy downpour. We had arrived at
Gertak Sanggul Seafood
on a stretch of beach outside the fishing village of Gertak Sanggul.
Covered against the rain, the café was otherwise open with a view of the beach and the Malaccan Straits. There were no walls. No windows. No floors. The kitchen, dishwashing area and the dining area with its long metal dining tables and plastic chairs were all on the sand.
We found seats at one of the long tables a dozen yards from the beach. The overhead fans turned briskly. The wind blew the tassels hanging from the fifty red and gold Chinese lanterns. I wished we could have come back to eat at night, our feet in the sand with the lanterns aglow and the surf crashing in the darkness.
For our lunch, we ate what the fishermen caught that day. We followed chef-owner
Evon Chin
as she walked to a stretch of beach where three fishermen were sorting out their day's catch of shrimp and fish. Chin picked what she wanted and negotiated with the fisherman.
Back in her closet-sized, open-air kitchen, she said instead of selecting dishes from a written menu, we could choose from the fresh catch of the day and from what she had in the salt-water tanks in back.
While she cooked lunch, we gathered around the long table, talking, relaxing, enjoying ice cold bottles of Tiger Beer and watching as the clouds cleared and the sun came out.
Within a few minutes, Chin carried a mix of steamed and fried seafood to the table. Delicate deep-fried, skin-on sole filled one plate. On an oval platter, a dozen heads-on shrimp were topped with finely chopped garlic and bits of bird eye chiles. Chin went back to the kitchen and returned with a plate of stir-fried glass noodles with cabbage, Chinese chives and scrambled eggs. Filling up a large plate was a whole grouper topped with a tangle of crispy-ginger threads. A half-dozen prehistoric looking mantis prawns arrived steamed, their lobster-like meat, moist and sweet.
There were sauces to use, but Ng advised to taste the shrimp without sauce so we could enjoy their sweet and salty-from-the ocean flavors. He was definitely right about the firm flesh not needing any sauce.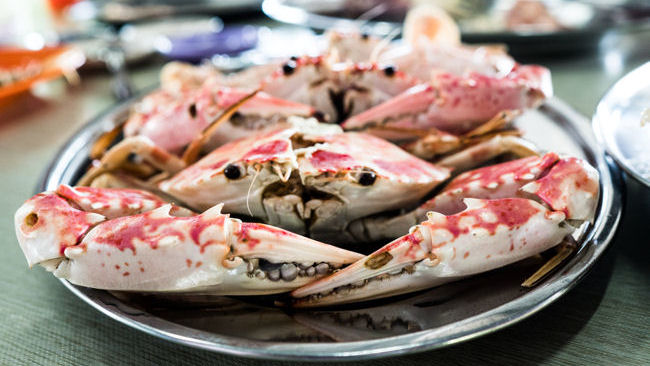 The centerpiece of the meal were pink
flower crabs
, steamed, cracked and cleaned in the kitchen. As we learned on the trip, eating crabs in Singapore and Malaysia was messy business. The only way to reach the delicate sweet meat was to get up-close-and-personal. That meant pulling off the gills and shells, cracking open the chambers inside the body and pulling apart the legs. The tender white meat was sweet and delicious.
Very quickly, shells, fish bones and fins accumulated on the table. Our fingers glistened with tasty bits and crab fat, crying out to be licked. In the end, there were only mounds of inedible shells and empty plates. Time to walk to the open air sink to rinse off and clean up.
That afternoon we switched gears.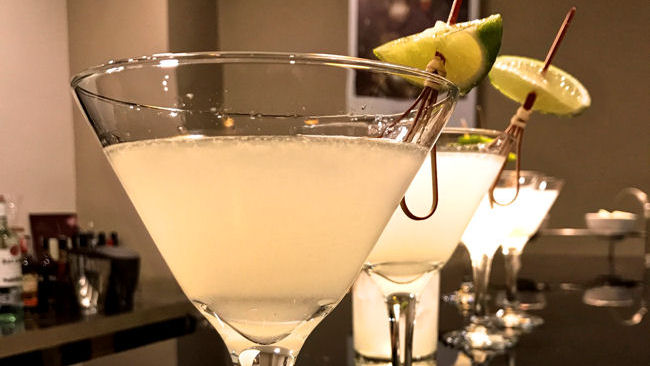 City pleasures
Fulton had planned the trip to give us a variety of experiences. She understood that we wanted to see historical Penang, but also to enjoy modern chic, modern Penang.
Which is how we found ourselves facing
Ben Ng
in a mixology class, learning how to make classic cocktails, Penang-style. The night before we had met Ben at
Mish Mash
, an upscale bar that would be at home in San Francisco, New York or Sydney.
Before we would mix a cocktail he talked us through the use of basic bar tools. A jigger, strainer, two-piece shaker and a long-handled stirring spoon. The jigger guaranteed consistency and solvency. If you did "free pours" all night, the bar would go bankrupt. Shakers were used to open up the flavor by aeration as in a James Bond martini ("shaken not stirred"). Moving the spoon up and down in a circular motion mixed all the liquids without "bruising."
We made a
daiquiri
(60ml white rum + 15ml simple-sugar syrup + 30ml freshly squeezed lime juice, shaken with ice, strained), a classic
gin martini
(keep the vermouth in the refrigerator and use a quality gin: 7ml vermouth + 60ml gin + an olive or a twist of lemon peel, shaken with ice, strained) and a
Collins
(60ml gin + 15ml simple syrup + a dash of orange bitters + 30ml freshly squeezed lemon juice or less depending on taste, shaken with ice, strained, poured into a tall glass with fresh ice + topped off with soda water).
We tasted each other's cocktails before presenting them to Ben who gave us advice about how to improve our drinks. He taught us how to "dry shake" (shaking without ice) to create a cocktail with a layer of foam on top, a technique that seemed like a magic trick. He was an excellent teacher and, needless to say, with all our cocktail sipping, we had a good time.
That evening we had an elegant meal at
Kebaya Dining Room
in Christopher Ong's
Seven Terraces Hotel
, a beautifully restored luxury boutique hotel in George Town. The heart and soul of the restaurant was the Peranakan or Nyonya culinary tradition, combining Chinese and Malay techniques and ingredients.
Chef Zack Choong
added French technique into the mix. In his interpretation of the classic Malay dish, Otak Otak, instead of wrapping the red snapper and spices in banana leaf, he used puff pastry. The flaky dough added texture to the turmeric-coconut cream fish. Choong showed the restaurant's range with a chicken cooked with sautéed onions, mahogany-dark tamarind beef, fat prawns in curry, braised duck with plum and beans with lemon grass, pomegranate and sambal.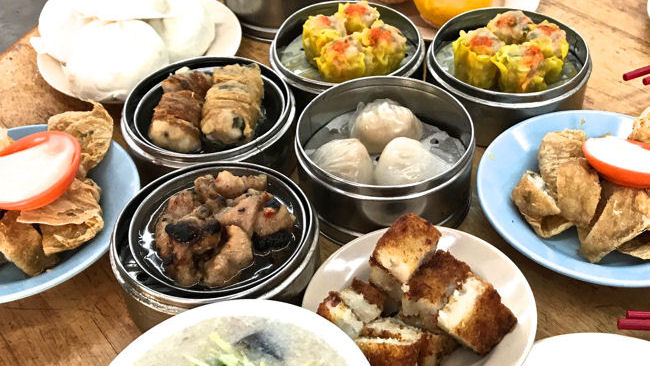 In the morning, we met at
Tai Tong Restaurant
for dim sum. None of the signs or menus were in English, but that didn't matter. Friendly waitresses in dark blue and red uniforms pushed dim sum carts around the restaurant. When the cart arrived at our table, we relied on point-and-order.
The servers were always smiling even though they had to navigate the narrow space between tables with people walking by and chairs in the right-of-way as they pushed their heavy hot-table carts.
The restaurant was filled with families with young children, groups of friends, men and women taking a break from their offices, fathers with adult children and teenagers sharing a morning snack. The open-air room was energized by animated conversations and people using their smart phones to take selfies and photographs of their food.
Since we were a group of six, we ordered a good sampling of dim sum.
Bao with pork, custard buns, har gow, shu mai, minced pork mixed with minced seafood in wonton wrappers served either steamed or deep fried, rice congee with ginger chips and scallions, crispy radish cakes cut into squares, egg custard buns and tiny pork ribs with whole fermented black beans. The ribs were so fall-off-the-bone good, we ordered two more plates.
Fortified with delicious Chinese food, we climbed into the van and drove across Penang Bridge to reach the mainland.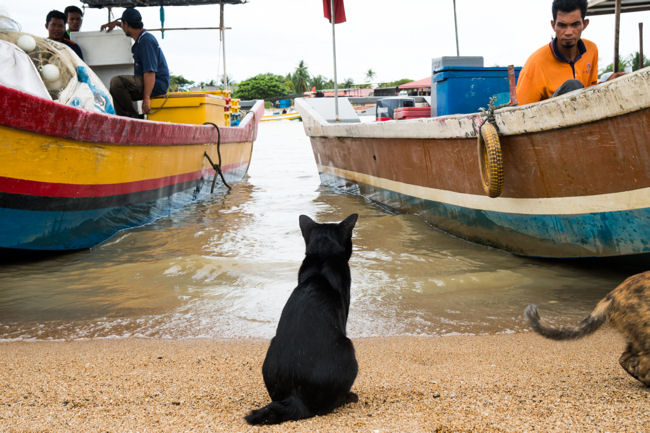 The Whispering Village
We drove an hour from Penang to
Kuala Muda
("kuala" means mouth of the river and "muda" means "young") to reach the Whispering Village at the entrance to
Sungai Muda
("River Muda").
A dozen wooden boats were anchored at the shoreline. Buyers waited underneath a covered area for the fishermen to show what they had for sale. Husbands, wives and their little children came to bargain with the fishermen, competing with restaurant owners and commercial buyers who were there to supply restaurants and small fish markets.
Feral cats watched the fisherman arrive and gathered with the buyers checking out the grouper, pomfret, catfish, sole, eel, Indian mackerel, squid, shrimp of all sizes, sea bass and crabs. One particular white and yellow cat was particularly adept at snatching fish out of the baskets without anyone noticing.
Ng looked at what the fishermen had to offer. If he liked what he saw, he leaned close to the fisherman and whispered in his ear what he would pay. He didn't want the other buyers to know what he was offering. He photographed what he bought and emailed the chef so he could work on his menu. Dinner that night was what Ng bought at the Whispering Village.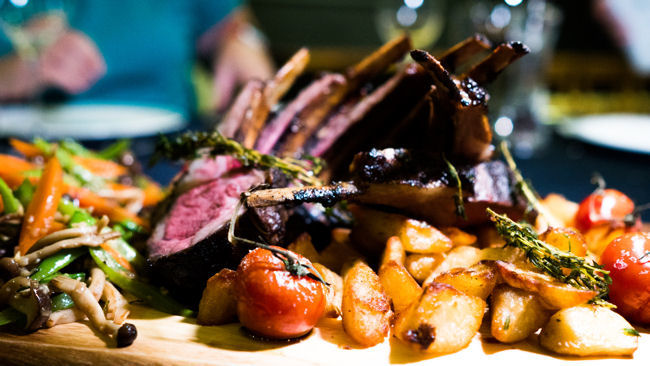 A fine dining dinner with a private chef
Our dinner was prepared by
Chef "Spider" Kong Xuan
. He made us a fishing village-to-table meal, with lamb added because he makes excellent lamb.
We had a wine paired meal with French and German wines. From the morning's adventure, Spider served the shrimp grilled and tossed in a field greens and edible flower salad. He had filleted the pomfret and hidden a morsel at the bottom of an elegant Japanese style egg custard (
chawanmushi
), flavored with spicy Indian pennyworth and salty fish roe. Resting on top of the custard was a delicate clear fish broth made with the pomfret bones. The layered flavors were complimented by as many textures, hot, firm, fragrant, crunchy and creamy.
He served the crabs in a lighter version of the chili crabs we had eaten at Singapore's
Jumbo Seafood
. Instead of using catsup, a traditional ingredient in the Singaporean version, Spider simmered tomatoes with Chinese black beans and added shallots, garlic, ginger, spring onions, coriander, fresh red chilies, lime juice, palm sugar and chili sauce.
Plated in a rectangle white casserole, the crab shells were bright red and coated with a caramel colored sauce.
We looked at the chili crabs and hesitated. The dish was delicious but no bibs or stacks of napkins can protect against the carnage about to overwhelm the table. Sauce will be smeared on fingers. Cuts were risked as the segmented body was snapped open so the tender meat could be freed from its casements.
After a moment of hesitation, we dove in. The sauce was a rhapsody of sweetness, tamarind sourness and a lips-tingling chili heat that stimulated more eating. By the end, all that remained were sticky fingers, tingling lips and a plate piled high with shells.
Everything Ng had bought at the Whispering Market was delicious. But the last dish came not from the ocean but from the land.
Spider served his signature dish, a rack of lamb with tamarind sauce, oven roasted garlic cloves, rosemary sprigs with potatoes and cherry tomatoes, sautéed carrots, Japanese shimeji mushrooms and string beans. The sour of the tamarind worked with the funky lamb which was tender and contrasted beautifully with the crispy potato triangles and string beans. The Cotes du Rhone, E. Guigal (2013) worked perfectly with the mix of rich, earthly flavors.
Saying goodbye
Having spent four days exploring the city and island with a trip to the mainland, we knew one thing for certain. There was so much more to do and see in Penang.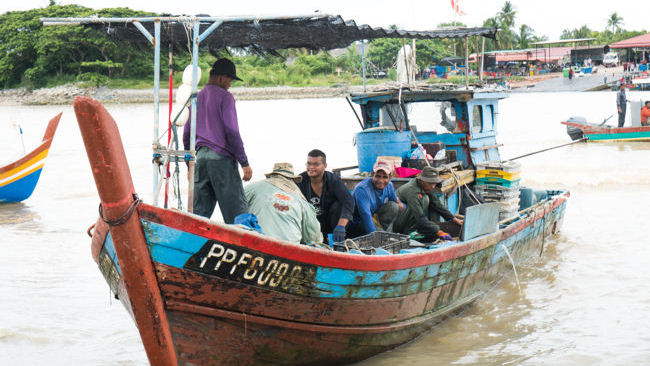 And yet, it was time to go home.
For our last meal together, Fulton and Ng had chosen
Restoran Nasi Padang Minang
. Unlike our last meal in Singapore at the Michelin starred
Restaurant André
, Restoran Nasi was an open-air, working class café on a busy street corner in George Town.
Set up like a Malay-smorgasbord, 50 or so prepared dishes were laid out on double-decker shelving.
"Nasi" means rice, so after you picked up a large plate with a mound of steamed white rice in the middle, you snaked around the corner of the room where the self-serve dishes were laid out on the counters. Here was the most wonderful cafeteria in the world with fried and curried fish, curry chicken and beef rending in thick and delicious sauces and a variety of vegetables that defied description.
I took helpings from a dozen serving plates including high-in-zinc mani leaf cooked in coconut cream, the Malay way. There were pickled vegetables and plates with mounds of vegetables, some familiar looking like carrots and cabbage and others unfamiliar like the banana flower that looked like a large bamboo shoot. There were bundles of fresh greens, including the peppery ulam raja which tasted like a delicate version of arugula. Once again, Ng told us how to eat the leaves. He showed us to drag the ulam raja through the sambal, using a thumb to scoop up a bit of white rice to create a mix of flavors and textures.
The sauces were a big attraction. Especially the spicy sambal, that beautiful Malay pepper condiment that has a dozen different recipes. Restoran Nasi made sambal with chunks of peppers rather than peppers pounded into a paste.
All the dishes were prepared ahead except one. Cooked to order, the 8" long hard-tail mackerel was deep fried. Making the dish exceptionally delicious were the onions served two ways. Before cooking, the fish was stuffed with raw onions and sambal so the spicy-sweetness would permeate the moist flesh as the fish cooked. Removed from the hot oil, the too-hot-to-touch fish was covered in charred onions, so crisp they evaporated when eaten, leaving behind a lovely sweet char that lingered on the lips.
Because the skin was scalded in the hot oil, we were instructed to peel it off. Then Ng showed us how to scrape the meat off the bones and use the spoon to scoop out a good helping of the onion-sambal filling. And, one more step, he told us, just before taking a bite, we sprinkled on half a dozen strands of carbonized onions. The combination was pure heaven. Sweet, spicy, moist, crisp and absolutely yummy. A bite of clean tasting white rice completed the intensity of the other flavors, making me hungry for more.
And more there was in abundance because as I rounded the corner, I added to my plate, surrounding the rice with chicken braised and cooked in different kinds of curries. Some were deeply colored, others lightened by the mellowing touch of coconut milk.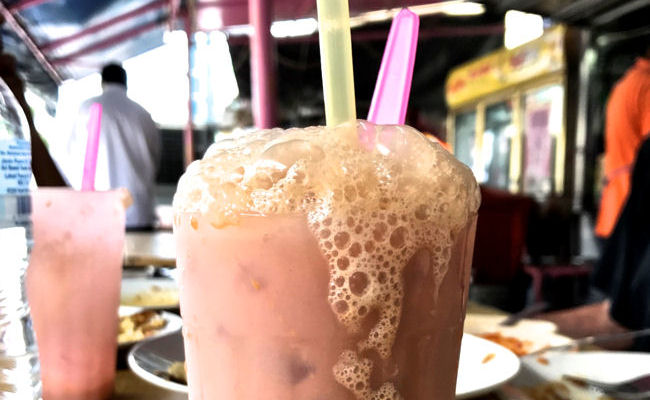 For drinks there were iced fruit juices and hot and cold teas. I had an ice cold glass of honey lemonade which had a good amount of sweetness that helped deal with the afternoon heat and the sambal's lip-numbing spiciness.
Ng pointed out that the restaurant perfectly symbolized the best of Malaysia. A Chinese family owned the property and they leased it to a Muslim family. This collaboration has been going on for three generations. All the racial groups eat here, Malay, Chinese and Muslim. Given the potential for ethnic divisiveness, Restoran Nasi had achieved a peaceful balance.
We had several hours before we needed to be at
Penang International Airport
so we lingered at the table talking. Even though we had only met a week ago, we felt like old friends. We talked about the meals we liked the best and the parts of the tour we thought were the most interesting. We thanked Mark Ng for being our guide and showing us "his" Penang. And, we thanked Muffie Fulton for putting in the effort to create such a well-thought out tour. In a short time we had seen so much, enjoyed so many meals and come to appreciate Singapore and Penang the way the locals do.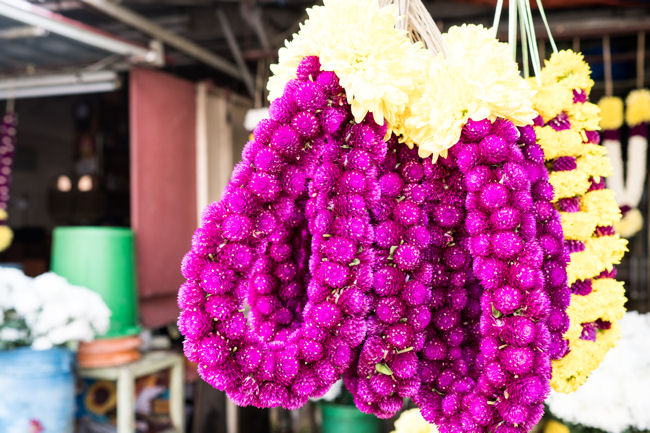 When you go
Tips for going on guided walking tours of the city:
Wear sensible shoes. In a rainy climate, carry a collapsible umbrella or a light weight parka. Wear sunblock. Pack aspirin or Advil and band aids. Bring tissues and napkins because restaurants usually do not have napkins and disposable plastic utensils to eat hawker food. Have water to keep hydrated and extra batteries and memory cards for your camera.
Penang
(the city and the state) and
Pulau Penang
(the island)
Mark Ng,
Guide,
Simply Enak: the Truly Malaysian Food Experience,
info@simplyenak.com
, booking@simplyenak, +60 17-287 8929,
www.simplyenak.com
, Instgram: simply.enak. "Enak" means "delicious"
Ali Capati Corner (Vanapatan)
, Taman Abidin, 10150 George Town, Penang, Malaysia. The outdoor café opens at 3:00pm and serves Muslim dishes including roti jala and curries.
Chew Jetty Hawker Centre,
‪49-F Pengkalan Weld, George Town, Penang, Malaysia. Multiple stalls sell food and beverages in an outdoor, covered dining area on the side of a busy roadway.
Eastern and Oriental Hotel,
10 Lebuh Farquhar, George Town, 10200 George Town, Penang, Malaysia, +60 4-222 2000
,
http://www.eohotels.com/main.php
. A landmark in the city built in 1885 by the Sarkies brothers who also built
Raffles,
Singapore's landmark hotel. The two wings of the hotel offer different experiences. The Heritage wing embraces the historical décor of the hotel, with modern bathrooms and hi-tech features. The Victory Annex is thoroughly modern and upscale. The complimentary buffet breakfast is served in the Victory Annex with indoor and patio dining with a view of the harbor.
Edelweiss Kafé
, 38 Armenian Street, 10200 Georgetown, Penang, Malaysia, +60 4-261 8935,
www.edelweisscafe.com
. Run by a husband and wife, the café and bar is cozy and well-appointed.
Gertak Sanggul Seafood
, Gertak Sanggul, 11900 Bayan Lepas, Penang Island, Malaysia, +60 16-433 0077. Chef Evon Chin serves freshly caught seafood at her beach-side restaurant.
Hameediyah Restaurant
, 184 Campbell Street, George Town, 10200 George Town, Penang, Malaysia, +60 4-261 1095 Order on the ground-level for dine-in or take-away. The dining room on the second floor is light and airy.
Kebaya Dining Room
, Seven Terraces Hotel, 14A Stewart Lane, 10200 George Town, Penang, Malaysia, +011 140 333 10 / +604-264 2333 / + 604-2612862,
http://kebaya.com.my
. The fourteen room luxury boutique hotel, the Seven Terraces, offers comfortable accommodations with a pool and antique Anglo-Chinese furnishings in a modern setting. For details and reservations see
https://www.georgetownheritage.com/seven-terraces-hotel/
Kim Laksa
, 67 Main Road, Balik Pulau, Penang Island, Malaysia, +60 17-446 4959
Ko Cha Bi Pan Cake
, 10450 Lebuh Kimberley, George Town, Penang
, Malaysia,
near the corner of Kimberley and Jalan Sungai Ujong. A husband and wife food cart, Mr. and Mrs. Keong have been making Chinese pancakes on their bicycle wheel-cart for eighteen years.
Kuala Muda Whispering Fish Auction
, Kuala Muda, Malaysia. There are two markets with the same name across the Muda River from one another. One in the state of Penang, the other in the state of Kedah. We visited the one in Penang.
Mish Mash
, 24 Jalan Muntri, George Town 10200, Penang, Malaysia, +60 17-536 5128. An upscale bar with knowledgeable mixologists like Ben Ng.
Restoran Nasi Padang Minang
, 92 Jalan Transfer, Georgetown 10050, Penang, Malaysia. On the ground floor of the International Hotel. Serves South-Indian and Malay halal dishes, meat, fish, chicken and vegetables in curries, pickles and sauces to be eaten with steamed rice. Eat in or take-away. At the end of the meal, the waiter tallies up what you owe based on what you ate.
Restoran Sejahtera Muhibah
, adjacent to the corner of Queen and Market Streets, Penang, Malaysia. Breakfast roti and tea from 6:30am to 11:00am, then rice and curry until 2:00pm.
"Spider" Kong Xuan
, chef,
Soulfood Enterprise
,
chef.at.soulfood@gmail.com
, +60 16-408-5841. Private dinners and special events.
Tai Tong Restaurant
, 45 Lebuh Cintra, 10100 George Town, Penang, Malaysia, +60 4-263 6625. Dim sum served from 6:00am-noon. From noon-11:00pm the menu switches to Chinese dishes and noodles
Woodlands Vegetarian Restaurant,
60 Penang Street, 10200 George Town, Penang, Malaysia, +60 4-263 9764