Besides sophisticated restaurants, the city also offers wonderful opportunities for casual dining from espressos at sidewalk cafés in North Beach to the pork sandwiches at
Roli Roti Gourmet Rotisserie
at the Saturday
Ferry Plaza Farmers Market
. Recently I was invited on a culinary tour of the city. I could hardly wait.
A walking tour of the Mission District
I was about to step out onto Mission at 18
th
Street when
Lisa Rogovin
gestured that I should stay on the sidewalk. Sure enough, a bicyclist whizzed by, followed by a line of cars and a Muni bus. Only a minute ago she had told me how busy the Mission had become. The neighborhood had changed and was still changing. As we walked on 18
th
Street, Rogovin pointed out a three story building that had been constructed in the 1930s. A solid, stucco building with small windows faced a recently constructed building, six stories tall with floor-to-ceiling windows. A sign outside announced that the condos inside were available for viewing.
For years, the Mission was a neighborhood shaped by Latino communities and artists, but now, like most of San Francisco, the area was being transformed by an influx of people with more resources who wanted upscale bakeries, coffee shops, markets and restaurants. That made the neighborhood more desirable but also pushed up rents.
I knew about some of those changes, but Rogovin created
edible excursions
to provide walking tours so visitors can have an in-person, insider's view of the city.
One of several culinary tour companies in the Bay Area,
edible excursions
offers group tours or private tours with an individualized itinerary. The tour guides are food writers, restauranteurs, cooks and food activists who know the area well.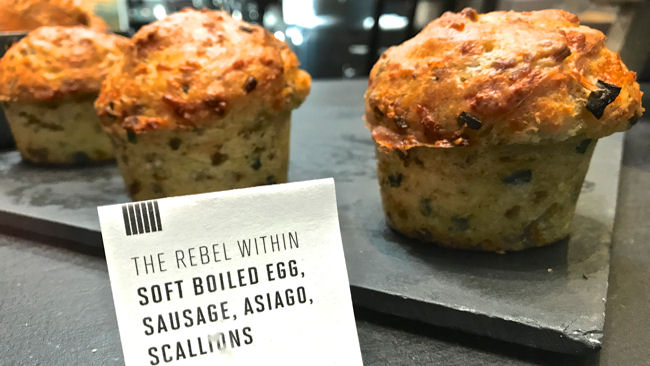 Bakeries
On a sunny day, we explored the area around 18
th
, Valencia and Mission Streets. We stopped at
Craftsman and Wolves
, chef William Werner's upscale bakery on Valencia Street. The bakery was reflective of a trend in many parts of the country. Like David Kinch at
Manresa
in Los Gatos where I visited later in the week, Werner was a classically trained chef who applied his skills to create innovative baked goods.
The Valencia street bakery has an open, airy feeling with skylights, a sleek display counter and wooden tables. In addition to baked goods, the café also served coffees, teas, sodas, fresh squeezed juices, wine and beer to accompany breakfast plates and lunch items.
I had come in the morning to sample Chef Werner's delicate sugary muffins, financiers and morning buns. Werner's stated intention has been to bring to baked goods the same complexity of ingredients, textures and flavors that are commonplace in the Michelin-starred world.
I couldn't resist one especially well-made muffin called the
Rebel Within
. Proudly tall with a caramel-brown, perfectly rounded top, I sliced it open to discover a perfectly cooked, soft boiled egg, the yolk a bright yellow. To spice up the muffin, Werner had added bits of sautéed Boccalone Eastern Breakfast pork sausage, asiago cheese and scallions. Served on the side were two flavor enhancements, tart pickled purple carrots and spicy tabasco-flake salt. The flavors of egg, sausage and cheese echoed breakfasts enjoyed at countless down-home, country diners, but the execution was decidedly upscale.
Another of the Mission's must-visit bakeries was nearby. Unlike Craftsman and Wolves' sleek, modern décor,
Tartine Bakery & Café
felt like a French country café with wooden tables and an L-shaped display case. Don't be put off by the long line that can snake out the door. The service was efficient and as I waited, the line took me past the display case with baked goods and savory dishes. I watched as fresh-from-the-oven breads, cakes and croissants were placed on display so I didn't mind the wait.
The only problem I had was deciding what I wanted. Everything looked so delicious. There was a great selection of sweet and savory items. Cookies, cakes, tarts, croissants, quiche, sandwiches, dessert breads and breads. I bought a buttermilk scone to have later.
After a quick stop to pick up a coffee at the beverage bar which also served specialty teas, beer and wine, we were back on the tour.
We walked on 18
th
where Rogovin pointed out that the Mission had become one of San Francisco's most popular destinations with a cool, hip vibe. Outdoor cafes were filled. Colorful murals decorated walls facing the street and inside patio dining areas. According to Rogovin, there was more street art in the Mission than in most cities.
Tacos and BurgersTacolicious
had murals on the wall of its outdoor patio painted by local celebrity artist Paul Madonna. The windows on the patio side of the restaurant and the windows facing tree-lined Valencia gave the interior an open, airy feeling.
Seated at a high-top table facing the open kitchen, we sampled plates of pork tacos and albacore tuna tostadas. We had a tasting of the house-made pickled onions and salsas with a mix of chiles, habanero, chipotle, tomatillos with avocado and a tomato-mint blend with jalapeno. Everything tasted fresh with a good balance of flavor and heat. Recently the menu was revamped to include more vegetarian, vegan and gluten free dishes. I was tempted to order the habanero margarita, a local favorite, but it was early in the day and we had a lot of walking still to do. I happily enjoyed the agua fresca of the day, a tall glass of freshly squeezed watermelon juice.
Around the corner from Tacolicious, we walked into
WesBurger 'N' More
on Mission. The interior has a playful appreciation of the 1960s as does the menu which answers an unasked question with "Because burgers are fun."
WesBurger and
the Den
, a 100 square foot-tiny bar next door, felt like they sprang entirely from a singular imagination. In this case, that would be
Wes Rowe
who also loves throw-back music, which is curated in the push-button jukebox by
Rooky Ricardo's Records
. You will definitely want to find some vintage songs to play while you enjoy your burger, tater tots and freshly made ice cold milk shake.
I was tempted by the All-American, a classic cheeseburger, but Wes happened to be there and he pointed me toward the Burger of the Week. The
Greasy Caprese
was an Italian riff on the cheeseburger that used smoked provolone instead of cheddar and a reduced balsamic-basil-Calabrian chili aioli instead of 1000 Island dressing. Of course, he told me, I would want to add two pieces of crisp bacon. The burger was big, juicy and delicious.
Wes also suggested the tomato Frito salad, which sounded like an odd mash-up of junk food Fritos and organic, vine-ripened tomatoes. I was happily surprised. The Fritos added a better-than-crouton-crunch to the sweet off-the-vine tomatoes. To round out the excessively-huge caloric intake, Wes ordered the horchata milk shake for me to try. He was right again. Delicious.
For my walking tour of the Mission, all that remained was to have something sweet.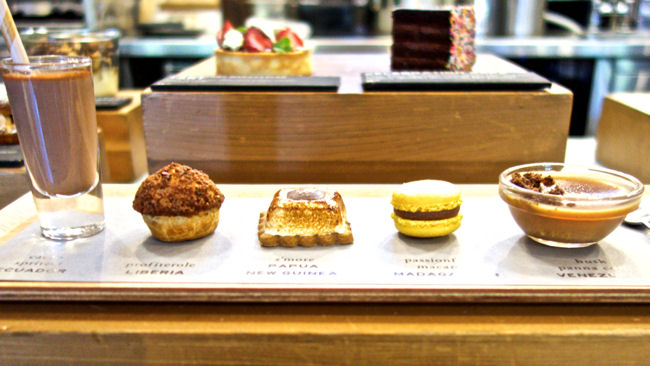 Dessert
At
Dandelion Chocolate
, the bags of cocoa or cacao beans arrived marked with their country of origin. Each bean was hand-inspected to guarantee quality and processed in the open work area behind the retail sales area so customers could watch how the chocolate moved from bean-to-table.
Those chocolates assumed many forms. Besides a dozen cookies, tarts, brownies, yogurt, mini-cakes and custards made with a variety of chocolates, there were single-origin chocolate bars to choose from and a menu of hot and cold chocolate drinks, including frozen hot chocolate, Nibby Horchata, the cacao fruit smoothie, espresso coffee, iced chocolate chai and drinks made with a mix of chocolate and Four Barrel Coffee. Close to the front door, a sitting area with long tables and benches was for people who wanted to enjoy their artfully plated chocolate treats right away.
A six minute walk from Dandelion,
Bi-Rite Creamery
and bakery is on 18
th
Street between Dolores and Oakwood Streets. An off-shoot of the neighborhood favorite
Bi-Rite Market
, the Creamery is a tiny space with a big menu of house-made ice creams using
Strauss Family Creamery
organic milk products and eggs.
The flavors range from the familiar (strawberry, vanilla, salted caramel) to the adventurous (olive oil, black sesame with local honey). I sat on the fire hydrant out front listening to the voices of children playing at the nearby school as I enjoyed my cup of
ricanelas
, a Mexican version of snickerdoodle cookies broken into pieces, mixed into vanilla ice cream and spiced up with cinnamon. The colorful mural on the wall said it all, "
Scoop. Smile. Celebrate. Happiness Since 2006
."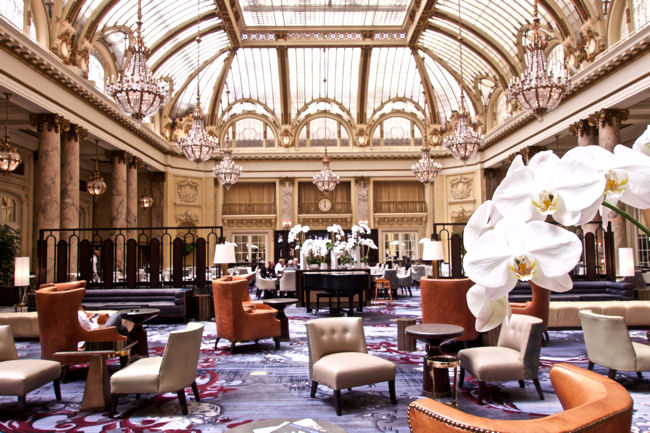 Elegance and Belle Epoch Charm
My next stop was the quiet elegance of the
Palace Hotel
. Located in the busy downtown district within easy walking distance of
Union Square
for premium shopping, the hotel offers creature comforts and attentive service.
If you wondered what it would be like to time travel to the Golden Age of late nineteenth century hotels, you will want to stay at the
Palace Hotel
or at the very least, enjoy a leisurely lunch in the
Garden Court
with its delicate chandeliers and a soaring glass paneled atrium-ceiling that floods the room with light even on the most overcast days.
When the 1906 earthquake destroyed most of the city, because of its sturdy construction, the Palace survived. Only when the fire raged in the neighborhood and there was no water to fight the flames was the hotel overwhelmed. Rebuilt in three years, the hotel was reopened in 1909. Today the hotel features 556 rooms in an on-going renovation that conserves the architectural treasures of the 1909 building and adds up-to-date modern styling and technology.
Besides staying at the Palace and enjoying one of their comfortable rooms, the hotel can also be enjoyed by having a meal and a drink in one of the many restaurants and bars that serve hotel guests and are open to the public.
The Garden Court restaurant served a farm-to-table menu focused on local ingredients. For lunch I ordered the crab salad with Green Goddess dressing, created in 1923 by chef Philip Roemer to celebrate a play of the same name. The dressing has received an updating making it light and tangy. The dressing worked well with the delicate, sweet Dungeness crab, English cucumber, field greens and cherry tomatoes.
The kitchen will accommodate most requests for vegan, gluten free and sugar free dishes. The menu offered a good selection of healthy spa dishes including Mary's chicken breast with berbere spices, brown butter couscous and horseradish mint yogurt, which I also tasted.
While I was staying in the hotel, I made it a priority to visit the
Pied Piper
bar and lounge. Named for the
Maxfield Parrish
(1870-1966) painting that dominates the wall behind the long bar, the popular lounge was always filled when I stopped by. When you visit, you will want to have a drink at the bar, as I did, so you can study the painting at your leisure. Although it was painted in 1909, Parish would have been at home in our Kardashian-selfie social media world. He painted himself as the Pied Piper and included his wife, two sons
and
his mistress as characters in the painting. Recently restored, the large painting's vivid colors are bright and eye-catching.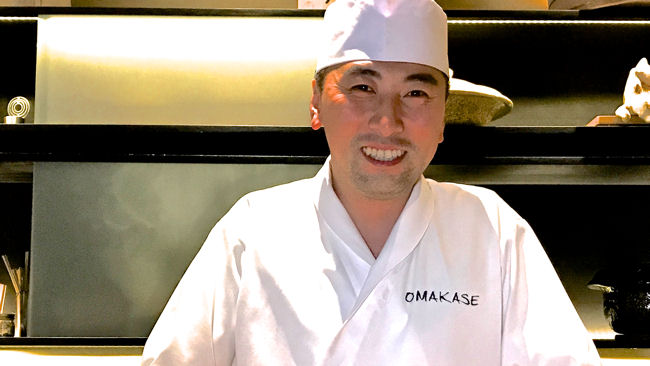 Michelin-Starred Sushi and a Sake Paired Meal at Omakase
Of the restaurants in the city with one Michelin star, only two are Japanese sushi restaurants. Located on the border of the Design District,
Omakase
is one of the two.
Because I wanted to be assured of a place at the bar facing the sushi chefs, I made the reservation months before. Given the choice of either the 5:30pm seating or the 8:15pm, I chose the earlier time. And, given the choice of the two omakase ("chef's choice"), Hideaki and Yamato, I chose Hideaki, with its smaller portions.
I dodged traffic, parked in front of the restaurant and walked into Omakase where I was greeted by a waitress wearing a kimono. Three chefs in crisp white uniforms worked behind the L-shaped sushi bar. Even though Omakase is Michelin-starred, it had the look of a friendly, casual, neighborhood sushi bar.
I took my seat at the sushi bar and realized that even though busy, noisy Townsend Street was on the other side of the plate glass window, Omakase was an oasis of quiet.
The intimate sushi bar has a total of seventeen seats. Thirteen at the L-shaped bar and four at the small tables next to the window facing the street.
Luckily I was seated directly in front of chef-owner
Jackson Yu
. Tall and friendly, chef Yu explained that all of the fish he serves was from Japan, the majority coming from Tokyo's world-famous
Tsukiji Fish Market
.
Each course or small plate would be paired with a sake selected by Yu and his restaurant partner
Kash Feng
from their many trips to Japan. The pairings would be chosen to complement or contrast the sake with the flavor and texture of the vegetables and fish. Yu explained that I should expect to taste sakes of differing values, dry, fruity, spicy and mild. Some would be heated, others would be cold.
The dinner would take two and a half hours. We often forget that in Japan, sushi bars are designed for drinking and talking. Knowing that, I had dinner that evening with Laurie Armstrong, a senior director at the San Francisco Travel Association. While we enjoyed our meal, she shared her insider-secrets about the city.
The meal began with an amuse bouche of crunchy mountain potato (
yamaimo)
, shiso leaf and kelp cured, delicate halibut paired with Kokuryu Ryu Golden Dragon, a sake with a smooth and incisive flavor. The dish was a lovely introduction to chef Yu's playful use of contrasting textures.
After the amuse bouche, a steady stream of small plates traveled from chef Yu to our woven wooden place settings. We had a cold appetizer that featured vegetables, poached eggplant with winter melon and asparagus, topped with shredded chili pepper, in a refreshingly cold dashi broth flavored with saffron threads. The meltingly tender eggplant was contrasted by crisp, cold winter melon that had a hint of sweetness. Those clean notes were picked up by the Akitabare Suirakuten Dairinjo sake from Akita prefecture.
The Akita sake was also paired with the sashimi course with two of chef Yu's favorite fish, lovely thin slices of blue fin tuna and lightly smoked amberjack flavored with micro shisho greens, thin slices of cucumber, daikon shreds and soy sauce. Chef Yu instructed us to put the freshly grated wasabi directly on the fish before dipping in the soy sauce. The flavors were delicate, subtle and delicious.
We had steamed custard with sea urchin (
uni)
from the northern prefecture of Hokkaido paired with Black Dragon, a polished rice sake from Fukui (
Kokuryu Jungin Junmai Ginjo
) that had fruit notes with a dry finish. As a palate cleanser, we had a cucumber salad (
sunomono
) with fresh water eel, a thin slice of kumquat and toasted green onions soaked in vinegar.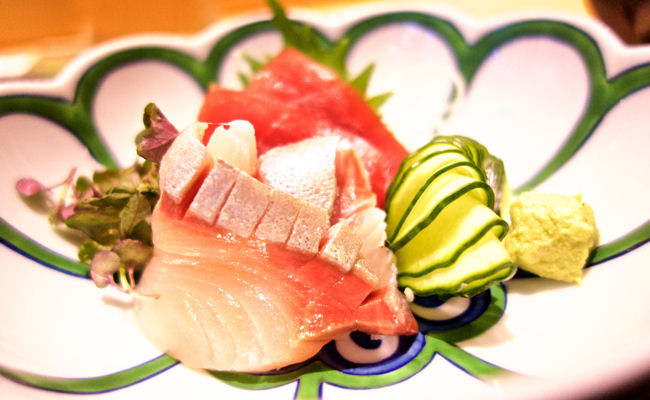 Omakase, blue fin tuna and smoked amberjack sashimi
All those were delicious, each one a total experience, and yet, they were the preliminaries. The main event was our ten pieces of sushi (
nigiri
).
To protect the freshness of the nigiri, each piece was prepared just before serving. Looking to create contrasts, each nigiri was different from all the others. Some were tender (yellow striped Jack), others had more texture (Japanese belt fish and the Arctic Char). Most were raw, some were charred (sea bream and Toro).
My favorite was the Hokkaido uni with king salmon roe on a small rectangle of cold, sticky rice. Chef Yu paired the uni-salmon roe sushi with Dewazakura Dewa San San, served in cut glassware (
Kiriko)
not in a ceramic cup. The sake had a high alcohol content, the better to cut through the fatty richness of the uni and the roe. In that one sushi there were half a dozen sensations. The salmon eggs popped. The custardy uni dissolved with a briny sweetness. The Dewazakura cut like a knife across the creaminess. The cool sticky rice grounded all the sensations.
Chef Yu told us that he also very much liked the Pacific jack mackerel which he served topped with baby chives & ginger. I agreed. The mackerel was delicious. If you have ordered local U.S. mackerel, you know the strong tasting fish can be chewy. This mackerel, fished in the cold waters off Japan, was delicate with a clean, briny finish.
More nigiri followed. A lovely charred sea eel (
anago
) sushi and another with Japanese flounder and white sturgeon caviar. Then chef Yu switched gears. We would have no more nigiri. That shift signaled that the meal was approaching the end of our journey.
We were served a soothing clam miso soup. Salty and warm, the delicate broth was comforting. Then came
tamago
, a delicate layered cold egg omelet that is traditionally served at the end of a sushi meal. Chef Yu's flan-like tamago was flavored with mountain yam and lobster. For our sweet finish, dessert was a plate of pears poached in a ginger lemon liquid, topped with paper thin slices of acidic-sweet kumquats and Valencia oranges. Again, the play of textures and flavors.
By the time the meal finished, Laurie Armstrong had shared with me her favorite destinations in the city. With the last sips of our sake, we toasted our good fortune to have enjoyed such a superior meal. We were very full and very happy. We bowed to chef Yu and thanked him for his wonderful food, delicious sake and warm hospitality. Now it was time to leave so the next group could take a culinary journey with chef Yu and his chefs.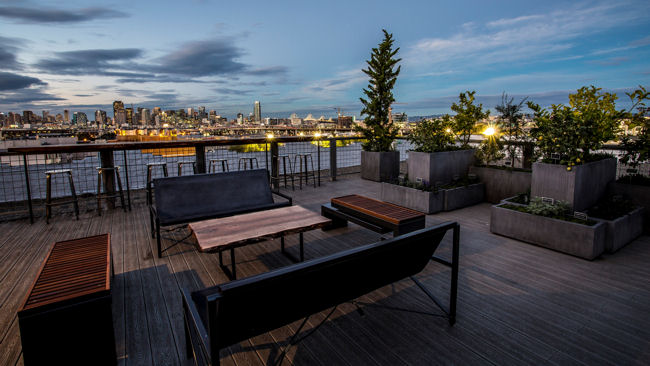 A room with a view and a tasting of premium spirits
The next day I visited the
Anchor Distilling Company
, a micro-distillery that was part of the Anchor Brewing Company until a buy-out from Sapporo in mid-2017. Tours of the brewery are available, but I was in search of Anchor's distilled spirits.
Climbing the stairs to the top of the building, I pushed through a heavy door to enter an eagle's lair. From its location half-way up Potrero Hill, the distillery's tasting room and patio have an unobstructed view of the San Francisco skyline. I joined a group at the long wooden bar. James Mauk was our guide through the tasting of "Shake. Stir. Strain. Sip."
The distillates ranged from neutral vodka to richly flavored ryes, whiskeys, a gin and a Dutch genever. Mauk poured and described the manufacturing particulars of each. Among the group, we had our favorites. Mine was the Genevieve Gin, described as "an unaged whiskey" made with equal parts malted rye, barley, wheat. The flavor was close to a fine grappa, clean and delicate.
After the presentation, I carried my glass of Old Potrero: Straight Rye Whiskey outside to the patio and settled onto a comfortable sofa with a view of the city. The sky was clear, the temperature comfortably warm. I sipped the 100% rye mash that had been aged in new handmade charred oak barrels for 4½ to five years. Mellowed by extra time in the barrel, the rye had a lovely sweetness that made it perfect for sipping and, I suspected, as Mauk had told us, it would make a very good Old Fashioned.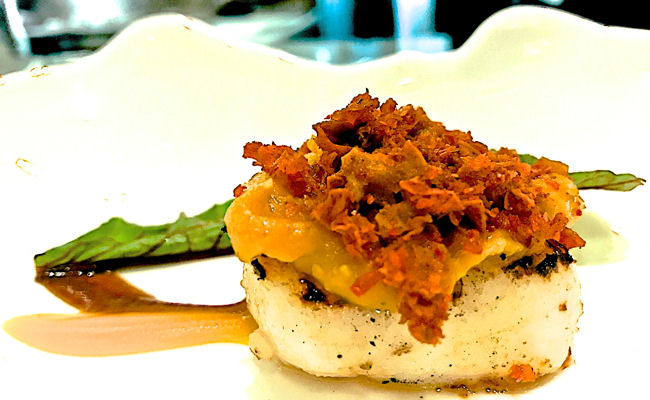 Alexander's Steakhouse grilled scallop with kabocha
A Protein Lovers Heaven
At
Alexander's Steakhouse
I was seated at the Chef's Table with a good view of the kitchen. From the high-top counter, I watched a dozen chefs in black working quietly at their stations.
Executive Chef Marc Zimmerman
walked past the chefs, reading order slips, checking the plating before each dish was escorted into the dining room.
When a large party was about to be served, a half dozen servers wearing black suits, white shirts and dark ties lined up, waiting to be handed their plates.
Close to AT&T Park, home of the San Francisco Giants, Alexander's was an elegant outpost on busy Brannan Street. Just past the small-paned tall window that fronts the restaurant, a half dozen steps led to the bar and restaurant level with a three-story wall of wines dramatically outlined behind frosted glass. The open kitchen was visible but separated from the dining banquets and tables by a glass barrier.
Brick walls, glass, wood, dark upholstered chairs and a long bar set the stage for a menu that celebrated proteins from the land and sea. Of course beef was the centerpiece of the menu. When I arrived I was presented with a menu listing the many cuts available. There was charcoal seared Japanese Wagyu as well as U.S.D.A. premium cuts. But the kitchen threw a wider net to include California king salmon, glazed duck, grilled scallops and less glamorous but delicious cuts like smoked oxtail and a beef tongue clay pot. This was a protein-lovers heaven.
To support the consumption of beautifully prepared dishes, the extensive wine list ran to 40 pages, featuring local wines and international favorites available by the glass, in a half bottle or full bottle format. The waitstaff was available to suggest pairings that satisfied any palate, whether you were inclined to new world or old world whites and reds. The spirits and cocktails menu was almost as extensive, running to 18 pages, covering mixed cocktails, beer, whiskey, gin, vodka, rum, agave, brandy, aperitifs and digestives.
Appreciating the audience for premium spirits, Alexander's offered a special menu of Spirit Flights, three one-ounce pours for those who want to contrast and compare. A Whiskey vs Whisky side-by-side sets up a comparison between spirits from the USA (Blanton's Alexander's Barrel 37), Japan (Hibiki Harmony) and Scotland (Glenfiddich 15 year Solera). There were other flights which compared French brandies, Mexican tequilas and Scottish whiskys.
The bar menu was especially generous in stocking Japanese whiskys and American small batch bourbons. Myself, I am a fan of rye and there were seventeen to choose from. There were also difficult-to-locate rums and Dutch genevers. Instead of a cocktail, I ordered a Bols Diep 9 Old Genever from Holland so I could compare it with the Anchor Distillery Genevieve I had tasted the day before. (Spoiler alert: they were both excellent.)
The menu brought together several cultures in pursuit of a perfect culinary balance. French, Japanese and American ingredients and techniques joined in a dance of flavors in various dishes. It was easy to see how chef Zimmerman drew on his culinary experiences working in the kitchens at Lutece, Guy Savoy, Nobu Matsuhisa and Takashi Yagihash. His mastery of the grill was evident as was his joy in creating small plates with exquisite constructions and complex flavor combinations.
Sitting at the counter with an up-close view of the kitchen allowed me to watch as a young sous chef constructed an amuse bouche small enough to be served in a doll's house. In a delicate glass bowl, a nectarine consume was poured onto four small mounds of finely chopped bits of coconut, grilled peach and geoduck sashimi, topped with crunchy sea salt flakes. Baby cilantro leaves added a peppery finish.
Zimmerman's training in Japanese kitchens was apparent everywhere in the menu. I enjoyed the richly elegant custardy duck egg chawanmushi mixed with a mousse of English pea and topped with golden char roe. Hot and creamy with the cold crisp crunch of the roe, I used the mother-of-pearl caviar spoon to dig deep into the warm pale mousse to find the tender bits of crab meat.
His delicate yellow tail (
Hamachi
) sashimi appetizer was served in a small glass with yuzu-soy sauce, avocado, radish and rice pearls on the bottom, micro cilantro, grated garlic and serrano pepper on top. The dish had a wonderful medley of flavors, temperatures and textures. A hint of heat from the serrano pepper cut across the creaminess of the Hamachi and avocado. A deliciously savory experience with surprises.
What steak house doesn't have grilled scallops on the menu? At Alexander's the grilled honey-soy sauce marinated scallop arrived with a crown of kabocha micro-chips flavored with paprika, garlic, sugar and thyme. Hidden underneath was a puree of steamed kabocha and dried Hachiya persimmon (
hoshigaki
) sauce. Spreading the kabocha puree and hoshigaki sauce dotted with a few kabocha chips on a thin slice of scallop transformed each bite into a deliciously satisfying mix of sweet, moist, tender and crisp.
After enjoying small plates, it was time for a steak. Chef Zimmerman has gone to great lengths to source the best-of-the-best. His cuts came domestically from Flannery Beef in California, Dry-Aged Greater Omaha prime and WR (Western Reserve) Black Angus. Those cuts ranged in weight from a petite six-ounce filet mignon to a Paul Bunyan-sized, forty-eight ounce porterhouse steak which I saw a table of four sharing.
Zimmerman's pride and joy were the Wagyu steaks. Twelve cuts were from Japan. Two from the U.S. and two from Australia. There were steaks from the prefectures on the main island of Honshu close to Tokyo (Gunma, Miyagi, Hyogo and Gifu Prefectures) and from prefectures on the southern island of Kyoshu (Kagoshima, Miyazaki and Kumamoto). The steak chef Zimmerman wanted me to try was his favorite from the northern most island of Hokkaido.
Chateau Uenae
raises "snow beef," so named because the cows live in a frigid climate. To protect against the cold, the meat becomes exceptionally marbled as the animals pack as much insulating fat into their bodies as possible.
Zimmerman showed me a vacuum packed raw steak that had almost equal amounts of fat and flesh. Given the difficulties it takes to raise the animals, Chateau Uenae slaughters only one or two cows a month. In the U.S. only Alexander's and five other restaurants were certified to serve snow beef. Needless to say a four ounce steak was expensive.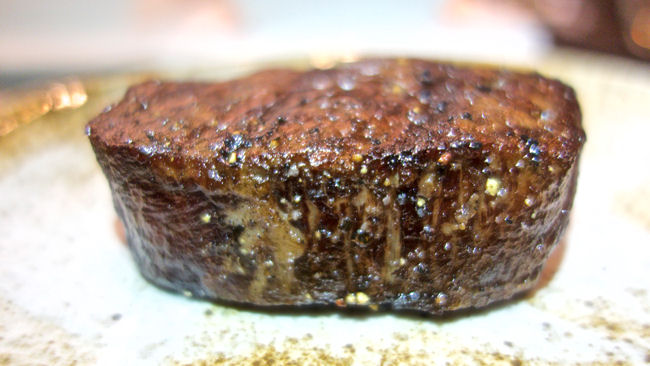 Alexander's Steakhouse, Wagyu beef from Chateau Uenae, Hokkaido, Japan
Before the steak appeared, a stainless steel plate with 12 salts was placed in front of me. I was advised to taste each and decide which I would use when the steak arrived. Some were fine grained. Others were large flakes. Some were crystal white. Others were red or dirty-grey. They came from everywhere on the planet. Himalayan Pink (Nepal), Deep Ocean (Japan), Appalachian Sea (USA), Appelwood Smoked (USA), Black Cyprus (Cyprus), California Sea (USA) Sel Gris (France), Alaea Hawaiian Red (USA).
The differences were noticeable. The larger grained salts added crunch. Some of the salts were clean tasting. Others had a musky flavor. Some, curiously, were saltier than others. One, the black volcanic, Indian kala namak had a harsh after taste. My favorite was the Australian Murray River salt with a spicy finish.
For sides, I ordered Brentwood Corn and Blue Lake Beans. The corn was grilled and mixed with smoked marrow and seasoned with shichimi and furikake, Japanese spices that added a pleasant amount of heat. The green beans were flavored with Chinese XO sauce, charred lemon miso and crispy shallots. Both sides were delicious.
The Chateau Uenae steak arrived on an exquisitely glazed plate. The glossy sheen on the outside of the filet was evidence of masterful work at the grill station. I sliced off a small piece and sprinkled on a dusting of Murray River salt. Before I took a bite, I noticed something unexpected. Given the look of the vacuum-packed raw filet chef had shown me, I expected to see ribbons of fat coursing through the meat. But there was no evidence of the fat.
A combination of the searingly hot grill and the delicate nature of the fat in these animals causes the fat to entirely melt away, enhancing the flavor throughout the steak and making the meat exceptionally tender.
After such a full and satisfying meal, I could not order dessert. But that didn't end the meal. Call it an amuse-bouche dessert, the kitchen sent out a single caramel and chocolate square the size of a stick of gum and a large bowl topped with a bouffant of pink cotton candy.
A deliciously inventive way to end such a sublime meal.
I had more restaurants I wanted to try. Unfortunately I ran out of time. There was the new iteration of
Tosca Café
in North Beach,
b. patisserie
to have a caramelized Kouign-amann and the
de Young Café
to enjoy a delicious snack sitting outside on the sculpture garden patio after a leisurely walk around the museum. San Francisco had so much to offer, there will always be reasons to return.
After my all-too-brief visit to the City by the Bay, I can say with assurance, you may leave your heart in San Francisco, but you won't leave hungry.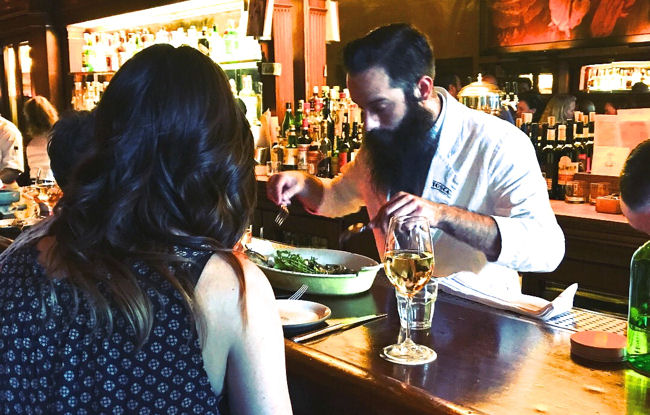 Tosca Café interior
When you go:
Alexander's Steakhouse San Francisco, 448 Brannan Street
, San Francisco, CA 94107, 415/495-1111,
https://www.alexanderssteakhouse.com/sanfrancisco/
. Reservations for the Chef's Table Experience can be made for up to six.
Anchor Distilling Tasting Room, 1705 Mariposa Street, San Francisco, CA 94107. For details about times for the tastings and cost and to make reservations, go online to
http://www.anchordistilling.com/tastingroom
.
Bi-Rite Creamery, multiple locations including in the Mission at 3692 18
th
Street, San Francisco, CA 94110, 415/626-5600,
http://biritecreamery.com
Bi-Rite Market, multiple locations including in the Mission at 3639 18
th
Street, San Francisco, CA 94110, 415/241-9760,
http://www.biritemarket.com
patisserie, 2821 California St, San Francisco, CA 94115, 415/440-1700,
http://bpatisserie.com
Craftsman and Wolves, multiple locations including in the Mission at 746 Valencia Street / San Francisco CA 94110, 415/913-7713,
http://www.craftsman-wolves.com
Dandelion Chocolate, 740 Valencia Street, San Francisco, CA 94110, 415/349-0942,
www.dandelionchocolate.com
de Young Museum and de Young Café, Golden Gate Park, 50 Hagiwara Tea Garden Drive, San Francisco, CA 94118, 415/750-3600,
https://deyoung.famsf.org
. Check online to confirm hours and current exhibitions. On-street parking is available as is parking in the underground parking structure located between the de Young and the Academy of Sciences museums. The de Young Café can be entered from the outdoor patio. The food and beverages are very good. The indoor dining hall and outdoor patio facing a sculpture garden is a lovely place to pause and refresh while visiting the museum and the park. Check online for hours and the menu.
https://deyoung.famsf.org/deyoung/visiting/de-young-cafe
edible excursions
: Walking San Francisco Food Tours,
Berkeley Food Tours, and Oakland Food Tours, 415/806-5970,
http://edibleexcursions.net
Ferry Plaza Farmers Market, Saturdays, 1, Ferry Building, #50, San Francisco, CA 94111, 415/291-3276,
https://www.ferrybuildingmarketplace.com/farmers-market/
Omakase, 665 Townsend St, San Francisco, CA 94107, 415/865-0633,
http://www.omakasesf.com
Palace Hotel, 2 New Montgomery St, San Francisco, CA 94105, 415/512-1111,
https://www.sfpalace.com
Tacolicious, multiple locations including in the Mission at 741 Valencia St., San Francisco, CA 94110, 415/649-6077,
https://www.tacolicious.com
Tartine Bakery & Café, 600 Guerrero Street, San Francisco, CA 94110, 415/487-2600,
http://www.tartinebakery.com
Tosca Café, 242 Columbus Ave, San Francisco, CA 94133, 415/986-9651,
http://toscacafesf.com
WesBurger 'N' More, 2240 Mission Street, San Francisco, CA 94110, 415/745-9371,
http://www.wesburgernmore.com