If you're taking a trip to Germany's great capital city, or you're a local with a taste for the finer things in life, then we've put together a list of the best restaurants in Berlin, so that you know where to go on your night out!
No matter where you're staying in Berlin, whether it's in a luxury hotel, or a boutique hotel, there's sure to be a fine-dining restaurant nearby.
Whether you're looking for luxury, fine dining restaurants, or the most happening spots around the city, we've got you covered. Here is a list of our favorite restaurants in Berlin!
Overall Best Restaurant in Berlin
If you're looking for the best of the best when it comes to fine dining in Berlin, there's only one option! This restaurant is a cut above the rest and a must-visit Berlin restaurant.
Horvath
Horvath was opened by Sebastian Frank, the youngest Michelin star chef in Berlin, guaranteeing a fresh new approach to fine dining! The restaurant focuses on recreating traditional German food with a modern and fresh new twist.
The restaurant in Berlin is situated in the Kreuzberg district, overlooking the canal. This provides a phenomenal view while you satisfy your palette as well as your stomach!
Top Restaurants in Berlin
After visiting Horvath, there are few restaurants that can satisfy your palate in quite the same way. But there are many that will tantalize your tastebuds leaving you in the mood for more!
Margaux
Margaux is one such restaurant. In the heart of Berlin, you may not be expecting such fine French cuisine. But we dare say, Margaux might even do it better than they do it in France! It is one of the best restaurants Berlin has!
The restaurant prides itself on using only the freshest produce and even has a variety of vegetables grown just for them! As you can imagine, you're in for a truly unique French experience at this Berlin top restaurant.
Don't forget your passport holder at home folks, your tastebuds will be traveling across the proverbial continent at Margaux.
Lorenz Adlon Esszimmer
This restaurant has really earned its place as one of the best restaurants in Berlin. Each course is served with a surprise that compliments the dish perfectly! The menu changes seasonally to coincide with the weather as well as the freshest produce available.
The atmosphere is wonderful and the interior of the restaurant is classically elegant! What's more? While you dine you can enjoy a magnificent view of the Brandenburg gate. This is especially gorgeous at night when the gate is lit up like a Christmas tree.
Skykitchen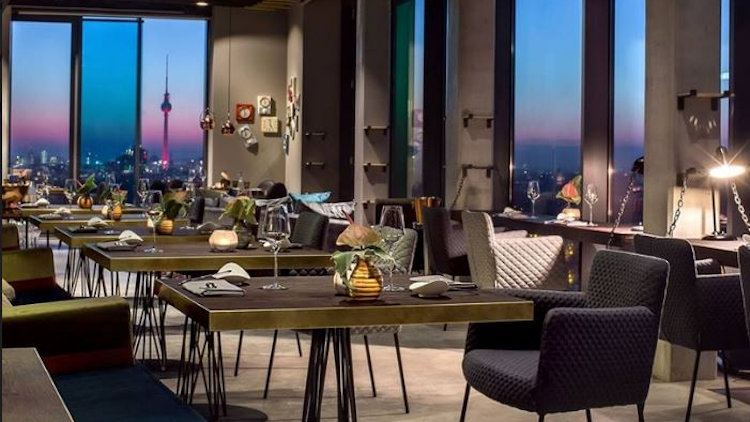 You simply cannot claim you've had dinner with a view until you've been to Skykitchen! Perched on the top story of a hotel, the restaurant provides panoramic views of beautiful Berlin.
The restaurant is known for its stylish 60's atmosphere, which allows for a fairly casual dining experience. However, there is nothing casual about the food!
The Michelin star chef, Alexander Koppe, has designed incredible dishes that combine French, Asian and German cuisine to create a fusion of wonderful flavors! This is truly one of the top restaurants in Berlin.
FACIL
FACIL is completely enclosed by glass, yet surrounded by a bamboo forest which makes for a truly unique experience. Surrounded by lush greenery, this Berlin restaurant is a real treat for the senses. Choose between outdoor or indoor seating, both of which offer wonderful scenery.
They have a tasting menu that will blow you away! If you have a keen eye for design, the presentation of each meal is sure to impress you, so if you're feeling up for a 2 Michelin star meal, this Berlin restaurant is the perfect setting to enjoy it in.
Other Good Restaurants in Berlin
If you're looking for fine-dining restaurants that are equally amazing, but have a more casual atmosphere and perhaps are a little less pricey, these are sure to be the Berlin restaurants for you!
Don Camillo
Don Camillo serves an array of authentic Italian, Mediterranean and European dishes that are a real treat for the taste buds. If the presentation of your food means a lot to you, Don Camillo should be high on your list of Berlin restaurants to visit.
Don't expect to be overwhelmed with choice, as every evening there is a small range of dishes prepared, which makes the experience even more enjoyable.
The Volt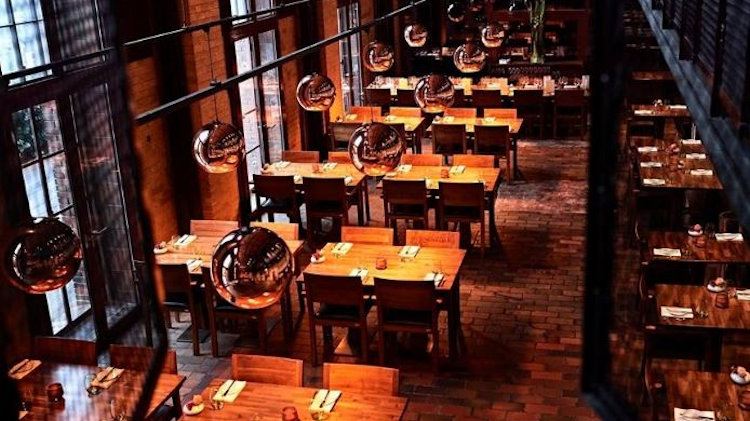 The Volt serves up Michelin star level food, without the overattentive staff that often come hand in hand with a Michelin star. The ambiance is delightful! A dimly lit dining area makes for a very romantic setting and the European style interior adds to the cozy feel of the restaurant.
They serve incredible food that has a distinctly European flair! The restaurant is set in an old transformer station, which gives it an industrial feel while maintaining its elegance and class. It is a fantastic restaurant Berlin has to offer!
Final Thoughts On The Best Restaurants In Berlin
Now that you know where to find the very best restaurants in Berlin, you can start planning your culinary experiences for your upcoming trip.
Get ready to indulge your taste buds with some of the most delectable flavors you'll ever experience. It's time to start making reservations at some of the best Michelin star restaurants in Berlin!