In a time where social distancing from strangers is key, a holiday getaway in a private villa away from crowds could fit the bill. Opting for private vacation rentals is actually a safer choice than hotel stays right now, due to the lack of face-to-face contact with other guests or staff.
The Covid-19 pandemic has completely changed the concept of traveling, whit safety, privacy, space and seclusion now being the new luxury and first priority for vacationers. The stunning Italian isle of Sicily, the Mediterranean's largest and most exotic island, has no shortage of exclusive vacation rentals that offer these luxuries in abundance.
Founded in the mid-2000s, the luxury travel agency Select Sicily offers exclusive access to superb villas offering everything safety-conscious travelers could possibly need, and more. Each property in the portfolio is vetted, thoroughly sanitized and deep-cleaned with rigorous cleaning techniques in between stays.
We have rounded up five exquisite vacation homes in sun-kissed Sicily, all available to rent right now for a socially distanced summer holiday in the Mediterranean.
1. Island Dream – Favignana Island, Western Sicily (pictured above)
Just off the north-west coast of sunny Sicily lies the breathtakingly beautiful island of Favignana, a closely guarded secret – somewhat untouched, still, with stone cliffs, cobalt-emerald waters and a totally laidback vibe. The largest of the Aegadian Islands, Favignana is popular for snorkeling and scuba diving.
If closeness to the sea is your primary concern, look no further than Island Dream. This top-of-the-range six-bedroom villa is a seaside beauty set in an enviable position, literally steps from the deep-blue, turquoise waters of the Tyrrhenian Sea.
At Island Dream, spacious, light-filled interiors spill out onto a panoramic veranda from where you may happily survey vibrant green lawns and the crystal-clear sea. Modern luxury and comfort coupled with direct, private access to the piercingly clear, azure water make Island Dream an ideal choice for a much-deserved holiday in the sun. This exclusive seafront villa can house up to fourteen guests.
2. Villa Fugata – Ragusa, Southeast Sicily
Ideally located for exploring south-eastern Sicily's many attractions, Villa Fugata is like a window to paradise. There's a lot of awesomeness under one roof at Villa Fugata, with elegant, carefully curated interiors, six well-appointed bedrooms with en-suite bathrooms, multiple outdoor relaxation areas, satellite TV, super-fast Wi-Fi and private swimming pools for days when the beach doesn't call out to you. This level of spacious luxury sets the tone for a memorable island getaway.
The Late Baroque towns of the beautiful Noto Valley are just a short drive away, but it may be hard to tear yourself away from the well-manicured garden, fine pools and shady al fresco areas with magical sea views. There's room for twelve guests across the property.
Alle Cale – Favignana Island, Western Sicily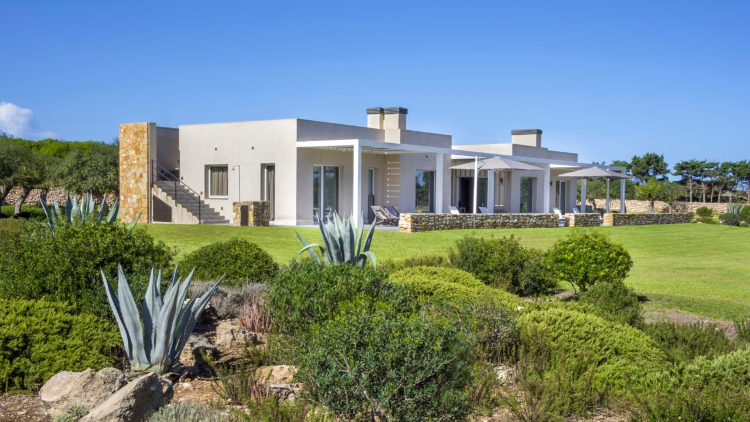 For a smaller group, you can head to Alle Cale, a chic, luminous three-bedroom villa in Favignana, a picture-perfect, butterfly-shaped mass of land fringed by a craggy coastline. Reachable by a 30-minute hydrofoil ride from Trapani, this stylish, well-equipped villa is a short hop to the beach and perfectly located to stroll or cycle between the quaint fishing villages and small, secret coves scattered along the island's jagged coastline. Cala Rossa is a particularly lovely spot for a swim.
This picturesque property combines the best in modern luxury and design with all the comfort, exclusivity and high-spec amenities of a five-star resort.
4. Seashore – Taormina, North-eastern Sicily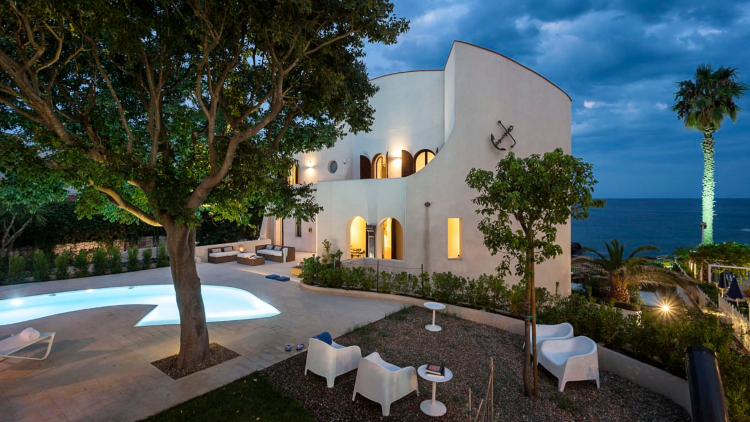 You'll feel right at home in Seashore, a luxury seafront mansion of the highest quality. This deluxe property exudes casual elegance and comes with seven bedrooms and nine baths with enough room to comfortably house up to thirteen guests at once, making it perfect for a large group of friends or a multi-generational family in search of a home away from home.
Highlights abound at this luxury beachfront villa featuring a wellness area, a fitness center, a massage room, a spa-like bath with hydrotherapy shower, direct beach access and a designer swimming pool, all within easy striking distance of the gorgeous Bay of Naxos and the hilltop, glamorous town of Taormina.
5. Siracusa Retreat – Syracuse, Southeast Sicily
Just a few miles from the lovely coastal city of Syracuse, a UNESCO-protected gem on the south-eastern coast of Sicily, Siracusa Retreat is a recently restored 18th-century farmhouse boasting refined interiors furnished with deluxe facilities, five beautifully finished bedrooms, a built-in kitchen, an outdoor decking area and an extensive garden at the centre of which is an inviting 32-foot-long swimming pool.
Easily housing eight people, this rustic yet comfortable and elegantly furnished vacation home nestled among the lush greenery is the perfect place for a big group of friends and family wanting a cozy and classy island getaway.
For more information and reservations, contact Select Sicily at +44 (0)20 3239 9708, info@selectsicilyvillas.com or visit the company's website Selectsicilyvillas.com. Booking early will give you the widest choice, so make sure to get a head start on your holiday travel plans.