Your kitchen is one of the most important areas of your home. This is where you will store, prepare, and cook meals. Hence, you should make sure that your kitchen is clean all the time. Your kitchen also functions as a fun gathering place for your family and friends and helps set the tone and ambiance of your entire property.
Aside from its functionality, a lot of homeowners are spending money to improve the appearance of their kitchens. This is one of the reasons why a lot of homeowners are investing in professional contractors that can help them make their dream kitchens a reality.
If you have the same goal, consider creating a fabulously luxury kitchen on your property. This kind of kitchen mixes functionality and appearance, making your property very memorable and unique!
Take note of the following tips for you to easily create a fabulously luxury kitchen:
Prioritize The Kitchen Sink
The sink is the most important and used appliance in your kitchen. It'll be challenging for you to clean your ingredients and prepare any meals if you don't have a fully-functional kitchen sink. This is especially important if you like spending a lot of time in the kitchen.
To ensure that your new kitchen will make your life easy, prioritize the kitchen sink. Ideally, you should allocate enough money to buy a durable kitchen sink that will last for years. The quality of the kitchen sink you'll use can significantly affect your convenience and the value you'll get from your money. Buying a cheap kitchen sink that will require repairs and replacements for the next month will be a waste of time and money.
As for the design, make sure that it complements the current aesthetics of your home. If you love to create a laid back ambiance in your home, looking into luxury farmhouse sinks can be a great option. If you want to enjoy a new kitchen with a contemporary design, look for kitchen sinks in grey or black hues.
Include Built-In Storage
Your kitchen will never feel and look luxurious if the space is full of clutter. How can you even consider your kitchen luxurious if you can't find your kitchen tools the moment you need them? How can you use this area of your home if everything all over the place?
For you to create a luxury kitchen, always think about the storage. The cleaner your kitchen is, the more luxurious it will feel and look like.
Depending on your available space and preference, you can incorporate cupboard shelves that pull and fold out in your kitchen or use a straight pull larder. You can also consider installing bespoke kitchen cabinets in tight spaces. Wall cabinets and other types of wall storage are also great ideas for a luxurious kitchen, especially if you have limited space.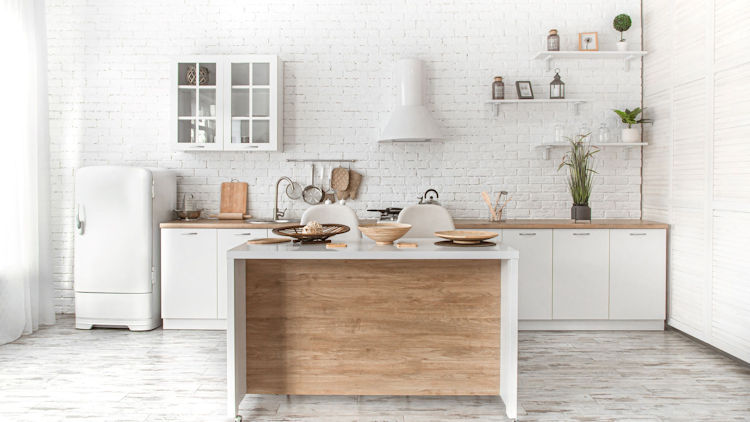 Pay Attention To Luxurious Details
There are countless kitchen themes available today. Regardless of your preferred style and budget, you can easily find one that fits the bill. But since you are aiming to create a luxurious kitchen, it's important to invest in details that scream luxury.
A fabulously luxury kitchen is often characterized by smoked glass and on-trend metallic, and rich-colored cabinets. You can also incorporate heavily-grained woods and dark veneers in the space. Instead of using push-in mechanisms to open kitchen cupboards, invest in ornate kitchen handles.
Make Lighting A Statement Feature
Contrary to popular belief, the appliances and furnishings in your kitchen aren't the only things that affect the mood in the space. The lighting you'll use in the area is also an important factor to consider. In fact, your choice of kitchen lighting can make or break its appeal of being luxurious.
One of the easiest and most efficient ways of creating a fabulously luxury kitchen is to invest in a chandelier. Aside from being unique, this lighting feature is a showstopper that will surely impress all of your family and friends. A chandelier also offers plenty of light into your kitchen, making space look bigger. All of the features of a chandelier will make it very easy for you to prepare meals in your kitchen.
If a chandelier doesn't suit your style, consider using LED lights instead. You can place some of these under your cabinets or behind your glass splash backs. If your budget allows it, scout for LED lights that change into different colors. These lights can surely make your kitchen stand out, especially if you're fond of hosting parties at home.
Use Multifunctional Appliances
The "working triangle" is common in traditional kitchens. This layout principle involves the use of the cook top, sink, and refrigerator with distances more than nine feet from each point. Although functional, this kitchen layout is now a thing of the past and doesn't work well with a luxurious kitchen.
A newer and better alternative to the working triangle is to use multi-functional appliances in your kitchen. Instead of using different areas for different purposes, you can maximize banks of built-in appliances in cupboard doors and large drawers. This is a great idea of copy, especially for homeowners who have small or tight kitchens.
You should also integrate technology into the area if you want to enjoy a luxurious kitchen. You can invest in a smart kitchen with lighting features that you can control through your smartphone and ovens that will prompt you via text message if your meal is already cooked. A state-of-the-art fridge and cooker are also great investments that will surely "wow" all of your friends and family the moment they step in your kitchen.
A smart kitchen can be very innovative and useful, but keep in mind that you'll have to spend a large amount of money to enjoy this feature.
Work With Pros
Now that you know how to create a fabulously luxury kitchen, start looking for experienced contractors who can help you out. With your ideas and their expertise, it won't be long before you can finally enjoy the kitchen of your dreams and make the most out of your investment!