The island of Great Abaco is low lying so the drive to the resort gives no hint of what's to come. The arrival is like an epiphany -- Winding Bay is a spectacular 2.5 mile crescent of powdery white sand and turquoise water lit up by warm sunshine.
The sprawling private resort is situated on about 500 acres, so every guest accommodation comes with a golf cart to get around. We drive past Flipper's Bar which is the central gathering place by the beach and arrive at our Cabana facing the golf course.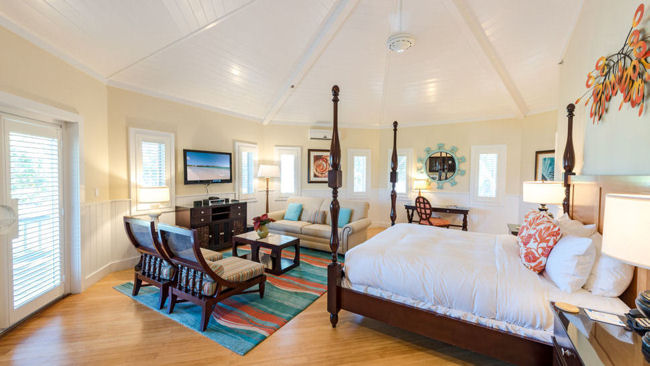 There are 20 octagonal-shaped, pastel-colored Cabanas stretched along the golf course, each is approximately 650 square feet in size with a large screened-in porch. They are elegantly furnished with a four poster bed and a pull-out sofa bed, sleeping up to four people. Other accommodations on the property include luxurious two- to four-bedroom Cottages on the cliff overlooking the bay, as well as opulent Estate Homes on private beachfront lots.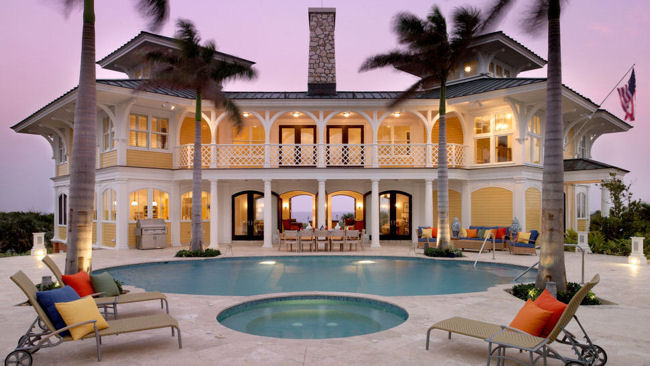 The Abaco Club on Winding Bay is not your usual resort -- it is a private membership sporting club and residential community. Renting a cabana, cottage or estate home is the ideal way to discover what
club membership
and
home ownership
at The Abaco Club are really like.
The centerpiece of the resort is a world-class, tropical links-style
18-hole golf course
designed by renowned golf course architects Donald Steel and Tom Mackenzie. It is perennially ranked as the No. 1 course in The Bahamas and among the top handful of courses in the Caribbean. I'm not a golfer, but I can appreciate the beauty of the course and in fact The Abaco Club's scenic 5th hole was named as one the "World's 18 Most Beautiful Golf Holes" by CNN Travel.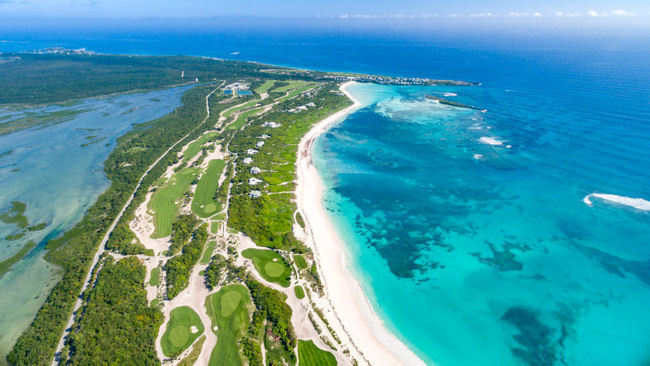 We unpack straightaway because we can't wait for the unwinding to begin. We make a beeline back to Flipper's where the drink to order is the "Abaco Smile" -- their special version of a rum punch. I could sit here all day staring at the stunning turquoise water, but we decide to take a long stroll along the beach to soak up the sun. It doesn't take long for relaxation to set in. You can't find a more calm, tranquil, peaceful place than this -- Winding Bay should be renamed Unwinding Bay!
There's a picturesque little island in the bay called Sugar Cay with its very own beach that you can paddle to in a kayak. A reef provides a protected sanctuary for swimming, snorkeling and other water sports at the resort.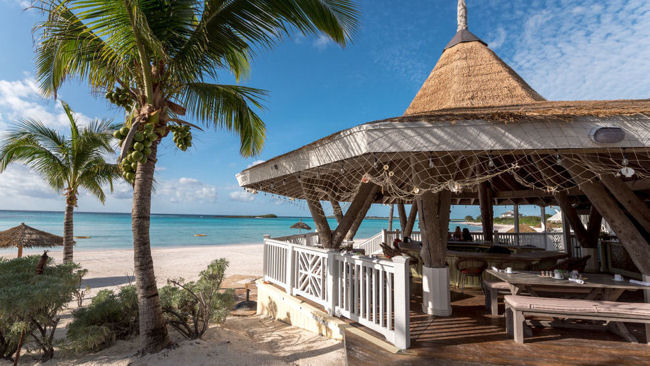 Evening cocktails and dinner are served in The Cliff House, an octagonal clubhouse that overlooks Winding Bay from high on the ridge at Ocean Point. Before (or after) dinner, there's always a lively good time to be had at the Cliff House bar or out on the poolside patio. This is come-as-you-are elegance, where the focus is on good food and good fun.
For dinner, the catch of the day will be just one of many delicious choices you'll have as you watch the sun go down over the clear, blue water of the bay. Local favorites include fresh lobster, blackened grouper, and the ever-popular conch chowder.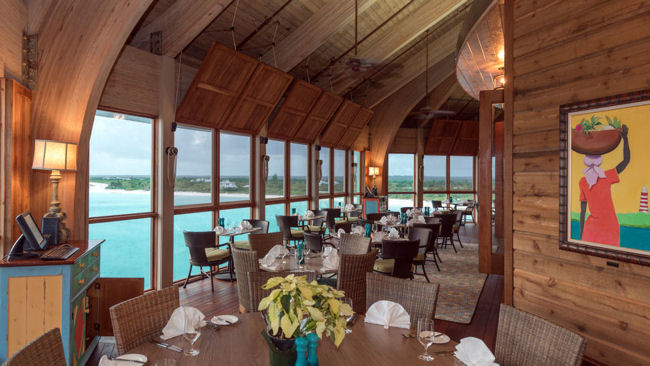 The resort's concierge can arrange many customized, private experiences. One day we took an excursion with
Friends of the Environment
to explore hidden blue holes that exist on the island including Dean's blue hole which is the second deepest in the world at 663 feet deep. If you're an experienced diver you can arrange to dive the holes with
Bahamas Underground
-- it is an amazing experience because they are the most highly decorated underwater caves in the world, full of stalagtites and stalagmites. We settled for just jumping in and taking a little swim. Be careful not to wear any jewelry that can slip off because the holes are hundreds of feet deep!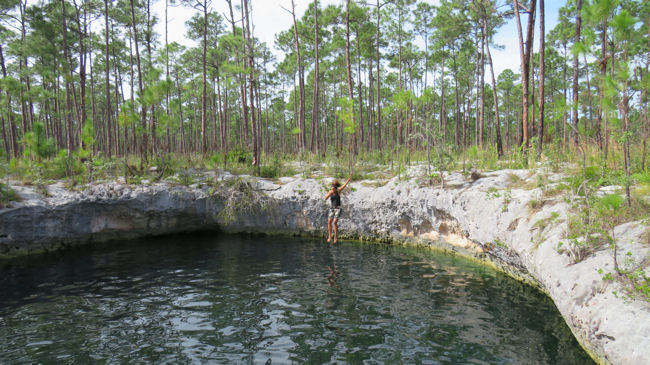 The next morning is wonderful as we sit down to an open-air breakfast at Flipper's featuring fresh Bahamian fruit while we watch the sun cast its first rays over one of the world's most beautiful beaches. But at The Abaco Club, this is a daily occurrence. Decidedly low-key, it's the perfect spot to relax and taste the many flavors of Abaco before beginning your day or setting off on your next adventure.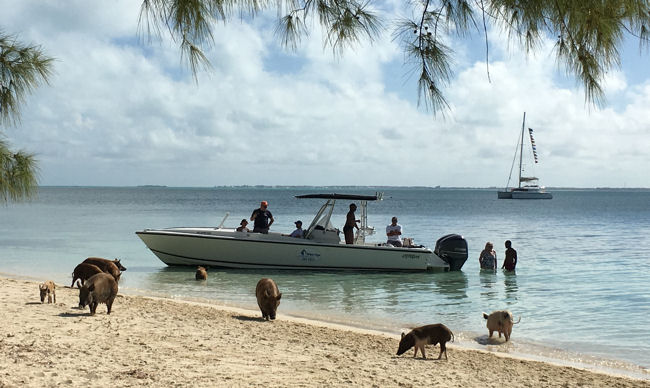 Today we hired a boat with
Water Toys
and took the whole day to explore some amazing sights and wildlife in
The Abacos
. I checked off one of my bucket list items when we visited the swimming pigs on No Name Cay. Then we went on to Green Turtle Cay where we swam with turtles. We also visited some iconic Abaco sights like the Hope Town lighthouse and Albury's Sail Shop on Man-o-War Cay where you can take home a one-of-a-kind canvas bag only sold here. We packed a picnic lunch, but you can also stop by any number of quintessential island restaurants and watering holes.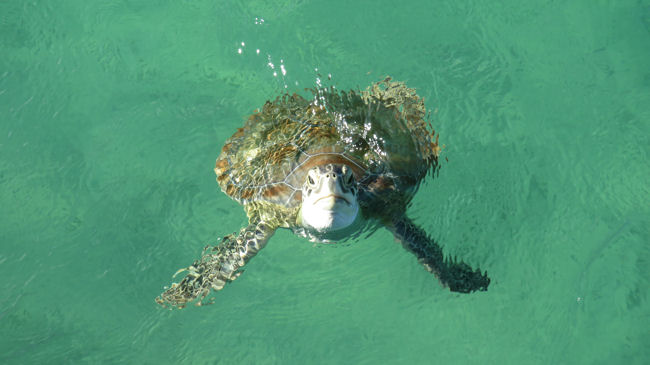 Back at the resort at dusk a flock of colorful parrots can always be seen in the trees bordering the golf course and overlooking the cabanas. Once prolific throughout The Bahamas, the parrots are now found only in the Abacos. I love all the wildlife and nature here.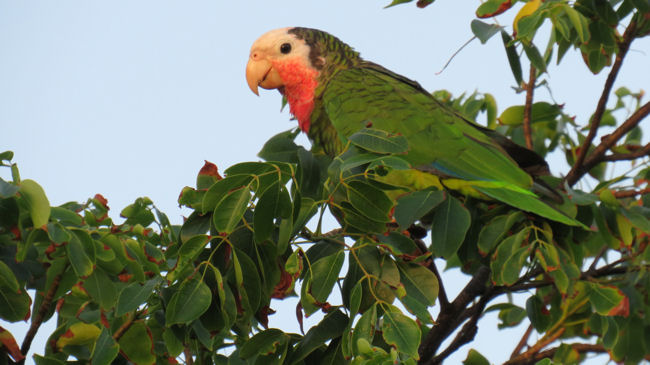 This evening, we change it up and head down the road to
Pete's Pub at Little Harbour
for dinner. In addition to being a casual, fun place to eat, drink and hang out, Pete's is home to the only working bronze foundry in the Bahamas. They are world-renowned for their bronze sculptures which are in permanent collections in the Vatican and museums worldwide. You can check out the amazing ocean-inspired work in their showroom and see how it's made.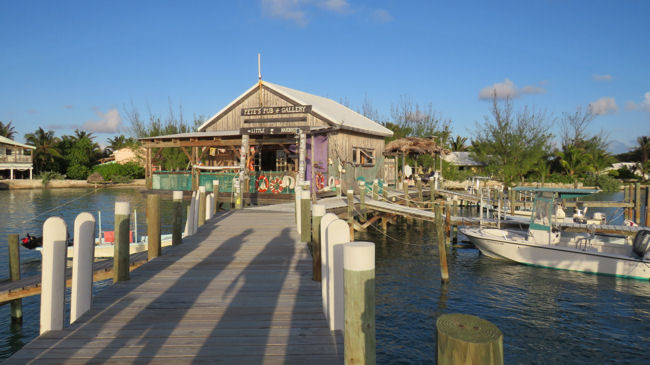 The Abaco Club
offers ultimate relaxation but there are also so many things to keep you occupied from golf and tennis to the spa and the infinity pool overlooking the sea and so much more. If you're looking for a Caribbean destination that feels off the beaten path, this is the place for you!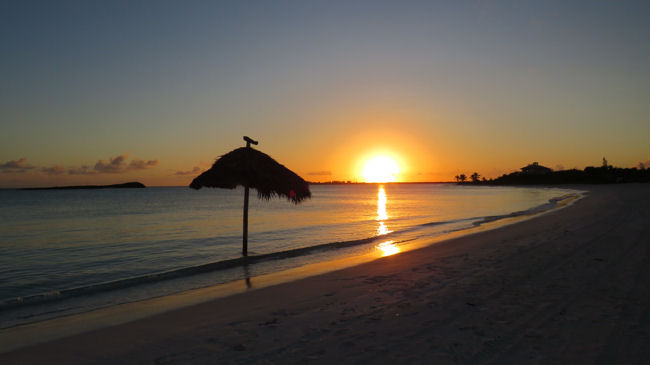 Visit website:
TheAbacoClub.com
Rates from $495 to $10,000 per night (subject to change).
Getting There
There are direct regularly scheduled flights to Marsh Harbour International Airport (MHH) from Atlanta, Fort Lauderdale, Miami, Nassau, Orlando and West Palm Beach. Airlines serving Marsh Harbour include American, Delta, Bahamas Air, Silver Air and Tropic Ocean Airways. The Marsh Harbour airport also has excellent FBO facilities for those wishing to fly to Abaco aboard private aircraft.
Related Articles
Unwinding at The Abaco Club on Winding Bay
Abaco Club on Winding Bay, Your Ultimate Luxury Sporting Club