The largest island in the Mediterranean Sea, Sicily rarely fails to impress and delight visitors who fall in love with its breathtaking landscapes, rich, multicultural history, laidback lifestyle, architectural treasures and great food and wine.
We have said it again and again. There is so much more to Italy than just a trip to Florence or Venice. Case in point? South-western Sicily is ideal for getting to know the real side of Italy, from its golden soft-sand beaches and bustling markets to its picturesque coastal towns and scenic UNESCO World Heritage sites.
If you have a soft spot for Sicilian high-end wines and delectable food and are looking to take your vacation game to the next level, skip the traditional hotels and stay in a top range ultra-luxe villa in Menfi, West Sicily.
If the idea of waking every morning to the verdant vineyards of world-famous wine producer Planeta is one that appeals, then you can't go wrong with a few nights in Villa Le Cicale, one of the most requested rental properties in south-western Sicily.
One of the major wine towns in the South of boot-shaped Italy, Menfi is at the centre of a very well accomplished wine-growing area. About 330 feet above sea level, the ancient town of Menfi – not to be confused with Memphis, Tennessee – became a DOC region in 1995 and is home to Planeta, arguably Sicily's foremost producer of quality wine.
Read on to find out more about Villa Le Cicale, a tastefully appointed luxury villa with to-die-for views of the seemingly infinite rows of vineyards that are worth the journey alone.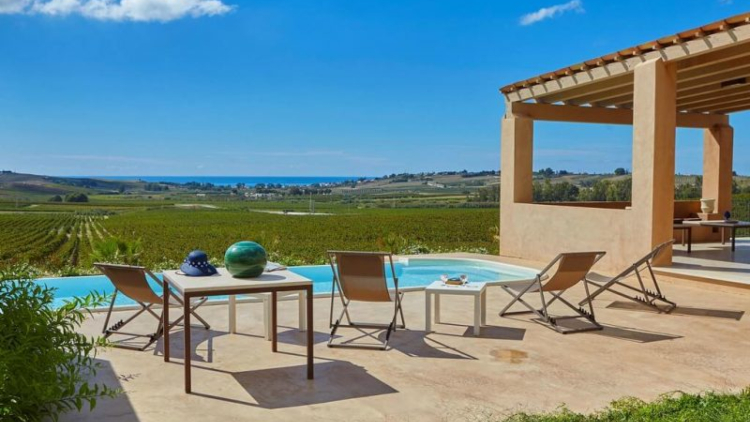 About Villa Le Cicale, Menfi
We could write paragraphs on the awe-inspiring views of the luscious vineyards tumbling down to the strikingly blue Mediterranean Sea from this romantic retreat, and even more on the bright, airy interiors furnished with deluxe facilities.
The jewel in the crown of Select Sicily, an upscale vacation-rental company that boasts a steadily growing collection of luxury villas in Sicily, Villa Le Cicale has something for everyone and allows luxury travelers to escape camera-clicking crowds, hordes of tourists and crowded restaurants.
The perfect spot for a large family gathering or a refreshing break with a group of friends, this deluxe four-bedroom home has plenty of outdoor space, an extensive well-manicured garden, emerald green lawns, a shaded area furnished for relaxing and dining, a barbecue pit and enough loungers for everyone. The interiors are gorgeous too, with a state-of-the-art designer kitchen and a large open-plan living and dining area that leads to the extra-large sea-facing terrace and outdoor patio with a grill.
With four spacious bedrooms with en-suite bathrooms, there is plenty of space to spread out in this luxury villa tastefully decorated to create a comfortable, tranquil and intimate atmosphere that lends itself to effortless summer living.
Filled with natural light from its vast windows, Villa Le Cicale has all the modern amenities you would expect in a five-star hotel, including free Wi-Fi, air-conditioning, heating, satellite TV, comfortable mattresses, bathrooms for every bedroom, a washing machine, an open fireplace and private parking.
But what we really want to talk about is the azure-tiled panoramic pool with mesmerizing views of the olive groves and undulating vineyards of world-famed winemaker Planeta. Gaze seaward while lounging poolside, sipping on some local wine and listening to cicadas from which Le Cicale takes its name, and enjoy la dolce vita – the art of sweet and total repose. Villa Le Cicale is so perfectly kitted out you may never leave the property during your stay.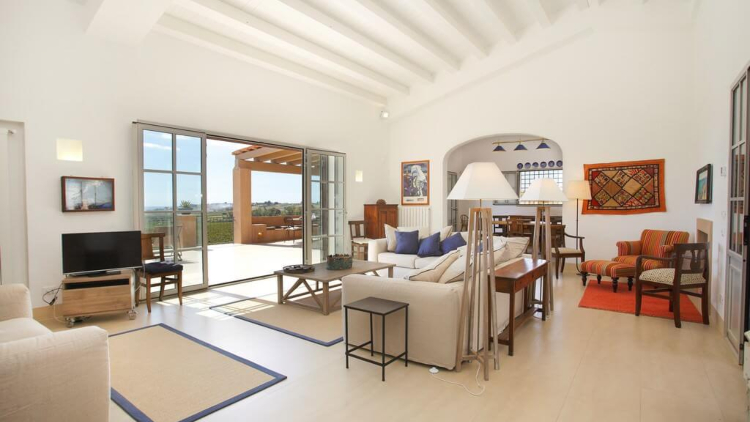 What to do in and around Menfi
Strategically located for the combination of long, lazy pool days and exciting short trips to south-western Sicily's fabled towns, unspoilt beaches and historical sites, Villa Le Cicale is the kind of luxury retreat where you can choose to stay active with adventurous activities or just sit by the panoramic pool for days on end.
There's so much to see and do on a trip to West Sicily. As far as location goes, you are a short 20-minute walk to Menfi's many charms, idyllic Blue Flag beaches and little shops selling handicrafts. Menfi's 15 miles of cycle paths allow you to pedal or run through the surrounding area without worrying about traffic, and ride to the Belice Nature Reserve, Lido Fiori on the nearby coast, and the seafront village of Porto Palo, with excellent seafood restaurants that serve traditional Sicilian dishes right on the beach.
Within walking distance is Planeta's boutique winery resort La Foresteria, a joy for anyone who loves gourmet food and fine wines. Cooking courses and olive oil and wine tastings at Planeta's cantine offer fascinating insight into the viticultural and culinary traditions of the area. Just remember to book well in advance.
Head a few miles east and you'll arrive at the five-star Verdura Golf and Spa Resort, the largest elite golfing venue in Italy's Mezzogiorno, with three golf courses, six tennis courts, a football pitch, a 200-foot infinity pool and a world-class wellness center.
A short drive west is the vast acropolis of Selinunte, one of the most important ancient Greek sites in the Mediterranean, and to the east is the picture-perfect town of Sciacca, known since antiquity for its natural thermal spas. Don't miss a visit to the Valley of the Temples in the hilltop city of Agrigento, included in the UNESCO World Heritage Site list in 1997.
Villa Le Cicale is available to rent right now. For more information and photos, visit www.selectsicilyvillas.com.