The
Tequila Herradura Express
experience begins at the train station in Guadalajara and travels through picturesque countryside arriving at La Hacienda San José del Refugio at
Casa Herradura
, a magical destination that has produced one of the finest tequilas in the world since 1870. Along the way we enjoy the relaxing ambiance of the Club Car lounge and toast to our weekend with tequila cocktails.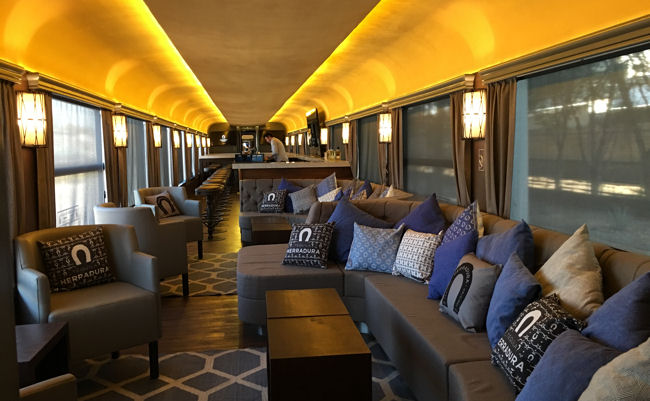 Tequila Herradura Express Club Car lounge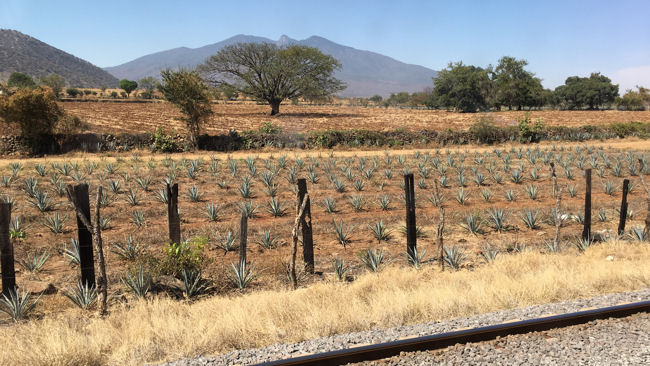 Scenic views of the countryside and blue agave fields from the train
Our distinctive experience continues upon arrival at Casa Herradura where we embark on a tour of the production facilities on the expansive hacienda and learn about its industry-leading legacy at San José del Refugio, an historic, 400 year old estate. We learn that Herradura is Spanish for horseshoe which is an ancient symbol of good fortune and protection.
We watch a jimador who still employs centuries-old tools and techniques to masterfully extract the heart (piña) from the blue agave plant. The agave resembles cactus plants but they actually belong to the lily family. Herradura has determined that seven years is the ideal age to harvest the agave which is the starting point for their ultra-premium, award-winning tequila.
The freshly harvested agave hearts are then slowly roasted in clay ovens for 26 hours at 203° F. This allows it to develop a deep, rich, complex flavor. After cooking, the agave hearts go through more steps to extract the juices so the blend can be put into enormous stainless steel fermentation tanks. Herradura relies on 100% natural fermentation from yeast that come from the hacienda's gardens where sixteen different types of fruit trees provide the airborne wild yeast. We learn that this natural process is rare in today's tequila industry.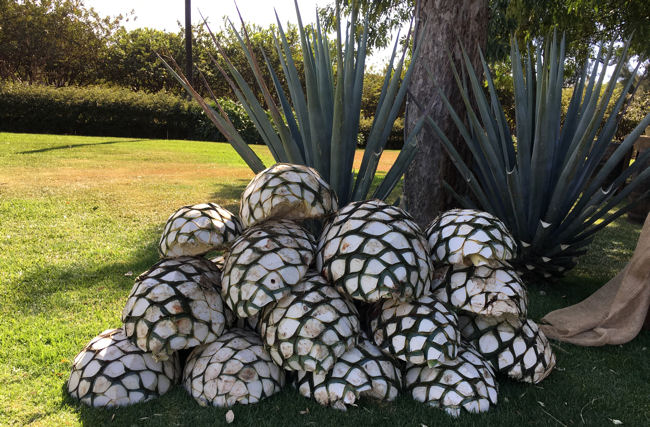 Agave hearts
Herradura's tequilas are aged in white oak barrels for varying lengths of time -- the Silver ages for 45 days, the Reposado ages for 11 months, and the Añejo ages for over two years. Herradura also makes an Extra Añejo called Selección Suprema, that spends 49 months in the barrels. The recipe and process for all of these tequilas is exactly the same, the only difference being the amount of time spent aging which results in deeper colors and more complex flavors.
It is fascinating to learn about the process of tequila making, but the highlight of the tour for me is seeing the authentic old Herradura factory building preserved as a museum on the property since 1870. A huge volcanic stone sits in a picturesque circular mill which once crushed the piñas to extract nectar using a donkey-powered grinding wheel. The dark spaces inside the building, with old ovens and stills, feel like they could very well be haunted.
After the tour, authentic Mexican dishes exclusive to the Jalisco region, tequila tasting, along with live local music and folk dancing are among the other rich experiences offered.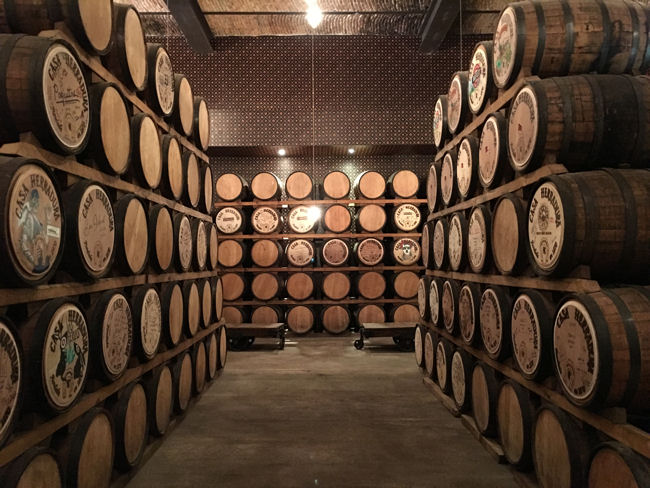 On Sunday, we have the chance to explore the city of Guadalajara with its historic center and weekend street markets. Our home base for the weekend is the ultra-chic Demetria Hotel in Guadajara's vibrant Lafayette district where artistic and cultural life come together. Demetria is a 38-room boutique hotel made of all glass, steel and concrete with fabulous suites, a cool rooftop pool and bar, and a wonderful, relaxing vibe. The hotel masterfully combines old and new on a tree-lined street, flanked by architectural residential masterpieces by Luis Barragán and Pedro Castellanos that have been acquired and incorporated into the hotel.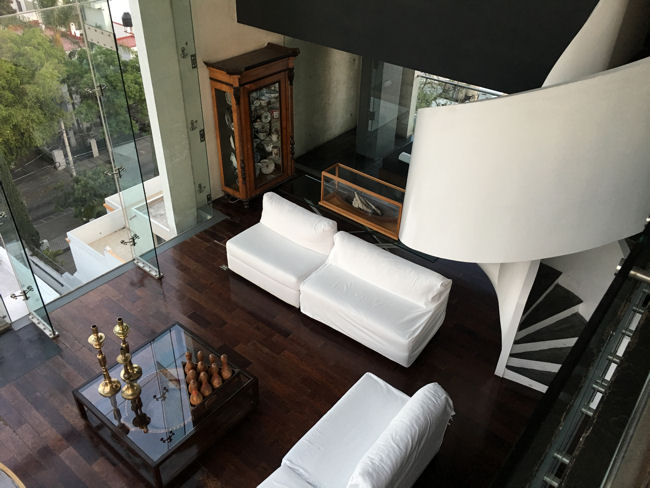 Demetria Hotel interior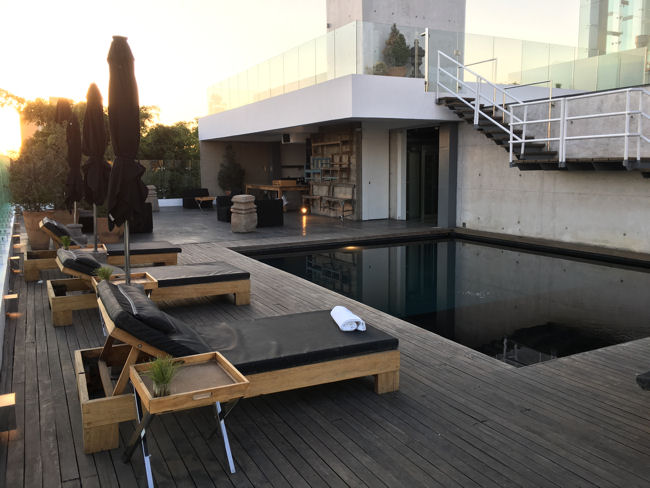 Demetria Hotel rooftop pool and bar
Guadalajara is the capital of Jalisco state and Mexico's second largest city after Mexico City. Its historic city center dates back to the 16th century and is dotted with colonial plazas and landmarks like the neoclassical Teatro Degollado and regal Guadalajara Cathedral, with its twin gold spires. The neighboring Palacio de Gobierno houses bold political murals by Mexican artist José Clemente Orozco.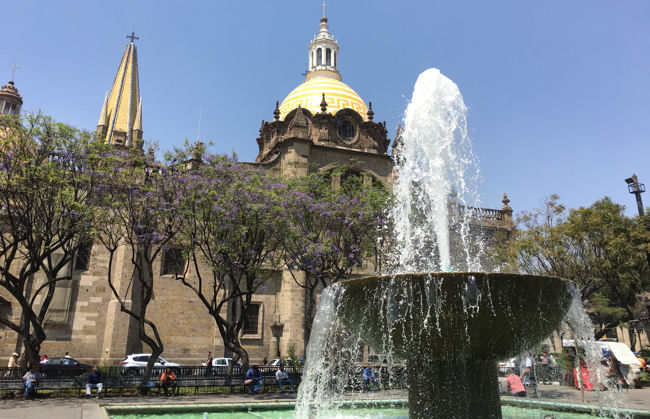 Guadalajara's historic center
In close proximity to downtown, the neighborhood of Colonia Lafayette—also known simply as Lafayette where our hotel is located—is Guadalajara's up-and-coming hotspot, as new restaurants, cafés, and bars keep locals and internationals energized for the nightlife. Thanks to its university, its intellectuals, and a handful of contemporary art galleries, including Casa Rombo and Galería Vertice, the quarter has become a magnet for creative types.
The result is an urban ambiance full of life. Just a few blocks from the hotel is
Chapultepec Avenue
renowned for its fountains and tree-lined wide median that comes alive on weekends with a pedestrian street market. The same distance in another direction is Vallarta Avenue, one of the city's most beautiful avenues with grand homes dating back to the Porfirio Diaz era at the turn of the 20th century.
We take a stroll and discover bookstores, art galleries, regal homes and small design shops, bars and restaurants among the lush, tree-lined streets. Overall, we've enjoyed a wonderful, authentic experience in Mexico's Jalisco state.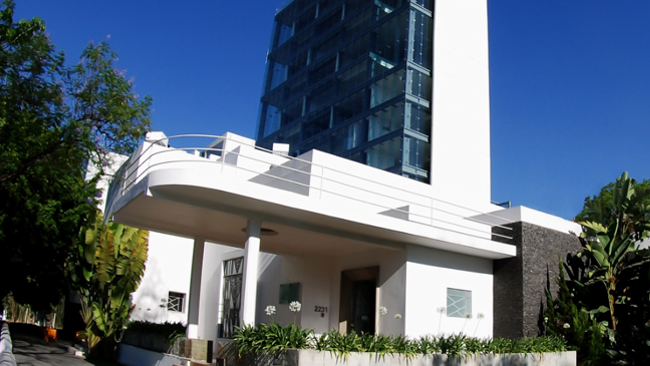 Hotel Demetria's modern tower incorporated with José Clemente Orozco's neighboring 1930s art deco residence
WHEN YOU GO:
Demetria Hotel:
http://www.hoteldemetria.com/
Tequila Herradura Express:
www.tequilaherraduraexpress.com
Herradura Tequila:
www.herradura.comRelated articles:
Casa Herradura Launches World-class Train Experience, The Tequila Herradura Express
All Aboard: 6 New Luxury Trains to Experience Around the World
All photos © Christine Gray/Luxury Travel Magazine