Welcome back leisure travelers. That's what we've been waiting to hear.
It's been over a year since travel stopped and restaurants, movie theaters and shopping malls closed. Staying safe-at-home, I looked for projects around the house. That's when I rediscovered gardening.
When I had been busy, I regarded gardening as a burden, something I had to do, not what I wanted to do. Being home so much, I recognized that my roses, lilies, succulents and bromeliads needed me. Determined to right a wrong, I repotted thirty-seven plants and cleaned out over-grown garden beds. I quickly became intimate with the many kinds of fertilizers and soils sold by the cubic foot.
My work bore fruit. Literally. Our ancient grape plant that had looked dead-to-the-world grew bright, green leaves, its tendrils latched onto twigs like the fingers of babies and soon fat, sweet and delicious grape clusters hung from the vines. The flowers flourished as well. Within months, our roses sported bright red, yellow and white blooms and the birds of paradise bristled with exotic flowers.
Searching online for inspiration, I clicked through page after page of photographs of beautiful roses, dahlias, irises and tulips. A video about flowers in the Netherlands reminded me about a garden I saw in Leiden, south of Amsterdam.
Hortus Botanicus
The Netherlands is important to anyone who loves flowers because of Hortus Botanicus. Carolus Clusius (1526-1609) planted the horticultural garden in 1593 to teach medical students how to make medicines from plants. He gathered bulbs, seeds and plants from around the world. The tulips he cultivated were said to have come from faraway Turkey. His work led others around Europe to create their own horticultural gardens. Flowers begat flowers and soon the world was obsessed with studying plants.
A recreation of the original garden still thrives. On a late summer day, I walked through Hortus Botanicus with Carla Teune, a distinguished horticulturalist. In areas of the garden created since Clusius' time, she pointed out carefully cultivated dahlias, lilies, tulips, crocuses, cyclamens, orchids and giant water lilies. The Dutch, she said, love not only tulips but all flowers.
On that trip, which included stops in The Hague and Amsterdam, that embrace of flowers was visible everywhere. Blooming flowers grew in pots on window sills, in planters attached to the railings alongside canals and in carefully tended flower beds in public parks.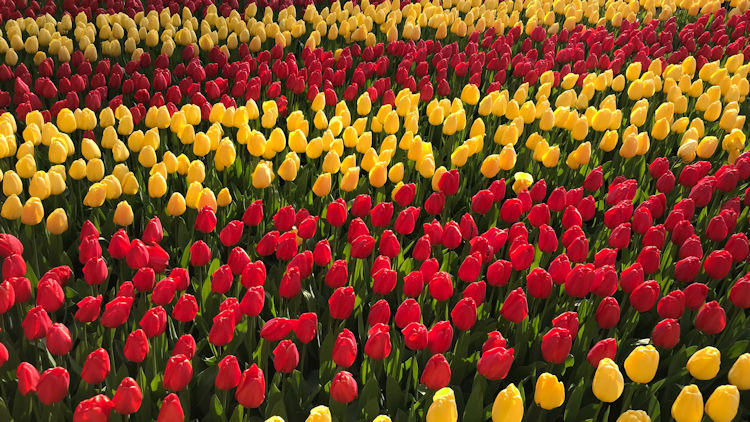 Tiptoe Through the Tulips
A visit to the Netherlands for me always begins with a walk around Amsterdam's historic Dam Square, a slice of apple cake at an outdoor café in the Jordaan and a visit to the city's world-class museums.
At Amsterdam's Rijksmuseum, you can see the evolution of the Dutch interest in flowers. Beginning with simple studies of individual blooms in 16th century horticultural books and dealer catalogues, the painters of the Dutch Golden Age (1575-1675) created exquisitively detailed, full-color portraits of extraordinary floral arrangements. Perfect specimens of roses, carnations, calendula, irises, forget-me-nots, daffodils and tulips found themselves gathered together in delicate pots.
Today we are used to the overnight delivery of flowers from half-way around the world so we take the flowers in those paintings as nice but not necessarily special. But in the 17th century, many of those blooms were rare and exotic.
With the exploration of lands previously unknown to Europeans, the Dutch learned that the world was more vast, more varied and more bountiful than they had imagined. How wonderful, then, for the Golden Age painters to portray nature's incredible bounty contained in a vase.
Today, that love of flowers is big business in the Netherlands.
During warm weather months, farms grow bulbs to sell to gardeners and flowers to decorate homes. Commercial flower fields all over the Netherlands dazzle with bright bands of color stretching to the horizon.
Some of the best flower growing areas are close to Amsterdam. Barely forty minutes from the city, you can see fields alive with vibrant displays of crocuses, daffodils, tulips, hyacinths, gladioli, dahlias, carnations and asters. Easy-to-navigate roads lead to the farms north-east in Noordoostpolder in the province of Flevoland and farms in the south-west in South Holland's the Duin- en Bollenstreek ("Dune and Bulb Region") between Haarlem, The Hague and Leiden.
You can walk, drive or bicycle through the flower fields, their neatly arranged rows of flowers in full bloom, their petals every shade of the rainbow, their fragrances floating in the air. In Noordoostpolder, the 62-mile-long Flower Bulb Route has a bicycle path that passes through 2,500 acres of bulb and flower fields.
When you visit, remember you can photograph the flowers, but do not pick them.
Flower farms like Hanneke's Pluktuin and the Tulip Picking Garden, both in the village of Marknesse in Flevoland, offer visitors the experience of picking their own flowers to create delicate bouquets of color and fragrance, perfect for a remembrance or a romantic gift.
Besides flower fields, there are public gardens with remarkable displays of flowers. The world-famous Keukenhof in Lisse, south-west of Amsterdam, opens in mid-March for eight-weeks when seven million bulbs burst into full bloom on eighty acres of manicured grounds. Originally the kitchen garden of a fifteen-century castle, every year close to one hundred growers plant their best blooms at Keukenhof to create a garden-lovers fantasy.
Flower Festivals
In the spring, summer and before the fall, the Dutch celebration of flowers takes to the streets and canals with festivals and parades. During the year, thirty-five thousand volunteers around the Netherlands participate in what some call "the national hobby" of float building.
The Holland Flower Parade in April welcomes spring with floats featuring tulips and hyacinths. The floats travel the 26 miles from Noordwijk on the coast, through flower fields close to Lisse and arrive in Haarlem, a town surrounded by bulb fields exploding with freshly blooming tulips, daffodils, hyacinths and crocuses.
In early July, bring a picnic to the three-day Westland Boat Parade. Stand on a bridge over the canal in picturesque Naaldwijk to watch boats decorated with flowers pass by. Most likely the flowers were grown in one of the many commercial greenhouses for which Westland is famous.
As summer begins to fade, in the first week of September make your way to Zundert, in the south of the Netherlands. The all-volunteer, annual flower parade uses only dahlias in all their colorful, resplendent glory to create remarkable, imaginative floats.
For the Zundert parade, the large, elaborate floats can be 30' tall and 62' long and often use more than half a million fresh flowers. The parade is a community effort that brings together whole families of volunteers. The competition between float builders is intense as they work through the night applying flowers one at a time to steel, papier-mâché and wood constructions. This is serious work where everyone has fun.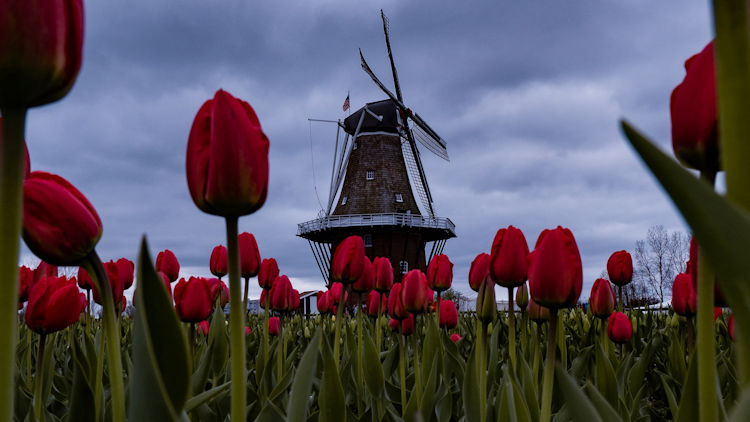 Floriade Expo 2022
2022 will be a special year for flowers in the Netherlands.
Floriade Expo 2022 will be held in Almere, thirty minutes east from Amsterdam. For six months, the Floriade will offer an educational, immersive and fun look into our urban future. Creating a 150-acre park around the theme of "Growing Green Cities," Floriade will give visitors an up-close look at sustainable technologies promoting advances in architecture, health, food production and energy generation.
In the expansive Floriade Arboretum, visitors will walk through a living, breathing encyclopedia of trees, plants and flowers. Expo buildings will utilize innovative technologies that recycle what was once considered to be waste and bio-based materials not previously used for construction like cotton and elephant grass. A cable car will soar over Floriade providing a bird's eye view of the city of the future in a green expanse on the edge of the freshwater lake Markermeer.
The setting for the Floriade Expo is itself an example of green engineering. What was once the Zuiderzee, a salt-water bay fed by the North Sea, was transformed into a series of fresh water lakes. A massive landfill project created Netherlands' newest province, Flevoland. Floriade will pay homage to that effort as it leans forward to anticipate a positive future for humanity's collaboration with nature. After the Expo ends, the grid laid out for Floriade and the Arboretum will become part of Hortus, a green city in Flevoland's newest urban neighborhood.
What to take home
Now that we can travel again, we can think about what to bring home. Besides a small wheel of creamy young Gouda, a box of premium chocolates and a packet of delicious caramel stoopwafel cookies, we can purchase specially packaged flower bulbs that can pass through customs. What a treat to have the flowers you saw in the Netherlands now blooming in your home garden.
Maybe splurge and purchase a bottle of a most exclusive distillate.
The Netherlands is rightfully famous for Jenever (or Genever), the spirit the British copied when they created gin. More recently, Clusius Craft Distillery has made a rarefied vodka from tulip bulbs. With a nod to Carolus Clusius who established Hortus Botanicus, each bottle of "Pure" Clusius vodka contains the distillation of 350 tulip bulbs.
Imagine the fun of sipping a glass of tulip vodka and walking around your garden admiring your colorful Dutch flowers.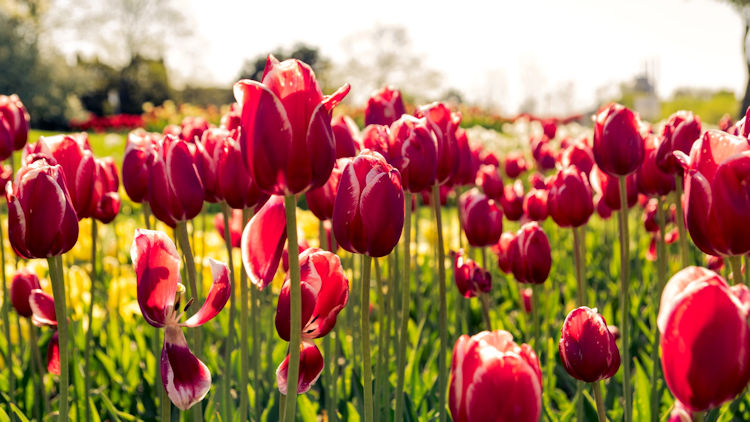 When you go:
For information about travel to the Netherlands, please visit Holland.com.
For a preview of experiences with flowers in the Netherlands, please see: "This film won't show what Dutch flowers are really like," "Tulip season in Holland" and Bollenstreek (Tulip Bulb Region). Take special note that when you visit a flower farm, you are welcome to take photographs but do not pick or step on the flowers. Picking flowers is only possible at special farms like Hanneke's Pluktuin and the Tulip Picking Garden (below).
For an overview of how flowers are raised and sold in the Netherlands, please see: Holland Stories: Flowers
Every season and every part of the Netherlands has a flower parade called a "corso." Please consult "Holland's top six most beautiful flower parades." To see the beauty of these large floats and how communities come together to build their imaginative constructions, please watch the video Bloemencorso Lichtenvoorde 2019 ("Flower Parade in Licthenvoorde, 2019"). "Corso" culture is so important in the Netherlands that it petitioned UNESCO to be included on the World Heritage Representative List of Intangible Culture Heritage of Humanity.
Amsterdam Museums. Rijksmuseum (Museumsttraat 1, Amsterdam). The Rijksmuseum has an excellent collection of paintings from the Dutch Golden Age (1575-1675) as well as works by many other renowned Dutch artists. From the Rijksmuseum, walk across the expansive park called the Museumplein to visit the Van Gogh Museum (Museumplein 6, Amsterdam) with Van Gogh's fantastic images of irises and sunflowers and the extraordinary collection of modern art at the Stedelijk Museum (Museumplein 10, Amsterdam).
Clusius Craft Distillery. Tulip vodka is available for sale online, at specialty retail stores and at the Duty Free Shop at Schiphol Airport.
Floriade Expo 2022 (the International Horticultural Exhibition Floriade Expo 2022). Floriade's celebration of horticulture is held every ten years in the Netherlands. Floriade Expo 2022 will be held in the city of Almere from April 14 to October 9, 2022.
Hanneke's Pluktuin (Ellerweg 18, 8256 RT Biddinghuizen). Website in Dutch only. Flowers can be picked here.
Hortus Botanicus (Rapenburg 73, 2311, GJ Leiden, +31 71 527 5144). The garden is an all-seasons destination. To see the flowers at their peak, Carla Teune advised visiting in late spring and early summer.
Keukenhof (Stationsweg 166a, 2161AM, Lisse). Closed during 2021. Open March 24 – May 15, 2022. Because the gardens are very popular, if possible, schedule a visit during the week rather than on the weekend or during holidays.
Mauritshuis (Plein 29, 2511 CS The Hague, +31 70 302 3456). At The Hague's preeminent museum, the Mauritshuis, a special exhibit, "Dutch Flower Still Lifes of the 17th Century," will be open from February 10 – June 6, 2022. The exhibit will show how horticulturists and painters created detailed portraits of flowers.
Noorddoostpolder Flower Bulb Route. Walk, bicycle and drive the route from mid-April through May when the flowers are in bloom.
Tulip Picking Garden (De Tulpenplukuin), Steenwijkerweg 26, 8316 RK Marknesse. With your clippers and basket in hand, you can walk through the farm and pick the flowers of your choice.
We Make Travel Easy Announces Exclusive Floriade Expo and River Cruise for 2022. For more information and booking instructions, please visit https://wemaketraveleasy.com/floriade-expo or call (415) 931-1945.